8 Ways to Find Romance in Aruba
Beachfront dinners, sailing excursions and a kids-free resort
are keys to a starry-eyed escape
By Elizabeth Armstrong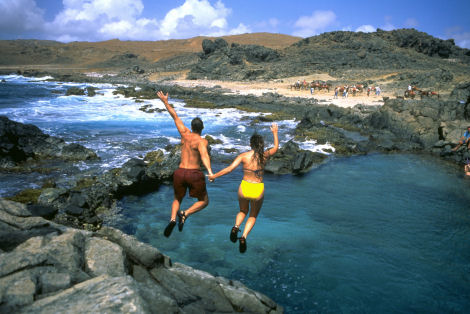 Fotoseeker/Aruba Tourism Authority
(Scroll down to see a slide show.)
W
ith pristine beaches, inviting waters and a year-round average temp of 82 degrees,
Aruba
is made for amorous interludes. The Southern Caribbean island hovers above the north coast of Venezuela, about three hours from Miami and under five hours from New York by plane. It packs a lot in its 70 square miles: smooth sand and rugged cliffs, desert plains and prime snorkeling spots, and a culture infused by African, South American, European and other influences.
Here are eight suggestions for revving up the romance in Aruba, from quiet time together to adventurous pursuits.
Book a room at an adults-only sanctuary,
like the intimate and friendly
Bucuti & Tara Beach Resorts
. Fronting a broad, beautiful swath of sand on
Eagle Beach
, at Aruba's west end, this 104-room retreat has been kids-free since December 2010. Other draws include a Champagne welcome upon arrival, a tranquil pool, free Wi-Fi in rooms and public areas, and stylish spots for socializing like the al fresco Sand Bar, where deep, plush chairs and sofas face the sea.
Bucuti also earns points for its eco-conscious initiatives. Owner Ewald Biemans is recognized as a pioneer of sustainable Caribbean tourism, and he's fashioned Bucuti into an example of a successful green operation, where the mantra is reuse, reduce and recycle. The property has earned Green Globe 21 certifications for 10 years in a row.
Biemans' measures for environmental preservation include the use of biodegradable cleaning compounds and trash cans labeled for recycling. Runoff water from sinks, showers and air conditioners is reused in the gardens. Noise pollution also is discouraged, as Bucuti does not permit water-sports vendors in its area.
Guests can do their part by stopping at the concierge desk to pick up a lightweight metal water bottle, which cuts down on the use of plastic containers. Fill it from the tap -- Aruba's water is among the purest desalinated ocean water around, filtered through coral rock.
Between March and October, sea turtles occasionally nest on Bucuti's 14 acres of beach. When nighttime hatchings occur, the resort switches off its outdoor lights so the babies can easily follow the moon's reflection toward the sea.
And about that sea -- it's a gorgeous expanse of aquamarine water, edged by pure, soft sand. Palm trees dot the beach, as do thatched palapas that are generously spaced, giving couples plenty of privacy.
Get a massage for two
at
Manchebo Beach Resort and Spa
. The 70-room property is right next door to Bucuti & Tara, so stroll on over for an indulgent session at its charming outdoor spa. The space melds mellow Caribbean vibes with Balinese style, and treatments are performed in gazebos outfitted in teak furnishings. Listen to the singsong chirp of birds and the sounds of the surf as you each give in to a full-body massage in one of the two-guest cabanas.
Those who've lingered too long in the sun can opt for a cooling wrap of aloe, cucumber and essential oils. Aloe was introduced to Aruba in the 1840s and became one of the island's most successful crops. You can learn more about the healing properties of the plant at the Aruba Aloe Museum and Factory, which offers tours that highlight the production of various lotions, sunscreens and fragrances.
Sail away on Mi Dushi,
an 80-foot masted vessel built in 1925. For about $60 per person, the crew takes the ship out on five-hour cruises with three stops for snorkeling, including an excursion at the ghostly wreck of the Antilla. The captain of the German freighter intentionally sunk his ship during World War II to keep it out of Dutch hands. Patches of olive green and midnight blue coral creep across the decaying hull, which is a favorite hideout for nocturnal lobsters. The Antilla is the largest of several wrecks around Aruba.
A tasty lunch of fish and chicken and an open bar are included in the Mi Dushi getaway. If you and your loved one seek a bit of seclusion, head to the stern, where there's seating behind the wheel, well away from the revelry on the main deck.
Hang on to each other for dear life
on an off-road safari. The gentle waves and sugary sands of Aruba's western hotel zones give way to a rough-hewn, semiarid landscape as you travel across the interior and toward the rugged north coast. It's a setting characterized by hardened earth, striking geological formations, desert plains and hardy flora like cactus and mesquite. The best way to immerse yourself in the stark beauty is via a four-wheel-drive vehicle, but be warned: It's a bone-rattling ride over barely discernible dirt and gravel byways.
On scheduled excursions and custom-tailored trips, ABC Aruba Tours offers wild rides to the island's off-the-beaten-path sights; seat belts are mandatory. Stops can include Guadirikiri Cave, where sunbeams stream through natural skylights (wear sturdy shoes when traversing this slick spot); the stony remains of the Bushiribana gold mill, a smelter built in 1825; and Boca Prins, a prime spot for views of fierce waves crashing into rocks far below.
Along the way, you'll find evidence of nature's ability to adapt in seemingly inhospitable conditions. A hot-pink blossom flourishes on a spiny desert plant, and a cobalt blue lizard darts across a rock. Perhaps the most tenacious of Aruba's inhabitants is the divi-divi tree, its gnarled limbs permanently bowed to 90-degree angles by persistent tradewinds.
You can sample the scenery in a more civilized manner at Arikok National Park, which spreads across almost one-fifth of the island and is accessible by paved road. It has walking and hiking trails, as well as a visitors complex with a coffee shop and a place to purchase a few souvenirs.
Take the plunge at the Natural Pool.
Half-day itineraries with ABC Aruba Tours stop at this watery oasis surrounded by volcanic rock on a deserted stretch of coastline. It's sheltered by some of Aruba's harshest terrain, which makes it difficult to reach -- a 4X4 vehicle and a descent down a set of stone stairs are required. But once there, you can leap off the edge into the cool blue below, and paddle and snorkel as the ocean spray breaks over the surrounding cliffs.
Learn a new sport together,
like windsurfing or kiteboarding. Aruba's steady breezes provide ideal conditions for water sports that harness the wind. If you want to give it a try, head to a place known as the Fisherman's Huts at Hadicurari Beach, where outfitters offer instruction. This also is the site of the Aruba Hi-Winds competition, which was first held in 1987. It draws professionals, amateurs and spectators from around the world during its late June to early July run.
Dine on the beach
at the Old Man and the Sea. Despite a moniker that conjures up visions of grizzled sailors, this restaurant in Savaneta is a delightfully breezy venue for a romantic repast. Follow the garden pathway -- past the open-air kitchen, the hammock and the chandelier made of wine bottles -- to a surfside table in the sand.
Amid palm trees, white linens and candlelight from lanterns, guests dine on pineapple-curried shrimp, macadamia-crusted grouper napped in a cardamom-white wine sauce, and bouillabaisse made with locally caught snapper, mahimahi and wahoo. The signature dish is keshi yena, an Aruban staple of marinated and grilled chicken, green olives, raisins, cashews, capers and pearl onions, all smothered in gouda cheese.
The Old Man and the Sea has a couple of "honeymoon tables" that are particularly prized. One is at the end of a short pier; it's the best oceanfront seat in the house, but it's also in full view of all the other diners. The second is a private nook that's well separated from other tables, with a thatched roof and silk pillows strewn in the sand.
Feel the love of the locals.
Aruba
claims to be the "island of 90,000 friends you haven't met yet," and it's true that you'll encounter an amiable bunch of folks who are happy to share their culture. Dutch, African, Spanish and Caquetio Indian strains permeate their language, heritage and cuisine. You can mingle with the islanders and sample Aruban specialties in the small, convivial dining room of the Old Fisherman in downtown Oranjestad. Try keri-keri, which is flaked fish seasoned with chopped onions and spices like achiote seed, and the fish cakes known as balchi di pisca. Both items are offered on the restaurant's Criollo Platter, along with rice, plantains, fries and coleslaw. Wash it down with a Balashi, the local brew. As you're waiting for the main course, munch on an order of fried pan bati, addictive morsels of cornbread sprinkled with shredded cheese.
Aruba is particularly friendly to American visitors: U.S. currency is widely accepted, and most prices on menus and in shops are in U.S. dollars. Aruba also is one of the few countries where American citizens can clear U.S customs and immigration before boarding their homeward-bound plane.
But before you leave, be sure to stop at the circular outdoor watering hole of the Sand Bar, back at
Bucuti & Tara Beach Resorts
, to try a local drink known as the Aruba Ariba. It's a concoction of fruit punch, vodka, banana liqueur and coecoei, a red-tinted spirit comprised of agave sap, cane sugar and rum. Happy hours with half-priced drinks run from 4 to 6 p.m. and from 9 to 10 p.m. Say hello to Paco, the yellow-headed Amazon parrot. Like most Arubans, he understands English, Spanish, Dutch and Papiamento, the island vernacular rooted in Afro-Portuguese Creole that was recognized as an official language in 2003.
Later that night, you might sneak a bottle of Champagne to the beach and make one more toast to each other by the surf as the moon shimmers on the water. Just remember: Bring your empty bottle back to the eco-conscious resort for recycling.
Information:
To learn more about the amenities of
Bucuti & Tara Beach Resorts
, and check rates, call the hotel specialists at (800) 998-6925 or visit
Vacations To Go
to view a complete list of hotels on the island.
The information in this story was accurate at the time it was published in July/August 2011. Please visit
Vacations To Go
or call (800) 998-6925 for current rates and details.
Send This Article to a Friend
Bookmark this Content
Digg it!
Reddit
Furl
del.icio.us
Spurl
Yahoo!