7 Suggestions for a Spa Weekend
Soothe or spoil yourself with these resort hideaways
around the U.S. and Canada
By Rebecca Matheson Ortiz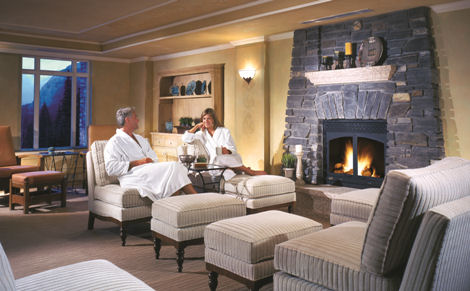 Fairmont Hotels & Resorts
D
id the holidays drain the last of your vacation time? You always could release the shackles of workaday responsibilities and opt for a relaxation-intensive weekend. A quick two- or three-day escape can enhance wellness, raise spirits and tide you over until your next full-length adventure.
From the red-rock desert of Sedona, AZ, where local, organically grown ingredients promote cleansing, rejuvenation and healing, to a swanky Big Apple hotel that boasts luxurious, top-of-the-line products, the following lodgings and their accompanying spas promise to de-stress and help you get back to your best self.
If you're ready to put some pep back in your step, contact the resort specialists at Vacations To Go for discounted booking rates, (800) 998-6925, or
peruse options online
.
Fairmont Banff Springs
Banff, Alberta
Since the 1880s, when hot springs were found at the base of Sulphur Mountain in the Canadian Rockies, people have traveled to the 2,564-square-mile
Banff National Park
to restore health and energy among glistening glaciers, coniferous woodlands and, in summer, flower-filled meadows.
Sanctuary:
Cradled in the midst of the park, the 127-year-old
Fairmont Banff Springs
often is called the Castle in the Rockies. Windows in the 764 rooms and suites open to invigorating breezes scented by evergreen forests. You can wine and dine at nine bars and restaurants, including the 1888 Chop House, featuring sustainable wild game and Alberta beef. Mountain bike rentals are available, and a ski valet makes stowing winter gear easy after a visit to one of three nearby resorts. In warmer weather, tee off on the Stanley Thompson-designed golf course that edges the Bow River.
Treat yourself:
The 38,000-square-foot Willow Stream Spa welcomes the weary with a mineral pool that mimics those wellness-inducing hot springs. Indulge in the Rose Renewal, which increases circulation through a technique known as dry-brushing before you steep in a flower-infused bath. This is followed by a soothing massage to work out muscle kinks and a wrap that hydrates with heavenly smelling oils derived from plants grown in neighboring British Columbia.
Hilton Sedona Resort at Bell Rock
Sedona, Arizona
According to local lore, the 4,919-foot Bell Rock is home to one of four powerful vortices in
Sedona
that boost stamina and energy, inspiring the region's wellness culture. Whether that's true or not, just seeing the sandstone monoliths rise into blue skies is enough to enrich the soul.
Sanctuary:
Encircled by 1.8 million acres of national forest,
Hilton Sedona Resort at Bell Rock
crouches amid the rusty spires, buttes and domes of Red Rock Country. Recent renovations updated its 219 guest rooms, each with its own fireplace and outdoor space that creates a peaceful haven for reflection. The lobby features Arizona-made art and calming earth tones that mirror the locale. The 18-hole championship golf course has softened edges to better blend with nature, and The Grille at Shadow Rock can satisfy Southwestern hankerings -- chorizo Belgian waffles, anyone?
Treat yourself:
The Eforea Spa uses organic and locally sourced products to encourage balance. Guests can prepare for their appointments with a steamy cup of herbal tea (and perhaps venture to one of the clothing-optional sundecks). The Signature Terra Roja Experience relieves built-up strain and brightens dull skin with a buffing of honey and sage -- a plant long used by Native Americans for its purifying energies and medicinal properties -- followed by a bamboo and aloe polish. You're then cocooned in sacred red clay to detoxify before a full massage.
Lotte New York Palace
New York City
New York City
, with a population of 8,491,079 and a constant onslaught of tourists, is more frequently associated with hustle and bustle than peace and quiet. However, it's also a hot spot for luxury and the latest spa trends.
Sanctuary:
Less than a five-minute walk from Rockefeller Center, the timeless
Lotte New York Palace
is tucked into a welcoming courtyard on upscale Madison Avenue in midtown Manhattan. Enter through the 1882 Villard Mansion, a city landmark that blends easily into the modern 55-story tower. The 909 rooms and suites -- beginning at 360 square feet -- tout sophistication and comfort as they overlook the renowned cityscape. In-room dining is available 24 hours a day from an expertly crafted menu.
Treat yourself:
Don't want to venture outside? Professionals from the Lotte New York Palace Spa will come to your room for a top-notch mani-pedi. Or take advantage of in-spa treatments like the Sugar Glow Scrub, where a mix of sugar, ground walnut shells, chardonnay grape seed extract, shea butter and essential oils scours coarse skin and conditions the fresh layer below, leaving a sense of newness.
Sonesta Resort Hilton Head Island
Hilton Head Island, South Carolina
Just 12 by 5 miles,
Hilton Head Island
provides a beachy respite in South Carolina's low country where winter highs reach the 60s. In this laid-back destination, the key to happy hearts is sandy toes and the sound of waves lapping the shore.
Sanctuary:
The isle's only certified green hotel,
Sonesta Resort Hilton Head Island
abuts the Atlantic Ocean. It's located in the residential and resort community of Shipyard Plantation, and guests have access to trails under moss-draped oaks, a 27-hole golf course, tropical gardens and the beach at Bass Head, where you can collect your thoughts along with sand dollars. The 340 newly renovated accommodations offer the convenience of iHomes for music and Keurig coffee makers.
Treat yourself:
Long walks on the beach can be rough on the feet. Spoil those toes with the Hilton Head Arum Spa's signature pedicure. Along with the basic groom and polish, sore tootsies are soaked and softened in warm coconut milk, calves are gently exfoliated with a refreshing sugar and nut-oil scrub and moisturizing shea butter is massaged into your legs and feet, providing nourishment for parched skin.
Hotel Terra Jackson Hole
Teton Village, Wyoming
Jackson Hole
is just that -- a radiant little dimple set within smiling mountain terrain. An outdoor lover's dream retreat, it's ringed by five ranges and shares an ecosystem with Yellowstone National Park. If you're looking to reconnect with nature, head for the hills and revel in the wilderness that awaits you out West.
Sanctuary:
A quirky brass moose acts as a conversation starter in the lobby
of
Hotel Terra Jackson Hole
. This 132-room lodge sits at the base of 10,536-foot Rendezvous Mountain, just a mile from Grand Teton National Park and about an hour from Yellowstone. Oversize windows, high ceilings, heated bathroom floors and rain showers grace each room for added opulence. The eco-friendly resort is powered by solar, hydroelectric and wind energy, and each dual-flush toilet saves around 18,000 gallons of water a year. Skiers thrive here, with an average of 400 to 500 inches of snow annually and 2,500 acres of available terrain. In summer, adventure guides lead safari-style tours to glimpse bears, elk and maybe even a mountain lion.
Treat yourself:
The rooftop Chill Spa implements therapeutic views of the Snake River Range and locally inspired treatments to help you ease out of life's burdens. Choose the Signature Spa Day at Chill package and you'll be welcomed with a glass of bubbly before undergoing an herbal massage that promotes balance through the use of turmeric, lemongrass and ginger; a pore-refining berry and chocolate facial; and a skin-hydrating lavender and goat-milk wrap.
Wedgewood Hotel and Spa
Vancouver, British Columbia
Vancouver
is a modern metropolis perched on a peninsula that melds flawlessly with nature. The Coast Mountains stand tall against the skyline, and the shimmering Burrard Inlet and English Bay wrap the land. The city's 1,000-acre Stanley Park is a natural rain forest, sheltering about 500 species of animals from bald eagles to seals.
Sanctuary:
The family-owned
Wedgewood Hotel and Spa
is a charming boutique property situated in downtown Vancouver. All 83 of the lavish guest rooms have elegant furnishings and deep tubs for long baths, and most offer balconies for enjoying the impressive mix of scenery. The award-winning Bacchus Restaurant and Lounge presents classics like foie gras and the best of Canadian seafood, and homemade cookies left by staff at turndown put midnight cravings to bed.
Treat yourself:
Cleanse away stress in the eucalyptus steam room at the Spa at the Wedgewood, then embrace the Signature Thai Fusion Massage to loosen muscles. This hybrid therapy, especially good for those with physically taxing jobs and hobbies, utilizes yogalike stretches, a deep-tissue rubdown and acupressure to relieve tension. The addition of lemongrass oil, considered by some to be a natural antidepressant, might boost positivity.
The Lodge at Vail
Vail, Colorado
In this
central Colorado ski town
, cozy chalets and quaint restaurants mingle with chic shops and fine-dining establishments. Standing as a sentinel over it all is Vail Mountain, with impeccably groomed slopes that have enticed visitors for more than 50 years.
Sanctuary:
The first hotel in this ski resort,
The Lodge at Vail
captures an Old World spirit while providing praiseworthy service. Not all accommodations are ski-in, but a back entrance opens to a lift just a few steps away. Adding to the warmth of the outdoor pool, crackling fire pits cast a peaceful glow amid the powder-dusted firs and surrounding peaks of the Colorado Rockies. Rich mahogany and leather touches lend a distinguished air to 165 intimate rooms, and personal humidifiers keep cold-weather ailments at bay.
Treat yourself:
Aromatherapy foot soaks come standard with every service booked at the 7,500-square-foot RockResorts Spa. Let worries melt away in the Sweet Surrender Bath, a traditional approach to supple skin and a mended soul. Submerge on your own or include your special someone in a fireside tub for two.
The information in this story was accurate at the time it was published in January/February 2016. Please visit
Vacations To Go
or call (800) 998-6925 for current rates and details.
Send This Article to a Friend
Bookmark this Content
Digg it!
Reddit
Furl
del.icio.us
Spurl
Yahoo!