7 Spots for a Family Escape
These resorts promise engaging activities for kids
and creature comforts for adults
By Emily Coleman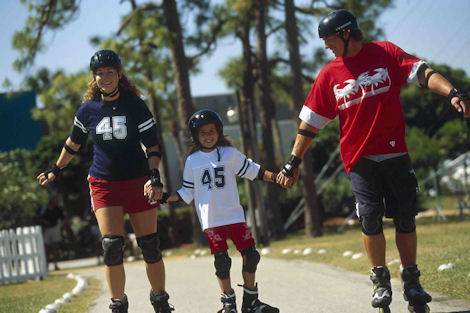 Club Med
A
ll of the preparation that goes into a family vacation can make the trip seem more like a chore than a treat. There are endless logistical concerns, extra packing and a lot of planning to make sure things run smoothly.
But vacation is vacation, and it shouldn't be work. With that in mind, we've chosen seven terrific resorts that make a family getaway a breeze. Each has activities and entertainment that can be enjoyed by all, so no one is left contemplating boredom. Most offer stellar children's programs with organized activities. Whether you'd like to travel to a Mexican beach, a desert retreat or an island paradise, these resorts are ready for you and your family. Some even cut
families a break in the pricing, offering discounted rates for kids or allowing them to stay free in the same room as their parents.
If you'd like to learn more about the amenities and accommodations at any of the following locations, call one of the resort specialists at Vacations To Go, (800) 998-6925, or consult their
Web site
.
Cancun, Mexico
For family fun in the Yucatan, the
Azul Sensatori Hotel
has an enticing setting and plenty of activities to bring your brood together. The all-inclusive resort is just 20 minutes from Cancun's airport, so guests can be on the beach of Bahia Petempich in no time. The 438 rooms at the oceanfront retreat are grouped in sections, with family-oriented suites located closest to the Azulitos Kid's Club, the children's pool and a splash park; these accommodations sleep two
adults and three kids.
Toddlers 2 and under stay free while kids 3 to 12 pay half the rate when sharing a room with two adults. Six restaurants and 24-hour room service ensure that no one goes hungry. Tapaz serves Spanish-style tapas -- small appetizer plates -- to oversize tables that easily seat large groups, and Cantina Zocalo has an extensive kids' menu for picky pint-sized diners.
Some perks at Azul Sensatori can help make a parent's load a little lighter. Baby equipment and toys are available on loan, so there's no need to pack a baby monitor, a stroller or the contents of your playroom. You can select toys off the hotel's menu and they'll be delivered to your suite. The kids' club has Fisher-Price learning toys and My Gym equipment, like ropes, parallel bars, a trampoline, springboard and floor pads. Plus, there are daily organized programs
for those ages 6 months to 12 years old. Some are designed for participation by the whole family, while others are for kids to enjoy on their own. However, kids younger than 4 must be accompanied by an adult.
Teens can hang out at their own club where they can play Nintendo Wii games, mix custom CDs or show their skills in a beach volleyball tournament. The teen club hosts dance parties with nonalcoholic beverages.
While kids have their own fun, parents can take in tranquil views of the sea at an outdoor yoga class or enjoy a soothing massage at the spa. Families can embark on a snorkeling expedition, dine at a private beach barbecue or roast marshmallows over a bonfire for s'mores. The resort also has a vacation planner on staff who can coordinate events and activities for large family reunions that require five or more hotel rooms.
Castries, St. Lucia
Almond Morgan Bay
nestles on 22 acres of lush land on the northwest coast of St. Lucia, an island in the Southern Caribbean. Manicured paths meander through gardens and around lagoons, while gentle waves lap the black sand at the secluded beach cove. It's an idyllic seaside escape that's all-inclusive, too.
Children ages 2 or younger can stay at the resort free of charge, and all kids can participate in the many activities designed for junior guests. The children's curriculum is divided into several age-appropriate groups: There's a nursery for babies under 2 years old, a "mini club" for tykes 2 to 4, two separate programs for the 5-to-7 and 8-to-12 sets, and a teen center for those 13 and up. Younger children are entertained with story time, songs and nursery rhymes, while
school-aged kids can make jewelry, put on a puppet show, paint T-shirts and train to be junior chefs. Outdoor activities like beach cricket, badminton and pool volleyball take advantage of the wonderful weather.
The ocean is the resort's greatest asset, providing an aquatic playground for snorkeling, windsurfing, sailing, kayaking, water skiing and swimming. Those in search of active pursuits on land can head to the St. Lucia Golf and Country Club to play the 18-hole course. The 340-room Almond Morgan Bay also has four tennis courts, a fitness center and a salon and spa. Four restaurants provide diverse culinary options, including seafood, Creole cuisine and Asian-Caribbean fusion. The Palms, the main continental restaurant, serves a British-style high tea every afternoon.
Port St. Lucie, Florida
If you want an all-inclusive resort, you don't need to book an international flight.
Club Med Sandpiper
, located on the St. Lucie Waterway in Florida, offers a stateside all-inclusive experience. Port St. Lucie is on Florida's Atlantic coast, midway between Orlando and Miami.
Active families have much to sample at Club Med Sandpiper. Parents can get an introduction to sports like archery or sailing in a group class. Anyone can develop their skills in the tennis clinic: Classes for younger athletes focus on motor skills and basics, while older kids learn stroke technique and game rules. While Club Med Sandpiper isn't right on the seashore, it does have a sandy beach with loungers on the St. Lucie Waterway. There are three pools, practice facilities
for soccer and basketball and a half-pipe for skateboarding and in-line skating. And you might feel like a kid again at the circus school, where you can learn how to swing on a flying trapeze. Children ages 4 and up also can get in on the fun and acquire some circus skills of their own.
Mini Club Med hosts young guests 4 to 10 in small groups divided by age. Creative workshops, games and entertainment encourage and stimulate the kids. A talent show brings out their best, and a fun Zumba fitness class keeps them moving to Latin and international music. The program for young adults ages 11 and up offers a variety of activities but also provides the autonomy they crave at that age. Child-care facilities are available for babies as young as 4 months to less than 4 years old, but these services come at an additional fee.
Parents with very young children will appreciate the main restaurant's "baby corner," which has utensils, finger foods and other dishes specially made for tiny tots. Baby beds, bathtubs, changing tables, strollers and bottle warmers are available for guests' rooms.
There's a 50 percent discount in the rate for kids ages 4 to 15 and a 70 percent reduction for those ages 2 and 3. Children under 2 stay free.
Big Island, Hawaii
On the western coast of Hawaii's Big Island,
Kona Village Resort
has serenity, scenery and family-focused pursuits. The thatched-roof, Polynesian-style bungalows, called hale, are scattered among informal gardens, lagoons and lava rocks. They're free from distractions, so you won't hear ringing phones, blaring televisions or the hum of air-conditioning units -- trade winds, ceiling fans, screened doors and louvered windows keep you cool here. Infants and toddlers age 4 and under stay free at the resort.
Dining options are included in the price of your stay, so you can enjoy the ocean-view buffet spreads and weekly luaus and barbecues. There's a special dinner service for children from 5:30 to 6:30, allowing parents the option of a romantic meal alone later in the evening.
A complimentary program for keiki (children) ages 5 to 12 has them casting nets for fish, catching crabs, painting coconuts and dancing the hula. Teens and adults can try kayaking, snorkeling and sailing. Tours are offered of the resort's centuries-old petroglyph field, where the etchings of ancestors can be investigated. Look for endangered green sea turtles near the surf in the afternoon. The stories of the stars are illuminated by resident astronomer Jon Lomberg at complimentary sessions scheduled throughout the year. Lomberg is a respected artist and scientist whose mural of the Milky Way galaxy is part of the permanent collection at the Smithsonian Institution's National Air and Space Museum.
The Westin La Cantera Resort
San Antonio, Texas
Atop one of the highest points in San Antonio,
The Westin La Cantera Resort
boasts stunning views of downtown and the Texas Hill Country. The site was once a limestone rock quarry (la cantera in Spanish) and is surrounded by groves of live oak trees and expansive fairways. There are 36 holes of golf designed by Jay Morrish, Tom Weiskopf and Arnold Palmer. Rounding out the recreational offerings are six pools, three hot tubs, a health club and spa, tennis and a mile-long nature trail.
For kids 4 to 12, Discovery Day Camp sessions are offered three times a day -- morning, afternoon and evening. They can get creative with arts and crafts projects or burn off energy with nature walks, relay races and scavenger hunts. Families can gather for movie nights or to roast marshmallows over a fire pit for s'mores.
Older children ages 12 to 17 may be more inclined to do their own thing, and they can hang out at the Rock'n T Lounge and watch movies or try the Xbox and Nintendo Wii games. The resort is conveniently located for family outings to SeaWorld San Antonio or Six Flags Fiesta Texas, where thrilling aquatic shows, animal encounters and monster rides await.
Jackson, Wyoming
Guests at
Spring Creek Ranch
wake to views of endless blue skies, wildflower meadows and the majestic Teton Range. Despite its rustic surroundings on a wildlife preserve in the untamed plains of northwest Wyoming, this resort has many comfortable amenities. Guests can opt to stay in hotel rooms, condominiums or spacious four-bedroom, four-bath villas. The condos and villas have kitchens -- great for families that want to prepare some of their own meals.
In the summer, chuck wagon dinners transport families back to the Wild West. Guests ride covered wagons to Cache Creek Canyon, the perfect spot to enjoy a meal of roast beef, corn on the cob, baked beans and lemonade. The evening is capped off by Western music and cowboy entertainment. The vast countryside offers many opportunities for recreation, like horseback riding, hot-air balloon rides, mountain climbing, hiking, fly-fishing and float trips down the Snake River.
Family members can pool their detective skills on a geocaching excursion, which uses GPS technology to uncover prizes and souvenirs hidden on Spring Creek's 1,000-acre spread.
Two majestic national parks are nearby, Yellowstone and Grand Teton. Both are home to elk, eagles, deer and buffalo, as well as hiking trails and more stunning scenery. Wildlife safaris also are available on the resort grounds, led by the staff naturalist.
Hyatt Regency Scottsdale Resort and Spa at Gainey Ranch
Scottsdale, Arizona
The
Hyatt Regency Scottsdale
blends into the amazing vistas of the Sonoran Desert, tucked amid gentle slopes of sand and flowering cactuses and backed by the McDowell Mountains. The upscale resort atmosphere harmonizes with the Southwestern landscape and local Native American culture for a peaceful retreat on 27 acres.
The whole family will love cooling off at the Hyatt's 2.5-acre water park, which boasts 10 pools (including a cold plunge pool, a 4,400-square-foot adults-only pool and intimate "pools for two"), a Jacuzzi and a three-story waterslide. And there's even a white-sand beach for constructing sand castles. More diversions await just beyond the resort, including hot-air balloon rides, horseback riding tours, biking adventures and the Desert Botanical Garden, where you can follow loop trails past wildflowers and rare succulents.
Children between the ages of 3 and 12 can spend time at Camp Hyatt Kachina, a hands-on program that encourages exploration of the region's nature, geography and culture. Kids can learn about reptiles in the desert, fashion Native American pinch pots from clay or listen to the tales of a cowboy storyteller. The culture and history of the region also is showcased at the on-site Native American and
Environmental Learning Center, where guests can view artisan works and chat with a member of the local Native American community. Take the kids to the resort's Fountain Court at 5 p.m. on Friday evening to see Native American dancers perform the hoop dance, which represents the circle of life.
The information in this story was accurate at the time it was published in March/April 2010. Please visit
Vacations To Go
or call (800) 998-6925 for current rates and details.
Send This Article to a Friend
Bookmark this Content
Digg it!
Reddit
Furl
del.icio.us
Spurl
Yahoo!