6 Pools With Fabulous Views
Take a dip while taking in the scenery,
from Tanzania's wildlife haunts to New York's concrete jungle
By Rebecca Matheson Ortiz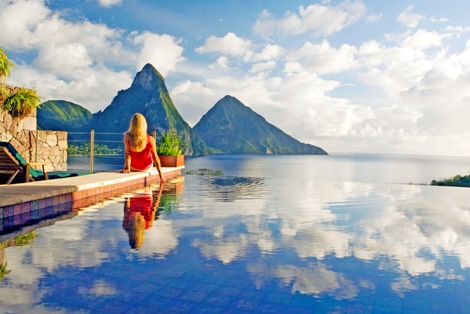 Jade Mountain
(Scroll down to see a slide show.)
W
hen I was a child, no trip seemed complete without a swim at the hotel that hosted our family vacation. The splash of water, the stinging (yet exhilarating) scent of chlorine, the flips and breath-holding competitions between siblings -- these things set the tone for a grand adventure. As grown-ups, we can capture the excitement again by staying at a resort where pool views incorporate the stunning surroundings. Nothing says "the vacation starts now" like a plunge into the deep end.
Here are six swimming spots with impressive scenery, from cool respites in the balmy tropics of St. Lucia to a warm refuge in Canada's snowy Banff National Park. Submerge yourself in these settings with the help of travel discounter
Vacations To Go
by visiting the provided websites.
Four Seasons Safari Lodge Serengeti
Tanzania's 5,700-square-mile
Serengeti National Park
, a UNESCO World Heritage Site, is known for its Great Migration of more than 1 million wildebeests, along with gazelles, zebras and other animals searching for fresh grazing grounds.
The pool offers a front-row seat to an active Serengeti watering hole. It's roughly 5.5 feet deep with a free-form shape and cascading edge. You can cool off in the wading area or stay dry on acacia-shaded sun beds.
The view proffers parades of pachyderms, towering giraffes and even the occasional lion or cheetah that stops to quench its thirst and frolic through the basin. Many are regular visitors, like Stumpy, an elephant with only half a trunk.
The lodge
provides many options for exploring your surroundings and the local Maasai culture. Interactive walks are led by a resident naturalist, and the Discovery Centre gives visitors the opportunity to get involved with conservation projects.
Inns of Banff
In southern Alberta, Canada, near the province's border with British Columbia,
Banff
is full of natural beauty, from glacier-fed lakes to the Canadian Rocky Mountains. Amenities range from more than 3,000 acres of skiable terrain to gondola rides that lead to hot springs.
The pool is blissfully warm, surrounded by low glass panels that add safety to its rooftop height without obstructing your sight line. It's long and narrow with tiled underwater benches and a connected hot tub.
The view in winter is of the snowcapped Cascade Mountain towering above a deep-green coniferous forest, softened by steam rising from the pool's surface. In summer, the bare, rocky peak tilts boldly into the sky.
The hotel
is located near downtown, providing easy access to shopping and dining. It has 230 rooms and 14 condos and cottages as well as the Bear's Den Pub, which serves local brews.
Hotel Mousai
Puerto Vallarta, Mexico
, has a verdant coastline that cups Banderas Bay. A Pacific escape sitting at the same latitude as the Hawaiian Islands, it's a favorite among sunseekers and sport fishermen in search of mahimahi and wahoo.
The pool has a 110-foot-long infinity edge that sweeps across the hotel rooftop at more than 360 feet above sea level. A misting system keeps guests cool in warmer months, and fire pits are lighted on chilly evenings. Palm trees reach for the sky, and LED lights set the scene aglow at night.
The view to the right takes your eyes over miles of azure ocean until they meet a distant city skyline backed by mountain silhouettes. To the left, rooftops peep from jungle-carpeted hills descending toward the sea.
The property
is all-inclusive, all-suite and adults-only. It exhibits designer flair that blends aesthetics and comfort to turn each room into a functional work of art, making the hotel feel like a gallery where you're part of the display.
Jade Mountain
St. Lucia
, in the eastern Caribbean, is a paradise composed of dense flora and sandy shores. Along its southwestern rim lie the famed Pitons, two volcanic plugs that are part of a UNESCO World Heritage Site.
The pools are private, found within 24 of Jade Mountain's 29 suites, and crafted from colorful, handmade glass tiles that are unique to each space. Lodgings are designed with only three walls, and their infinity pools glide out over open ledges. The water is sterilized and filtered six times a day using ozone and sand.
The view is simply breathtaking. From the privacy of your own room, soak in the majestic Gros and Petit Pitons and the shimmering Caribbean Sea. Reflections of clouds and mountains in the water can create a surreal feeling of floating in the sky.
Jade Mountain
was devised by owner and architect Nick Troubetzkoy, who focused on buildings that complement their natural surroundings and allow guests to embrace the splendor of the island. Coupled with sister property Anse Chastanet, it provides a wide array of amenities, including access to the resort yacht and a 60-foot catamaran.
Le Parker Meridien New York
In the heart of
Manhattan
, this property on West 56th Street is tucked between bustling Sixth and Seventh avenues and is less than a mile from Broadway's theaters, the Museum of Modern Art, Carnegie Hall and Central Park.
The pool is indoors, on the 42nd floor, and accompanied by an outdoor deck. A wall of floor-to-ceiling windows lets in sunshine by day and the glow of city lights by night. The 20-by-40-foot natatorium is kept at an optimal 86 degrees and ranges in depth from 3 to 6 feet.
The view looks out on the grand skyline and Central Park, the iconic, 843-acre oasis in the midst of the concrete jungle. Swimmers with sharp eyes can pick out the Pond or the looming Obelisk.
The hotel
touts plush standard rooms that are more than 300 square feet and suites up to 1,324 square feet. The property also offers three restaurants, a spa and even a "drybar" for quick hairdos before a night on the town.
Andaz Peninsula Papagayo Resort
Culebra Bay in
Guanacaste, Costa Rica
, makes a show of its white-sand beaches. With an abundance of welcoming hotels, calm Pacific waters and prime snorkeling spots, it has become a hit tourist destination. Three national parks are a short journey inland for afternoons of volcano and rain forest exploration.
The pool is two-tiered and family-friendly (though a second spot on-site caters only to adult swimmers). Its top portion is a semicircle of clear water, while the bottom is defined by its wavy infinity edge. Decorative rocks line the perimeter and give it an earthy vibe. Umbrellas rise up like pyramids above chairs primed for lazing.
The view of the calm, sapphire bay peeks out from behind treetops, and your eyes could feast for days on the thick verdure and rolling hills on the other side of the cove.
The resort
is inspired by its Costa Rican backdrop and incorporates harmonious wooden touches and local charm into luxurious, open-air spaces. Further commune with nature on the greens of an 18-hole Arnold Palmer golf course visited by indigenous monkeys.
The information in this story was accurate at the time it was published in November/December 2015. Please visit
Vacations To Go
or call (800) 998-6925 for current rates and details.
Send This Article to a Friend
Bookmark this Content
Digg it!
Reddit
Furl
del.icio.us
Spurl
Yahoo!