Wildlife Adventures
Seek gators in Florida, bears in Alaska and more
in the national parks
By Michelle Chumbley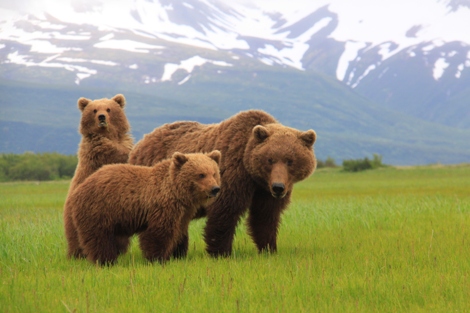 Brad Josephs/Natural Habitat Adventures
W
hen nature photographer Quang-Tuan "QT" Luong reflects on his wildlife experiences, one narrow escape comes to mind. While framing a sunrise shot over glacial Naknek Lake in Alaska's Katmai National Park and Preserve, he suddenly felt a hefty presence behind him. A brown bear was just 10 feet away.
"The rangers give you an orientation session when you come into the park, and they tell you that, should you have a close bear encounter, you shouldn't run because it can trigger a predatory behavior in the bear," Luong says. "I just tried to back down very slowly and hide behind a tree."
The wild animal proceeded to play with the photography equipment he'd left behind, leaving a bite mark on the bag and damage to the camera. "I fixed it with duct tape basically for the rest of the trip," Luong recalls with a chuckle.
While his encounter might be atypical,
national park-goers
should remember that a host of intimidating species call these expanses home, and we are their visitors.
And, while it is never recommended to get too friendly with the wild, well-populated habitats certainly offer plenty of opportunities to capture an image of a grazing bison, a leaping elk or, from a distance, a feasting bear.
Read on to learn more about some of the best wildlife-packed preserves, then contact
the tour specialists at Vacations To Go
to find a trip to these classic U.S. destinations.
Bears in Alaska
More than 2,000 brown and grizzly bears roam free in Katmai National Park and Preserve, a varied landscape of lakes, marshes, forests, glaciers and volcanoes on a peninsula in southwest
Alaska
. Observation platforms along the Brooks River lend up-close views of these star species prowling for migrating sockeye salmon in the summer; a prime photo spot is the small cascade at Brooks Falls, which draws larger, dominant omnivores often weighing as much as 900 pounds.
"If you're lucky, you can time the salmon just jumping into the bear's mouth," says Luong, who hopes to return to Katmai sometime this year.
The 6,395-square-mile park also is home to moose, caribou, red foxes, wolverines and mink, while the coastal areas and the nearby Shelikof Strait draw orcas, porpoises, sea lions and more. Bird-watching is best in spring and summer, when waterfowl nest in the wetlands and spawning salmon attract magpies and eagles.
"
Alaska's Coastal Grizzlies: Kodiak to Katmai Photo Tour
" an eight-day jaunt from
Natural Habitat Adventures
, includes a photography workshop with expert guides and multiple bear-tracking expeditions. Prices start at $7,995, and 10 departures are available between June and September.
Reptiles in Florida
In Everglades National Park, tropical species share space with more familiar North American critters that have adapted to the wetland environment. Rabbits swim through the marsh, gray foxes climb trees and white-tailed deer come in smaller sizes, not needing extra fat to protect them from bitter winters.
Reptiles are perhaps the best-known residents of the park, with at least 50 different varieties ranging from tiny lizards to 15-foot-long gators. Spotting both an alligator and crocodile in the Everglades is a unique experience; South Florida is the only locale where the two subsets native to the U.S. coexist, the former being a freshwater dweller and the latter more tolerable of salinity.
Picking the right season to visit is the key to a successful wildlife experience. While crowds are thinner in summer, the dry climate from December through April draws animals to the Everglades' few remaining water holes, usually occupied by toothy predators eager to withdraw from sedentary sunning to snap up lunch. Spotting fowl congregating in the warm South is common during this time, too, and on canoe trips on the Florida Bay, you might catch them feeding in open waters.
Cosmos
' 10-day "
Highlights of Sunny Florida
" covers ground between Orlando and St. Augustine to the north and Key West to the south and includes an airboat tour through swamps in the Everglades. Prices start at $1,609 for autumn departures.
Large mammals in the Northwest
Wildlife is at ease in
Yellowstone National Park
, Luong says, thanks to the preserve's long history and intact ecosystem. Established in 1872, the protected area in Wyoming, Montana and Idaho is the oldest national park in the country, packed with thousands of hot springs, steam vents, geysers and other thermal features. The big draw, Old Faithful, shoots water more than 100 feet from the ground about 17 times a day, often to an audience.
Aside from the geyser, mammals run the show, with 67 species constituting the largest concentration in the lower 48 states. Bison, saved from near extinction in the early 1900s, now number in the thousands, mostly roaming in large northern and central herds. Even more populous elk flash their antlers for photos throughout the park. Black and grizzly bears both live here, a rare phenomenon south of Canada, but compete for prey along with large carnivores like wolves and cougars.
"
Northern National Parks
" an eight-day jaunt with
Collette
, travels from Salt Lake City to visit Jackson Hole, WY, the setting for a number of Western movies and a base for daytrips to Yellowstone and Grand Teton national parks. Trips through early October start at $1,799.
Winged things in Maine
At about 74 square miles, Acadia National Park protects a land area much smaller than many other preserves, but it's actually the sky and sea that pack the biggest punch for wildlife fans.
Located primarily on Mount Desert Island off the coast of Maine, it's considered one of the top birding spots in the country, with 338 varieties counted here, including thousands of migrating raptors. Most of the action happens from late summer to early fall, on the cusp of the region's popular leaf-peeping season. Binocular-toting visitors hike up Cadillac Mountain, the tallest point in the park, to look for hawks passing overhead on their way to warmer climes.
In Frenchman Bay and the Gulf of Maine, endangered species like finback, humpback and right whales can be spotted between May and October, while harbor seals make the waters their year-round home. On shore, snowshoe hares, red foxes and flying squirrels often are seen, while resident black bears and moose make rare appearances.
"
USA & Canada Express
" from
Intrepid Travel
hits highlights like Niagara Falls and Washington, DC, before stopping for two days of adventures in Acadia National Park. It's a true "back to nature" adventure, with many nights spent in campgrounds equipped with facilities. Prices start from $2,000 for 15-day trips, with departures through September 2016.
Endangered species in Hawaii
Hawaii Volcanoes National Park is a molten rock sanctuary for rare species on the southeast side of the Big Island, but two impressive lava-spewers draw a lot of visitor attention. Mauna Loa, the largest active volcano on Earth, covers half of its host isle and rises 13,678 feet above the sea; smaller Kilauea, considered a hyperactive volcano, has erupted continuously for more than 30 years. On a 4-mile loop trail around the Kilauea Iki Crater, hikers can stand on a solid but steaming lava lake.
Flagship recovery programs in the park focus on four threatened species: the Mauna Loa silversword, a plant found only on its namesake volcano; the waddling Hawaiian goose, or nene, considered the state bird though it barely survived extinction in the mid-1900s; the hawksbill sea turtle, which nests between May and December on three protected beaches in the park; and the Hawaiian petrel, a seabird that breeds only in the Aloha State. Endangered songbirds, bats and the largest dragonfly in the U.S. also make their home here.
The eight-day "
Hawaiian Explorer
" from
Trafalgar
spends time on the volcanic Big Island, Maui and Oahu, home to Pearl Harbor and the USS Arizona Memorial. Weekly departures run through March 2016, with prices from $2,732.
Desert dwellers in Utah
Sunbeams on Zion National Park's soaring sandstone cliffs highlight shades of pink and red, an impressive sight for those looking up from the canyon floor. However, an elevation change of 5,000 feet between the Utah hot spot's highest and lowest points means more than pretty vistas, as the varied habitats invite hundreds of life-forms to dwell in rocky gorges and river valleys.
The nighttime howls of coyotes point to the nocturnal habits common here, where beady-eyed gray foxes, skittering ringtail cats and prowling mountain lions also trade scorching afternoons for moonlight activity. By day, long-eared mule deer and rock squirrels commonly are seen along the Virgin River. Zion also is a refuge for a few special fowl -- you might see threatened species like the Mexican spotted owl or the endangered Southwestern willow flycatcher on free ranger-led walks and shuttle tours.
"
Spirit of the Desert: The National Parks of the Southwest
" 10 days with
Tauck
, is inspired by a PBS documentary from Ken Burns and Dayton Duncan. It will include lectures, behind-the-scenes footage of the filmmakers and visits to six national parks, from Arches to Zion. Departures through early October start at $4,950.
The information in this story was accurate at the time it was published in May/June 2015. Please visit
Vacations To Go
or call (800) 680-2858 for current rates and details.
Send This Article to a Friend
Bookmark this Content
Digg it!
Reddit
Furl
del.icio.us
Spurl
Yahoo!