Unforgettable Escapes
From shark-infested ocean depths to the summit of Mount Kilimanjaro,
escorted tours can offer once-in-a-lifetime experiences
By Jennifer Davoren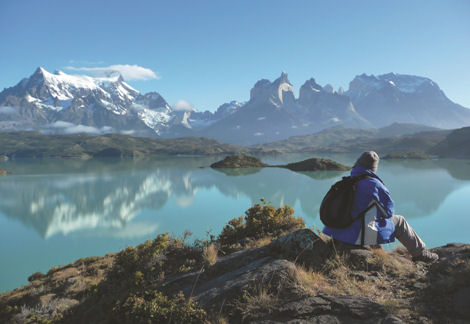 Intrepid Travel
F
irst and foremost, escorted vacations are known for their convenience.
These trips package all the crucial elements of foreign travel, from accommodations and daily activities to local guides equipped with multiple languages, and sell them at a group discount. They cut wait times at top attractions (try getting right into the Louvre without a tour operator's fast pass), secure tickets to in-demand events (reserved seating at a flamenco performance in
Spain
, perhaps) and make restaurant recommendations in unfamiliar cities.
But vacations aren't always about convenience. What about getting out of your comfort zone? Shaking yourself out of your day-to-day doldrums with something a bit more blood-pumping or culturally challenging?
Escorted tour operators can help you there, too.
The following are six examples of extraordinary experiences made attainable by escorted trips. Will you kayak the
Arctic
, camp in
Patagonia
or come nose-to-nose with an ocean predator? Choose your own adventure, then contact the international travel discounters at Vacations To Go
online
or at (800) 680-2858.
Make cultural connections in Thailand
There are two sides to
Thailand
. You have the country's rowdier aspect, with the hectic pace of the capital, Bangkok, proving especially popular among the 20-something backpacking crowd. Then there's the more traditional facet of the destination, with its cuisine, wildlife and picture-postcard wats, or Buddhist temples, taking center stage.
But even the wats can demonstrate this division. Bangkok's Grand Palace is home to the 18th-century Wat Phra Kaew, the Temple of the Emerald Buddha, considered the most sacred Buddhist site in all of Thailand. And, near the country's northern tip, an artist broke ground on Wat Rong Khun in 1997, filling his own personal temple with paintings of Batman, Superman and even Neo from "The Matrix" movie series.
Cross the divide with escorted tour provider
Trafalgar
on the 15-day "
Secrets of Thailand With Siem Reap & Angkor Wat
." While in Bangkok, guests perform tai chi, indulge in a Thai massage and see the Grand Palace, including Wat Phra Kaew. At Kanchanaburi, you'll traverse the bridge over the river Kwai by train; after, the trip heads north for another river visit, this time a cruise along the Mekong.
Day Eight of this adventure dawns with a photo op at Wat Rong Khun, followed by four days in the Chiang Mai region. Here, you'll make time for an orchid farm and elephant camp -- you might even catch a pachyderm ride through the forest -- and Trafalgar's unique "Be My Guest" culinary program means a traditional Thai lunch with a Ban Mae Kampong village family. The tail end of your tour skips over to Cambodia for sightseeing around Angkor Archaeological Park, where a Khmer guide traces the history of the "city of temples." Built in the 1100s and known as the world's largest religious monument, it has served as a testament to both the Hindu and Buddhist faiths.
Details
: Prices for this package start at $4,000 per person before airfare (short flights within Asia are included). Four fall departures allow for plenty of preparation time, though two April itineraries are available for spontaneous types.
Swim with the sharks in South Africa
In Afrikaans, an official language of
South Africa
, they were once called witdoodshaai -- literally translated, "white death shark." But the conservation trust in charge of Dyer Island, an offshore mecca for the world's largest predatory fish, is working to change that image. Thanks in large part to the "Jaws" phenomenon, the great white shark is a frequent target for hunters, and the World Wildlife Fund has declared them a vunerable species. A study released in June 2013 concluded that 808 to 1,008 great whites had visited South Africa's infamous Shark Alley over five years, down from an estimated 2,000 to 3,000 that once patrolled the water stretching from Dyer Island and nearby Geyser Rock (home to a large colony of the great white's favorite food, the Cape fur seal).
Come to a better understanding of their plight on the aptly named "
Thrilling Adventure in Southern Africa
" a 10-day trip with
African Travel
. On Day Three, your tour group will board a boat bound for Dyer Island for a cage dive among great whites. While the sharks aren't known to attack the bars separating you from the roughly 3,000 teeth possessed by a full-grown animal, they often are curious about intruders, so expect to be closely eyeballed by a 2-ton predator as you slip beneath the waves.
Other activities promised by African Travel's "adrenaline-inducing adventure" through South Africa and Zimbabwe include rappelling from Table Mountain, the craggy peak overlooking Cape Town; canoeing and ziplining through Zambezi National Park; game drives through Hwange National Park, known for its roaming elephant herds; and, during your stay at the Victoria Falls Safari Lodge, a four-course Zimbabwean meal, with traditional dishes ranging from warthog steak to mopane worms, the caterpillar form of the emperor moth. (The menu also includes run-of-the-mill fare like chicken and pork as well as vegetarian options, should you use up all your courage on your shark-diving excursion.)
Details
: Choose from nearly 20 departures trough December, with per-person prices from $4,595 before airfare.
Swim with some very different sharks in Mexico
No worries, you won't find any man-eaters here. Instead, the warm waters along the
Yucatan Peninsula
are favored by whale sharks, gentle giants capable of reaching 59 feet in length. (National Geographic's "fast facts" Web page for the animal even uses a school bus for size comparison.)
Rather than row upon row of razor-sharp teeth, whale sharks are equipped with wide mouths and filter-feeding systems that allow them to strain the ocean for plankton, their primary food source. Plankton blooms are common in this region in high summer, where the Caribbean Sea meets the Gulf of Mexico and waves are heated by up to 13 hours of uninterrupted daily sunlight. As many as 800 whale sharks glide into the area each year for the all-you-can-eat buffet on offer.
Natural Habitat Adventures
is an escorted tour provider with an eye on sustainable tourism for small travel groups. Their six-day wildlife encounter, "
Swimming With Mexico's Whale Sharks
" demonstrates the company's preference for off-the-beaten-track destinations and accommodations -- though guests fly into the party town of Cancun, a majority of the trip is hosted by a small eco-hotel on Isla Holbox, a rural fishing outpost off the northeastern tip of the Yucatan Peninsula. The more remote location allows proximity to a lesser-known pod of whale sharks, and with a maximum group size of 15 people, you're guaranteed more time to connect with these docile animals.
Details
: The Yucatan whale shark season stretches from late May to September, but July and August are high-traffic times for hungry pods. Natural Habitat Adventures takes advantage of peak migration this summer with four July trips and a single August departure. Five more getaways are planned for July and August 2015. Prices start at $3,995 per person, without airfare.
Track bears, birds and other beasts of the Arctic
You have to be willing to embrace some unexpected adventures when considering a trip to the
Arctic
. For instance, "
In the Realm of the Polar Bear
" -- a nine-day cruise tour from Norway-based
Hurtigruten
, a company specializing in fjord and glacier visits in icy climes -- relies on "Arctic pragmatism" when setting its course.
This vacation winds through Svalbard, an archipelago claimed by Norway but stranded nearly 500 miles north of the mainland, across the Barents Sea. Hurtigruten's ultimate goal is to reach beyond the 80th parallel, a line of latitude well within the Arctic Circle, on a course around Svalbard's largest isle, Spitsbergen.
However, weather conditions can and often do affect the journey, so itineraries will vary. The captain and onboard experts scope out possible landing sites along the cruise route while considering climate and safety. Options include Ny-Alesund, an Arctic research station that also served as a starting point for early expeditions to the North Pole; the sheer, stone cliffs of Alkefjellet, a popular nesting spot for seabirds; and Storfjorden, an often frozen fjord that's a popular thoroughfare for polar bears.
When the weather allows, guests hike and kayak the wilds. Sixty-five percent of Svalbard is protected by national parks and nature preserves, so you have a chance of spotting reindeer and Arctic foxes while on foot and walruses and narwhals as you paddle. You'll also examine the means by which early explorers survived in such extreme conditions, in defunct whaling villages and historic coal mining towns.
Details
: "In the Realm of the Polar Bear" is priced from $5,206 per person. Four departures are offered this summer: July 23 and 30 and Aug. 6 and 13.
Climb Kilimanjaro in Tanzania
Each year, an estimated 15,000 people attempt the trek up Mount Kilimanjaro, the world's tallest freestanding mountain. Only 40 percent make it to the top. This trip takes about a week even for the hardiest of hikers, a 19,341-foot fight against altitude sickness, oxygen deprivation and, after several days of tented accommodations, the constant desire for a decent shower.
Several escorted tour options can help you get that coveted photo op on Uhuru Peak, the highest of Kilimanjaro's three summits.
G Adventures
' line of vacations tackles several mountain routes, including the Rongai trail up the northern face, with drier walking paths and moderately difficult climbing; Lemosho, a western approach known for its panoramic views of northern
Tanzania
; and Marangu, the oldest and most well-worn track, favored by slower hikers for its gradual gain in altitude through wooded glades and high-mountain deserts.
Look into the nine-day "
Mount Kilimanjaro Group Trek
" that highlights Machame, a popular path through rain forests and ice fields, with G Adventures' guests timed to crest Kilimanjaro for a chilly, awe-inspiring sunrise. While an eight-day vacation takes place on the same route, allotting an extra 24 hours for the trip helps your overworked body adjust to extreme mountain conditions. And, according to seasoned guides, you'll need it: Machame's steep climbs and fast pace have earned it the nickname Whiskey Trail for the stiff drink you'll want when you're through.
Details
: Prices start at $2,149 per person, without airfare, for the nine-day Machame trek, and departures stretch through December 2015. Regional mountain guides proclaim January to February and September to October to be some of the best (and therefore busiest) times for hiking, with warmer temperatures and fewer rain showers during the day.
Trek and tango across Chile and Argentina
Patagonia often is called the end of the Earth. It was certainly the end of the known world for centuries, a 260,000-square-mile stretch of South America so rugged and remote that passing sailors spun legends about its mysterious inhabitants. Ferdinand Magellan maintained that the region was home to a race of giants. The name Patagonia, loosely interpreted as "land of the bigfeet," is believed to have sprung from the Portuguese explorer's stories.
Straddling the border between
Chile
and
Argentina
, the terrain flows from Andes peaks and jewel-blue glaciers to placid lakes, rough rivers and grassy, windblown plains full of grazing guanacos, svelte cousins of the llama. It's daunting to survey by foot, but hikers are rewarded with a more thorough exploration of one of the planet's last pristine environments.
The 10-day "
Patagonia Trekking
" hosted by
Intrepid Travel
includes four days in Chile's Torres del Paine National Park. Here, you'll follow the famed "W" trail (named for its switchback route through ice fields and granite valleys), camping each night under open skies. Day Seven whisks guests to El Calafate, Argentina, gateway to Los Glaciares National Park, to snap photos of calving ice around the imposing Perito Moreno Glacier. Free time in Santiago, Chile, and Buenos Aires, Argentina, means opportunities for salsa and tango lessons, museum visits, winery tours and more.
Details
: Per-person prices start at $3,535, with departures through December 2015. Though your flights arriving to and departing from South America are not included in the cost of the travel package, "Patagonia Trekking" does cover airfare between Santiago and Punta Arenas on Day Two and El Calafate and Buenos Aires on Day Nine.
The information in this story was accurate at the time it was published in March/April 2014. Please visit
Vacations To Go
or call (800) 680-2858 for current rates and details.
Send This Article to a Friend
Bookmark this Content
Digg it!
Reddit
Furl
del.icio.us
Spurl
Yahoo!