Traditions to Treasure
From song and dance to language and food,
delve into the uncommon heritage of these destinations
By Alexis Hilts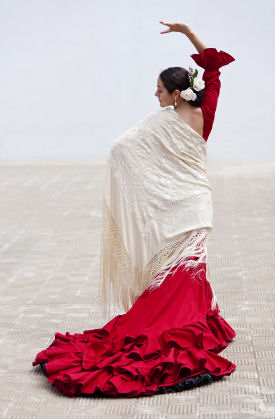 Darren Baker/Fotolia
I
t is hard not to be inspired by Irma La Paloma's love for flamenco.
"It has transgressed from a folklore to a world genre," says the co-founder and singer of performance group Solero Flamenco in Houston. "Most folklore stays in its crib, in its place of birth. And it remains as a tradition there. But flamenco, with its mysterious qualities, with its passion, with all the complexity of its rhythm, has broken the frontiers, and it is no longer an art that is practiced just in Spain. It is practiced all over the world."
Flamenco is one of the latest assets added to UNESCO's Representative List of the Intangible Cultural Heritage of Humanity. Most avid travelers have visited a UNESCO World Heritage Site. The Great Wall of China, the Statue of Liberty, Grand Canyon Na-tional Park -- these are some classics. Beyond historic and natural landmarks, the international organization works to safeguard other cultural treasures.
These days, we are exposed to a multitude of international influences without ever crossing our own borders. But through traveling we are able to seek out the source of these wonders.
Plan your next vacation
as an authentic experience that takes in one of the following customs from the UNESCO list.
Flamenco in Spain
It is difficult to pinpoint flamenco's beginnings. More than 500 years ago, no-madic peoples with a mixed musical heritage settled in Andalusia, a region of southern Spain. It's believed that during the Spanish Inquisition, these Gypsies -- and others who were persecuted -- fled to the wilderness where they began to create music together.
Early artists didn't have the shoes dancers wear nowadays, but La Paloma says they snapped their fingers and clicked their tongues for percussion. Varying rhythmic styles, or palos, are a signature part of flamenco. "There is a different palo for each human emotion," she says.
The craft maintains some structure, but La Paloma says the artistry comes from the spur of the moment. "Flamenco, to acquire its true flavor, has to have that element of mystery and that element of improvisation."
You can travel to flamenco country with tour operator
Collette Vacations
. Its 10-day "
Spain's Classics
" itinerary includes a tapas lunch and conversation with a flamenco dancer in Seville, followed by an evening flamenco show. If you're in the Houston area, catch Solero Flamenco's weekly performances at two restaurants, downtown's Andalucia or Mi Luna in the Rice Village neighborhood.
Indonesian Batik
Creating batik fabric can be a painstaking process. Artists first sketch patterns onto large swaths of cotton or silk cloth, copying ancestral designs as they have appeared for generations, sometimes adding modern twists. Hot wax is painted over each motif, allowing craftspeople to dye the entire fabric, but not these elements.
After the wax is removed, color is applied, bringing blush to flower petals and indigo to a peacock's breast. Depending on depth of color and number of hues desired, this process may be repeated several times.
What seems like an arduous undertaking actually is a method of transmitting the philosophies and spiritual identities of the Indonesian people. Symbols for clothing are picked to match the circumstance -- some patterns are said to bring luck to babies and newlyweds, while rulers wear other designs.
Budget company
Intrepid Travel
takes travelers to Yogyakarta, a center of batik-making, on its 15-day "
Indonesia Explorer
."
Peking Opera in China
Students display intense discipline through years of grueling practice in order to become professionals of the Peking Opera. Training in acrobatics, singing, acting, sword fighting and martial arts is necessary to perform what has been a national pastime since the late 18th century.
Famously fearless stuntman and actor Jackie Chan spent a decade at a boarding school for aspiring artists of Peking Opera, where he cultivated both physical and inner strength. According to the actor's website, "Students at the school were severely disciplined and were beaten if they disobeyed or made mistakes."
While training techniques have become less harsh, the art maintains its visually stunning presentation. Elaborate costumes and makeup define characters and their social roles. Similar to hundreds of years ago, performers today tell tales of daily life, politics and history.
The stagecraft is practiced throughout China, but the major companies are based in Beijing, Shanghai and Tianjin. To experience this ancient drama, consider the 11-day "
Magical China and the Yangtze River
" offered by river cruise company
Avalon Waterways
. While in Beijing, guests attend a Peking Opera show and get a behind-the-scenes look at performers as their stage makeup is being applied. Avalon passengers also can take part in another UNESCO-celebrated custom, calligraphy, at a class taught in Xian.
Bark Cloth in Uganda
What we make and how we make it can be closely tied to our identities. Take bark cloth, for example, a strong fabric produced by Ugandans for hundreds of years. In the last decade, the material has experienced a resurgence, says lecturer Lesli Robertson from the University of North Texas in Denton. Bark cloth is now used for traditional purposes, such as funerary rites, and for contemporary pieces by innovative artists.
Despite political changes and access to other versatile fabrics, this fiber has withstood the test of time. "One of the unique things about it is it's sustainable," says Robertson, who recently curated a bark cloth exhibit at the college. "The tree doesn't die. Even though you're completely stripping the tree of the bark, it can grow back once a year for 30 to 40 years."
Robertson suggests that travelers who come across bark cloth in Uganda take the time to inquire about where it was made, and by whom. Robertson recommends two designers, Sara Katebalirwe and Sarah Nakisanze, located at the Exposure Africa craft market in Kampala, the capital. Here, guests find goods ranging from wall coverings to purses. An informative stop in the area is the Uganda Museum, which houses a display on the making of bark cloth.
Intrepid Travel
,
Gap Adventures
,
SITA World Tours
and
African Travel
offer trips to
Uganda
, primarily to introduce visitors to the rare mountain gorillas of Bwindi Impenetrable National Park.
The Whistling Language Of La Gomera
Centuries ago, before cellphones and email, locals of La Gomera discovered a way to communicate over long distances. With dense vegetation and deep ravines, the terrain on this Canary Islands haven can be impassable, making quick messages hard to transmit. Adaptable residents developed a language of loud whistles, allowing them to get their point across from up to two miles away.
Predating the Spanish conquest, this hand-in-mouth form of communication, called Silbo Gomero, is based on two vowels, four consonants and various pitches. Only used on La Gomera, the skill was typically passed from parents to children. Due to declining usage, however, this intriguing language was on the verge of disappearing. To preserve the whistling tradition for future generations, elementary schools now teach Silbo Gomero.
La Gomera is a port of call on
Mediterranean
and
Canary Islands
cruises.
Fred. Olsen Cruise Lines
takes passengers on
two-week trips
to the Canary Islands, leaving from southern England ports.
Mediterranean Cuisine
Everything about the way many modern American families eat is rushed, says John Watt, chef and co-owner of Prego, an Italian eatery in Houston. From mass production to quick consumption, our culture spends less time appreciating our meals. Classic Mediterranean cuisine, on the other hand, is the "antithesis of the fast-food environment where you don't know where it comes from, and you don't really know what's in it," says Watt.
With "an emphasis on natural, ripe ingredients," the diet of this seaside region -- including Italy, Spain and Greece -- encompasses simple dishes often infused with olive oil and accompanied by wine. Fruits and vegetables are prominent picks for recipes, as are fresh fish and whole grains.
It's not just nutritional value that has remained constant in this region. Eating is still a social experience. "It's sharing good food together," says Watt. "Quality ingredients. You don't even have to intellectualize it. It's symbiotic. It's good for your mind, it's good for your body, and it's good for the environment."
One of the best ways to sample this tasty tradition is on a cruise.
MSC Cruises
showcases Mediterranean ports on
one-week itineraries
, like
Venice
and
Palermo
in Italy,
Barcelona
and
Palma de Mallorca
in Spain, and
Santorini
and
Corfu
in Greece. The company has a full-blooded Italian heritage, too, which means guests enjoy authentic meals on board as well.
Lace-Making in Croatia
In the picturesque town of
Hvar
, on the island of the same name, Benedictine nuns craft designs out of threads extracted from aloe leaves. According to legend, this type of lacework was introduced by sailors who returned from the Canary Islands with similar handicrafts. Women in Hvar's 17th-century convent have carried on the endeavor ever since.
Often resembling snowflakes or delicate blooms, Croatian lace pieces are mostly made in three centers, each with their own style: Pag, Lepoglava and Hvar. Hvar's trademark is its gossamer webs, and Pag's artisans specialize in needlepoint lace worked into tablecloths and decorations. Lepoglava, which hosts the annual International Lace Festival, is known for its lace produced by using bobbins.
Several small cruise ships take passengers to sunny Hvar as part of
Eastern Mediterranean sailings
, such as those of
Seabourn
,
Azamara Club Cruises
,
Silversea Cruises
and
SeaDream Yacht Club
. Passengers can find this exclusive souvenir at the convent in the heart of Hvar's historic center.
Tango in Argentina
"The tango can be debated, and we have debates over it, but it still encloses, as does all that which is truthful, a secret." The Argentine poet, Jorge Luis Borges, dedicated sonnets to the sultry steps of his country's dance. What can be a dramatic display and an intimate ritual began as the dance of the working class in Buenos Aires, Argentina.
As natives of the region, European immigrants and African descendants integrated, they created a distinct new identity. The embrace of the tango became the signature move in dance halls, brothels and bars. Its pulse became the heartbeat of the city, and later, the tempo of the nation.
Embellishments such as hooking your partner's leg or dragging her across the floor are used in this spontaneous strut, but basic moves involve walking in time and turning.
Do your own tango on a
Discovery Adventures
trip, "
Highlights of Argentina and Brazil
." This 10-day tour tacks on tango lessons followed by a dinnertime show in Buenos Aires.
Textile Art of Taquile, Peru
Taquilenos stretch fuchsia, yellow, red and violet threads on a loom anchored to the earth with four stakes. Using this as a base, they weave shawls, purses, hats and belts called chumpis. Some choose to knit the brightly hued textiles instead, but both men and women participate. The art of weaving is a part of life in the Andean plateau region, dating to pre-Hispanic civilizations.
Perched above expansive Lake Titicaca, the Peruvian island of Taquile remained largely isolated until the mid-20th century. It was once part of the Incan empire, and long-held customs and a strong sense of community still bind its people together. Farming, cooking and weaving are part of the everyday here, where running water is limited and walking is the only means of transportation.
Two companies offer 12-day tours that spend time in Taquile, where you can pick up your own textiles: Gap's budget-style "
Classic Peru
" and Trafalgar Tours' more upscale "
Land of the Incas
." Both take explorers to Ollantaytambo in the Sacred Valley, Machu Picchu's ruins in the clouds and 3,000-year-old Cuzco as well.
Puppet Theater In Sicily
Large painted marionettes in shiny armor and rouge robes of royalty prance across the boards in Sicily's stage tradition. Puppeteers expertly manipulate the carved characters to interact, at times battling or dancing before multicolored backdrops. Honor and chivalry prevail in the Opera dei Pupi.
Family-run theaters flourished in the 19th century, at the height of the craft's popularity. Audiences reveled in multinight performances, and respected puppet masters competed with neighboring operations. While puppeteers have struggled to preserve their practice, you still can find some productions in the region. The Figli D'Arte Cuticchio association puts on shows throughout the year in Palermo, also home to the International Puppet Museum.
Visitors can browse shops for souvenir marionettes. Mediterranean cruises feature Sicilian towns on select departures, and some tour companies develop itineraries based solely on this Italian isle. Guests of
Perillo Tours
overnight in Palermo and the resort spot of Taormina during the nine-day "
Splendid Sicily
," which explores this destination from coast to coast.
Booking Your Trip
Vacations To Go specializes in securing the lowest possible rates for international travel, whether you'd like to sail from port to port on a cruise ship or riverboat, or explore a country's history and culture on an escorted tour.
To save up to 75 percent off cruises in the Mediterranean and Canary Islands, call (800) 338-4962 or explore the
Mediterranean
and
Canary Island
cruise departments.
For information on Yangtze River cruises, call (800) 510-4002 or
click here
.
The company's safari experts can provide details on trips to Uganda; call (800) 291-3346 or
click here
.
Finally, to learn about prepaid, escorted tour packages to Spain, Sicily, Indonesia, Argentina and Peru, call (800) 680-2858 or visit Vacations To Go's
tour department
.
The information in this story was accurate at the time it was published in May/June 2011.
Send This Article to a Friend
Bookmark this Content
Digg it!
Reddit
Furl
del.icio.us
Spurl
Yahoo!