Traditions at the Table
Connect to the local culture through its food and drink,
from Mexico's chile dishes to Japan's storied tea ceremonies
By Elizabeth Armstrong and Michelle Chumbley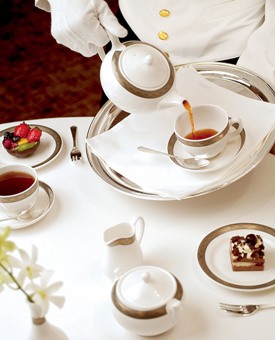 Cunard Line
L
ike many home cooks, I seek out culinary souvenirs while on the road, browsing markets and shops for items that I can haul back to my own kitchen. When I use these ingredients, they awaken memories from past wanderings. Honey from
Corsica
conjures the sweet scents of the Mediterranean island's wildflowers and scrubby maquis plants, and pale gold olive oil purchased at a
Tuscan
winery evokes an afternoon of tastings amid the vines and olive groves.
You can delve even deeper into a destination's food heritage by choosing a vacation that immerses you in its culinary traditions, as I did three years ago on an escorted tour of
Japan
with
Collette Vacations
. In a Nagano restaurant, our group of about 30 travelers sat on tatami mats at long tables spread with bowls of sliced onions, cabbage and mushrooms, as well as platters of the area's famous beef, thinly sliced, and electric hot plates. At this sukiyaki lunch, we tended the meat and vegetables as they sizzled in a pan, adding liquid as needed.
We participated in a tea ceremony at a Buddhist temple in Nara, and at the Daio Wasabi Farm in Azumino, an employee guided us through the steps of making pickled wasabi, a pungent condiment. Told through an interpreter to mash the wasabi root with wooden rollers, we pounded away with such gusto that it raised an expression of alarm on our instructor's face.
Similar experiences are part of Collette's 13-day trip departing April 6 next year, "
The Beauty of Japan
." And on many other tour itineraries around the world -- in between visits to museums, cathedrals, castles, temples and other attractions -- travelers can connect with the locals through the universal language of food.
For example, "
Real Food Adventure -- Mexico
" is an eight-day exploration with
Intrepid Travel
. Guests tour the Central de Abastos market in Oaxaca and snack on quesillo (string cheese), cactus fruit and, if you're feeling adventurous,
chapulines
-- grasshoppers that have been well cleaned and fried with garlic, lemon, chili powder and salt. In Puebla, often hailed as Mexico's culinary capital, you'll pick up tips in preparing mole poblano, a dark sauce redolent with chocolate and spices, and
chiles en nogada
. Mimicking the colors of the nation's flag, these stuffed green poblano peppers are finished with a creamy, white walnut sauce and a sprinkling of ruby pomegranate seeds. Also on the schedule: barbacoa (meats slow-cooked in a pit), a meal in a Mexico City cantina and tortillas served hot off a comal.
Tour company
Trafalgar
incorporates intimate gatherings at the table into its vacations. Part of the Be My Guest program, these are insider encounters that might be difficult for independent travelers to arrange on their own. For example, meet the Falzon family at their homestead in Alice Springs, Australia; they'll serve up a barbecue for you on the 17-day "
Outback Adventure
." On the two-week "
Best of France
" trip, participants tour Beatrice de Montferrier's 17th-century farm in Villandry and then sit down to a dinner prepared with Loire Valley produce. The 16-day "
Highlights of Vietnam & Cambodia
" will introduce you to the Tran Quoc clan, herb farmers who will invite you to a meal in their home.
Click here to learn more about these and other tours
. Vacations To Go's Special Interests page offers a list of worldwide food and wine vacations. Or, call the tour specialists at (800) 680-2858.
Cruise lines have designed shore excursions that cater to the foodie niche. Step aboard the
Azamara Journey
, one of two 694-passenger vessels sailing for
Azamara Club Cruises
, for the June 28
Baltic Sea voyage
from Copenhagen to Stockholm. While the ship is docked at the Danish isle of
Bornholm
, passengers can embark on the four-hour "A Taste of Bornholm" outing. See how fish is preserved at a herring smokehouse, and try a savory morsel on rye bread with coarse salt and chives. Next, pay a call to a country butcher who'll offer samples of his cured meats.
Holland America Line
tempts travelers on itineraries between Boston and Quebec City, Canada, with "A Taste of New England," offered during stops in
Bar Harbor, ME
. Sharon Joyce of the Ambrosia Cooking School will lead you through the preparation of Down East favorites -- think lobster, fresh blueberries and chowder. While cruising to South American cities aboard the line's
Zaandam
or
Prinsendam
, make time for "Gaucho Life on the Pampas." Available during calls at
Buenos Aires
, this ranch-bound foray serves up empanadas, red wine and barbecued beef prepared by gauchos, the cowboys of the Argentinian plains.
To find discounted cruise departures from Azamara, Holland America and other lines, visit
Vacations To Go
and use the Find a Bargain search tool. Or call (800) 338-4962. --
Elizabeth Armstrong
Make Time for Tea
One of the oldest beverages in the world, tea has been a cultural staple among civilizations across the globe for thousands of years. Partake in regional customs on one of these tea-serving trips.
A classic ritual
. Vintage furnishings, chintz fabrics and piano music create an elegant ambience for afternoon tea at the
Fairmont Empress
in
Victoria, British Columbia
. Freshly baked scones, pastries and tea sandwiches accompany the Empress Blend of tea, exclusive to the hotel and served in dainty china. The "Prince and Princess Tea" caters to younger patrons with mini versions of menu items.
Tea and tranquility
. Overlooking Las Vegas Boulevard, the Tea Lounge at the
Mandarin Oriental
provides a Zen-like retreat from the glitz and bustle of the city. Guests can savor the serenity as they sip loose-leaf teas like Mandarin Blossoms and Jasmine Green Oolong, or while participating in
gong fu cha
, a Chinese tea ceremony.
Sipping at sea
. Elegance and excellent service attract travelers to
Cunard Line
's ships --
Queen Elizabeth
,
Queen Victoria
and flagship
Queen Mary 2
. They cruise destinations worldwide, but the trans-Atlantic crossings between
New York
and
Southampton, England
, are much-loved classics. Among the diversions for days at sea are afternoon teas: Sounds of the orchestra resonate in the Queens Room during teatime as white-gloved waiters serve scones and cucumber sandwiches.
Japanese ceremonies
. A 14-day "
Essence of Japan
" itinerary from tour operator
Tauck
is rich in culture and historic sights -- from the 13th-century carved cypress statues of Sanjusangen-do temple in Kyoto to the geisha houses and samurai residences of the Noto Peninsula. While in Kyoto, visit a private home for a tea ceremony featuring matcha, a bitter, powdered green tea.
Tee time and teatime
.
The Phoenician
resort in Scottsdale features a 27-hole championship golf course with Arizona desert views. After a round, head to the Lobby Tea Court for scones, pastries and a selection of sandwiches, including smoked salmon, lemon and thyme chicken salad and prosciutto with boursin mousse.
A brew-haha
. December marks 240 years since the Sons of Liberty threw tea into the Boston Harbor. The Boston Tea Party Ships & Museum recounts the event through interactive exhibits. Visitors can dump tea overboard a restored ship, meet the colonists and visit Abigail's Tea Room. The
InterContinental Boston Hotel
is a short walk from the museum.
Malaysian plantation
. After staying in a traditional village and trekking through a rain forest, travelers on the family-friendly, two-week "
Flavour of Malaysia
" trip with
Intrepid Travel
stop for a breath of invigorating mountain air at the BOH tea plantation. A factory tour explores the methods of processing the plant, which is grown on the surrounding hills of the Cameron Highlands. --
Michelle Chumbley
The information in this story was accurate at the time it was published in November/December 2013. Please visit
Vacations To Go
or call (800) 680-2858 for current rates and details.
Send This Article to a Friend
Bookmark this Content
Digg it!
Reddit
Furl
del.icio.us
Spurl
Yahoo!