The Year of ...
Custom, culture and special commemorations
make 2015 a banner time for travel
By Brent Stoller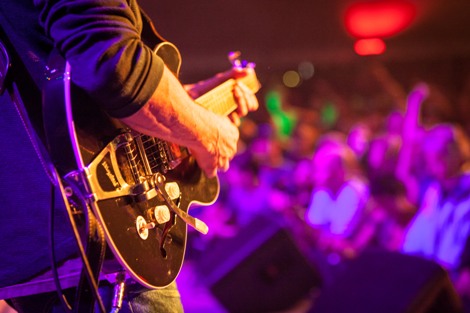 Brian MacDonald
D
espite the hustle and bustle of daily life, we still make time to acknowledge and appreciate all we hold dear. We congregate during the holidays, eat cake on birthdays and remember our anniversaries. We do this not just for the fun of it, but as a gesture and a way to pay tribute to what's most important to us.
And while many of these occasions are restricted to a single day on the calendar, 24 hours isn't always enough. From New England to the Netherlands, the following destinations have declared 2015 the year to celebrate something special, and they're using all 12 months to do it.
Some are celebrations for a cause, while others honor the arts, culture and cuisine. Welcome to 2015: The Year of ...
The Year of Van Gogh
Through his authentic expression and vivid use of color, Vincent Van Gogh became one of the most influential figures of the post-impressionist era, motivating countless artists since his death in 1890. To commemorate these last "125 years of inspiration," the Van Gogh Europe Foundation, comprised of more than 20 institutions, will be honoring the artist in 2015 during a series of events and exhibitions throughout
England
,
Belgium
,
France
and
the Netherlands
.
The celebration actually started early, thanks to the November 2014 opening of the Van Gogh-Roosegaarde cycle path, a 1-kilometer-long tribute to the artist's legendary "Starry Night." Located in the Dutch city of Eindhoven, in the province of Noord-Brabant where Van Gogh was born, the path is illuminated by radiant stones and embedded LED lighting. Follow its glow-in-the-dark course and you'll feel as if you're riding through the original painting.
Where better to learn about Van Gogh than the Van Gogh Museum? The Amsterdam-based archive is home to the world's largest collection of his art, featuring not only his most prominent work, but those of others who inspired him. In September 2015, the exhibition "Munch: Van Gogh" arrives from Oslo to highlight the parallels in brilliance between Van Gogh and Norwegian artist Edvard Munch.
When painting models wasn't in the budget, Van Gogh would use a mirror to paint himself. The result was roughly 40 self-portraits that have inspired a nearly 2,700-square-foot mosaic of the painter made entirely of tulips. Bulbs were planted last October at the Keukenhof, a 70-acre garden filled with more than 7 million daffodils, roses, carnations and the like, and the mosaic should reach full bloom during the garden's high season, April to mid-May.
To see this flowery tribute and other sights, join the 11-day "
Best of Holland, Belgium & Luxembourg
" tour from Amsterdam to Brussels. Weekly departures are available April through September for $2,334 per
Trafalgar
guest, not including flights.
The Year of Vermont Art
Though mentions of
Vermont
may trigger a taste for Ben & Jerry's ice cream, don't sleep on the state's arts scene, which is every bit as rich as its homespun counterpart. This year marks the 50th anniversary of the Vermont Arts Council, and a host of festivals, concerts, exhibits and events are ready to celebrate.
Deep harmonies and dynamic rhythms fill the air June 5-14 at the Burlington Discover Jazz Festival, a concert series showcasing both established and up-and-coming performers. Previous years have seen the likes of vocalist Tony Bennett and funk music stalwart Maceo Parker, a one-time member of James Brown's band.
Just outside Burlington, VT, the Shelburne Museum is home to more than 150,000 works displayed in 38 exhibition buildings. Visitors can examine hand-stitched quilts made in 18th-century New England; inspect a diverse collection of impressionist paintings, including seven from Edgar Degas; and, from late March to early July, marvel at 3-D models and super-size photos in Walter Wick's "Games, Gizmos and Toys in the Attic" exhibit, inspired by his art in the "I Spy" books.
Come August, all eyes turn to the four towns of the Mad River Valley, south of Stowe, VT, for the Vermont Festival of the Arts. Events are scheduled seven days a week through Labor Day and offer something for everyone, from sculpture fairs to painting demonstrations to food tastings, where you can top off an order of sliders with a scoop of homemade ice cream.
From
Collette
, "
Grand Tour of New England
" explores Vermont and the surrounding region over 13 days (including a visit to the Ben & Jerry's factory in Waterbury, VT). Five departures are available this year, and rates start at $3,499 per person, plus airfare.
The Year of the Sheep
Ask not, "What is your sign?" but "What animal are you?"
That's the end-all question when it comes to
Chinese
astrology, with a lunar calendar assigning a specific animal to your birth year. It's said that people share the traits of their corresponding species. The eighth animal of the zodiac, the sheep (or goat or ram, depending on your preferred translation) claims 2015, marking the year with its creativity, loyalty and kindness -- meaning the coming 12 months promise to be full of peace, compassion and coexistence.
The year of the sheep begins Feb. 19 with the Chinese Spring Festival, a nationwide outpouring of parades, parties and performances.
Wendy Wu Tours
' "
Chinese New Year's Eve
" takes you to Beijing for the days leading up to the big event.
Trips to the Great Wall and Tiananmen Square immerse you in the region's history, and preparing handcrafted decorations with a local family puts you in the celebratory spirit. After observing a dumpling demonstration in Xian, dine on the New Year's delicacy filled with savory meats and vegetables; the next day, you'll view the terra-cotta army that guards an emperor's tomb.
As in the U.S., festivities reach a fever pitch on the eve of the holiday. Spend this day in Shanghai with natives of the tucked-away district of Nanxiang, birthplace of xiaolongbao (steamed soup dumplings), followed by a cruise along the Huangpu River. To the west is the Bund waterfront and its diverse architecture, to the east sits the futuristic skyline of Pudong, and overhead bursts a brilliant fireworks display, ushering in the start of an exciting new year.
The eight-day tour's lone departure kicks off Feb. 13 on the lantern-lit streets of Beijing. All meals, accommodations, domestic transportation and internal flights are included in the $2,640 per-traveler price.
The Year of Food and Drink
Eat, drink and be merry. If that's what you're aiming for in your next vacation, look no further than
Scotland
in 2015.
While the country is respected for its golf, it's revered for its whisky. And there's no better time to sample Scotland's national drink than this May, otherwise known as Whisky Month. Jump-starting the celebration is the Spirit of Speyside Whisky Festival, April 30 to May 4, with access to more than 50 distilleries, including those of Glenlivet and Glenfiddich. Learn about the drink's progression from grain to glass, then finish your production tour with a single malt.
What pairs better with the national drink than the national dish? Traditionally cooked and served in a sheep's stomach, haggis is a pudding made of meat, onion, oatmeal and spices. Its modern version, however, replaces the animal lining with sausage casing. To sample this delicacy, step out of your culinary comfort zone at the Loch Lomond Food and Drink Festival, Sept. 5-6, which last year featured a haggis-eating contest.
A staple of the Scottish breakfast, oatmeal-based porridge is served hot and often topped with milk, brown sugar and dried fruit. At the 22nd annual Golden Spurtle World Porridge Making Championship, competitors put their recipes to the test to claim a gilded trophy named for a traditional wooden stirring stick. Scheduled for Oct. 10 in Carr-bridge, a village in the northern section of Cairngorms National Park, the event offers concession areas where visitors can warm up with a bowl of fiber-packed cereal.
Given 2015's national theme, it's only natural to embark on
SITA World Tours
' five-day "
Culinary Scotland
" which includes a stop at a salmon smokehouse and foraging for wild produce. Six trips are available from April to October with per-person prices from $6,105 before airfare.
The Year of the Volunteer
Bettering the community. Assisting neighbors in need. Helping those who can't help themselves. Illinois paid tribute to its charitable individuals with the passing of SR 1002, a Senate resolution that honors volunteers and fortifies the state's infrastructure to further support their efforts.
Following that lead, why not incorporate volunteerism into your next vacation? "
Chicago Family Adventure
" with
Amtrak
not only highlights the Windy City, but also provides enough free time to lend a helping hand (you can find a calendar of volunteer needs at www.ChicagoCares.org). The five-day independent tour offers itineraries through the end of March for as little as $749 per passenger.
For a more in-depth and far-flung mission, sign on with
G Adventures
' 14-day "
Volunteer Brazil
" outside Rio de Janeiro. Work with the Union of Women for the Improvement of Roupa Suja, a community-run organization in the largest favela (shantytown) in Latin America.
Among the jobs filled by G Adventures travelers: staffing the local daycare; assisting with health care efforts; tutoring kids in math, science, reading and writing; engaging children through extracurricular activities, such as music and art class; lending encouragement at women's support groups; and educating people young and old in the computer center.
Spend three nights on a hard-earned break in Rio. Relax on the gleaming white beaches of Copacabana and have your breath taken away by views from atop Corcovado Mountain.
Weekly tours are scheduled now through the beginning of December and include two Portuguese lessons. Pricing begins at $1,049.
The information in this story was accurate at the time it was published in January/February 2015. Please visit
Vacations To Go
or call (800) 680-2858 for current rates and details.
Send This Article to a Friend
Bookmark this Content
Digg it!
Reddit
Furl
del.icio.us
Spurl
Yahoo!