The Treasures of Japan
Delve into the art and culture of an intriguing land
on an escorted itinerary from Tokyo to Kyoto
By Elizabeth Armstrong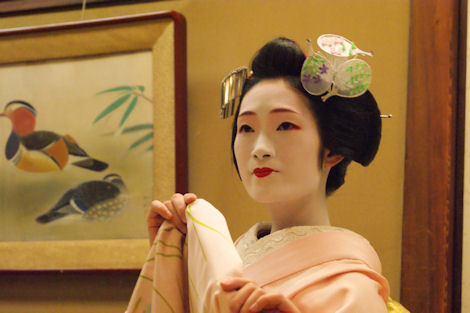 Elizabeth Armstrong
(Scroll down to see a slide show.)
T
he tea ceremony teacher kneeled behind a low table at the front of the room. With smooth, deliberate motions, she picked up a silk cloth and rubbed it over a bamboo tea scoop and ladle. Next, she poured hot water into a bowl, scrubbed the vessel with a brushlike whisk, and emptied it. The tools of her trade now clean, she prepared green matcha, a bitter brew made with powdered leaves.
She and an assistant served 29 waiting guests, placing the decorative side of each ceramic cup toward the drinker. Meanwhile, we nibbled at confections of sweet bean paste, which would ready our palates for the strong flavor of the matcha.
Following the teacher's instructions, I rested the cup in the palm of my left hand and used my right to turn the cup clockwise until the decorated part faced outward. I took a sip, lowered the cup, turned it counterclockwise and set it back down on the table in its original position.
The tea ritual at Kodaiji Temple in
Kyoto
demonstrated the precision and attention to detail that's ingrained in many aspects of Japanese culture. This summer, I was among a group of travelers exploring that heritage on an escorted trip called "
Japan's Hidden Treasures
." It's part of the Smithsonian Journeys Travel Adventures series, designed through a partnership between
Collette Vacations
and Smithsonian Journeys. For nine full days we visited shrines, temples, castles and gardens, and conversed with art experts, craftspeople, a Buddhist monk, a geisha and others.
We met the young monk after the tea ceremony. He told us that a 12th-century Buddhist priest named Myoan Eisai first brought green tea to Japan from China. The monks led an austere life, and the tea offered a rare form of stimulation.
Buddhism was introduced to Japan in the sixth century, but Shintoism is the country's indigenous faith. The two religions coexist harmoniously, and many Japanese practice elements of both.
Shintoism is rooted in the divinity of nature and a belief in the fundamental goodness of people. Followers believe that bad things are caused by evil spirits, therefore most Shinto rituals are performed in hopes of keeping negative elements at bay through acts of purification, prayer and offerings.
The first sacred site we visited was Meiji Jingu, a Shinto shrine tucked in a thicket of trees in the heart of
Tokyo
. It's dedicated to Emperor Meiji, whose ascension to the throne in 1867 marked the end of feudal shogunate rule in Japan.
At the main building, guide Hiroko Yamada, whom we called Yama-san, demonstrated the Shinto prayer: Throw a coin into the offering box, bow twice, clap your hands twice, say a brief prayer, then bow once again. At a basin of running water flanked by long-handled wooden cups, she showed us the procedure for purification: Rinse your left hand, then your right hand, then pour water into the palm of your left hand to cleanse your mouth.
The shrine's courtyard is a popular spot for wedding portraits. We saw a serious-faced young bride -- outfitted in a red kimono and sporting a snowy white flower in her hair -- pose with her new husband and family members.
Next, we stopped for a photo opportunity at the moated main gate of the Imperial Palace. It's the official residence of Akihito, Japan's 125th emperor, and his wife, Michiko. He is never referred to by name in Japan; in fact, most Japanese don't even know the given name of their monarch, said Yama-san. To them, he's simply "the Emperor."
That afternoon, we were let loose in one of the oldest parts of Tokyo so we could explore on our own. The Nakamise is the shop-lined pedestrian approach to Sensoji Temple, and its beginnings can be traced to the late 1600s, when merchants opened businesses to cater to pilgrims on their way to the place of prayer. Today, it's a bustling hive of 90 stores that sell food, ceramics, textiles, purses, shoes, kitchen supplies and souvenirs like the Maneki Neko, the ceramic statue of a smiling cat with upraised paw that's ubiquitous in Japanese restaurants in the U.S. An upright left paw is said to lure customers, while a raised right paw is thought to attract wealth and good luck.
We spent three nights in this sprawling metropolis of some 13 million residents, at the Prince Park Tower Hotel. Each night I gravitated to the sophisticated Sky Lounge on the 33rd floor, where the bar faces wall-to-wall windows that frame 180-degree views of a forest of sparkling skyscrapers.
From Tokyo, we drove west past mountains carpeted in luxuriant foliage to Yamanashi Prefecture. Japan is comprised of 47 prefectures, and Yamanashi is home to Mount Fuji. We had hoped to get a glimpse of Japan's highest peak, but as our tour director, Ellen Hansen, said, "Fuji-san is very shy." On this extremely foggy day, she was downright anti-social, and there would be no chance of seeing the storied mountain.
Themes on Mount Fuji appear in the works of the late textile artist Itchiku Kubota. Born in 1917, Kubota studied dyeing as a youth, and at age 21 he came across a 350-year-old museum piece that combined intricate tie-dyeing with embroidery, painting and ink drawing. It was an example of a lost art called tsujigahana, and Kubota became obsessed with reviving the technique.
But his research was interrupted by World War II, when Kubota the soldier was captured by Soviets and detained in a POW camp. According to a filmed interview we watched on the bus, Kubota's one consolation during this dark time was the dazzling Siberian sunset, which "made everything beautiful and warm," he said. It's this memory that he set out to capture in fabric upon returning to Japan in 1951.
Kubota's canvases are 8-foot-tall silk kimonos, housed in a Yamanashi museum named for him. They are resplendent depictions of nature and the seasons, with swoops and swirls of vermilion, orange, gold, teal, violet and indigo. The effects were accomplished by successive dyeings; often, 30 or more dyeings were required to achieve the depth of tone that the artist desired.
The Japan Ukiyo-e Museum in Matsumoto showcases another ancient art form: woodblock printing. Like Kubota's dyed kimonos, the rice paper prints were created in layers, with one block used for every color, usually more than 20 blocks in all. The privately owned museum is built upon a collection of more than 100,000 prints, paintings, books and screens assembled by several generations of the Sakai family, starting with Yoshiaki Sakai, a wealthy businessman and arts patron born in 1776. Descendant Nobuo Sakai runs the gallery now.
This tour also gave us an opportunity to get creative ourselves. In Gokayama, we took part in a 1,200-year-old tradition: the making of washi. Composed of mulberry fibers, washi is a particularly durable paper used by artists and in the renovation of historic sites.
We each grabbed a screened tray divided into three postcard-sized compartments. You dip the tray into a vat of watery pulp, shake it to drain off the excess liquid, and repeat the process twice. Before handing the tray off to the professionals for pressing and drying, we decorated the sheets with bits of colored paper and silk leaves. Twenty minutes later, we had unique, personalized souvenirs from Gokayama.
At the Daio Wasabi Farm in Azumino, we rolled up our sleeves for a brief culinary session. Wasabi, a type of horseradish, is a staple in Japanese cuisine, and a bountiful crop grows here in fields irrigated by cool, clear spring water.
In the farm's kitchen, we made pickled wasabi, first chopping the root and stems into small pieces and then mashing them with wooden rollers. We mixed this into miso paste and wrapped the concoction tightly in plastic wrap. After three days we could open the package and use the sharp, pungent condiment, which adds a sinus-clearing zing to any dish.
Azumino is known for restaurants that prepare soba, buckwheat noodles served cold and dipped in wasabi-tinged sauce. We learned from our guides that many Japanese restaurants tend to focus on one specialty -- whether sushi, noodles, tempura or yakitori -- rather than serve a variety of foods under one roof.
In Nagano, we sat on woven tatami mats for a traditional sukiyaki lunch. Tables held artfully arranged bowls of raw cabbage, enoki mushrooms, onions and tofu, as well as platters of thinly sliced, exquisitely marbled beef. Nagano cattle is raised on a diet of apples, which gives the meat a pleasantly sweet taste.
Diners use electric hot plates to cook their own meals at sukiyaki restaurants. So we cooked and we ate, taking turns tending to the meat and vegetables as they simmered in a saucepan, and adding liquid as needed. If you want to be truly authentic, you can dip the sauteed beef in a mixture of raw egg beaten with soy sauce before raising it to your mouth.
Coffeehouses and sake breweries occupy the tidy, dark-timbered buildings of the old town of
Takayama
, tucked in the Hida Mountains. This is the site of one of Japan's biggest festivals, held in spring and summer and highlighted by a parade of spectacular floats. At the enchanting Matsuri no Mori museum we saw several specimens that were elaborately decorated with lanterns, red lacquer, gold filigree and carvings of dragons and flowers. Charming mechanical figures atop the floats acted out legends: One slayed a bear, and another unleashed a bushel of paper fortunes that drifted to the ground, much to the delight of the younger guests in the audience.
Our time in Japan also afforded some close encounters with wildlife. A 30-minute walk on a forest path leads to Jigokudani Monkey Park, set at an elevation of 2,788 feet in Nagano Prefecture. It's home to a colony of Japanese macaques, or snow monkeys, that go about their business as they're being photographed by two-legged interlopers. Youngsters play and wrestle, protective mothers wrap arms around their babies, and others doze, groom each other or take dips in a hot spring. No fences separate primates from humans, and visitors are warned to treat the monkeys as wild creatures: Don't feed them, don't stare into their eyes (this is interpreted as an aggressive move) and don't touch them, as tempting as it may be.
This is not the case with the sika deer of Nara Park, where interaction with the animals is encouraged -- mostly by the deer themselves. About 1,100 tame deer live on the grounds, and for a couple of dollars you can purchase special wafers to feed to them. The deer expect the treats and aren't afraid to nose around in your pockets or give you a nudge if they think you're holding out. Some have even learned how to bow their heads for food.
Nara Park has one of the area's most important religious sites, the Kasuga Taisha shrine. More than 2,000 moss-covered stone lanterns line the path to the sanctuary, and hundreds of bronze lamps hang along the exterior. In a parking area, we observed a Shinto priest blessing newly purchased cars.
The park also is home to Todaiji Temple, where you can gaze up at one of the world's largest bronze Buddhas. It weighs about 500 tons and stands nearly 40 feet tall.
One of the most iconic figures in Japan is the geisha. In Kyoto, where they're called geikos, we met an apprentice, or maiko, who goes by the stage name of Kofuku.
The encounter provided a fascinating look at a profession cloaked in mystery and misconceptions. Geishas are entertainers, skilled in traditional Japanese song, music and dance. They are well-versed in literature, poetry, the art of conversation and the rituals of serving tea.
Luminous in her white makeup and carefully painted red lips, Kofuku wore a silk kimono of pale pink secured with a green-and-gold obi. A swath of scarlet fabric was visible at the nape of her neck, signifying her status as an apprentice. Ornaments dangled from her elaborate hairdo; every five to six days she visits a hairdresser, and she sleeps on a special pillow to preserve the look. Her makeup application, which she does herself, takes about 40 minutes.
No visit to Japan would be complete without exploring one of the country's famed gardens, and Kenroku-en in Kanazawa is often praised as one of the most beautiful. Paths curve around ponds and over streams, and wind past stone lanterns, bridges, maples, pines, azaleas and irises.
Kenroku-en is said to possess the six attributes of a perfect landscape, grouped as complementary pairs: spaciousness and seclusion, water scenes and panoramas, and artifice and antiquity. In a way, these characteristics represent much of what became so appealing to me about Japan: the sprawling temple complexes and intimate teahouses, rushing rivers and stunning cityscapes, the enigmatic mask of a geisha and the centuries-old uniform of a samurai warrior. All were part of our odyssey into the heart of Japanese culture.
Information:
Departures for "
Smithsonian Journeys: Japan's Hidden Treasures
" are offered by Collette Vacations from April 17, 2011, to April 19, 2012. Prices begin at $3,699 per person, based on double occupancy, and include hotel accommodations, many meals, guided sightseeing, unique cultural experiences and motor-coach transportation between cities; airfare is additional. For more information, call (800) 680-2858, or visit
Vacations To Go
.
The information in this story was accurate at the time it was published in November/December 2010.
Send This Article to a Friend
Bookmark this Content
Digg it!
Reddit
Furl
del.icio.us
Spurl
Yahoo!