The Royal Treatment
See the world's regal destinations, from mountaintop castles
to sprawling country manors
By Jennifer Davoren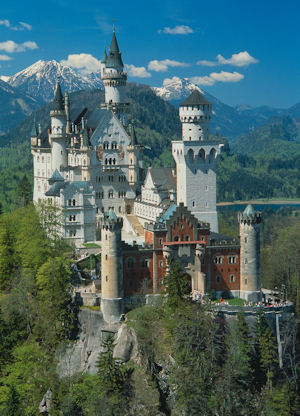 German National Tourist Board
P
rince William Arthur Philip Louis -- the eldest son of Prince Charles and the late Princess Diana, and the future King of England and the Commonwealth realms -- will marry his college sweetheart, Kate Middleton, in London on April 29.
You will not be invited to the ceremony.
But cheer up, commoners. You can play Sovereign for a Day in a variety of vacation locales, from the charming British Isles to sunny Honolulu. Escorted tours -- which include lodging, ground transportation and guided sightseeing -- visit cities known for their royal connections. Houston-based travel discounter Vacations To Go offers a host of these trips, and we've listed a few samples below. Rates are per person, based on double occupancy, and in most cases do not include airfare. Visit
Vacations To Go
or call (800) 680-2858 to speak with an agent about specific itineraries and prices.
Hundreds of castles, medieval forts and other royal artifacts await in England. Travelers hoping to hit several sights in one trip should look into "
Royal Britain
," a 10-day escorted vacation from
Trafalgar Tours
. London attractions on tap include Buckingham Palace, the queen's official residence, and Westminster Abbey, the site of multiple coronations and Prince William's upcoming nuptials. Excursions in the countryside visit Windsor Castle, a medieval fort that showcases more than 900 years of regal history; Hampton Court Palace, a favorite retreat for Henry VIII; and Osborne House, a summer vacation spot for Queen Victoria. Prices start at $2,149 per person.
Those looking for added pampering can opt for a tour that includes an overnight castle stay. The nine-day "
Irish Heritage and Dromoland Castle
" trip from
CIE Tours
spends its final night at the manor-turned-luxury hotel built in County Clare by 11th-century Irish barons. Another royal fortress, Bunratty Castle, is visited on the first evening of the tour for a medieval dinner banquet, and a stop at Blarney Castle on Day Five means a chance to kiss the fabled Stone of Eloquence. Rates start at $1,248 per person.
The phrase "royal treatment" takes on new meaning in France, where citizens beheaded a monarch famed for her excess. But Marie Antoinette, a casualty of the French Revolution, lives on at the Palace of Versailles. This 2,000-acre former "country hunting lodge" just west of Paris was the center of French political power for much of the 17th and 18th centuries. Now it's a UNESCO World Heritage Site and host of a museum of French history, and many of the queen's personal retreats -- including the Petit Trianon, Marie Antoinette's private compound -- have been preserved or restored with her tastes in mind.
"
Signature France
," an eight-day vacation with luxury operator
Abercrombie & Kent
, spends an afternoon exploring Versailles' sprawling grounds and state apartments, including the resplendent Hall of Mirrors. The trip also highlights a number of Parisian attractions, like the Louvre, the Champs-Elysees and, of course, the Eiffel Tower. Excursions for art and history buffs include a stop at Claude Monet's Giverny homestead and a tour of World War II sites at the beaches of Normandy. Guests also spend two nights at the 18th-century Chateau la Cheneviere, today a 29-room hotel. Rates start at $6,300 per person.
"
Spain and Portugal
," a 14-day
Tauck
tour, packs the wonders of two countries into a single vacation. First up is the National Palace of Sintra, the centuries-old home of Portugal's Moorish rulers, as well as UNESCO World Heritage attractions in Lisbon. The Spanish portion of the trip visits the Alhambra, the red fortress built as a sultan's summer palace, and Madrid's Palacio Real, the official residence of the royal family. Additional perks include guided tours of the Prado, which highlights seven centuries of European art, and the Royal Andalusian School of Equestrian Art, where Spain's famed prancing horses are bred and trained. Prices begin at $4,290 per person.
Germany's castles are the stuff of fairy tales -- so impressive, in fact, that Disneyland's turreted centerpiece was modeled after King Ludwig II's Bavarian retreat. Neuschwanstein Castle was built on a craggy mountaintop, and "the location is one of the most beautiful to be found, holy and unapproachable," in the words of the king himself. Its interior is just as impressive, filled with gilded murals and lavish furnishings. The king's bed alone took 14 carvers four years to complete.
"
Highlights of Germany
," a 12-day tour with
Cosmos
, visits Neuschwanstein and another royal spot, Veste Coburg, a 13th-century hilltop citadel. Martin Luther spent several months here in 1530, working on his German translation of the Bible. There's also an optional excursion to Cecilienhof Palace, famed for its Tudor-style architecture and as the site of the 1945 Potsdam Conference. It was here that Harry Truman, Winston Churchill and Joseph Stalin met to discuss the end of World War II. Rates start at $1,349 per person.
Opulence also awaits in Asia. There are few palaces as grand as the Taj Mahal, a marble masterpiece that took some 20,000 craftsmen more than 20 years to complete. Built by a 17th-century Indian emperor in memory of his beloved wife, the Taj was meant to be a stately mausoleum as well as a royal capital. Its doubly sacred status is marked by the delicate calligraphy and precious stones that cover its interior.
Many escorted tours stop at the Taj Mahal, but the eight-day "
Golden Triangle of India
" from
Gate 1 Travel
also makes time for the Rashtrapati Bhavan, the president's palace in New Delhi. Guests are even treated to an elephant ride -- a very kingly way to travel -- to Amber Fort, the home of 16th-century warlords. This package includes international airfare, and prices start at $1,199 per person.
China always has held its rulers in high esteem; its palace complex, the Forbidden City, is named for the emperor's authority over his subjects. "
Best of China and Yangtze River Cruise
," a 13-day vacation with
SITA World Tours
, explores this 250-acre site as well as Tiananmen Square, the Great Wall and Three Gorges Dam, China's 1.3-mile-wide hydroelectric project. You'll also visit the Summer Palace, known for its peaceful gardens, and Xian, a city that holds one of the world's wonders: the Terra-Cotta Warriors, commissioned around 210 B.C. to guard an imperial tomb. They stun visitors not only with their longevity but with their individuality -- like snowflakes, no two statues are alike. Prices start at $2,945 per person.
You'll catch glimpses of two royal homes and tour two more on the six-day "
Japan
" jaunt with
Pacific Delight Tours
. Guests begin in Tokyo, home of Japan's emperors since 1868, for photo ops at Imperial Palace plaza and Akasaka Palace, among other sites. After a partial ascent of Mount Fuji and afternoon cruise of Lake Ashi, travelers catch a bullet train to Kyoto for sightseeing at the original imperial palace and Nijo Castle, headquarters of Japan's last clan of shoguns. Completed in 1626, Nijo is known for its sprawling gardens, intricate ink paintings and unique inventions prized by cunning military leaders; a particular favorite of visitors is the "nightingale floor," a squeaky nuisance for sneaking assassins. Rates begin at $1,849 per person.
Homegrown Royalty
The U.S. is short on official monarchs, but not on royal aspirations. The following sites are fit for a king -- and found stateside, for those in need of an easily accessible vacation spot.
Moguls' mansions.
Extravagant homes built by publisher William Randolph Hearst and actor William Gillette are popular attractions on opposite coasts.
Collette Vacations
offers escorted tours like the 10-day "
Cruise the Bays and Railways of New England
," which highlights six states' worth of history along with the Gillette property, and the nine-day "
California Coast
" with stops in San Francisco, Yosemite National Park, Santa Barbara and San Diego as well as a Hearst Castle tour. The Biltmore, sprawled over 8,000 acres just outside Asheville, NC, was built in the French chateau style. The 14-day "
Historic Trails and Blue Ridge Mountains
" from
Cosmos
visits this summer home of the Vanderbilt family as well as Colonial and Civil War sites.
The happiest place(s) on Earth.
California's Disneyland and Florida's Disney World are packed with princesses. While little ones are preoccupied with Cinderella and Snow White, parents will find a handful of upscale hotels that emphasize spa treatments and other perks. Disney's
Grand Californian
in Anaheim and Disney's
Grand Floridian
in Orlando combine well-appointed accommodations and easy access to neighboring theme parks.
Say "aloha" to Iolani.
Hawaiian cruises offer plenty of awe-inspiring shore excursions, but this Honolulu landmark is the United States' sole royal palace. It was the site of a regal house arrest in 1895; the islands' last queen, Liliuokalani, was held prisoner here for nine months after revolutionaries overthrew the monarchy. Just three years later, Hawaii was annexed by the U.S. Iolani now serves as a museum of Polynesian culture and Hawaiian history.
Click here
to peruse a list of cruise itineraries that spend time in the Hawaiian capital.
The information in this story was accurate at the time it was published in March/April 2011.
Send This Article to a Friend
Bookmark this Content
Digg it!
Reddit
Furl
del.icio.us
Spurl
Yahoo!