The Rock Climber
Test your abilities on a new mountain face or climbing wall
By Rebecca Matheson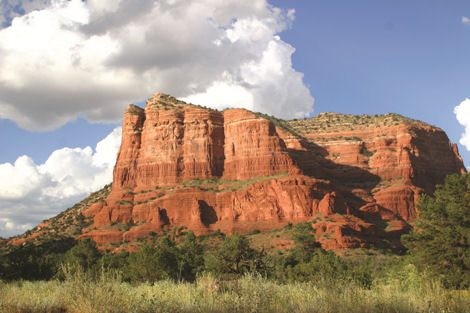 Sedona Chamber of Commerce
Reach for the Sedona sky
Surrounded by sandstone cliffs and towers,
Sedona, AZ
, offers some fantastic climbs in enchanting desert colors. Ascend The Mace, a 450-foot spire group, and conquer Courthouse Butte for some awe-inspiring views from the summit. Or, get a little grip practice in and stay closer to solid ground with the Anvil Boulders, a popular spot on the north end of town.
Spend days working toward the heavens and nights in a cozy cottage at
L'Auberge de Sedona
, on the banks of Oak Creek. Replenish a tired body with French-inspired cuisine and ease those sore muscles with in-room spa services. Enjoy all that rest and rejuvenation before the mountains beckon again at sunrise.
Explore Italy's Dolomites
Nestled in the northern Italian Alps, the Dolomites double as a mountain range and UNESCO World Heritage Site. They consist of 18 peaks alongside majestic valleys, dramatic cliffs and glacial formations. Mountaineers flock here for the picture-perfect overlooks as much as the enthralling climbs.
G Adventures
' 10-day "
Trekking in the Dolomites
" mixes mountain exploration and extreme exercise. Accepting no more than 12 people per tour, the company ensures that guest itineraries are focused on outdoor activity, including intensive hikes through the alluring terrain. The sixth day of the trip provides travelers with free time in Canazei, Italy, a haven for adventure -- including rock climbing for the more daring tourists.
This vacation and workout starts at $1,349 per person and spends six of the nine nights in rugged mountain huts.
Belay aboard a cruise ship
Every vessel in the
Royal Caribbean International fleet
comes equipped with a rock-climbing wall. Share your favorite hobby with friends and family on this supervised activity, suitable for beginners as well as experts clambering up to 40 feet above deck. No reservations are necessary for wall time, and the cost for climbing is included in the price of your cruise fare.
Up the ante and take a weeklong
Alaskan cruise
that calls in
Skagway
, where you can practice your techniques on the ship before joining a shore excursion that provides more than 12 routes up a granite mountain.
Sail from Seattle this September
aboard the
Jewel of the Seas
, with prices from $846 per person.
The information in this story was accurate at the time it was published in January/February 2015. Please visit
Vacations To Go
or call (800) 680-2858 for current rates and details.
Send This Article to a Friend
Bookmark this Content
Digg it!
Reddit
Furl
del.icio.us
Spurl
Yahoo!