The Palette of Provence
Savor the sensory pleasure of this sunny escape
in the south of France
By Alexis Hilts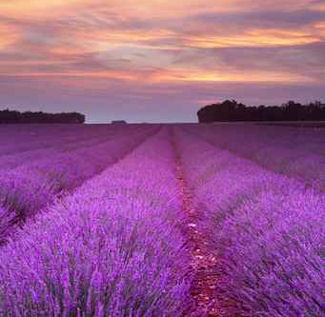 Anyka/Fotolia
(Scroll down to see a slide show.)
T
he scent of lavender still brings back memories of the few weeks I spent in
Provence
several years ago. For a while I even kept a cloth satchel filled with the dried buds of the delicate plant in a drawer as a reminder.
Summer turns the French countryside into seas of fragrant purple against a backdrop of mountains and sky. Candy apple-red poppies burst from fields of gold and green. In town, pale yellow facades line cobblestoned streets shaded with leafy plane trees, and cornflower-blue shutters catch the eye. The sun illuminates the region's pastoral and urban landscapes, allowing travelers to see it through the eyes of the famous impressionists who painted here. Vincent Van Gogh was inspired by Provence's palette, and Paul Cezanne created some of his most famous work from the surroundings.
More than a masterpiece to behold with the eye, this piece of southern France between the mountains and the Mediterranean is steeped in history. Country markets and relaxed cafes mingle with Roman ruins and medieval cathedrals in the temperate locale, where time seems to slow down enough for your senses to take it all in. With eyes widened at the stunning scenery, stomachs sated by Mediterranean flavors and local wine, and ears resonating with the language of love, one cannot help but be swept away by the sensory pleasures of Provence.
Escorted tours give visitors a feel for this French escape, as do river cruises along the
Rhone
, which often are combined with sailings of the
Saone
through Burgundy to the north. Both types of vacation include comfortable accommodations, numerous meals and guided sightseeing, packaged into one price that's paid up front.
Whether on land or water, most itineraries stop in two cities that dominate the Rhone:
Avignon
and
Arles
. Witness to centuries of cultural history, the river revealed some secrets of the area's ancient past to archaeologists in 2007. Beneath the silt of its floor, divers discovered a white marble bust of Julius Caesar, founder of Arles, that dates to 46 B.C. and is thought to be the only surviving statue of the ruler carved during his lifetime. Many objects from the Roman period, including this sculpture, are on display at the Arles Museum of Antiquity.
More remnants of Roman authority are found at the heart of the city, in a UNESCO World Heritage Site that consists of an arena where gladiators battled, antiquated baths and the cryptoporticus -- subterranean galleries under what used to be the forum. Townhouses from the 17th and 18th centuries add charm to the city's 2,000-year heritage, and travelers strolling the old neighborhoods may glimpse scenes that seem to be straight out of a painting -- which would be accurate. Van Gogh, already gripped by madness, came to Arles in 1888 and created about 200 pieces during his time here, including "Cafe Terrace at Night" and several canvases of the "Sunflowers" series.
A few miles south lie the marshes of Camargue. French cowboys known as "les gardiens" tend cattle in these protected lands, where colonies of pink flamingos gather and wild, white horses gallop through the grasses. Fleur de sel, the mineral-rich salt, is hand-raked here; packaged in corked jars, it makes an ideal gift for a choosy chef looking to replace standard table salt with something more delicately flavored.
More culinary discoveries can be had roughly 25 miles north of Arles in Avignon, where the 14th-century Gothic city center rises from the banks of the Rhone. Known for its bustling squares lined with food stalls, this city was once the heart of the Roman Catholic Church. In 1309, as conflicts brewed between the king of France and the papacy of Rome, newly elected Pope Clement V and his court moved to Avignon. The Palais des Papes was built during the popes' nearly 70-year reign here. The fortress remains well preserved, and visitors can explore the papal chambers and marvel at the palace frescoes.
Daily markets are abuzz with locals and travelers perusing yards of fabrics, bright blooms and bounties of produce. Wander through Les Halles, the largest covered market in town, and you will be introduced to the elements of Provencal cuisine. Tomatoes infused with garlic and olive oil, fish served with aioli, roasted and salted potatoes and daube de boeuf -- a hearty beef stew -- are classics here. With butchers, bakers, fishmongers, spice merchants, wine sellers and cheese makers as guides, vacationers can immerse themselves in an array of delicacies. Some tours offer cooking lessons with an area chef, followed by a dinner and wine tasting.
Provence is particularly known for its roses, producing half of France's pink wine. The European Union does not allow producers to mix red and white wines, so France's roses are made from red grapes. The juice is left in contact with the grape skins for just a few hours, which creates the wine's blush color. Provence's roses rank among the best in the world, but visiting connoisseurs should also sample the deeper Bandol red, dominated by the mourvedre grape, with full-bodied flavors that evoke fruit, flowers, herbs and leather.
In the south of France, there is always more wine to taste, and excursions from Aix en Provence -- birthplace of Cezanne -- often set the mood with a visit to a local vineyard. Artistic types might choose instead to soak up the ambience along Aix's grand boulevard, Cours Mirabeau, lined with 18th-century mansions and moss-covered fountains. Cezanne was often seen on cafe terraces along this promenade, today popular spots for the university students whose presence energizes this Old World city. Or hike to Inspiration Point, where the impressionist dedicated hours to capturing scenery with his brush. Seen from Aix's hillsides, Mont Ste. Victoire was the artist's favorite subject. He painted 44 oils and 43 watercolors of the limestone peak.
In 1889, after his ear-cutting incident and a prolific stay in Arles, Van Gogh committed himself to an asylum in another well-loved tour stop, St. Remy de Provence. Stays in this peaceful village in the heart of the low-lying Alpilles mountain range, where Nostradamus was born in 1503, are usually paired with visits to the hilltop perch of Les Baux de Provence. Traces of Rome can be seen in Les Baux, named for the lords that governed this land in the 11th and 12th centuries. Acres of sprawling cliff-top ruins are a must-see before heading to the valley olive groves, painted by Van Gogh in his dark times.
Producing fruity olive oil here is an art akin to wine making. Several types of
olives are harvested by hand and quickly transported to a mill to extract maximum flavor. Sometimes complementary ingredients like basil or lemon are added to make unique blends.
Your tour group may detour to the Lavender Museum in nearby Coustellet. For five generations, the Lincele family has cultivated and distilled the purple-blossomed plant at this site. Visitors learn about medicinal, aromatherapy and household uses and view a collection of old copper stills before heading to the small boutique, where lotions, massage oils, bath salts and shower gels made from lavender are sold.
France's second-largest and oldest city,
Marseille
, reveals a more exotic side of Provence. A port city on the Mediterranean, this metropolis presents an amalgam of French tradition, African and Middle Eastern influence and modern urban life. From the Phoenicians' landing in 600 B.C., it has been a gateway for foreign cultures and a settling place for immigrants. Tourists trade the wafting aroma of lavender for the salty scent of sea air, as fishmongers hock eel, octopus and scorpion fish at Vieux Port, or Old Port. Various ethnic districts brim with vibrant West African fabrics, hookahs, fragrant teas and the handmade soaps for which the city is famous.
Yet the cosmopolitan is countered by remnants of history scattered throughout the city's 19th-century thoroughfares. The 1853 basilica, Notre-Dame de la Garde, allows for sweeping views, while the semifortified Abbey of St. Victor preserves some of its original fifth-century structure in its crypt. A stunning complex dominated by a domed Baroque chapel also houses the Museum of Mediterranean Archaeology, where guests can view eclectic artifacts that span more than 2,500 years. Egyptian mummies and hieroglyphics, Roman glassware and Greek statues are some of the antiquities on display.
Foodies will want to try this city's signature dish, the fish soup known as bouillabaisse. Save room for another Marseille specialty, boat-shaped cookies called navettes, commonly made with a hint of orange blossom. Make sure to take some of these sweet treats home. Once you leave Provence, you will find yourself attempting to re-create your tranquil moments by savoring a navette, sprinkling fleur de sel and olive oil on a homemade dish, or sniffing the remains of a certain summery bloom.
Touring Provence
Vacations To Go
, a Houston-based travel discounter, offers a variety of Provence itineraries that are designed to show you the region's highlights.
Collette Vacations
' 10-day "
Colors of Provence
" visits Aix en Provence, Avignon, St. Remy de Provence and Les Baux de Provence, with prices starting at $2,499 per person, without airfare.
Tauck
also has an option in southern France, the eight-day "
Culturious: Provence
" which heads to the same cities and includes a kayaking excursion along the Sorgue River; land-only prices start at $3,490 per person. Marseilles is included on broader French itineraries like
Trafalgar Tours
' 11-day "
Ultimate France
" which starts in Paris and travels to the Cote d'Azur; rates begin at $2,849 per person, plus airfare.
River cruises
combine sights in Provence with Burgundy attractions, such as the gastronomic center of Lyon and the twin wine towns of Tournon and Tain L'Hermitage. Two such eight-day journeys are "
Portraits of Southern France
" with
Viking River Cruises
, traveling between Avignon and Chalon-sur-Saone (from $2,549 per person), and "
Burgundy and Provence
" with
Avalon Waterways
(from $2,399 per person).
The information in this story was accurate at the time it was published in March/April 2011. Please visit
Vacations To Go
or call (800) 680-2858 for current rates and details.
Send This Article to a Friend
Bookmark this Content
Digg it!
Reddit
Furl
del.icio.us
Spurl
Yahoo!