The Old World Capitals of Eastern Europe
Delve into the history and culture
of these intriguing cities
By Madison G. Welch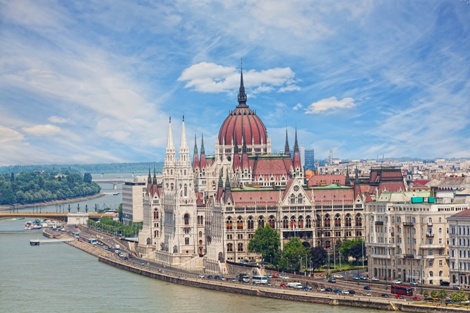 Shchipkova Elena/Fotolia
W
e call them the Fabulous Four B's: Budapest, Bratislava, Bucharest and Belgrade. These uncommon capitals are barely beyond 20th-century turbulence caused by world wars and Communist rule, but they are the rising stars of Eastern Europe, a region that's growing in appeal among international travelers.
Two types of vacation packages provide a convenient way to visit these destinations:
escorted tours
and
Danube River cruises
(three cities are on the 1,770-mile river, the fourth on a tributary). Both options include sightseeing excursions led by local guides who know their hometowns well and can provide a deeper understanding of how these elegant, centuries-old cities are navigating bright futures as tourism hot spots.
Budapest, Hungary
Budapest is a place of dazzling contrasts. Situated in north-central
Hungary
, the capital traces its roots to Buda and Pest, two 10th-century Magyar villages combined in 1873. The modern city still is split by the Danube: Buda's ancient cobblestones and Gothic architecture balance on the hills of the western bank while Pest's grand boulevards and shopping districts sprawl across a sandy plain to the east. Many must-see landmarks on both sides of the river are UNESCO World Heritage Sites, including Buda's romantic castle district and Pest's urban avenue lined with neo-Renaissance buildings.
Visitors find enough notable architecture in Budapest to rival any capital in Europe, made all the more intriguing in some spots by bullet holes left over from years of war and uprisings. Another reminder is the House of Terror, commemorating the victims of the Nazi and Communist eras in the same building where both regimes' secret police were headquartered. Despite its troubled past, Budapest now is known for its relaxing bathhouses, fed by at least 118 natural springs.
Escorted travel itineraries
showcase favorite sites like St. Stephen's Basilica for views of its iconic dome; the largest structure in the country, the riverfront parliament building; and the Hungarian State Opera House, opened in 1884.
Visitors arriving via river cruise
also can sample native cuisine at Central Market Hall and shop for folk art and fine wine along Vaci Street, a famous retail thoroughfare.
Bratislava, Slovakia
For the traveler who tires of long lines and jostling crowds, Bratislava offers a more intimate atmosphere than many European capitals. Its location in southwestern
Slovakia
caters to outdoor enthusiasts, as visitors can explore the wooded foothills of the Carpathian Mountains or stroll along the scenic Danube.
Bratislava was settled by Celts and Romans before the Slavs moved in during the fifth and sixth centuries. The city was Hungary's capital for nearly 250 years, and many of the remaining Austro-Hungarian mansions now serve as public galleries. When the Czechoslovak Republic emerged after World War I, Bratislava became the capital of Slovakia and retains the title in today's independent nation.
Tours
often incorporate Communist-era relics like the Slovak Radio Building, a 1980s upside-down pyramid, and the Soviet War Memorial, which honors the soldiers who freed the city from Nazi control in 1945. Dig into Bratislava's more distant past at the Old Town Hall, now a city museum; Mirbach Palace, built in the rococo style; and the 15th-century St. Martin's Cathedral, where Hungarian kings were crowned.
Pedestrians can explore the Old Town district -- overshadowed by a restored red-and-white castle -- in peace, as the city center only allows foot traffic, and a population of fewer than 500,000 residents helps limit congestion.
River cruisers in Bratislava
shouldn't miss the New Bridge over the Danube and its UFO-shaped restaurant and viewing platform, which hover 260 feet above the ground.
Bucharest, Romania
Nicknamed "Little Paris" in the 1900s, Bucharest charms sightseers with its broad avenues, centuries-old churches and magnificent palaces. The capital city rests on a tributary of the Danube in southern
Romania
. Its name traditionally is credited to a shepherd named Bucur, meaning "joy," whose talent for playing the flute and procuring wine won favor in the area. Whether or not that's true, Bucharest has been inhabited at least since 500 B.C. and has served as an important economic center for centuries. Now a metropolis with roughly 2.2 million residents, the city is an intriguing mishmash of medieval ruins, neoclassical facades and 21st-century steel.
Guided sightseeing excursions on a river cruise
or
escorted tour of Bucharest
might visit the Arch of Triumph, an 85-foot monument to World War I soldiers, and Parliament Palace, commissioned by the Communist leader Nicolae Ceausescu in 1984. At 3.77 million square feet, the palace is the world's second-largest administration building; it contains 1,100 rooms filled with dazzling chandeliers, imposing columns and gold-leaf detailing. Another landmark, Revolution Square, gained worldwide fame in 1989 when Ceausescu and communism in Romania were overthrown.
Belgrade, Serbia
More than 1.7 million people live in Belgrade, a fast-paced metropolis with Old World elegance and a youthful passion for music, food and wine. The city has been called "the doors of central Europe" for its location on the Danube and Sava rivers in north-central
Serbia
. Belgrade has been the country's off-and-on capital for more than six centuries as it was conquered and reconquered by Serbs, Ottoman Turks and Austrians. In more recent years, it endured destruction during the world wars and the Kosovo conflict. Although scars from a tumultuous past are visible throughout the city, new growth has sprung up to the west and the capital increasingly is known for its vibrant nightlife.
Guided walks in the city
typically swing by the Belgrade Fortress, the site of at least 115 battles, and a connecting park with sculptures, sports courts, a museum and an unbeatable view of the confluence of the rivers. Republic Square is home to the National Museum and National Theatre. Other historic highlights for
river cruising fans
to seek out: the Nikola Tesla Museum, honoring the Serbian-American inventor; the House of Flowers, a president's mausoleum; and the Residence of Princess Ljubica, an 1831 Balkan-style mansion.
For a cultural experience, visit Skadarska Street, a bohemian quarter with taverns, cafes and entertainers, or stop by Little Bay, a restaurant known for contemporary cuisine accompanied by an opera singer. Trips that overnight in Belgrade provide time to sample its casinos or riverside clubs.
The information in this story was accurate at the time it was published in September/October 2014. Please visit
Vacations To Go
or call (800) 680-2858 for current rates and details.
Send This Article to a Friend
Bookmark this Content
Digg it!
Reddit
Furl
del.icio.us
Spurl
Yahoo!