The Magnificent Mediterranean
These tours showcase the history, culture
and cuisine of the region
By Brent Stoller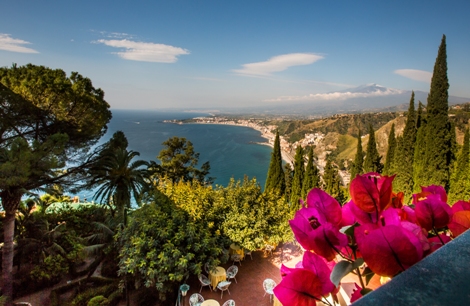 Bernard Lee/Perillo Tours
B
ordered by Europe, Asia and Africa, the Mediterranean Sea spans roughly 970,000 square miles from the Strait of Gibraltar to the Gulf of Iskenderun. Its name originates from the Latin word mediterraneus -- medius (middle) and terra (land) -- earning it the fitting tagline, "sea between the lands."
And what spectacular lands they are. They are places of awesome beauty, rich cultures and delicacies passed down through generations. They are the domains of Greek mythology and Roman conquest, of Augustus and Alexander the Great. This is where Socrates spawned Western philosophy, and where Galileo gave birth to modern science.
Given the region's lofty place on many travelers' to-do lists, we highlight eight tours that accommodate a wide range of budgets while visiting a variety of locales. Want to sail the
Turkish coastline
, hike among
Croatian waterfalls
or tread alongside
Apollo, Aphrodite and Zeus
? Want to see the balcony that pays tribute to Romeo and Juliet's love? Or where Julius Caesar was assassinated?
Sort through the selections below, then book your ideal trip with
the tour specialists at Vacations To Go
, (800) 680-2858.
"Mediterranean Flavors"Cosmos
Despite little evidence that the house played an actual role in Shakespeare's "Romeo and Juliet," romantics still flock to Casa di Giulietta in Verona, Italy, to stand on its balcony and rub a bronze statue of the play's young heroine -- all in the name of finding love. Whether you're searching for your soul mate or traveling alongside one, sign on with
Cosmos
' 14-day "
Mediterranean Flavors
" which visits this star-crossed site on Day 10.
The tour begins in the Spanish capital, Madrid, home to an elegant royal palace and the Puerta del Sol's landmark Bear and the Strawberry Tree statue. The town of Cuenca, Spain, offers views of the "hanging houses" as they tempt gravity over a river gorge. On the way to Barcelona, explore Castillo de Peniscola, a fortress constructed by the Knights Templar that became the residence of the infamous 14th-century "antipope," Benedict XIII.
In Marseille, France, take in the boat-filled harbor of the Old Port and the hilltop Basilique Notre-Dame de la Garde. Following a visit to a perfume workshop near Nice, cross the French border into Italy to enjoy the seafood of Cinque Terre, a collection of five coastal villages.
The trip concludes with a selection of Italy's finest tourist offerings: Venice's canals, Rome's Colosseum and an optional excursion to the Vatican and the Sistine Chapel. Itineraries are available through 2015, and the Dec. 20 departure includes Christmas dinner in Barcelona. Pricing begins at $2,099.
"Albania, Montenegro, Croatia & Slovenia"
Gate 1 Travel
Due to the angling sunlight and their shifting mineral makeup, the 16 terraced pools of Croatia's Plitvice Lakes National Park constantly change colors. Stay all day, and it's as if you're in a painting in progress.
To experience this UNESCO World Heritage Site -- and other spots awarded this prestigious designation -- book the 12-day "
Albania, Montenegro, Croatia & Slovenia
" tour from
Gate 1 Travel
.
Montenegro is where you encounter the first UNESCO destination on your itinerary, Durmitor National Park. Encompassing 16 lakes, the Tara River and three canyons, it features both Mediterranean and alpine microclimates, thanks to elevations that range from 1,475 feet to more than 8,200 feet. The park is home to eagles, wolves and brown bears, and between June and October, wild blueberries and strawberries grow on lower hillsides.
The Pearl of the Adriatic, Dubrovnik, Croatia, earned its World Heritage status in 1979. Complete the 1.2-mile loop around the Old City atop its ancient walls while admiring views of the sea. Keep an eye out for "Game of Thrones" scenery, as portions of the TV series are filmed here. Stroll Stradun, a major thoroughfare, to the Franciscan Monastery, which has one of the world's oldest functioning pharmacies.
Other UNESCO sites visited include the town of Kotor, Montenegro, and the coastal city of Split, Croatia. Eight departures are scheduled from June to October, with prices from $1,999.
"Spotlight on French Riviera"
Collette
When vacationing internationally, travelers often decide between immersing themselves in a single destination or touring a collection of locales. But what if there was a way to combine these two strategies?
That's the genius behind "
Spotlight on French Riviera
" from
Collette
. Using Nice as its home base, this itinerary incorporates daytrips to cities along France's Mediterranean coast, allowing guests to experience the region in full while unpacking just once.
A retreat for the likes of Charlie Chaplin and Winston Churchill, Saint-Jean-Cap-Ferrat is as charming as it is beautiful. It's also home to the Villa and Jardins Ephrussi de Rothschild, an estate that offers tours of its nine manicured gardens, stunning porcelain collection and endless seaside overlooks.
After a quick jaunt over the border to Monaco to hit the jackpot at the Casino de Monte-Carlo, head back to France for the Provencal Market in Antibes to sample sausages and artisan cheeses. In the afternoon, the area transitions into a craft market for local artists.
Within the stone ramparts of St. Paul de Vence, you'll find cafes serving gourmet Mediterranean cuisine, from tapas to homemade pasta. Meanwhile, in Grasse, learn the art of perfume-making at the Fragonard Parfumeur factory.
Pricing begins at $1,699 for this eight-day adventure, with trips scheduled from September to April 2016. Should you wish to extend your stay to include the City of Light, a three-night, add-on tour of Paris is available from $1,499.
"South & Sicily"
Perillo Tours
Time stands still in Pompeii. The A.D. 79 eruption of Mount Vesuvius buried the Italian town in more than 14 feet of pumice and volcanic ash, preserving a snapshot of the city as it was that August day. Now, historians and tourists alike gravitate here for a look at ancient Roman life.
Perillo Tours
visits this time capsule on its 12-day "
South & Sicily
" which transports guests to Italian wonders in deluxe motor coaches.
While exploring Sicily's capital, Palermo, you'll encounter the historic architecture of the Palace of the Normans and its Palatine Chapel. This masterpiece from the Middle Ages boasts a vaulted roof with wooden carvings and biblical mosaics.
After passing through Selinunte, call on the archaeological area of Agrigento, a UNESCO site that's home to seven Doric temples from around the sixth century B.C. In Taormina, a theater built by the Greeks once was the scene of great performances, but its view of Mount Etna, one of the planet's most active volcanoes, still steals the show.
Upon arriving in Rome, check out the Colosseum, the chariot-racing stadium Circus Maximus, the Roman Forum's ruins and Largo di Torre Argentina, believed to be the site where Julius Caesar was stabbed.
Itineraries are available until mid-October and include a wine tasting and vineyard tour. Rates open at $3,190.
"Treasures of Greece & the Islands"
Insight Vacations
Whether you're a history buff, mythology master or dedicated beachgoer, Greece is the place to be.
Insight Vacations
showcases the country's versatility with its 15-day "
Treasures of Greece & the Islands
" a blend of tours on the mainland and relaxation among Aegean isles.
Sightseeing in Athens includes visits to the Temple of Olympian Zeus and the Arch of Hadrian, as well as the Parthenon. Situated atop the Acropolis, this Doric temple was dedicated to the city's patron, Athena, and remains a tribute to Greek ingenuity.
From there, it's off to the ruins of Mycenae and Olympia, home of the original Olympic stadium. First held in 776 B.C., the games initially were a one-day event but steadily expanded and included competitions such as running, boxing, shot-putting and chariot racing.
Take in the views from Delphi's Temple of Apollo or the cliff-top monasteries of Meteora. After a ferry ride to the island of Mykonos, enjoy the retail and restaurants along Matoyianni Street, or retreat to the waterfront cafes of Alefkantra, the 18th-century district known as Little Venice. Aquatic adventurers can go sailing, snorkeling or windsurfing.
Conclude in Santorini, a destination alongside an active volcano (the most recent volcanic activity occurred in 1950). Sunbathers tan on the white, black and red sand beaches, while romantics steal a kiss at sunset.
Weekly departures are offered through September, with rates starting at $3,865.
"Sailing Turkey"
G Adventures
Looking for an out-of-the-box way to experience the Mediterranean?
G Adventures
' "
Sailing Turkey
" explores the Lycian coast aboard a 40-foot catamaran. The vessel holds a maximum of eight passengers in four double-occupancy cabins, making it perfect for a family vacation (for kids 12 and up) or a buddies trip.
The 10-day sailing runs between the Turkish cities of Bodrum and Fethiye, with itineraries offered in each direction. Both bookends are worth discovering: Bodrum is the site of one of the Seven Wonders of the World, the Mausoleum at Halicarnassus, while Fethiye is a prime locale for scuba diving and paragliding.
Along the route in Dalyan, keep your camera poised on the Lycian rock tombs carved out of the cliffs, and your eyes peeled for the endangered loggerhead sea turtle as you pass Iztuzu Beach. Extending into the Aegean Sea, the Datca Peninsula is a sun lover's paradise, with soft sand beaches and welcoming bays. Knidos, located on the peninsula's western reaches, once was a Greek hub and still is home to the ruins of a seaside amphitheater and the Temple of Aphrodite.
The catamaran's captain also is your tour guide, providing insider's tips on each port. Sailings are scheduled into October, with spots starting at $1,849.
"Real Food Adventure-Italy"
Intrepid Travel
Leave your diet and discipline behind for "
Real Food Adventure-Italy
" a nine-day
Intrepid Travel
excursion that indulges in the finest local delicacies.
Get the party started in Rome with a signature Italian aperitivo, the pre-dinner ritual of a drink and snacks, and wander through Trionfale Market the following day to sample goods like prosciutto, ripe mangoes and freshly baked focaccia. Following a wine tasting near San Gimignano and a culinary class in Bologna, stop in Modena to observe the intricacies of balsamic vinegar production at a vinegar loft.
While tapas are a Spanish signature, Venice's small-plate cuisine, cicchetti, is equally delectable. Experience this fare on a pub and restaurant crawl, satisfying your cravings with calamari, skewered artichoke hearts and deep-fried mozzarella.
A daytrip to Marca Trevigiana outside Venice includes a visit to an artisan salami factory and local cheesemaker as well as the chance to sip prosecco, a sparkling white wine. Save room for dessert, as your afternoon is devoted to the art of gelato. Create your own batch under the eye of a professional, then enjoy the creamy fruits of your labor. Before boarding your flight, grab coffee and a pastry in Venice's Rialto Markets.
This tour maxes out at 12 travelers, with rates starting at $2,690. Trips are available through mid-October 2016.
"Spanish Fiesta"
Globus
Every July, revelers and risk takers descend upon Pamplona, Spain, for the Fiesta de San Fermin, a nine-day celebration of singing, dancing and, of course, a 900-yard dash down Calle Estafeta in front of six raging bulls.
Globus
' "
Spanish Fiesta
" visits this famous street and a host of other sites over its 14 days. The trip kicks off in Madrid with a sightseeing tour that includes the Parliament building, Cibeles Fountain and the Prado Museum, which houses nearly 5,000 Spanish paintings. A stop at Bodegas Portia lets travelers savor the area's flavorful tapas and wine selections.
Appreciate the panoramic view of Barcelona from Montjuic Hill, then immerse yourself in the Gothic Quarter. The buzz never dims in Placa Reial, a well-known city square, while a cold beer hits the spot at Els Quatre Gats, one of Pablo Picasso's hangouts.
Following stops in Valencia, Granada and along Spain's Costa del Sol, a drive to the southern tip of the Iberian Peninsula presents photo ops of the 1,400-foot Rock of Gibraltar. In Cordoba's historic center, a UNESCO-protected site, a walking tour peeks into the area's diverse past with visits to the Alcazar castle, medieval Jewish quarter and Great Mosque.
Optional excursions to Montserrat, Mijas and Toledo are available for an additional fee. Departures run until March 2016 and begin at $2,629.
The information in this story was accurate at the time it was published in May/June 2015. Please visit
Vacations To Go
or call (800) 680-2858 for current rates and details.
Send This Article to a Friend
Bookmark this Content
Digg it!
Reddit
Furl
del.icio.us
Spurl
Yahoo!