The Lives and Legends of America's National Parks
Find inspiration in the history and the natural wonders
of these magnificent recreational preserves
By Alexis Hilts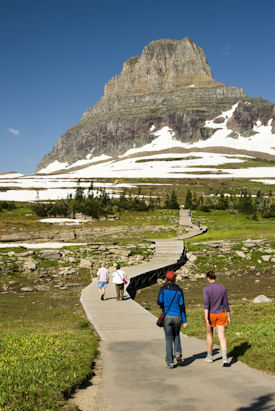 Jim W. Parkin/Fotolia
O
ur national parks today stand as symbols of America's character. Containing some of the country's most breathtaking natural assets, they are the settings for the classic family vacation, even in these technology-centered times. Consider, for example, that some 3.3 million people visited
Yellowstone National Park
alone last year, according to the National Park Service.
The parks of the West in particular have lured adventurers for generations. Like young Everett Ruess, a sensitive poet and artist who was enamored with the natural world. At age 16, he struck out from Los Angeles for Yosemite on his own. Between that summer in 1930 and the winter of 1934, Ruess spent most of his time traveling the Southwest, often alone.
In a letter to his brother in November 1934, Ruess wrote: "As to when I shall revisit civilization, it will not be soon, I think. ... I prefer the saddle to the streetcar, and the star-sprinkled sky to the roof, the obscure and difficult trail leading into the unknown to any paved highway, and the deep peace of the wild to the discontent bred by cities."
This was the last time he would write to his brother. That same month, Ruess set out from Escalante, UT, and never returned.
**********
Before they became beloved monuments, these lands were at risk. Settlers who moved westward during the 1840s destroyed species and decimated forests in the name of progress. Near the end of the century, however, a change in Americans' perspectives began to occur. Brought about by strong characters with deep commitments to the environment, the national parks movement emerged.
With a background in geology and botany, John Muir was a scientist and naturalist at heart; a deeply spiritual man, he also was an eloquent and engaging writer. In 1869 Muir ventured to an area of California that would later become Yosemite National Park. Muir's time here marked the beginning of his lifelong dedication to the park system; in 1892, he helped found the Sierra Club, the oldest and largest grassroots environmental organization in the U.S. Even after the first parks were established, conservation efforts had only just begun.
In 1901, Muir published "Our National Parks," passionately encouraging exploration of America's natural world: "Walk away quietly in any direction and taste the freedom of the mountaineer. ... Nature's peace will flow into you as sunshine flows into trees. The winds will blow their own freshness into you and the storms their energy, while cares will drop off like autumn leaves."
Muir's book caught the eye of Theodore Roosevelt, a president who embodied the spirit of the West; rugged and determined, he drew strength from the outdoors. In 1903, Roosevelt embarked on an eight-week national tour. He visited 25 states and made more than 200 speeches. Despite this hectic schedule, he took time to camp in Yellowstone National Park. Sprawled across the northwest corner of Wyoming -- and parts of Montana and Idaho -- Yellowstone was dedicated as the first national park in 1872.
Visitors today can tour the park on horseback, as Roosevelt did. You may even encounter grizzly and black bears, gray wolves, moose and mountain lions. Or you might experience the thrill of watching a geyser erupt. There's Steamboat Geyser, with occasional eruptions that shoot more than 300 feet into the air, and Old Faithful Geyser, which is less impressive in height but more consistent -- its bursts occur an average of 17 times a day.
At the park's north entrance in Gardiner, MT, you'll find the man-made Roosevelt Arch. After camping here, Roosevelt attended its dedication ceremony. The 50-foot high basalt structure is engraved with a line Roosevelt used to describe the public park's democratic nature, "for the benefit and enjoyment of the people."
Planning to stop in
Yosemite
on his western journey, Roosevelt asked Muir to be his guide. The two men slept beneath giant sequoias and near Glacier Point where, three decades later, Everett Ruess would travel. Forming a bond of mutual admiration, Muir urged Roosevelt to make Yosemite Valley part of federal lands. Less than three years later, Congress approved the action.
Though scenic descriptions like Muir's were powerful, images of the parks' marvels confirmed the beauty many Americans had yet to see, inspiring them to guard it. One photographer in particular brought Yosemite to life. Just as it was for Muir, Yosemite became a beloved place for Ansel Adams -- his first published photo was of the park. And a few years after marrying Virginia Best in 1928, he took over her father's photography studio, located in Yosemite. It still operates today as the Ansel Adams Gallery.
It was in his nearby hometown of San Francisco in 1933, however, that Adams offered suggestions to another California artist: Ruess. The two apparently traded artwork; the Adams photo that Ruess selected was of a "fantastical" lake in Kaweah Gap, according to a letter that Ruess wrote to his family.
For an artist's perspective of the region, visitors can attend free art classes at the Yosemite Art and Education Center. The Ansel Adams Gallery also has photography workshops and free camera walks during the summer, as well as rotating exhibits.
During his presidency, Roosevelt created five national parks and 18 national monuments, plus more than 50 bird sanctuaries and 100 million acres of national forest. In 1906, he designated
Mesa Verde National Park
, with the unique goal of preserving the cultural remains of the ancestral Puebloans who lived in this part of southwest Colorado from about A.D. 550 to 1300. More than 4,000 known archaeological sites exist here, including cliff dwellings, pueblos, masonry towers, farming structures and spiritual areas. Park rangers lead tours to several of the sites, and visitors can view other parts, such as the Sun Temple ceremonial place, on their own.
In August 1932, Ruess' travels brought him to Mesa Verde and its Cliff Palace, the remnants of a settlement in a rock alcove. You can see the impressive homes yourself, though expeditions here require navigating uneven steps and climbing ladders. For a less strenuous endeavor, stop in the Chapin Mesa Archeological Museum and then stay for some stargazing at the Montezuma or Mancos Valley overlooks.
Changing minds about preservation was not the only task that advocates of national parks faced in those early days. A major practical obstacle was accessibility.
Glacier National Park
in northern Montana is a perfect example: In the late 1890s, visitors had to use a train, stagecoach and boat to get to the only hotel in the area. After the park's establishment in 1910, the Great Northern Railway built housing for the expanding park staff and constructed lodges for vacationers. But to experience much of the park, people were confined to what they could see on horseback or on foot. A road was necessary.
Traversing 50 miles of Glacier's interior, the Going-to-the-Sun Road was a feat of engineering that took 11 years to complete. Landscape architects created a passage that complemented the mountains' rugged beauty, striving to make as little damage to the natural environment as possible. Despite its difficulty, the endeavor was finished in 1932.
Visitors today still marvel at the road's twists and turns, and at the vistas of peaks and valleys that it affords. Highlights along the road include the Jackson Glacier Overlook, a great spot for glacier viewing; the Triple Arches, a historic stone bridge; and the West Side Tunnel, bored into a mountain in 1926. If you don't want to navigate the winding route yourself, consider riding in a 25-foot-long vintage motor coach. Originally used between 1936 and 1939, these red vehicles -- once called "jammers" due to their faulty transmissions -- seat 17 passengers and are equipped with roll-back canvas tops.
Just as the Great Northern Railway opened up travel to the Northwest, the Santa Fe Railroad did the same for the Southwest. Hoping to bring more passengers westward, the railway partnered with Fred Harvey, a man who some would say civilized the West.
An enterprising Englishman who came to the U.S. as teenager, Harvey began working in the restaurant industry in New York City. In the 1870s, he started his own company, teaming up with the railroad to bring to the route what was severely lacking: good food and comfortable hotels. And Harvey added an essential touch -- he recruited women to waitress in Harvey Houses across the country. Called "Harvey girls," they charmed patrons and brought a new element to an area previously dominated by prospectors, laborers and merchants.
And Harvey introduced another important female influence to the Southwest: Mary Elizabeth Jane Colter. An exception to the norms of the early 20th century, Colter was a chain-smoking master of her craft in the male-dominated field of architecture. Commissioned in 1902 to decorate the interior of the Indian Building, which was adjacent to the Santa Fe Railroad's new Alvarado Hotel in Albuquerque, NM, she impressed Harvey with her unique style. He hired her full time in 1910, and Colter remained with Harvey's company for 46 years.
Some of her most impressive works can be seen in Arizona at the South Rim of
Grand Canyon National Park
. Colter's designs were inspired by nature and Native American legend, and her sense of detail was impeccable. Employing local materials and art, she strived to make her structures feel authentic. For the Hopi House, she found ideas in a Hopi village, while Hermit's Rest was influenced by stories she heard about Louis Boucher, a famous Grand Canyon recluse. Visitors can see these structures, as well as her Desert View Watchtower and Lookout Studio, on a shuttle bus trip or a hiking trail. You also can spend the night or grab a bite to eat at another of her creations, Bright Angel Lodge.
Everett Ruess traveled to the Grand Canyon several times. On an expedition in 1931, he rode a burro from the canyon to Zion National Park in Utah, where he suffered a severe allergic reaction to poison ivy, and back again.
During the Great Depression, Franklin Delano Roosevelt helped carry on his cousin's tradition of environmental preservation through the Civilian Conservation Corps, which was created to produce jobs and improve national parks. The program lasted from 1933 to 1942 and had camps in every state. The CCC stimulated local communities, instilled pride and equipped young men with valuable skills. The workers received food, shelter and $30 a month -- most of which went to their families.
Their impact on America's parks was lasting. In
Zion
, for instance, CCC laborers built and improved trails, created parking areas, constructed campgrounds and park buildings, fought fires, reduced river flooding and eliminated invasive plants. The collection at the Zion Human History Museum includes more than 30,000 artifacts -- Native American tools and memorabilia from the CCC's years in the park among them -- and is worth checking out.
Roughly 60 miles east on the Paunsaugunt Plateau is
Bryce Canyon National Park
, known for its colorful geological amphitheaters filled with rock pillars sculpted by erosion. The Paiute name for the canyon means "bowl-shaped canyon filled with red rocks standing up like men." According to Native American lore, the canyon structures are the Legend People, turned to stone for bad behavior.
Mormon pioneers Ebenezer and Mary Bryce moved to the area in 1875, settling near the town of Tropic. Bryce built a logging road, and the amphitheater at the road's end became known as Bryce's Canyon. The 56- square-mile territory was designated a national monument in 1923 and, soon after, a national park. Although relocated, the Bryce log cabin still stands for visitors interested in seeing a pioneer's abode.
Despite the unusual landscape, early settlers here grazed cattle. Describing the area, Bryce supposedly once said, "It's a hell of a place to lose a cow." While that may be true, thanks to its high elevations the park has expansive views with hundreds of miles of visibility.
Standing upon these cliffs, travelers can look out across the Escalante region where Everett Ruess was last seen. For 75 years theories have circulated about his disappearance. Just last year, the remains of a body found in a Utah desert were thought to be his, though DNA testing deflated this hypothesis. But while his fate remains a mystery, Ruess' spirit lives on out west, inspiring others to discover America's native wilds -- ancient masterpieces belonging to all of us.
Visiting the National Parks of the West
Escorted tours provide a convenient and affordable way to visit several national parks in a single vacation. One price covers lodging, some meals, transportation between the sites and sightseeing led by knowledgeable guides. National parks itineraries are among the most popular vacation packages offered by tour operators, with options ranging from budget excursions to luxury trips.
For more information on taking a tour of historic national parks, call (800) 680-2858 or visit
Vacations To Go
. You can click the "Find a Tour" tab, then "Choose up to 4 Cities/Places" to select a park from a drop-down menu. For more background on the parks, consider these additional resources:
* "Yosemite," by Ansel Adams
* "The Rise of Theodore Roosevelt," by Edmund Morris
* "The Harvey Girls: Women Who Opened the West," by Lesley Poling-Kempes
* "A Passion for Nature: The Life of John Muir," by Donald Worster
* "Everett Ruess: A Vagabond for Beauty," by W.L. Rusho
* "The National Parks: America's Best Idea," a six-part PBS series by Ken Burns and Dayton Duncan, with companion book.
The information in this story was accurate at the time it was published in March/April 2010. Please visit
Vacations To Go
or call (800) 680-2858 for current rates and details.
Send This Article to a Friend
Bookmark this Content
Digg it!
Reddit
Furl
del.icio.us
Spurl
Yahoo!