The Incredible Islands of Oz
More than 600 tiny, tropical isles edge the coast of Queensland, Australia's scenic northeastern state
By Jennifer Davoren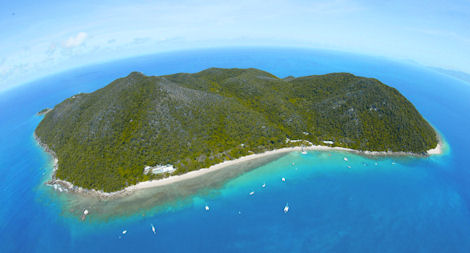 Fitzroy Island Hunt Resort
(Scroll down to see a slide show.)
R
.J. Anjaan, a Radio One disc jockey based in Bangalore, India, dodged four lanes of rush-hour traffic to dance on a median.
Hailey Turner, a 20-year-old Australian, donned her favorite bikini for a romp in New York's Times Square -- in January.
But Christopher Grima of Fort Pierce, FL, wanted to attract a bit more attention. The 25-year-old biology student jumped off a bridge, falling 70 feet before plunging into a deep, murky canal. (He's fine.)
Can you blame them? It takes a lot to stand out in a crowd, and nearly 35,000 people applied for what was described as the best job in the world: "caretaker" of the eye-popping islands of the Great Barrier Reef, where more than 600 tropical cays line a 2,000-mile-long coral system.
What began as a marketing gimmick for Tourism Queensland, the promotional group behind Australia's scenic northeastern state, became an international sensation in early 2009. At www.islandreefjob.com, visitors were encouraged to create quirky one-minute video profiles in order to apply for the caretaker position. Most submissions, like those from Anjaan, Turner and Grima, featured a variety of showstopping stunts meant to impress a selection committee.
The largely ceremonial position provides a $100,000 salary and free room and board. In exchange, the caretaker is asked to spend six months sampling their surroundings and chronicling the experience on a tourism-boosting Web site. The winning entry will be named in May*, and the lucky person chosen for the position will begin "work" on July 1.
Though I wasn't among those who applied for the best job in the world, I spent a week sampling Queensland's tropical resort destinations this January. I didn't get the chance to see every island on my wish list, but I did visit three destinations that encapsulated the awe-inspiring beauty and astounding variety of the surrounding coral reef. On tiny Hamilton, Lizard and Fitzroy islands, I found attractions fit for family-friendly vacations as well as secluded enclaves built for two.
Read on to learn about these Aussie isles. All prices are in U.S. dollars and reflect exchange rates at press time.
Hamilton Holidays
A complimentary shuttle circles Hamilton Island near the heart of the Great Barrier Reef, ferrying guests between restaurants, hotels and public beaches. Sidewalks and formidable hiking trails also link island highlights, leading to hilltop picnic spots with sweeping views of the cerulean Coral Sea.
But the buggy, as the locals call their four- and six-passenger golf carts, is the way to go here. Nothing beats jet lag like an invigorating drive across Hamilton Island, where narrow cart lanes wind past tropical greenery, sparkling sands and a marina filled with multimillion-dollar yachts. And bustling about in your own rented buggy offers the freedom to experience the entire resort at your own pace -- there's almost too much to see and do on Hamilton, where vacation options have been growing since the early 1980s. This spot, once an isolated ranching outpost, is now the most popular resort destination in the 74-island Whitsunday chain.
The attraction may be due, in large part, to its accessibility. A busy airport on the south end of the island receives 40 flights a week from Sydney, Melbourne, Cairns and Brisbane. Ferries dock nearby -- Hamilton is just a 30-minute ride from the mainland. And, of course, those with a boat of their own can slip into the island's state-of-the-art marina, where a recent refurbishment added private berths and waterfront concierge service. Hamilton is a favorite sailing destination and plays host to Australia's largest yacht racing event each August.
More than 900 guest rooms are available on Hamilton, with options ranging from $2,000-a-night luxury vacation homes to budget-friendly bungalows a short walk from the island's favorite beach, Catseye, for about $212 to $260 a night. Dining choices are just as varied, with venues like Romano's near the marina, serving fresh Italian fare by candlelight, and the cafe at the Koala Gallery Wildlife Experience, where kids can hit a bountiful breakfast buffet before cuddling and snapping a photo with Australia's favorite marsupial.
Cocktail bars, clothing boutiques and art galleries are found in a central harbor village. Buggy drivers cruising the island's main drag will find a dive shop, sports equipment rentals and a go-kart track.
Though most of the island seems suited for high-energy, spring break-style pursuits and family-friendly gatherings, Hamilton has a high-walled inner sanctum that lures a different type of traveler. The upscale enclave known as qualia -- yes, that's a lowercase "q," a reflection of the resort's low-key nature and understated beauty -- is cordoned off from neighboring hotels and provides exclusive accommodations on the northern tip of the island. Private pavilions, a gourmet restaurant and a spa specializing in organic Aussie products melt into their surroundings, creating a signature, almost secret escape. Rates start at just beyond $1,000 a night.
Hamilton guests looking to escape the island completely can do so by sailboat, helicopter or seaplane. These can be hired for hour-long excursions or full-day trips to neighboring destinations like Hayman Island, a five-star escape known as Australia's celebrity playground, or Whitsunday Island, home to Whitehaven Beach.
Often named among the most beautiful beaches in the world, crescent-shaped Whitehaven is the setting for snorkeling, sunbathing or, oddly enough, sand-watching. The unique shape of the surrounding cove, coupled with the unusual ocean currents in this corner of the world, create strange sand patterns that shift with the ebb and flow of the tide.
Laid-back Lizard
Most high-end vacation resorts claim some sort of "green" status, pointing to wastewater recycling systems and organic cuisine as proof of an eco-friendly attitude. But few let nature run the show like the ultra-luxurious Voyages Lizard Island, an intimate 40-suite resort that's an hour-long flight from coastal Cairns.
I was less than 15 minutes into a tour of the property when I spied my first monitor lizard. The resort, island and encompassing national park are all named for these scaly creatures, which measure from 2 to 4 feet in length. They wander the grounds without interruption, cutting across hiking trails and sunning themselves on the island's 24 white-sand beaches. Most are too shy to approach the tourists, and although some are friendly enough to pause for photos, most prefer to survey you from the shaded safety of a kapok bush.
Accommodations at Voyages Lizard Island are spread among small hilltop villas hidden by flowering trees. While generous balconies provide panoramic views of the Coral Sea, the attached cabins seem shielded from prying eyes.
Resort amenities are just as subtle in their appearance. Hidden behind a shady pool pavilion is the Azure Spa, where treatments are inspired by the untamed beauty of the surrounding nature preserve. Ospreys, the property's fusion restaurant, is set in an open-air pavilion, where modern Australian cuisine mingles with fresh sea breezes.
Voyages Lizard Island, Australia's northernmost resort, is prized among divers. Those with scuba certification often head for Cod Hole, named for the bulbous fish that approaches invading humans without fear. Those looking for a more casual view of sea life can snorkel. Anchor Bay coral gardens await exploration just off the resort's central beach, while boating excursions to the nearest edge of the Great Barrier Reef reveal orange-tipped clown fish and the puffy, purple lips of giant clams. Voyages, the developer of 15 Australian luxury resorts, offers a variety of scuba and snorkel packages and guided tours through the island dive shop.
Sportfishing is another popular pastime. Most boats go to neighboring Ribbon Reefs, where mahi, tuna, sailfish, mackerel and other big game wait beneath the waves. The world's best anglers invade the island each October for a weeklong fishing tournament, with winners reeling in their share of "granders" -- black marlin weighing upward of 1,000 pounds. A concierge desk books daily trips out to sea.
While a host of activities await guests of Voyages Lizard Island, the resort is, above all, a place for sloth. Each guest room offers a canvas hammock, and most also boast folding futons on their balconies. Poolside lounge chairs, beach beds and surfside tables for two can be found on the property, inviting guests to indulge in some quality lazy time by the water.
A piece of this private paradise comes with a hefty price tag: An all-inclusive, two-night package for two people, with all meals and drinks, starts at around $2,370, plus the cost of charter flights to the island.
Flings on Fitzroy
My gleeful guide held an insect between his thumb and forefinger, extending the squirming creature's backside toward my waiting tongue.
Curiosity and a fair amount of peer pressure had brought me to this point. I had been told that the numbing, defensive ooze excreted by the green ant, common in tropical corners of Queensland, tastes something akin to a lemon drop. This disgusting yet intriguing idea sent me and my hiking companions on a foraging expedition in the rain forest.
I was wary of trying this local delicacy, largely due to my guide, Jeff, and his love of practical jokes. ("Ah, don't worry about sharks," he'd assured me earlier that day while handing me some snorkeling gear. "We used to have some around here, but the crocs got 'em!") But Fitzroy Island, a largely untamed spot just an hour's ferry ride from the mainland resort town of Cairns, is made for outdoor adventure.
And, candy-coated ants are part of the entertainment package, I told myself as I took a big lick of the nearest bug's butt. The taste, like the surrounding resort, was a sweet surprise, and both the insect and the island provided some of my fondest recollections of Queensland.
Among Fitzroy Island's memory-making spots is Nudey Beach, a white-sand stretch of paradise that one reaches after a short hike through the forest and a little bit of rock climbing. Though the destination was named for the second most popular activity here, clothing-optional sunbathing, I was interested in more active pursuits. My fellow travelers and I followed Jeff the Jokester on a snorkeling expedition.
Setting out from Nudey Beach, snorkelers can paddle in just about any direction to see parrot fish, rays and sea turtles -- though, as Jeff promised, I didn't spy any sharks during my trip. Like most islands neighboring the Great Barrier Reef, Fitzroy is protected by its own national park. Snorkeling reveals a stunning variety of underwater life, and the rocky shoreline is full of surprises, from colorful starfish to clams as large as the passing swimmers.
Fitzroy Island is a favorite day trip for hikers, divers and other outdoor enthusiasts. But the addition of the Fitzroy Island Hunt Resort, a Wyndham property that made its debut earlier this year, now provides an overnight option.
The resort is still completing its final stages, and current offerings center around a beachfront pool and attached tiki bar. Just beyond, stately hotel suites, most with full-service kitchens and laundry facilities, join wave-front vacation home rentals and a relaxed restaurant. Rates range from $140 to $900 a night. Plans call for clothing boutiques and a grocery store, which should provide one-stop shopping for families that want to hunker down on Fitzroy for an extended stay.
But the scenery alone -- the biggest perk of a stay along the Great Barrier Reef -- is enough to capture a visitor's attention. And, it should be more than enough to satisfy the winner of the best job in the world, who will spend the last six months of 2009 in one of the most enviable spots on Earth.
For information on escorted tours to far-flung Australian destinations, call (800) 680-2858 or visit
Vacations To Go
to see a list of itineraries that spend time in Queensland and the Great Barrier Reef.
* On May 6, Tourism Queensland announced that 34-year-old Ben Southall of Hampshire, England, had won the position of caretaker of the islands of the Great Barrier Reef, beating nearly 35,000 applicants. Southall, who has worked as a tour guide in Africa and as a charity fundraiser in the UK, begins his six-month tenure in the islands on July 1.
The information in this story was accurate at the time it was published in May/June 2009. Please visit
Vacations To Go
or call (800) 680-2858 for current rates and details.
Send This Article to a Friend
Bookmark this Content
Digg it!
Reddit
Furl
del.icio.us
Spurl
Yahoo!