The Colors of Italy
From green vineyards to a blue jewel of a lake,
the country's charms are revealed on a Globus tour
By Michelle Chumbley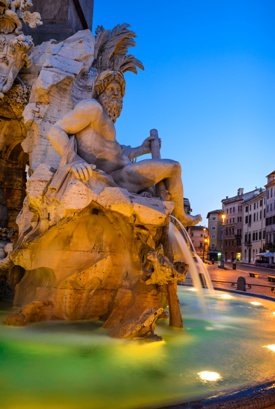 Emi Cristea/Fotolia
I
t's midmorning on a cloudy Saturday when we catch our first glimpse of the lake. "Wakey, wakey" -- the whispering voice of our tour director, Salvatore, over the motor coach's PA system draws most of us from an unintended catnap brought on by the lull of the ride.
After this tunnel, we'll be able to see it, he says. It's quiet but for the gentle rustle of camera bags and bodies scooting to the right-hand windows in anticipation. Maybe it's the few preceding moments of darkness as we pass through a mountain, but the reveal on the other side plays out like the dramatic unveiling of a work of art -- clouds parting delicately to allow a few sunbeams to dance on the sparkling waters of the masterpiece,
Lake Como
.
Cradled by Alpine peaks reaching nearly 9,000 feet, Italy's third-largest lake feels secluded, though the charming resort villages and pristine, enviable villas that dot the shore attest to its reputation as a luxurious getaway.
We've made our way here at the tail end of an eight-day romp from Rome to Milan with escorted tour operator
Globus
. "
Italian Vista
" our aptly named itinerary, is a beautiful overview of the diverse country and, this week, we're privy to some of the best it has to offer.
Eternal City
It seems fitting to start our
Italian rendezvous
in a place that shaped so much of the Western world with its politics, religion, artistry and intellect, and influenced so many of the towns we will visit later. Rome wasn't built in a day, but we're going to try to see it in one, says our local guide, Francesco.
This daunting task is made possible by our
Globus perks
. Skipping lines and wait times at tourist-heavy attractions and having Francesco's expertise at our disposal packs more into a five-hour tour than we would be able to fit into two or three full days on our own.
Starting with history lessons on the motor coach as we drive to Vatican City, each minute is carefully planned to allow us to soak up as much of this glorious place as possible. We've strolled the Gallery of Tapestries at the Vatican Museums, gawked at Michelangelo's indescribably colorful frescoes in the Sistine Chapel and famous Pieta sculpture in St. Peter's Basilica, heard tales of bloody battles while walking around the once-marbled Colosseum and seen illustrations of the Roman Forum in its former glory while standing in its ruins, and all before lunch.
Globus' efforts to lodge guests close to the action make independent exploration an easy feat, too. In Rome, this means the mod-style Hotel Albani Roma, within walking distance of the Pantheon, Spanish Steps and Villa Borghese, a beautiful public garden just a couple of blocks away.
For my husband, David, and me, the city-center accommodations give us the confidence to test out our mildly adventurous spirits in the afternoon. Arming ourselves with a map and some tips from Salvatore, we decide to plot out a walking tour, knowing we can't wander too far on foot from our hotel.
Globus makes it easy to customize each itinerary to fit your travel style by weaving free time into each day. In Rome, we choose to lunch in the Trastevere neighborhood before seeking out Piazza Navona, an elegant public square that Francesco told us about that morning. Built over the remains of a first-century stadium, today it's a hub for art vendors, live music, street performers and open-air restaurants.
Others in our group head out on one of Globus' optional guided excursions to the Trevi Fountain and sites featured in the movie "Angels & Demons." For those who enjoy having their whole day planned out hassle-free, these excursions are a great way to utilize leisure time and experience even more of the local culture.
Green Heart of Italy
Standing atop a plateau in the delightful town of Orvieto, it's easy to see what earned the region of Umbria its moniker as the Green Heart of Italy. Looking down to the valley below, we see endless fields, vineyards and rolling hills in all varieties of the color. The city itself feels like a hidden gem, with monumental churches jutting up between 13th-century houses, all carefully perched on rock a few hundred feet in the air.
Here, we enjoy one of
Globus
' "local favorites," special experiences designed to give guests an inside look at their destination. We're sampling pastries at Bar Montanucci, a more than century-old cafe and bakery on an avenue lined with florists, perfumeries and clothing boutiques. Window-shopping on our way to visit the town's Gothic cathedral, we spot an elderly gentleman sauntering down a residential alley with a cane in one hand and his daily groceries in the other.
"Let's stay here and never leave," I whisper to my husband, forgetting about the city's remoteness and daydreaming about lunching on the panini advertised on a rustic wooden board we pass.
But alas, our suitcases stay on the motor coach and it's on to another jewel of the region, Assisi, a pilgrimage site for Roman Catholics and birthplace of St. Francis, one of the two patron saints of Italy. Our pilgrimage in the town stretches from the Basilica of St. Clare to the Basilica of St. Francis. As we walk along the medieval walls between, our guide recounts the story of the latter. Born in the 12th century, he devoted his life to charity and founded the Franciscan order -- tales depicted on frescoes in his namesake church.
From the gardens of our hotel that evening, the outline of the basilicas on a 1,300-foot spur of Monte Subasio looks nothing short of a work of art itself. Elevated high above two river valleys, with nothing but the setting sun and a bevy of doves for company, I now understand the second part of this region's nickname -- my heart has found its home.
Cradle of the Renaissance
From St. Francis' esteem for the beauty and spirituality of nature, it is said that Italian artists were inspired by similar ideals, spurring a proto-Renaissance several decades before the rebirth of the 15th century. And, from Florence, the Renaissance itself was born, brought on by the likes of Leonardo da Vinci, Donatello, Raphael and Michelangelo.
The latter is the highlight of our city tour in
Florence
, as we head straight for the Accademia Gallery to gaze upon Michelangelo's David. In the same hall as the larger-than-life piece that the sculptor crafted when he was just 26 years old are the unfinished works that demonstrate his process. They are called the Prisoners, says our guide, Martina, because Michelangelo thought of his creations as imprisoned in their blocks of stone before he worked to free them.
Our local guides' in-depth knowledge of their cities is impressive, to say the least. Not only history experts, they also spew forth artistic insights, cultural tidbits, streetwise savvy and the answers to any number of barely related questions our group throws at them. It's Salvatore who feeds us perhaps the handiest tip for this spot, though: Don't trust the smell when picking out leather goods in Florence. Shop owners spray the fake stuff with a leather scent.
City of Bridges
Marina, our local guide in Venice, has some savvy advice for us, too. The two things you don't mention to Venetians, she says, are Napoleon and George Clooney -- the first for overthrowing the former republic, and the latter for shutting down a busy city block for his wedding.
Before we step foot on the island town, we're handed a map and a warning: Don't bother trying to follow the map. But after a busy morning examining the mosaic art of St. Mark's Basilica, witnessing a glassblower magically transform molten substance into an elegant pitcher and touring the Doge's Palace, where elected leaders of the republic lived, we're ready to set off on our own.
My husband and I decide to take a gondola ride first (another of
Globus
' optional excursions) and are serenaded by an accordion player and crooner as we pass under the Bridge of Sighs (or the "kissy-kissy" bridge, in Salvatore's words). In a venturesome mood, we run off to traipse the romantic city, wandering less-trodden neighborhoods until we're quickly disoriented and at a loss for which of the dozens of interweaving canals on our map we might be crossing.
There's a quiet calm here, where the tourist paths subside and the only buzz is the sound of laundry lines flapping in the breeze mixed with the hum of radios from open second-story windows. Despite my few moments of panic when we seem to walk in circles and make our way back to the same tiny courtyard, I still attest that getting lost in Venice is a must-do.
Pearl of Lake Como
Back at the lake, a water taxi is waiting to take us to Bellagio, a holiday spot since ancient Roman times. Known as the Pearl of Lake Como, it's located in the central promontory of the wishbone-shaped body of water. The resort village's narrow lanes are connected by cobblestone stairways lined with silk shops, hat stands, gelato bars and decorative plant pots, and I flit among them all, eager to soak up the sensory mementos that can't be packed as souvenirs.
We're on a daytrip from our final destination, Milan, trading the big city's cosmopolitan bustle and chic luxury shopping for lavender kiosks and quiet benches overlooking the rippling water. We'll end our trip tonight the way we started it, with a group dinner at a local eatery where we'll share our favorite moments over plates of saffron risotto.
But for now, time stands still as we bob on the waves with the Alps and a shrinking shoreline for a backdrop. This hardly is the first breathtaking moment we've experienced, but it certainly is a worthy send-off on our last full day -- a grand finale, of sorts, to a week filled with the great accomplishments of man in art and architecture. Here, we marvel instead at the work of nature's paintbrush.
Information
Most of
Globus
' escorted itineraries in Italy range from seven to 16 days. The eight-day "
Italian Vista
" ventures from Rome to Milan, adding overnight stays in Assisi and Padua, in the northern Veneto region.
Highlights include inside visits to the Colosseum and Sistine Chapel in Rome, the tomb of St. Francis in Assisi, Florence's Accademia Gallery, the Doge's Palace in Venice and Milan's La Scala opera house. You also will sample sweets at a century-old pastry shop in the hilltop town of Orvieto, stop for pictures in front of Juliet's balcony in romantic Verona and take an outing to Lake Como's charming Bellagio commune.
Prices start at $1,409 for weekly departures through March 2017. For more information on Globus' Italian offerings, contact Vacations To Go's tour specialists at (800) 680-2858 or
peruse itineraries online
.
The information in this story was accurate at the time it was published in March/April 2016. Please visit
Vacations To Go
or call (800) 680-2858 for current rates and details.
Send This Article to a Friend
Bookmark this Content
Digg it!
Reddit
Furl
del.icio.us
Spurl
Yahoo!