The British Isles by the Book
From Austen's Bath to Joyce's Dublin, these places
have set the scene for many beloved works
By Alexis Loyd and Jennifer Davoren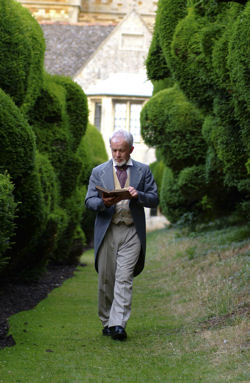 Tony Pleavin/East Midlands Tourism/VisitBritain
"A
dirtier or more wretched place he had never seen. The street was very narrow and muddy, and the air was impregnated with filthy odours. There were a good many small shops; but the only stock in trade appeared to be heaps of children, who, even at that time of night, were crawling in and out at the doors, or screaming from inside."
In passages like this one from his classic novel, "Oliver Twist," Charles Dickens captured the gloomy underbelly of London's Victorian era. Drawing from his experience working as a boy in a blacking factory while his family was held in debtors' prison, and later, from his nighttime walks along the city's foggy streets, Dickens captivated audiences.
To honor their literary hero in his 200th birthday year, Dickens devotees are hosting commemorative events in England, from festivals in his home county of Kent to a "Dickens and London" exhibition at the Museum of London (through June 10). And though Dickens' Doughty Street London home is closed this summer for renovations, his Gad's Hill Place estate in Kent, which has housed a school since the 1920s, opens its doors to the public for the first time from July 25 through Aug. 19.
A long legacy of admired writers belongs to the
British Isles
. In the following locales across England, Scotland and Ireland, one can uncover scenes from the lives and works of favorite wordsmiths. To visit several of these sites, consider an escorted tour. The Bath landmarks of Jane Austen, Shakespeare's birthplace in Stratford-upon-Avon and the Haworth home of the Bronte sisters are stops on many itineraries.
Bath, England
Jane Austen's heroines and their suitors inhabit a world filled with the trappings of high society, where social class reigns supreme and love cloaks itself in witty banter. Situated in a verdant valley 120 miles west of London,
Bath
was a resort destination attracting 19th-century socialites -- including Austen, who lived here for five years, though she preferred the countryside. The town still conjures up images of Regency elites in its Assembly Rooms. Adorned with Georgian interiors, these spaces hosted card games, dances and gossip during Austen's time.
Visitors to the Pump Room, adjacent to the ancient Roman Baths, can nibble on scones with clotted cream and hot Stilton-and-cheddar-cheese rarebit (order the Jane Austen High Tea). Sip from the fountain -- the spa water is known for its curative elements and was tasted by the likes of Charles Dickens, Queen Victoria and Austen herself.
Footnote:
Fancy yourself as Catherine Morland or Henry Tilney at the June 23 Regency Ball or the Jane Austen Festival on Sept. 14-22, both hosted by Bath's Jane Austen Centre.
Haworth, England
Beautiful and haunting, the windswept heather moorlands surrounding
Haworth village
in northern West Yorkshire still echo the tales of the ill-fated Brontes -- all six children and their mother died before age 39. A 43-mile trail, Bronte Way, leads to spots where the writer sisters -- Emily, Charlotte and Anne -- found inspiration. The remains of a stone farmhouse called Top Withens is said to have been the site Emily imagined for Heathcliff's abode in the 1847 "Wuthering Heights."
A nearby waterfall was a haven for the siblings. The family's home from 1820 to 1861, now the Bronte Parsonage Museum, is another historic stop, as is the school where Charlotte taught, next to the parish church.
Footnote:
Get a different perspective of Bronte country on the five-mile steam train route of the Keighley & Worth Valley Railway.
Dublin, Ireland
James Joyce fans flood the streets of Dublin each year for Bloomsday, June 16, the date on which his famous "Ulysses" takes place. Named for character Leopold Bloom, the event commemorates Joyce's modern parallel of Homer's "Odyssey." Visitors and natives tour locales connected with certain scenes, read passages, sing soulful songs and consume meals of grilled mutton kidneys and fried liver slices (or not). Research the life of Joyce, who wrote, "When I die Dublin will be written in my heart," at his namesake center in an 18th-century townhouse on North Great George's Street.
The
Irish capital
was dubbed a UNESCO City of Literature in 2010. This heritage can be unearthed at the Dublin Writers Museum, a Georgian mansion brimming with personal effects related to Oscar Wilde, George Bernard Shaw, William Butler Yeats, Jonathan Swift and others.
Footnote:
Raise a pint on the Dublin Literary Pub Crawl, accompanied by players performing the prose of Joyce, Samuel Beckett, Seamus Heaney and more, www.Dublin PubCrawl.com.
The Lake District, England
One can imagine Peter Rabbit stealing carrots from Beatrix Potter's idyllic country garden at her Hill Top home in northwest England's picturesque Hawkshead. In fact, bunnies have been known to sneak in for a nibble. The 17th-century farmhouse and surrounding meadows spurred the creation of many of the lovable animals that amble through Potter's stories, and the National Trust has kept the site the way it was when the children's author lived here.
Call upon Peter and Potter's other characters (remember Jemima Puddle-Duck and Tom Kitten?) at The World of Beatrix Potter Attraction in Bowness-on-Windermere, complete with re-creations of Mr. McGregor's greenhouse and Mrs. Tiggy-Winkle's kitchen.
Footnote:
This year marks 110 years since "The Tale of Peter Rabbit" was originally published.
The World of Beatrix Potter Attraction
will host a party on July 28, the day Potter was born in 1866.
Edinburgh, Scotland
J.K. Rowling, author of the blockbuster Harry Potter series, owes some of her early success to this city. She might never have put pen to paper without a grant from the Scottish Arts Council, which eased the single mother's financial burdens as she conjured the boy wizard's first adventures in the mid-1990s. Rowling did much of her writing in her favorite neighborhood cafes, including the cozy, crimson-and-gold Elephant House. Its quiet back room overlooks stately Edinburgh Castle, an early model for Hogwarts School of Witchcraft and Wizardry.
This
UNESCO City of Literature
was home to Robert Louis Stevenson ("Treasure Island"), Sir Walter Scott ("Ivanhoe") and Robert Burns ("Auld Lang Syne" and "Address to a Haggis"). Celebrate their works at The Writers' Museum, a free attraction with historic manuscripts and more on display.
Footnote:
Workshops, readings, children's storytelling and author meet-and-greets are scheduled for the Edinburgh International Book Festival, Aug. 11-27 at Charlotte Square Gardens.
Stratford-upon-Avon, England
On stages around the globe, aspiring actors recite lines penned by William Shakespeare. Delve into the world of the Elizabethan playwright at his
hometown
on the banks of the Avon River in central England's Warwickshire.
Guests can stroll Shakespeare's timber-framed haunts, including his 16th-century birthplace and the thatched-roof cottage that served as the childhood home of his wife, Anne Hathaway. View family heirlooms, such as a four-poster oak bed, and perhaps read your favorite Shakespearean sonnet in gardens blooming with the flowers and trees mentioned in the dramatist's works.
Footnote:
The World Shakespeare Festival runs to November, part of the 2012 events for Olympics host London. Roughly 70 productions will take place in venues across the United Kingdom, including Stratford-upon-Avon's Royal Shakespeare Theatre.
Oxford, England
The Eagle and Child was the preferred pub of the Inklings, a writers group led by
Oxford
professors J.R.R. Tolkien and C.S. Lewis. They met every Tuesday from 1939 to 1962 to discuss their latest projects -- among them, Lewis' "Chronicles of Narnia" series and Tolkien's sprawling fantasy world of Middle-earth. Stop by for a pint and view the Rabbit Room, the Inklings' private lounge.
See Tolkien's former home at 20 Northmoor Road, where he wrote "The Hobbit" and a great deal of the Lord of the Rings trilogy, and pay your respects at his grave in Wolvercote Cemetery.
Footnote:
A busy shop on St. Aldate's Street has been a local landmark since the 1870s, when a small girl named Alice Liddell would drop by each day to buy sweets. Liddell's friend Charles Lutwidge Dodgson -- better known by his pen name, Lewis Carroll -- wrote "Alice's Adventures in Wonderland" and "Through the Looking-Glass" for her. Alice's Shop now sells everything from Mad Hatter tea towels to White Rabbit pocket watches.
London, England
Even bumbling amateur detectives know they have reached the right place if they arrive at Baker Street via the tube: The iconic silhouette of Sherlock Homes puffing on his pipe is emblazoned on the station's walls. According to Sir Arthur Conan Doyle's mysteries, the sleuth and his sidekick, Watson, lived at 221b Baker Street in
London
, now a quirky museum dedicated to the pair.
Dine beneath crystal chandeliers at Simpson's-in-the-Strand, which has served elegant patrons, fictional and otherwise, since 1828. Illustrious guests included Sherlock Holmes, George Bernard Shaw, Charles Dickens and Vincent Van Gogh. Or choose The Sherlock Holmes pub and restaurant for fish and chips amid memorabilia such as the mounted head of the Hound of the Baskervilles.
Footnote:
Grab a drink at Museum Tavern, a regular stop of Doyle's after he studied across the street at the Reading Room of Bloomsbury's British Museum, which also was frequented by Bram Stoker.
The information in this story was accurate at the time it was published in May/June 2012. Please visit
Vacations To Go
or call (800) 680-2858 for current rates and details.
Send This Article to a Friend
Bookmark this Content
Digg it!
Reddit
Furl
del.icio.us
Spurl
Yahoo!