The British Isles, A to Z
26 reasons to loves these lands across the pond
By Rebecca Matheson Ortiz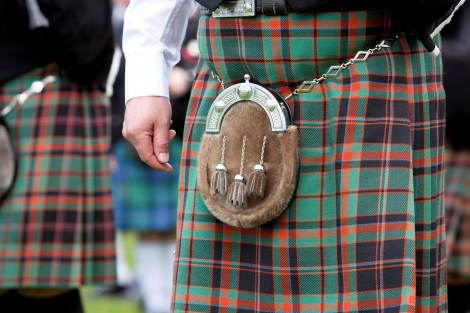 Paul Tomkins/VisitScotland
I
t can be tricky to differentiate between the destinations, what with a few thousand years of intertwining history blurring their borders.
Think of the
British Isles
as a geographic grouping. The name encompasses Great Britain, the island containing
England
,
Scotland
and
Wales
; Ireland, an isle divided into the countries of
Northern Ireland
and
the Irish Republic
; and more than 6,000 smaller satellites, including the Channel Islands nestled near the northern coast of France.
The United Kingdom is a little trickier. This constitutional monarchy encompasses England, Scotland, Wales and Northern Ireland, and overseas territories claimed by the crown include Caribbean and Pacific isles.
Delve into the intricate history, engaging legends and timeless beauty of this swath of Northern Europe with our alphabetical travel guide. Once you've chosen your must-see destinations, contact the escorted tour specialists at
Vacations To Go
to combine them into a hassle-free itinerary that makes the most of your time abroad.
Arthur
It's unlikely that he quested for a holy grail, but Wales does lay claim to several sites associated with the legend of King Arthur. On
CIE Tours
' 10-day "
Taste of Wales & Ireland
" you'll ride a train through Snowdonia National Park; keep an eye out for two lakes, Llyn Llydaw and Llyn Ogwen, as competing stories claim one to be the final resting place of Arthur's trusty sword, Excalibur.
From $1,828
Blarney Stone
Said to grant a silver tongue to all who kiss it, the Stone of Eloquence is set below the battlements of Ireland's Blarney Castle. Some claim it's a rock struck by Moses or the Lia Fail (fatal stone), an oracle that chose Irish kings. Pucker up to glean the gift of gab on
Cosmos
' nine-day "
Wales & Ireland
" which lingers here for stone smooching, shopping and exploration of the castle's grounds.
From $1,369
Castles
There's no shortage of stately homes in the British Isles, but popular spots for royal reflection while on an escorted tour include Wales' well-preserved Caernarfon Castle, built for Edward I in the 1280s; England's Windsor Castle, a weekend getaway for the current queen, Elizabeth II; and Scotland's Edinburgh Castle, anchor of the capital city's historic district. See all three on the 14-day "
England, Scotland & Wales
" with
Tauck
, a panoramic tour of Great Britain.
From $6,590
"Downton Abbey"
Set in the early 20th century, this award-winning PBS drama follows the aristocrats and servants of an English country estate.
Insight Vacations
' 11-day "
The British Royale
" makes time for the show's real-life counterpart, Highclere Castle, and explores its impressive antiques collection.
From $6,289
Eden Project
Colossal biomes -- enclosures reminiscent of honeycombs -- shelter captive gardens in Cornwall, England. Eden's rain forest dome is the largest greenhouse on Earth, and you can traipse among the treetops on a canopy walkway. Some 20 acres of outdoor plots grow lavender, tea and more while art, concerts, family-friendly exhibits and a seasonal ice rink add to the fun.
Fairy pools
Ethereal ponds found at the foot of the Black Cuillin, a mountain ridge on Scotland's 50-mile-long Isle of Skye, conjure images of dainty pixies flitting about. A 1.5-mile hike leads beauty-seekers to the crystal-clear, waterfall-fed pools -- are you brave enough to jump into the chilly waters? "
Scottish Clans & Castles
" 10 days with
CIE Tours
, enjoys a full day on Skye.
From $2,148
Guinness
Creamy and black, Guinness is an Irish staple that's been hailed for its complex flavor since 1759. Dublin's Guinness Storehouse gives insight into the famed brewing process; the 14-day "
Ireland & Great Britain
" ducks into the Storehouse, where you can attend Guinness Academy and learn to pour the perfect pint.
From $6,390
Highland heritage
Icons of Scottish culture range from haggis (Scotland's national dish, made of minced sheep offal, beef and oatmeal seasoned with onion and spices, packed into a sheep's stomach and boiled) to kilts and bagpipes. On the eight-day "
Scotland: A Brave Adventure
" with
Adventures by Disney
, kiddos delve into the country's rich history while participating in hands-on activities like highland games, archery and tartan-making courses.
From $5,819
Island hop
Looking for more of a coastal tour? Sample the British Isles by sea with
Princess Cruises
' 12-night, round-trip
sailings from London
on the 3,080-guest
Caribbean Princess
. Stops include colorful Guernsey, part of the Channel Islands; Cork and Dublin in Ireland; Belfast, capital of Northern Ireland; and Glasgow, Kirkwall, Invergordon and Edinburgh in Scotland.
From $1,299
Jurassic Coast
Sea arches and stacks have been chiseled out of cliffs, creating stunning backdrops along the 95-mile coast between Dorset and East Devon, England. The UNESCO World Heritage Site contains 185 million years of history between its sediment layers. Sharp-eyed beachcombers can hunt for fossils, like swirly ammonites, on Charmouth Beach.
Killarney National Park
Spread across 26,000 acres encompassing Ireland's tallest mountain range, Macgillycuddy's Reeks, Killarney has waterfalls, verdant woodlands and three lakes. Native red deer can be sighted on the slopes, and historic buildings -- like the 15th-century Ross Castle and 19th-century Muckross House -- mingle with nature. Journey through the picturesque reserve on a horse-drawn carriage ride with
Keytours Vacations
' nine-day "
Ireland Panorama
."
From $1,225
London
Founded as a Roman settlement in the first century and now the cosmopolitan capital of the U.K., London has plenty to offer those in search of a single-destination vacation. Experience it on the five-day "
London Uncovered
" from
Contiki
, a company specializing in budget tours for guests ages 18-35; two days of free time in the city could bring a ride on the London Eye or a stroll through Westminster Abbey, while your final night includes a trip to a West End musical.
From $1,015
Cliffs of Moher
Steep rock walls rise from the Atlantic, spanning 5 miles along Ireland's western coast and reaching 702 feet tall. Three viewing areas provide top-notch vistas: the North Platform, on the cliffs' highest point; the South Platform, home to a puffin colony; and the Main Platform, suited for views of Hag's Head (a cape said to resemble a seated woman).
Nessie
The Loch Ness Monster has inspired fisherman's tales since she first was "spotted" in 1933, though legends have surrounded these mysterious waters for more than 1,500 years. Embark on a river cruise across Scotland on
European Waterways
' seven-day "
A Classic Cruise in Scotland
" and you might catch a glimpse of the elusive beast on Day 3 as you make your way down Loch Ness.
From $4,090
One long name
The town of Llanfairpwllgwyngyllgogerychwyrndrobwllllantysiliogogogoch (yep) boasts the longest name in Britain. Located on the isle of Anglesey in Wales, this tongue twister was created as part of a promotional stunt for the local rail station. Test your pronunciation skills on the 15-day "
Exploring Britain & Ireland
" from
Collette
, which delivers guests to Wales by ferry.
From $3,299
Patron saint
It's said that the man behind St. Patrick's Day brought Christianity to the druid tribes of Ireland in the fifth century, using the Emerald Isle's iconic three-leafed shamrocks to explain the Holy Trinity.
Globus
' 10-day "
Legacy of St. Patrick
" follows the legend to places like Croagh Patrick, now a popular site for Christian pilgrims.
From $2,049
The queen
Elizabeth II is history's longest-reigning British monarch. She first took the throne in 1952 at the age of 25; in 2016, the 64th year of her rule, a 90th birthday bash is planned at Windsor Castle. Don't fret if you didn't get an invite to the party this April -- "
A Classic Cruise in England
" seven days with
European Waterways
, makes time for the castle, home to the royals for more than 900 years.
From $4,490
Roman Baths
The nearly 2,000-year-old Roman Baths were built atop a 115-degree thermal spring as a place of restoration and worship. Centuries later, the surrounding town of Bath became a health retreat for the English gentry. "Take the waters" on
Monograms
' 10-day "
London, With Stonehenge & Bath, York & Edinburgh
" where free time can include a stop at the city's famed Pump Room.
From $2,122
Shakespeare
In honor of the 400th anniversary of William Shakespeare's death, the Royal Library at Windsor Castle will display two folios containing his most beloved works alongside some previously unpublished pieces. Stop by the castle on the 10-day "
Southern England & Wales
" from
Gate 1 Travel
, which also includes a visit to Stratford-upon-Avon, the playwright's birthplace.
From $1,799
Teatime
Anna, the 19th-century Duchess of Bedford, is responsible for the quintessential British custom of afternoon tea: She invited friends to join her daily pick-me-up ritual, and the rest is history. Enjoy a spot of loose-leaf brew and a scone with clotted cream in Kensington Palace's The Orangery on the eight-day "
London Explorer
" by
Trafalgar
.
From $2,705
Uncover antiquity
Stonehenge, constructed about 4,500 years ago for reasons still unknown, is a monumental but mysterious feat of engineering. The larger pillars weigh upward of 30 tons and had to be transported from 25 miles away, while the smaller bluestones, weighing up to 5 tons each, were brought to England's Salisbury Plain all the way from Wales. Drop by on the 10-day "
British Landscapes
."
From $2,249
Volcanic formations
Some 40,000 basalt columns pave Northern Ireland's shore and form the Giant's Causeway. The naturally occurring polygonal pillars, created 50 to 60 million years ago, are shaped in a way that suggests a planned road, inspiring the legend that an ancient titan built it to cross the sea.
Brendan Vacations
makes a pit stop here on the 14-day "
Amazing Ireland
" before spending an afternoon in Belfast, Northern Ireland.
From $2,895
Wall of worth
Stretching 73 miles across Great Britain, Hadrian's Wall was constructed between A.D. 122 and 128 to keep Celtic tribes at bay and protect the northwest border of the Roman Empire. See the UNESCO World Heritage Site up close on the nine-day "
Real Britain
" from
Trafalgar
before entering Scotland.
From $2,081
X marks the flag
Each member of the United Kingdom is intriguing on its own, but part of the fun of a multination tour is exploring how their roots have intertwined throughout history. Take, for instance, the Union Flag, also known as the Union Jack: This U.K. symbol combines England's traditional red cross, Scotland's white diagonal cross and the red diagonal cross of Ireland's St. Patrick. The latter two combine to form the X.
Yeoman Warders
Beefeaters guard the crown jewels and other treasures of the Tower of London. It's a demanding job -- these sentries must live at the tower and serve a minimum of 22 years with the British military before applying for a position. Their experience is a boon for tourists; take a Beefeater's tour of the grounds during free time in London on
Globus
' nine-day "
Britain Sampler
."
From $1,549
ZSL London Zoo
The London Zoo showcases 20,185 animals from 982 different species. The "Into Africa" experience lets animal lovers come face-to-face with giraffes, while powerful cats prowl in "Tiger Territory," a tree-filled Indonesian habitat. Other encounters include an aquarium and the U.K.'s first walk-through spider exhibit.
The information in this story was accurate at the time it was published in March/April 2016. Please visit
Vacations To Go
or call (800) 680-2858 for current rates and details.
Send This Article to a Friend
Bookmark this Content
Digg it!
Reddit
Furl
del.icio.us
Spurl
Yahoo!