Storied Sights
History and folklore collide at these seven attractions,
stretched from China's capital to the American West
By Michelle Chumbley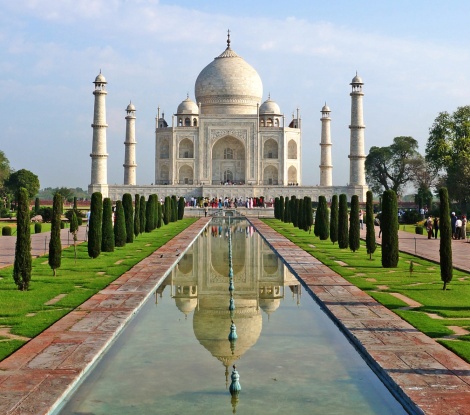 DavidLorente78/Fotolia
B
efore a drove of tourists bustled along worn walkways, before a thousand cameras flashed in awe, before the movies, novels, postcards, guidebooks, speculations and theories, there was inspiration.
Carefully molded decades, centuries or perhaps more than two millennia ago, these seven featured sights each have a tale to tell. Some were built for practical reasons, like a bridge designed to withstand floods; a few were conceived for religious reasons, such as a shrine for sacred treasures; and others came about for commemorative reasons, tributes to an oppressed nation or lost love. Where history books leave off, legends fill the gaps, revealing secrets contained in the brick, marble and stone that make up these icons.
For more information on escorted tours that venture to these attractions,
click here
or follow the links below.
An eternal teardrop from a heartbroken husband, the Taj Mahal embodies devotion and undying love. Emperor Shah Jahan, a 17th-century ruler of northern India's Mughal dynasty, bestowed to his venerated wife and inseparable companion the name Mumtaz Mahal, or "chosen one of the palace." Following her death after the birth of the couple's 14th child, it is said that the emperor's hair turned white over months of passionate grieving, during which he gave up music, colorful clothing and perfumes. To honor the empress, Shah Jahan set about erecting a mausoleum worthy of her beauty and merit, where they now lay side by side in rest.
Located in Agra,
India
, on the banks of the winding Yamuna River, the marble structure took more than 20,000 workers 22 years to complete. The pure white facade is mirrored in long garden pools, an awe-inspiring approach to the striking structure, which can appear pink-hued at dawn and silver in the moonlight. A unique mixture of Persian, Indian and Islamic architecture, the Taj is decorated with elaborate patterns of semiprecious stones and calligraphy inscriptions from the Quran, including a passage on the main gateway inviting souls to enter paradise.
Explore the stunning grounds of this monument on "
Inspirational India Escapade Experience
" a 12-day guided journey with
Pacific Delight Tours
. Prices start at $3,549 per person before airfare, and departures are available through March 2015.
This
Barcelona
masterpiece was conceived by Antonio Gaudi, who devoted the latter part of his life solely to the project, though he knew he would not live to see its completion. He envisioned the edifice serving as a symbol, illustrating Roman Catholic teachings through its architecture. Themed sections include the Nativity facade, where figures of Mary and a young Jesus relay stories from the Gospels; the Passion facade, a dramatic depiction of the Crucifixion; the unfinished Glory facade, which will serve as the main entrance; and the apse, built in Gothic style during Gaudi's time and dedicated to religious founders.
A work in progress for 132 years, the church draws millions of visitors annually, with a museum and completed sections open to the public. Original plans and drawings were destroyed during the Spanish Civil War, but construction never has ceased, and Gaudi's vision is carried on today thanks to charitable donations.
Marvel at the impressive church and sample regional cheeses and olives on "
Spanish Wonder
" a 10-day tour with
Trafalgar
. Guests travel from Madrid to Barcelona via Spain's southern Andalusia region, with per-person prices from $1,850 before airfare and itineraries available between April and October 2015.
In an era of steel beams and concrete, the image of
Florence
's Ponte Vecchio, or "old bridge," reminds us of simplicity and endurance. Early editions of the stone structure were destroyed by relentless floods in the Middle Ages, but the current feat of engineering has stood since 1345. The bridge has seen its share of troubled times, though, first surviving fleeing German troops near the close of World War II -- they destroyed every other path across the Arno River -- and then a torrent of silt and water during the heavy rains of November 1966, which overflowed two major dams above Florence. The segmental arch configuration was the first of its kind built in the West, allowing wider passage for vessels than Roman designs, which used semicircular arches and piers for stability.
Today, it still glitters with jewelers' and goldsmiths' shops, a trademark since the 16th century, when malodorous butcher shops were banned. Above the wood-shuttered stores, an enclosed gallery built in 1565 connects palaces on either end of the bridge to serve as a private corridor for the nobles who once lived there.
Stroll the bridge while experiencing Florence on "
Eat, Pray, Love
" a 10-day taste of Italian religion, culture and cuisine from
Perillo Tours
. Departures stretch throughout 2015 and are priced from $3,490 per person, without airfare.
Few landmarks are as iconic as
Paris
' Eiffel Tower, but it almost didn't survive long enough to become world famous. Built for the Exposition Universelle of 1889 by engineer Gustave Eiffel, who also played a part in making the Statue of Liberty, the tower was intended to stand for just 20 years. Critics were skeptical of the imposing design, which beat out more than 100 competing plans, and thought the ground at its feet could be put to better use. It eventually proved its value both aesthetically and practically, though; it was saved from the scrap heap by serving as a radiotelegraph station and intercepting enemy communications during World War I. It was jeopardized once again during World War II when Germany occupied Paris, but Adolf Hitler's demolition orders were never carried out.
Once the world's tallest man-made structure, it has played host to countless daredevil stunts, from climbers scaling the beams to illicit bungee and parachute jumps by audacious visitors. The Iron Lady celebrates her 125th anniversary this year, an impressive feat for a "temporary" tower.
Spend a week exploring two famous capitals on the seven-day "
London & Paris
" from
Globus
, which includes a guided tour of the tower, from $1,819 per person, before airfare. Choose from more than 50 departures planned through March 2016.
A spectacular blend of fable and fact, the legend of the Shwedagon Pagoda in Yangon, Myanmar, has been passed down for centuries. The story goes that two merchant brothers met Gautama Buddha more than 2,500 years ago, shortly after he obtained enlightenment. They gave him honey cakes and in turn were gifted with eight hairs from his head, which they brought to their homeland and enshrined with jewels and relics from other holy figures. Layers of gold, silver, iron, marble and other materials cloak the treasures. Archaeologists believe the pagoda's brick, domelike stupa was constructed as early as the sixth century, though gilding didn't happen until the 15th century, when royals donated gold to cover the edifice. Thieves, war and rampant earthquakes in the region have necessitated rebuilds and renovations, with the most recent configuration likely dating to the 1700s.
Sitting on a hill nearly 170 feet high, the pagoda has a commanding presence, with covered pathways and stairs leading to a gleaming marbled terrace from which the golden shrine rises. Followers of Buddhism venture to the sacred site to pray, while other visitors can revel in serenity, browse vendors' stalls for ceremonial trinkets or seek fortune-tellers.
See sacred pagodas and temples on "
Private Journey to Myanmar
" an eight-day tour with per-person prices from $5,349 before airfare and departures through April 2015.
Beijing's city-within-a-city earned its moniker long ago, in a time of imperial authority. Built between 1406 and 1420 by Emperor Yongle, known for his bloody ascension to power and heavy-handed reign, the world's largest palace complex was the seat of Chinese dynasties for five centuries. Access was limited to a select few -- even the imperial family and government officials had restrictions -- with only the seated emperor allowed to freely roam. The grounds were occupied by 14 Ming and 10 Qing rulers before they were overtaken in 1912 during the Xinhai Revolution.
Using a feng shui geomantic layout, the compound's significant structures face south in honor of the sun. The architecture displays traditional characteristics of ancient
China
, with the arrangement of buildings and stylistic details of roofs purposed to emphasize the inferiority of individuals and the dominance of sovereigns. Even the entrances were delegated by rank: Civilians used the east gate, soldiers the west gate and the emperor the south gate, where gongs would announce his presence. Today, tourists enter through the once-royal gate, demonstrating the disparity from a time when unpermitted admission could result in execution.
Stop at the imperial palace, Great Wall and terra-cotta warriors' site on "
China Discovery
" a 10-day trek from Beijing to Shanghai with
SITA World Tours
. Departures available through March are priced from $1,420 per person, without airfare.
The making of this monument is a tale of two men: one who inspired the rock carving, and one who dedicated his life to its creation. In the mid-1800s, when discoveries of gold mines encroached on protected lands in the west, Crazy Horse resisted government orders and struck his own difficult and bloody path. Forceful removals and invasions were met with massacres as the Sioux leader and his people battled for their traditional way of life. In the 1870s, an increased effort to drive Native Americans into government-controlled reservations eventually forced Crazy Horse to surrender, but the warrior never backed down, fighting to his death when soldiers attempted to imprison him.
A little more than 65 years later, Polish-American sculptor Korczak Ziolkowski was fighting a different battle -- on Omaha Beach in France, a pivotal attack point for Allied forces during World War II. Asked to make patriotic monuments in Europe after the war, he instead accepted an invitation from a Lakota chief who had noticed his award-winning marble work and experience assisting the Mount Rushmore project. The self-trained artist transitioned to mountain carver in 1948, enduring years of racial tension as he attempted to honor Native American culture and heritage. Ziolkowski did not accept government money for the sculpture, which remains privately funded and under construction today. On his deathbed he told his wife, "You must work on the mountain, but go slowly -- so you do it right."
Visit the in-progress Crazy Horse Memorial, the Indian Museum of North America and Mount Rushmore National Memorial on "
South Dakota: The Black Hills & Badlands
," a seven-day Old West experience with
Collette
. Priced from $1,399 per person before airfare, departures are available between May and October 2015.
The information in this story was accurate at the time it was published in November/December 2014. Please visit
Vacations To Go
or call (800) 680-2858 for current rates and details.
Send This Article to a Friend
Bookmark this Content
Digg it!
Reddit
Furl
del.icio.us
Spurl
Yahoo!