Spotlight on Canada
Our 10 favorite trips to America's northern neighbor
By Van Sheridan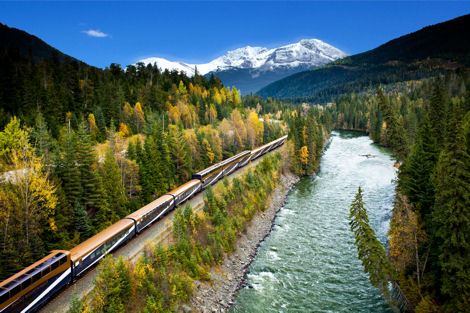 Rocky Mountaineer
(Scroll down to see a slide show.)
C
anada beckons with an exciting frontier, where some of the most magnificent, unspoiled scenery in North America still is preserved. Despite encompassing a larger area than the United States, Canada has a population that is a few million shy of California's, and boundless wilderness remains.
Travelers find towering mountains, old-growth forests and emerald lakes, plus miles of solitude under the dancing northern lights. The cities of the Great White North also hold broad appeal. French and English are official languages, and this dual personality gives the country a multilayered allure. Quebec and Montreal flaunt their Gallic heritage, while Victoria exudes a bygone English aura and edgy Vancouver exhibits the influence of immigrants from Europe, Asia, the Middle East and Latin America. Here, we offer 10 adventures for all types, from foodies and nature lovers to naval historians and hockey fans. To learn more about these getaways, check the websites linked below, all from travel discounter
Vacations To Go
.
Ropin' and Rodeo
Every July, rope-twirling and guitar-strumming performers serenade passers-by on the streets of Calgary as the whooping and hollering commence at Stampede Park. Star-studded concerts, grandstand extravaganzas and adrenaline-charged chuck-wagon races are among the highlights at this year's Calgary Stampede, July 5-14. It's billed as "The Greatest Outdoor Show on Earth," and spectators witness bull riding and lasso wielding as the world's top cowboys display their grit for more than $2 million in prize money. Families with kids also may want to mosey over to the midway for games and rides or the Indian Village, with a tepee backdrop for First Nations dances and cultural programs. "
Canadian Rockies & Glacier National Park With the Calgary Stampede
" an eight-day tour by
Collette Vacations
, spends a full day at the event.
English Tea and Victorian Grandeur
British Columbia's
Victoria
, on the southern tip of Vancouver Island, provides a postcard setting for a treasured tradition: afternoon tea at the
Fairmont Empress
. Since 1908, this turreted, ivy-covered hotel has offered white-glove service with tender scones to more than 75,000 people annually in its Edwardian-inspired lobby overlooking Inner Harbour. Queen Elizabeth II and Rudyard Kipling have eaten finger sandwiches and sipped the Empress blend, made with China black, Ceylon and Darjeeling teas, in this ornate room evoking a bygone era. Afterward, explore nearby restaurants and shops or, across from the hotel, roam the grounds of the British Columbia Parliament Buildings, where a regal statue of Queen Victoria stands watch along with a soldier commemorating the province's war heroes.
Canada With a French Accent
A UNESCO World Heritage Site, Quebec City on the St. Lawrence River intrigues visitors with its 400 years of history. The port dances between old and new on cobbled streets beneath mansard-roof homes. Quaintly European, yet with a New World sensibility, this former fur-trading post offers a warm bienvenue to visitors eager to delve into its Gallic roots. Though wintertime charms with fairy-tale lights and an outdoor skating rink, when the snow melts this walled city bustles with residents strolling, bicycling and boating.
Insight Vacations
' eight-day "
Capitals of Eastern Canada Gold
" spends two nights in 120-year-old Fairmont Le Chateau Frontenac in Quebec City, with leisure time to traverse 17th-century Place Royale and browse antique stores and artist enclaves. Guests also stay in luxurious Fairmont Hotels & Resorts properties in Toronto, Ottawa and Montreal.
Train Odyssey
Natural wonders flash by, one after another, as your train winds through western Canada's gorgeous mountain landscape. In the early 20th century, traveling by train was the only way to cover this treacherous terrain. Rail trips once were considered the height of luxury travel, and this remains so on board the
Rocky Mountaineer
, as passengers relax in reclining seats, watching scenery changes through expansive windows or dining on such specialties as mushroom-crusted chicken with blueberry relish. Several schedules are available, including a popular two-day jaunt from Vancouver to Banff showcasing sights like the rushing waters of Hell's Gate and Kicking Horse Canyon. A more comprehensive ride is mapped out on "
Coast to Coast by Rail
" a 16-day itinerary leaving Halifax en route to Vancouver, with stops for Niagara Falls, Jasper National Park and a gondola ride at Banff.
Jazz in Montreal
Montreal often is compared to Paris, but this lively patchwork of gleaming skyscrapers and bohemian havens sings its own tune. After all, the city hosts one of the biggest jazz festivals in the world. The 11-day celebration, held this year from June 28 to July 7, showcases about 3,000 musicians with 1,000 concerts and other activities, many of them free. But music flows through this city's veins and can be enjoyed anytime. There are numerous clubs where you can soak in the sounds, including Le Cabaret du Mile End and the venerable House of Jazz. The weeklong
Monograms
tour, "
Montreal & Quebec City
" includes a three-night stopover in the City of Saints, allowing plenty of opportunities to catch a jazz act, explore centuries-old streets and do some window-shopping.
Epicurean Capital
Food and wine alone are enough to draw visitors to
Vancouver
, an international hub between the Pacific Ocean and the North Shore Mountains. Fueled by local beers and Okanagan Valley wines, residents feast on seafood, farm-fresh vegetables and artisanal cheeses. "There is truly a vast selection of cuisines available -- all cultures and styles, and in a relatively compact area," says executive chef Quang Dang of West restaurant, which serves dishes such as lobster gnocchi and Dungeness crab salad. "It's a young food city, which means that it is ever changing. That's what makes it exciting." Relish the bounty of the region in such chowhound haunts as Chinatown and Gastown. Many cruises depart from Vancouver, like the
weeklong sailing
aboard Celebrity Cruises'
Celebrity Century
, which visits Alaska's Inside Passage before returning to the city. Departures run May to mid-September.
Athletics and Arts in Toronto
Canada's largest metropolis brims with galleries, museums, cafes and shops. There is a fiercely competitive side, too. Residents are hockey devotees, and the game's golden moments unfold in the Hockey Hall of Fame and Museum. The Rogers Centre hosts the Toronto Blue Jays, the only team outside the U.S. included in Major League Baseball. Natural history and painting exhibitions impress at the Royal Ontario Museum and the Art Gallery of Ontario, which was designed by native Frank Gehry. Catch a show at one of several dance venues, including the School of Toronto Dance Theatre and Four Seasons Centre for the Performing Arts. A nine-day version of "
Ontario & French Canada
" with
Cosmos
benefits from an extended stay in Toronto, as well as sightseeing in Ottawa, Quebec City and Montreal.
A Fictional Heroine's Beginnings
Countless fans of the novel "Anne of Green Gables" have made their literary pilgrimage to author L.M. Montgomery's beloved Prince Edward Island. During "
Nova Scotia & Prince Edward Island
"
Brendan Vacations
' eight-day tour, you can glean what life might have been like for freckle-faced Anne, the red-haired orphan who has enchanted generations of children since the world's most widely read Canadian novel was first published in 1908. The itinerary includes a visit to the town of Cavendish, the inspiration for fictional Avonlea, where you'll view the gabled house that planted the seed in the author's mind. Other attractions include re-created 19th-century lumber town Sherbrooke Village, Alexander Graham Bell's stomping grounds on Cape Breton Island and the high tides of the Bay of Fundy.
Maritime Canada
Explore Canada's nautical heritage on a
Holland America Line cruise
, which anchors in charming Nova Scotia, the birthplace of New Scotland, where a full-size ship replica on the waterfront commemorates hardy Scottish pioneers.
Halifax
, the biggest city in the Maritime Provinces (made up of New Brunswick, Nova Scotia and Prince Edward Island) was established in 1749 as a British naval and military base. Here, attend a gun-firing demonstration at the restored citadel, dine at a wharf-side seafood shack or stroll the Victorian Halifax Public Gardens. In
Charlottetown
, wander windswept beaches and fishing harbors. The
14-night cruise
on the Veendam, with departures available from May through September, also stops in Sydney and key U.S. ports before venturing back to enchanting
Quebec City
.
An Arctic Summer
Upon arrival in Churchill, a gateway to the Arctic, you'll find a rugged, somewhat flat frontier populated by gray wolves, bears, seals, foxes, river otters, bison and snowy owls. Here,
Natural Habitat Adventures
offers "
Churchill: An Arctic Summer
" a journey into the wilderness highlighting creature encounters. Motorized rafts put travelers at eye level with white beluga whales in the Hudson Bay as these social mammals feast on Arctic char, capelin and cod. A vessel carries passengers to the site of one of Hudson's Bay Co.'s first fur-trading outposts. Soak up surroundings brimming with flora and fauna during trail walks and a cookout. Free time allows for browsing locally owned shops that feature native arts and crafts, like designs created from caribou hair.
The information in this story was accurate at the time it was published in March/April 2013. Please visit
Vacations To Go
or call (800) 680-2858 for current rates and details.
Send This Article to a Friend
Bookmark this Content
Digg it!
Reddit
Furl
del.icio.us
Spurl
Yahoo!