Spirit of the South
Celebrate culture, history, music and food
from Memphis to Georgia's Golden Isles
By Alexis Loyd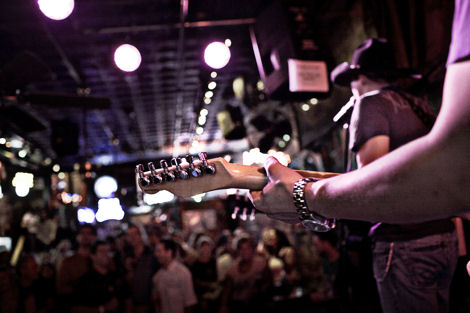 Wolf Hoffmann/Nashville Convention & Visitors Corp.
(Scroll down to see a slide show.)
I
t is the home of Civil War and civil rights movement heritage. The land of barbecue joints dishing up tender meat dripping with tangy sauce. The place where music legends are born and American rock n' roll has its roots. The southern United States encompasses ornate antebellum architecture, sites of historic battles, streets lined with some of the country's best restaurants and celebrations of country, blues, Cajun, rock and gospel music.
Here are seven sojourns that highlight the wonders of America's South. Each of these trips packages sightseeing, transportation between destinations, accommodations and some meals into one price paid up front. For more information on these and other U.S. vacations,
review itineraries online
or call the experts at Houston-based travel discounter Vacations To Go, (800) 680-2858.
America's Music Cities
Seek out the trifecta of songster cities. First up,
Collette Vacations
spotlights the Old World-infused French Quarter and a post-dinner performance in New Orleans, the Jazz Capital of the World. Next, head to Memphis, TN -- Birthplace of Rock 'n' Roll -- for a visit to Elvis' Graceland palace and free time to wander Beale Street. This downtown stretch has been a hub for blues musicians since the early 1900s, hosting a long list of idols like B.B. King and Muddy Waters.
This vacation ends on a high note (with a touch of country twang) in Nashville, TN, dubbed Music City. Here, guests tour the Country Music Hall of Fame and Historic RCA Studio B, the recording locale for hit-makers Roy Orbison, Dolly Parton and others. Reserved seating waits at the world-famous Grand Ole Opry, and a peek backstage retraces steps taken by many renowned cowboy-boot-wearing artists. The eight-day "
America's Music Cities
" has several departures from May 5 through late April 2014, starting at $1,699.
Music:
To get Elvis in the mood to record a holiday album in July, the crew at Historic RCA Studio B installed red, blue and green lights, brought in a Christmas tree and blasted the air conditioner.
Food:
Vacationers benefit from a culinary lesson at the New Orleans School of Cooking, which specializes in regional treats such as bananas Foster, crawfish etouffee and shrimp Creole.
History:
Founded in 1819 by Andrew Jackson, James Winchester and John Overton, Memphis was named after an ancient Egyptian capital along the Nile River.
America's Deep South
During 12 days across the states of Georgia, Tennessee, Mississippi, Louisiana and Alabama,
Intrepid Travel
introduces guests to the tastes, sounds and narratives of the South. Touring round trip from Atlanta, wayfarers receive a little Southern hospitality at Jack Daniel's Whiskey Distillery in Lynchburg, TN; marvel at the gold records and glittering costumes at Graceland; get a lesson in blues origins in Clarksdale, MS; and shimmy to zydeco rhythms at Angelle's Whiskey River Landing outside Lafayette, LA.
An extended stop in the Big Easy allows for sampling of Bourbon Street's boutiques, jazz clubs and top-notch eateries, as well as an included Mississippi riverboat dinner cruise. Also, peruse exhibits at the Birmingham Civil Rights Institute and overnight in charming Natchez. "
America's Deep South
" departures are available from April 2 through early December 2014 and start at $2,419.
Art:
During free time in New Orleans, keep an eye out for sculptures installed by the Ogden Museum of Southern Art. Eventually there will be 25 works around the city.
History:
Lafayette is the heart of Acadiana, or Cajun Country, a region that became home to many exiled from the Canadian Maritime Provinces during the 18th-century French and Indian War.
Famous figure:
Atlanta is one of only two cities home to a duo of Nobel Peace Prize winners, Martin Luther King Jr. and former President Jimmy Carter.
Southern Elegance
Step into the world once inhabited by Old South aristocrats with an eight-day tour from
Insight Vacations
, starting and ending in the Peach State. Elements of the genteel introduce travelers to a segment of America's storied past, with a day spent exploring George Vanderbilt's 1895 Biltmore estate and its 8,000-acre grounds in Asheville, NC; a horse-drawn carriage ride and stroll through historic Magnolia Plantation and Gardens' ethereal expanse in Charleston, SC; and island-hopping among Georgia's Golden Isles, including an overnight at the Jekyll Island Club Hotel. This restored resort is the former property of the isle's exclusive club, which boasted a member roster with names like J.P. Morgan, William Rockefeller, Joseph Pulitzer and Vincent Astor.
Savannah, GA, welcomes guests with canopied walkways and ornate architecture, such as at the 1816 National Historic Landmark Owens-Thomas House. "
Southern Elegance
" is available round trip from Atlanta or from Atlanta to Savannah, with departure dates from April 21 through Oct. 13. Rates start at $2,650.
Drink:
The Biltmore has its own winery, harvesting about 250 tons of grapes annually and producing varieties like chardonnay, merlot and cabernet sauvignon.
History:
Hotels featured on this trip are filled with vintage objects. Find an antique hat collection at Savannah's Mansion on Forsyth Park and a portrait circa 1775 of Declaration of Independence signer Arthur Middleton at the Mills House Hotel.
Famous figure:
Charleston native and Washington Monument architect Robert Mills also designed the South Carolina city's Fireproof Building, believed to be the country's oldest flameproof structure.
Gardens of the River
The
American Queen Steamboat Co.
introduces guests to the romantic surroundings of the fertile Mississippi River Valley on an eight-day cruise traveling from New Orleans to Memphis. In Louisiana, stroll underneath shade trees that have stood for 300 years at the antebellum Oak Alley Plantation and opt for a ramble among the 374-acre Rosedown Plantation, encompassing azaleas, camellias and crape myrtles. Natchez, MS, invites guests to tour 1857 Stanton Hall, a site visited on spring pilgrimages, a yearly tradition featuring costumed characters and tours of historic homes and gardens.
Take in preserved architecture, such as the redbrick Moore-Hornor House and the Queen Anne-style Pillow-Thompson House, in Helena, AR. Seek out quirky highlights, like the exhibits of vintage fasteners at Grandmother's Buttons in St. Francisville, LA, or Yesterday's Children antique doll and toy museum in Vicksburg, MS. Two sailings of "
Gardens of the River
" are offered, on May 26 and June 9, with rates starting at $2,145.
Food:
The 436-passenger American Queen serves the creations of Natchez native Regina Charboneau, who emphasizes classic cuisine along the lines of buttery biscuits, corn-and-shrimp fritters and blackberry-lemon betties.
History:
St. Francisville was the capital of the Republic of West Florida, a Gulf Coast country established in the early 1800s for a period of 74 days.
Art:
Colorful murals along downtown Vicksburg's Catfish Row depict scenes from the city's history.
Footsteps of Martin Luther King Jr.
Intertwined with the South's distinctive musical and culinary history is the African-American story. Travel the trail blazed by civil rights leader Martin Luther King Jr. on an 11-day journey with
Cosmos
from Memphis to Washington, DC. Scholars stop in six states and the nation's capital, tracing monuments to the movement including Memphis' National Civil Rights Museum at the Lorraine Motel where King was assassinated, Alabama's Birmingham Civil Rights Institute and the Slavery and Civil War Museum in Selma, AL.
In Georgia, visit the Martin Luther King Jr. National Historic Site, encompassing his birth home and burial place. The American political landmarks continue with George Washington's Virginia home of Mount Vernon, Arlington National Cemetery and Capitol Hill. Several departures of "
Footsteps of Martin Luther King Jr.
" are offered from April 7 through Sept. 29 with starting rates at $1,699.
Music:
Memphis-born Aretha Franklin, a family friend, sang "Take My Hand, Precious Lord" at the 2011 dedication of King's memorial in Washington, DC. The hymn was one of his favorites and was performed at his 1968 funeral.
History:
View another historic conflict through the South Carolina State Museum's series of Civil War exhibits in Columbia, such as a naval warfare display.
Famous figure:
Mount Vernon displays a variety of George Washington's personal effects, including his sword, riding crop, fishing tackle box and shoe buckles.
American Civil War Cruise
A national four-year commemoration of the 150th anniversary of the Civil War (1861-1865) is under way, making it an ideal time for a sailing filled with battle sites and lessons in military history. Board the 150-passenger Queen of the Mississippi from
American Cruise Lines
, the river's first new paddle wheeler in nearly two decades, and embark on an exploration of stopovers from Memphis to New Orleans. Cover the local 1863 battle in Arkansas' Helena Museum, wander amid the monuments at National Military Park in Vicksburg and check out a Confederate submarine at the Capitol Park Museum in Baton Rouge, LA. Also featured are two grand Louisiana plantations at St. Francisville and Oak Alley, as well as excursions in 300-year-old Natchez.
Michael Deeb, Civil War expert and author of "Duty and Honor" and "The Lincoln Assassination," informs with lectures and Q-and-A sessions. The eight-day "
American Civil War Cruise
" sails on June 15, with pricing from $4,145.
History:
Robert Fulton, an early innovator of paddle-wheel propulsion, began his career as a painter and an apprentice in a jewelry shop.
Architecture:
Restored 19th-century Oak Alley Plantation, noted for its 28 classic columns, is a hub of the paranormal according to the accounts of several employees, who claim to have seen or felt the presence of ghosts.
Famous figure:
Mark Twain, known for his Mississippi River tales, formed a Confederate militia called the Marion Rangers, though it was disbanded after about two weeks.
Run for the Roses
Spend a day at the races with
Tauck
. Horse lovers enjoy VIP status on the company's Kentucky Derby trip, including reserved seating in air-conditioned suites, all-day dining, open bar privileges and pari-mutuel tellers. Guests choose between two itineraries offered for this five-day excursion, each leaving May 1. While both offer one day at the derby, "
Bluegrass Country
" tacks on heritage sites like Henry Clay's Ashland estate and the Kentucky Horse Park, and "
Thoroughbred World
" includes admission to the 139th Running of the Kentucky Oaks.
Travelers on both jaunts also partake of a private visit to a Lexington horse farm to learn more about the breeding, raising and training of the state's famous thoroughbreds; a bourbon tasting at 130-acre Buffalo Trace Distillery in Frankfort; and a dine-around at one of three Lexington eateries. Rates for "Run for the Roses" start at $5,690.
Drink:
Each year 1,000 pounds of mint and 60,000 pounds of ice are used for about 120,000 mint juleps, the traditional derby cocktail, during that weekend at Churchill Downs.
History:
A garland of more than 400 roses, the official race flower since 1904, adorns the back of the winning horse.
Famous figure:
Richard Nixon is the only commander in chief to attend the derby while in office, though six other future presidents made an appearance.
The information in this story was accurate at the time it was published in March/April 2013. Please visit
Vacations To Go
or call (800) 680-2858 for current rates and details.
Send This Article to a Friend
Bookmark this Content
Digg it!
Reddit
Furl
del.icio.us
Spurl
Yahoo!