Picture Perfect
Experts offer their advice for photographing
some of the world's most iconic sights
By Brent Stoller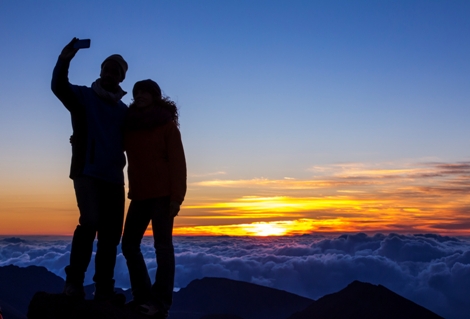 Tor Johnson/Hawaii Tourism Authority
T
he cliche is true: A picture is worth a thousand words. Embedded in every image is the essence of an experience, captured for posterity.
And anyone who's stood on the Great Wall of
China
can attest it's a moment worth capturing. At 5,500 miles long, there's no shortage of photo ops along the monument's most preserved segment.
"The Simatai and Jinshanling sections of the Great Wall will capture its ruggedness and surrounding wilderness," says Katrina Debono, a marketing specialist and photographer for Wendy Wu Tours. "They are farther from Beijing than the more popular Juyongguan and Mutianyu sections, and therefore have fewer crowds."
Debono recommends hiking up the wall, then shooting on your way down. "The best photos incorporate the unique structural elements against the scenic backdrop and winding path extending into the distance," she says. "Focus on the ancient stonework, uneven steps and watchtowers dotted along the way."
Spring and fall present clear skies, while winter brings ethereal beauty, with the wall covered in snow. "As one of the most photographed sights in the world, some of the most interesting photographs include an outside element, for example a daring hiker relaxing on the edge or in a doorway of a watchtower," Debono says.
Put a new spin on this old structure during the 10-day "
A China Experience
" from
Wendy Wu
. Rates begin at $1,940, and departures are available to eager photographers as early as March.
To learn about shooting other iconic spots, keep reading -- then contact the
escorted tour specialists
at Vacations To Go, (800) 680-2858 or follow the provided links to put these tips to the test on a guided getaway.
Haleakala sunrise
Legend asserts that the demigod Maui once lassoed the sun from the highest peak on the island that bears his name. Today, tourists flock to this summit, Haleakala, to marvel at -- what else? -- the sunrise.
Hawaiian Islands
photographer Tor Johnson prefers shooting from a ridge above the visitor parking lot. "I always try for the human element, to show people enjoying it, even if they are small or silhouetted," he says.
At 9,740 feet, the dormant volcano's visitor center and observation platform often are 30 degrees colder than sea level. To secure a vantage point, visitors should arrive at least half an hour before dawn. Warm clothing is essential, but no additional accessories are necessary.
"A basic camera is OK," says Johnson, who's been shooting Haleakala for 20 years, "but keep in mind that the sunrise is going to be much brighter than the crater, so you may need to adjust your exposure."
Sunrises are personal experiences, and as Johnson explains, Haleakala presents numerous elements on which people can focus to make each shot their own. "The moonlike landscape, amazing views toward the sun or away from it where you see the shadow of Haleakala, the people," he says. "It's really up to you."
There's time to witness this spectacle on the 10-day "
Hawaiian Adventure
" tour.
Collette
itineraries start at $3,249.
Great Migration
"
Great Migration
pictures are magical," says professional photographer Karen Sugden, "because of the sheer size of everything."
Every year, about 2 million wildebeests, zebras and other fauna trek through Tanzania and Kenya in search of fertile feeding grounds. This is nature at its rawest, and action shots abound.
"There is so much activity that accompanies the migrating herds and their attendant predators that there is no bad time of the day for taking pictures," Sugden says, adding that the best light occurs at dawn and dusk.
Different times of the year present different photo ops. Life's beginnings are displayed with February's wildebeest calvings, Sugden explains, while life hangs in the balance in summer during the animals' crossing of the Grumeti River, where crocodiles lurk.
Though the entire route entices, Sugden prefers the Serengeti-Masai Mara ecosystem, which straddles the Mara River. "The whole ecosystem is a spectacular landmark and provides the ideal setting and backdrop for superb pictures."
Keep your camera poised on "
Maasai to Mara
" a 10-day
African Travel
safari, with daily departures through December. Rates start at $9,895.
London cityscape
"The best time to capture
London
is early in the morning or as the sun is going down," says Jasmine Teer, photography manager for VisitBritain. "The Thames is especially pretty toward the Houses of Parliament, which glows gold in the morning sun."
Such a regal image is common in England's capital, thanks to its collection of landmarks offering year-round, around-the-clock opportunities for snapshots.
"There are sculptures and monuments such as Peter Pan, Eros and Albert Memorial," Teer says. "The Royal Parks and Kew Gardens are a must any time of year, but autumn is particularly stunning ... Tower Bridge or Harrods is best at twilight. Bustling Portobello Road, Camden Market and Columbia Road Flower Market are full of color any time of year."
Along with a willingness to withstand the weather, Teer explains travelers only need an attention to detail to capture the cityscape.
"I would look at interesting shapes or detail, perhaps how the light falls on it or how they blend or contrast into the environment around them," she says, adding that photographing from above or below a landmark can provide dynamic perspective.
The eight-day "
London Week
" with
Trafalgar
visits the city's famous sites and also provides plenty of free time for scouting out great shots. Daily departures start at $895.
Grand Canyon
When asked what to capture when shooting the
Grand Canyon
, Attit Patel is straightforward: "The sheer grandeur. Your photograph should allow the viewer to appreciate the size of this massive canyon."
While standard cameras can accomplish this mission, Patel, senior photographer for tour provider G Adventures, explains that a digital single-lens reflex camera, 16- to 35-millimeter lens and neutral density filter can transform the common image into a masterpiece. "A tripod would also be very handy to shoot some long-exposure photographs of the fog or the changing weather," he says.
Due to tourism, especially in the summer, Patel preaches patience when shooting and urges visitors to arrive early. "It's a pretty amazing sight to see when the sun slowly illuminates the canyon," he says.
Still, Patel concedes that views at the popular South Rim and Mohave Point are too good to pass up. "They both give you a sense of how large the Grand Canyon is," he says, while also hinting that a helicopter excursion could be worth the price. "If you've got the time -- and the budget -- the best view is from the sky."
G Adventures
' "
San Diego, Grand Canyon & Vegas
" spends two of its seven days exploring this American treasure. Departures run until Oct. 3, with prices from $999.
Alaska wildlife
Summertime in Resurrection Bay and the Inside Passage of
Alaska
is prime whale-watching season, says Eric Rock, senior expedition leader for Natural Habitat Adventures. Humpbacks and orcas are most prevalent -- and also happen to be the best performers.
"Humpback whales are known for their breaching displays," Rock explains. "An orca gathering can provide behaviors that are both dramatic to watch and photograph."
Rock recommends smaller cruises that utilize hardy Zodiac boats for excursions and are led by an experienced guide. "An onboard expedition leader will help to identify certain whale behaviors and know when to predict surface events and soundings for better chances at capturing a magnificent leap or tail shot," he says.
Still, it's an unpredictable process. Rock suggests a shutter with minimal lag time and lenses in the 70- to 200-millimeter zoom range, though "the extra reach of a 300-millimeter lens can come in handy."
On shore, the scenery is just as stunning. "Mid-August to mid-September can be some of the best photography," Rock says. "The wildlife is looking its best, as moose, bears, sheep and caribou have had the summer of feeding to grow prime winter coats."
Fill your memory card during
Natural Habitat Adventures
' "
Exploring Alaska's Coastal Wilderness
" an eight-day itinerary that visits the Inside Passage. Rates start at $6,290 for trips throughout the summer; the Aug. 29 and 30 departures are designated as photo expeditions.
Great Barrier Reef
Though it's visible from outer space, the best views of the Great Barrier Reef await beneath the sea.
"Every time you enter the underwater domain," says photographer Kate Richards, "you'll find something different."
Richards, who's shot still and video footage at the reef, believes there's no bad time for photographs. Light shafts from the afternoon sun create a visual splendor, while nighttime outings (and a strong camera flash) reveal a hidden world of nocturnal species.
No matter the hour, if it's wildlife you seek -- from whales and dolphins to anemones and stingrays -- Richards recommends common tourist locales, like off the coast of
Cairns, Australia
, as animals there are accustomed to human interaction.
"Try not to approach the creatures head on and at speed," she says. "This is predatory behavior, and often the critter will flee."
Shallow waters (3 to 10 feet) offer the ideal photography setting, thanks to optimal lighting, Richards says. For the most vivid images, "Don't shoot straight down," she advises. "You need to get alongside the reef or even shoot upward to create more light and color."
Winter months (June to August) offer the clearest waters, while balmier seasons bring fauna to life. "As the water warms, you'll get an increase in creature activity," Richards notes.
"
The Sun Seeker
" 11 days with
Contiki
priced from $2,134, offers an optional daytrip to this wonderland. The company also has three-day "
Snorkel to Adventure
" (from $565) and "
Dive to Adventure
" (from $635) packages that can be added to its longer Aussie itineraries.
Iguassu Falls
After laying eyes upon them, Eleanor Roosevelt allegedly exclaimed, "Poor Niagara!" Shaped like an elongated horseshoe on the Argentina-Brazil border, with 275 cascades more than 200 feet tall, Iguassu Falls is a photographer's dreamscape. Though primarily located in
Argentina
-- including the domineering, 260-foot "Devil's Throat" -- each side features worthwhile photo ops, access walkways and plenty of rainbows.
"San Martin Island on the Argentinian side is a nice vantage point, as you can really get up-close views of some of the smaller cataracts," says Kim Vincent, product manager for escorted vacation provider Globus. "But the panorama shot from the Brazilian side is the photo everyone covets."
"My favorite shots are from the Brazil side," admits Globus tour director James Saunders. "You can walk way out into the flow and then look down. From the Argentinian side, you can take a lower walk for shots looking up."
Saunders, a guide since 1999, suggests starting the day in
Brazil
. "The sun rises on the Brazilian side, so in the morning, the sun is at your back and illuminates the Argentinian side."
Vincent recommends visiting in spring or fall, as high water flow in winter can close certain walkways. Regardless of time of year, protection for your camera is a must. "I use a ziplock," Vincent says. "You don't have to get wet, but some of the best shots mean getting wet!"
Sign on with
Globus
' nine-day "
South American Escape
" and enjoy tours of both sides of the falls. Pricing opens at $2,849.
The information in this story was accurate at the time it was published in March/April 2015. Please visit
Vacations To Go
or call (800) 680-2858 for current rates and details.
Send This Article to a Friend
Bookmark this Content
Digg it!
Reddit
Furl
del.icio.us
Spurl
Yahoo!