Out of the Ordinary
Unique endeavors on 15 escorted tours
By Kimberly Garza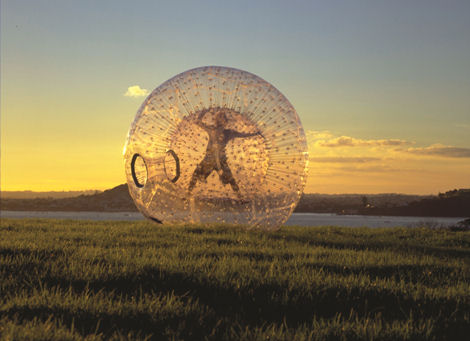 Zorb Rotorua/Tourism New Zealand
W
hen it comes to sightseeing on a
guided tour
, it's not just museum visits and drive-by, point-and-shoot photo sessions, anymore. Think horseback riding through a Uruguayan ranch, stargazing on Hawaii's Mauna Kea or creating your own perfect blend of California wine to take home. These days, travelers want more from their escorted tours than the usual offerings.
Take
Tauck
, for example. The global tour and cruise operator recently introduced a collection of BBC Earth Journeys in partnership with the British network. Currently numbering five, with more expected in 2015, the trips aim to provide guests with "a more immersive, more engaging and more authentic experience," says Tom Armstrong, Tauck's corporate communications manager.
Tours accomplish this with a fusion of state-of-the-art technology (what the BBC Earth filmmakers use for their series of documentaries), expert know-how and even short films viewed on-site to help travelers experience nature more fully, whether it's the heart of Canada's dinosaur fossil country or the wilds of an African safari.
"What we've always tried to do at Tauck is provide our guests with experiences they cannot get on their own," Armstrong says. "There's more emphasis now on authenticity -- you want to go deep into the history of the place, rather than just driving by the Colosseum."
Read on for 15 surprising adventures awaiting you on the escorted tours offered by Houston-based travel discounter Vacations To Go, then call the specialists at (800) 680-2858 or
click here for more details
. Pricing for these packages wraps accommodations, guided sightseeing, some meals and ground transportation into one upfront rate.
Do your best Elvis:
During a trip to Historic RCA Studio B, the oldest surviving recording studio in Nashville, TN, make like the King and tape your own song. Stars of the '50s, '60s and '70s, including Elvis himself, recorded more than 35,000 songs here. Keep it as a souvenir, then hit up other top attractions in Nashville and Memphis, TN, and Tupelo, MS, (where Elvis was born) on the eight-day "
Elvis & the Southern Sounds
" from
Cosmos
. From $1,329 per person.
Paint Aboriginal art:
Spend a day at the Tjapukai Aboriginal Cultural Park in Cairns, Australia, as part of "
Contrasts of Australia
" from
Trafalgar
. There, you can learn more about the traditional art of the indigenous Aboriginal people, with a local member showing you how to paint your own boomerang that's yours to keep. The 10-day trip also visits the Great Barrier Reef, where you can spot brilliantly colored fish and coral from a semisubmersible craft, and the popular sights of Sydney. From $2,525 per person.
Live like a cowboy:
On "
Taste of Chile, Argentina & Uruguay
" an 11-day
G Adventures
jaunt in South America, spend two nights at a Uruguayan estancia (ranch) near Colonia. There, delve deep into the gaucho (cowboy) lifestyle, with free time for hiking and horseback riding, plus homemade meals and local barbecue. Other excursions on the tour include a winery crawl in the Maipo Valley of Chile and a visit to a culinary program for youth near Buenos Aires. From $2,949 per person.
Be your own vintner:
In an exclusive blending lab at Ravenswood Winery in Sonoma, CA, create, sample and bottle your own special wine -- a blend of zinfandel, carignan and petite syrah matched to your own tastes -- on
Trafalgar
's eight-day tour, "
San Francisco and Wine Country Delights
." While in Sonoma, you'll also have the chance to watch olive oil being pressed and wander the historic Sonoma Plaza. The trip features free time to explore Napa and San Francisco, as well. From $2,595 per person.
Nosh your way through Cambodia:
Real Food Adventure tours from
Intrepid Travel
aim to introduce you to a place through its cuisine. On the eight-day "
Real Food Adventure -- Cambodia
" sample homemade rice wine, watch how regional delicacies like fish paste and rice noodles are made and help prepare classic dishes like amok trey (fish curry). The tour includes stops at Battambang, Angkor Wat and Phnom Penh. From $895 per person.
Strike it rich:
Try your hand at panning for your fortune. The weeklong "
Nature's Best: Alaska
" from
Globus
includes a visit to Gold Dredge 8, a national historic district in Fairbanks that extracted millions of ounces of gold in its time. Ride a replica of the narrow-gauge Tanana Valley Railroad to the dredge, with guides describing the history of the gold rush and breaking down the process of prospecting. Then it's your turn to pan for gold -- a find, they say, is guaranteed. From $2,219 per person.
Walk with the dinosaurs:
Tauck
's brand-new BBC Earth Journeys include this five-day, family-friendly getaway in Canada's Calgary, Alberta: "
Walking with Dinosaurs: A Journey Through Time
." Enjoy behind-the-scenes looks at the science of paleontology with a trip to Drumheller, at the heart of Canada's "dinosaur country," followed by a visit to Calgary's Royal Tyrrell Museum. You'll also head into the field at Dinosaur Provincial Park, where a paleontologist will point out bone beds and fossils. Talks and presentations from BBC Earth experts and guides round out the know-how portion of the tour. From $3,190 per person.
Learn about falcons in Abu Dhabi:
Visit a falcon hospital in Abu Dhabi, where more than 7,000 injured falcons and other birds of prey are treated every year. Opened in 1999, the Falcon Hospital has since expanded to a fully fledged, specialized avian hospital for all kinds of feathered friends. Hit up the facility on an optional excursion on "
Classic Dubai & Abu Dhabi
," an eight-day trip in the United Arab Emirates with
Gate 1 Travel
that also includes time to explore Dubai and Al Ain, the Garden City of the U.A.E. From $899 per person.
Spot stars in Hawaii:
As part of "
Hidden Hawaii Nature Adventure
" an 11-day journey from
Natural Habitat Adventures
in 2015, you'll spend an evening scanning the stars from the summit of Mauna Kea, the highest point in the state. At the top of the 13,796-foot peak, enjoy panoramic views of the sunset and moonrise, then let an expert guide instruct you on setting up a telescope to use during your own spectacular stargazing. From $8,795 per person.
Raft the white waters of Costa Rica:
Navigate the Rio Pejibaye on a three-hour whitewater experience during "
Culturious: Costa Rica
" an eight-day getaway with
Tauck
. The rafting excursion takes in the rain forests of Costa Rica, teeming with wildlife, and plenty of rapids -- up to Class III levels -- to keep the ride lively. Elsewhere on the trip, you'll stop by an artisanal chocolate workshop, saddle up for a horseback ride through sugarcane and coffee fields and zipline over the Montezuma River. From $2,970 per person.
Cook like a Poblano:
Try your hand at whipping up mole poblano on
Intrepid Travel
's 23-day "
Land of the Maya
" tour. On a one-day stop in Puebla, Mexico, you'll take part in a traditional cooking class and learn how to master the chocolate-tinged dish. A hike to a nearby volcano and a stroll through the local market for handcrafted wares round out the day in Puebla, but more awaits you in cities like Oaxaca, Merida and Mexico City. From $3,845 per person.
Have a sundowner:
The longtime safari custom of drinking sundowners (cocktails during sunset) carries on today, and you can be part of it on "
Safari & Seaside
" the eight-day trip from
African Travel
. After a day of spotting wildlife like wildebeests, baboons and elephants in Gorongosa National Park in Mozambique, gather on the banks of the Pungwe River for a chilled sundowner and a spectacular view of the African sunset. The rest of the trip includes a luxury villa stay on the beach, excursions to local villages, optional scuba dives and more. From $5,295 per person.
Snap shots of rare gorillas:
"
Ultimate Gorilla Photo Safari
"
Natural Habitat Adventures
' 13-day trek through Uganda and Rwanda, aims to please animal lovers and budding wildlife photographers alike. Venture into the mist-shrouded forests of the Bwindi Impenetrable and Volcanoes national parks, where local guides will direct you to the best locations for spotting gorillas. Accompanied by an expedition leader who's both an experienced photographer and a primate naturalist, you're sure to leave the tour with increased appreciation for the endangered creatures -- and some great images. From $10,495 per person.
Climb Mount Everest (sort of):
Traverse the reaches of Nepal and Tibet on "
Himalayan Adventure
" a three-week journey from
Wendy Wu Tours
, and navigate the most famous peak in the world on an excursion to Mount Everest Base Camp. There, enjoy the breathtaking views -- of the Rongbuk Glacier, for example -- that have drawn thrill-seekers for generations. The trip includes visits to the Chengdu Research Base of Giant Panda Breeding in China and a tour of the Potala Palace, where the Dalai Lama resides in winter. From $5,820 per person.
Go zorbing in New Zealand:
Channel your inner, er, hamster with a long roll down a tall hill -- inside a giant plastic ball. The activity, known as zorbing, is offered as an optional excursion for up to two people at a time (yes, two can fit in the giant ball) on "
Kiwiana Panorama
" a 20-day getaway to New Zealand for travelers ages 18 to 35 from
Contiki Vacations
. After your zorb, swing by Rotorua, with its hot springs and mud pools, and spend the rest of the time visiting such Kiwi sights as the Franz Josef Glacier, Lake Tekapo and Dunedin. From $2,938 per person.
The information in this story was accurate at the time it was published in May/June 2014. Please visit
Vacations To Go
or call (800) 680-2858 for current rates and details.
Send This Article to a Friend
Bookmark this Content
Digg it!
Reddit
Furl
del.icio.us
Spurl
Yahoo!