Once-in-a-Lifetime Trips
Make memories on these expansive, unforgettable getaways
By Lucy Spicer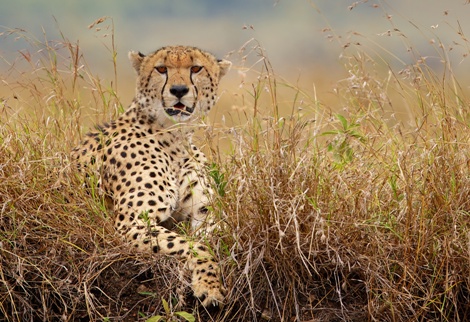 Mark Bridger/Fotolia
T
hese are no weekend jaunts. These are the vacations you'll be crossing off your bucket list.
From a panoramic safari through
Kenya
and
Tanzania
to an expedition to the
Antarctic Peninsula
, these five experiences cover a lot of ground in grand style. Cushy accommodations include riverboat suites on the
Danube in Europe
and the
Mekong in Southeast Asia
, and vineyard-adjacent hotel lodgings in
Australia's Barossa Valley
. And be prepared to dedicate some time to your journey, as these trips take between 11 days and three weeks to explore their destinations.
This collection of escorted tour and cruise itineraries also takes the stress out of planning and budgeting for your adventure. For help booking your trip of a lifetime, contact the travel discounters at Vacations To Go, (800) 680-2858, or follow the suggested links for more information.
SAVOR A SAFARI
Picture this: You emerge from a luxurious tent camp to a golden sunrise and a view of Mount Kilimanjaro while a chorus of birds joyfully greets the day. Such is a morning in Amboseli National Park in the Rift Valley Province of Kenya.
An African safari
is the perfect way to immerse yourself in untamed nature, with the continent playing host to the largest exodus of mammals in the world. The Great Migration moves some 2 million wildebeests, zebras, gazelles and more through Tanzania and Kenya in search of grazing grounds and watering holes. One impressive spot for an animal encounter is Maasai Mara National Reserve, edging the border of the two countries, where herds enjoy the grasslands between July and October. Wildlife lovers also thrill at the opportunity to see Amboseli's elephants and big cats such as leopards, lions and cheetahs at Shaba National Reserve, another Kenyan enclave.
Game drives are a priority on safari vacations, and
African Travel
provides eight of them on the 12-day "
World's Greatest Show & Safari -- Mara
." Visits to multiple reserves, including more than two days spent exploring Maasai Mara, increase chances of sighting creatures from flamingos and crocodiles to hippos and giraffes. This safari begins in Nairobi, Kenya, and spends a few of its final days at the Ngorongoro Conservation Area, a UNESCO World Heritage Site in Tanzania contained in the caldera of a collapsed volcano; it houses more than 500 bird species and rich concentrations of zebras, gazelles and their predators.
Information:
Prices start at $9,945 and include internal airfare between game reserves. Daily departures are available through December.
SEEK ADVENTURE IN AUSTRALIA
As the planet's driest continent after Antarctica,
Australia
is well-known for the arid landscapes that make up the Outback. However, deserts, tropical forests, mountains and coastal metropolises coexist in this geologically and culturally diverse country. The majority of the continent's roughly 1 million species of flora and fauna are unique to Australia, meaning that a visit here is a chance to see the natural habitats of plants and animals only visible in botanical gardens and zoos elsewhere. Iconic phenomena like the Great Barrier Reef and Uluru, also known as Ayers Rock, are must-sees, as are man-made marvels like the Sydney Opera House.
A journey halfway around the world and across the international date line merits the comprehensive itinerary of the 18-day "
Exploring Australia
" a
Collette
escorted tour that begins in Melbourne and loops through the Northern Territory and Queensland before ending in Sydney. Two days in Australia's second-largest city kick off the exploration of this varied landscape with visits to the historic Fitzroy Gardens and Phillip Island to see congregations of little penguins (aptly named, as the birds top out at about 13 inches tall).
After a trip through the Barossa Valley, complete with wine tastings and vineyard views, you'll be immersed in native culture in Alice Springs, where you'll learn about life in the Outback from Aboriginal groups, before witnessing the sacred splendor of Uluru. Guests also experience the arresting colors of the Great Barrier Reef and the Daintree Rainforest, the ancestral lands of the Kuku Yalanji tribe, the raw wilderness of the Blue Mountains and, in Sydney, leisure time for harborside dining and other local treats.
Information:
Prices start at $4,149 for two September departures and four trips taking place between January and April 2017.
UNCOVER HISTORY ON THE MEKONG
Bustling capitals, lush greenery and ancient landmarks abound in Vietnam, Cambodia and Thailand, where visions of pagodas and floating markets fill visitors' must-see lists. Cultural sites such as Vietnam's Thang Long Water Puppet Theatre and the spire-topped Royal Palace of Phnom Penh, Cambodia, join fish farms and sacred temples among points of interest on escorted journeys, illustrating the richly layered history and traditions that await visitors in these countries.
Tourist activities can be lighthearted, like an interactive Vietnamese cooking class, or sobering, like a visit to the Tuol Sleng Genocide Museum, housed in a building used by the Khmer Rouge in the late 1970s to hold thousands of Cambodian prisoners. Take a ride on a cyclo, a popular three-wheeled taxi bike, for a unique view of historic streets, or participate in a water blessing performed by monks in a hilltop temple.
Avalon Waterways
combines the comprehensive appeal of escorted sightseeing with the luxurious convenience of a river cruise on the 17-day "
Fascinating Vietnam, Cambodia & the Mekong River With Hanoi, Ha Long Bay & Bangkok (Northbound)
." Before boarding the 36-passenger Avalon Siem Reap in Ho Chi Minh City, Vietnam, on Day 7, the tour explores local sites like the gourmand's getaway of Ben Thanh Market and the Cu Chi Tunnels, a base of operations used by the Viet Cong. Making the most of your time sailing the
Mekong
, Avalon maximizes cultural outings, from a traditional dance performance in Siem Reap, Cambodia, to silk-weaving demonstrations in Bangkok.
Information:
Departures stretch through March 2018, and prices begin
at $5,059.
DELIGHT IN THE DANUBE
Even those of us with the loftiest of vacation ambitions wouldn't attempt all of Europe in a single whirlwind trip, but choosing a river voyage allows travelers to take in a good sampling of destinations at a leisurely pace.
The
Danube River
, for example, meanders through 10 countries and encounters some opulent architecture, from frescoed ceilings housed in a Benedictine abbey above Melk, Austria, to the twin spires of Germany's Cologne Cathedral. But Old World history is evident in more than impressive buildings -- visitors can tune into Salzburg, the Austrian birthplace of Mozart and the famed setting of "The Sound of Music," or dig into culinary culture in Nuremberg, Germany, by sampling its bratwurst and gingerbread.
The 21-day "
Jewels of Europe With Paris & Prague
" from operator
Scenic
pairs the Danube with the Rhine River. The trip begins in the French capital, where guests enjoy more than two days of sightseeing before boarding a train bound for a short exploration of Amsterdam and the embarkation of the riverboat. Cutting a path through Germany, Austria and Hungary, Scenic provides a host of excursion choices so that guests can customize certain port calls. In Regensburg, Germany, for example, you'll choose between a guided walking tour of the city or a ferry ride to Weltenburg Abbey for samples of beers from a historic monastic brewery.
The trip concludes in Prague for escorted expeditions, including a chance to visit the expansive art collection of Lobkowicz Palace, and free time to stroll its cobblestone streets.
Information:
Prices start at $8,190, and itineraries depart through October this year and
from April to July in 2017
.
WANDER THE WHITE CONTINENT
For travelers who truly want to get away from it all, the wintry wilderness of the world's southernmost continent offers an extraordinary experience. Simply called "The Ice" by those who have ventured here,
Antarctica
comprises more than 5 million square miles of virtually uninhabited frozen terrain.
Like most expedition cruises to the White Continent, the 11-day "
Emblematic Antarctica
" from
Ponant Cultural Cruises & Expeditions
departs from the southern tip of South America. Your 264-passenger luxury liner sets off from Ushuaia, Argentina, and spends two days at sea crossing the exhilarating Drake Passage.
Enjoy port calls on the Antarctic Peninsula as well as stops among the islands; visits to shore provide ample opportunities to photograph the stunning scenery and lounging wildlife, such as seals lying near icebergs in Neko Harbor or the large colony of chinstrap penguins on horseshoe-shaped Deception Island. There's also a chance you'll catch a glimpse of killer whales as you sail the Weddell Sea, savoring the unique, peaceful atmosphere that only can be found in this part of the world.
Information:
Prices start at $9,070, with trips scheduled from December to February 2017.
The information in this story was accurate at the time it was published in May/June 2016. Please visit
Vacations To Go
or call (800) 680-2858 for current rates and details.
Send This Article to a Friend
Bookmark this Content
Digg it!
Reddit
Furl
del.icio.us
Spurl
Yahoo!