Nostalgia Tours of the U.S.
Route 66 and other kicks await
on these vacations down memory lane
By Alexis Hilts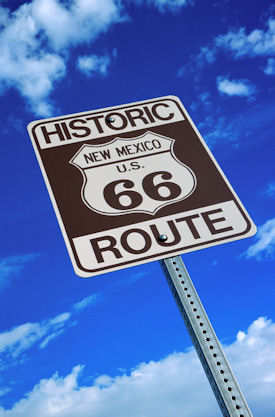 Trafalgar Tours
S
ome of the best vacations take you to a place you've been before -- a warm recollection from childhood, perhaps. Others may transport you to an era you wish you'd been alive to see. A building erected long ago, a meal crafted from a recipe passed through generations or a mood captured in a favorite crooner's melody can all bring us back. True escapes play upon these elements, captivating us with experiences both old and new.
Whether Elvis fans or cowboys at heart, nostalgic travelers can relive the past and create fresh memories on an escorted tour in America. Designed to hit the highlights, these packages are particularly suited for maintaining a motif. Sights are handpicked, and itineraries include transportation between destinations, hotel accommodations, guided sightseeing and most meals in a price that's paid up front, giving travelers a chance to relax throughout their vacation of choice.
Below we've compiled five tours of the U.S. to satisfy the sentimental. For more information on these and other escorted vacations, call the experts at Houston-based travel discounter Vacations To Go, (800) 680-2858, or review itineraries
here
.
On the Road Again
Before the interstate, there was Route 66. The invention of big highways made it possible to get where you were going fast, by avoiding unnecessary stops along the way. Called America's Main Street or The Mother Road, as John Steinbeck dubbed it in "The Grapes of Wrath," Route 66 did the opposite. It connected small towns and bigger cities throughout the country, from east to west.
While much of the old byway has been replaced,
Trafalgar Tours
brings back the road trip with its 13-day "
Route 66
" itinerary. Starting in Chicago, travelers follow yesterday's route through eight states: Illinois, Missouri, Oklahoma, Texas, New Mexico, Arizona, Nevada and California. This American sampler begins with Windy City sightseeing along Lake Shore Drive, then heads southwest toward St. Louis, stopping in Springfield, IL, to visit Abraham Lincoln's 117-foot granite tomb.
In the tradition of great American pastimes, Trafalgar guests in this Missouri metropolis take part in two classics: eating barbecue and drinking beer. Vacationers team up with an award-winning barbecue crew for a culinary lesson, sauce-making contest and dinner. The next day includes a tour and tasting at the Anheuser-Busch Brewery before hitting the road bound for Branson, MO, a Midwestern music hub.
Some sections of Route 66 remain well preserved, such as in Oklahoma, which boasts more miles of the thoroughfare than any other state. A series of museums here display Americana and provide travelers a chance to pick up memorabilia. First up is the Will Rogers Memorial Museum in Claremore, named after the iconic entertainer who once said, "America is a land of opportunity and don't ever forget it." Rare movie posters from the 1920s and '30s and an archive with 18,000 photographs are highlights for fans. Guns, boots, chaps and anything else cowboy-related can be found at the National Cowboy and Western Heritage Museum in Oklahoma City, dedicated to the life of the American West. Browse the buffalo prints, Native American handicrafts and John Wayne trinkets, but save some of your souvenir budget for the next stop: the Oklahoma Route 66 Museum in Clinton.
Part of the old route's charm was its string of roadside attractions, and Amarillo's Cadillac Ranch is one that has stood the test of time. As if growing out of the ground, 10 Cadillacs stick halfway out of the dirt, tail fins to the sky. Layers of Technicolor graffiti coat the vehicles, which were planted in northern Texas as public art in 1974. Add a snapshot here to your road-trip collectibles.
New Mexico and Arizona sights on this Trafalgar trip showcase the West's natural beauty and Native American heritage. Witness cultural history at a village built atop a 367-foot-tall mesa, Acoma Sky City, the oldest continuously inhabited community in the U.S. Travelers also stop at a Navajo Indian reservation along the way to Grand Canyon National Park, where an optional flightseeing excursion above the great gorge awaits.
Route 66's kicks come to an end in glitzy cities Las Vegas and Hollywood. Hit the casinos, take in a show and see stars at the Hollywood Walk of Fame as a last hurrah.
Details:
Trafalgar offers
seven Route 66 trips
from May through September, with prices starting at $2,385 per person, not including airfare.
Cowboys and Indians
If the spirit of the frontier calls you, then 11 days on "
Routes of the Old West
" from
Globus
is your answer. Travel amid rugged peaks and red sandstone cliffs, historic mining towns and Native American settlements on a round-trip loop from Denver through Colorado, New Mexico and Utah.
Clear your lungs of city air at an elevation of nearly 12,000 feet in Rocky Mountain National Park. Follow Trail Ridge Road, named for its juxtaposition to pathways used long ago by native peoples to cross the peaks. A night in Vail provides rest before another day among Colorado's majestic mountains. The 1,800-foot walls of Glenwood Canyon and sweeping views from Rim Rock Drive in Colorado National Monument leave a lasting impression.
Rust-colored rocks rise behind Red Cliffs Lodge, along the banks of the Colorado River, headquarters for Globus guests in Moab, UT. It's easy to imagine life in the Old West at an outdoor barbecue surrounded by this ranchlike setting, though a wine tasting adds a bit of modern-day luxury.
Daytime allows for viewing a selection of the more than 2,000 sandstone formations in Arches National Park. As night begins to fall, relax into the peaceful glide of a flat-bottomed riverboat on an optional excursion. Marvel at illuminated canyons while guides regale you with tales of the region's creation and early inhabitants.
Vacationers return to Colorado midtrip to view the archaeological remains of the Ancestral Pueblo people -- including homes carved into a cliff -- in Mesa Verde National Park. From the 700-year-old cliff dwellings, the tour heads east to territory once filled with miners looking to strike gold and silver.
The late 19th century brought the railroad to Durango. Tracks to nearby Silverton were built for transporting ore, but Globus guests ride the steam train for 45 miles along the Animas River for a different reason: to take in the mountainous vistas.
New Mexico's Santa Fe and Taos attractions infuse the next days of the journey with Southwestern charm. Walking tours bring explorers to historic sites such as 17th-century San Miguel Mission, the Palace of the Governors and a Native American village, as well as assorted boutiques and local art galleries.
The Old West adventure reaches new heights in its last destination, Colorado Springs, where passengers ride a cog railway to the summit of Pikes Peak. From more than 14,000 feet up, the panorama may inspire travelers to remember the lyrics of "America the Beautiful," written by Katharine Lee Bates after she visited this spot in 1893.
Details:
Globus makes
eight trips
on this route, beginning June 11. Not including air travel, per-person prices begin at $2,289.
Long Live the King
While some are entranced by the Wild West, others yearn for the days of the King. Memphis, TN, is a year-round Elvis attraction, but one week in August is dedicated specifically to him, bringing out tribute bands, costumed impersonators and fans of all kinds to remember his passing. For devotees of the music legend,
Cosmos
offers "
Elvis' 34th Anniversary Memorial Tour
" an eight-day commemorative trip in the King's former stomping grounds, Memphis and Nashville, TN.
First up is a visit to the Rock 'n' Soul Museum in Memphis for an introduction to the music that broke social and economic barriers, brought small towns and big cities together and changed the course of history. Listen to the sounds that fused to become modern American song while touring galleries of rock relics.
After their lesson in music history, travelers pay their respects at Elvis' former home, Graceland. Everything from his flashy costumes, private jets, favorite cars and trophy collection are on display, allowing fans to immerse themselves in the life of the legend. Before Elvis was a rock star who tossed out maxims like "Ambition is a dream with a V8 engine," he was a dreamer from rural Tupelo, MS. Visit rock 'n' roll royalty's humble beginnings and walk through the small white house, built by his father, where Elvis came into the world in 1935.
From his birthplace, it's on to his discovery: Elvis' rocket to fame took off in Sun Studio, the simple brick building in Memphis that launched the careers of fellow artists Johnny Cash, Jerry Lee Lewis and B.B. King. Music groupies here can explore the history of the "birthplace of rock 'n' roll," hear outtakes and touch Elvis' first microphone.
A candlelight vigil at Graceland heralds the end of the Memphis leg of the trip. The remaining days are reserved for another song-filled capital: Nashville. In Music City, Cosmos guests take in a performance at the Grand Ole Opry, home of the show that brought country music to the national stage.
Elvis recorded 262 songs at another Nashville institution, RCA Victor Studio B. Live out your fantasies of stardom in your own studio session here, and bring home your recording. One final treasure -- the rocker's famed gold Cadillac -- awaits visitors at the Country Music Hall of Fame.
Details:
To celebrate the King with the rest of Memphis, the Cosmos tour departs
Aug. 12
. Prices begin at $1,069 per guest, without airfare.
Way Down Yonder
"Way down yonder in New Orleans, in the land of dreamy scenes, there's a Garden of Eden, you know what I mean." These lyrics describe the hometown of another music great, Louis Armstrong, featured on "
New Orleans: Bayous and the Big Easy
" from
Tauck
. Eight days in New Orleans and the surrounding Cajun country of southern Louisiana introduces guests to a mix of Caribbean, African and European influences. From New Orleans' historic French Quarter to the swamplands of the Atchafalaya Basin, cuisine and culture reign supreme in this region with its own kings and queens (during Mardi Gras, at least).
The culinary adventure begins the first night in New Orleans, where guests can taste bananas Foster at the restaurant where it was invented, Brennan's. The next day, chefs at the New Orleans School of Cooking demonstrate some Cajun and Creole cooking techniques. This is the first time on the trip that vacationers sample these cuisines -- developed by the descendents of European aristocrats and French refugees who settled here -- but it will not be the last. Explorers can compare these morsels to the fare served at a bal de maison, or traditional house party, and later, at a Cajun eatery in Breaux Bridge, the Crawfish Capital of the World.
In southern Louisiana, hot sauce goes with everything -- including dessert. At a visit to the McIlhenny Co. Tabasco factory in Avery Island, a tour of the sauce-making facility is capped off with a chance to try ice cream that's been kicked up a notch with a touch of Tabasco.
But there's more than gourmet delights to savor here. Rich heritage seeps into everyday life. In New Orleans, a field trip takes travelers to the Lower Ninth Ward, hit hardest by Hurricane Katrina in 2005. An expert adds insight to the natural and human factors contributing to the devastation in this neighborhood, where a strong recovery effort continues.
The Big Easy's cultural character extends beyond strength in the face of hardship. Tauck tourers stop by the New Orleans Jazz National Historical Park, dedicated to preserving the melodies and musicians of the city's past. A streetcar ride past 19th-century mansions and a stroll along Magazine Street, known for its colorful shops and charming bistros, show off the city's enduring allure.
Outside New Orleans, Acadian traditions are alive along the bayou. Zydeco music, handmade crafts and wetlands wildlife combine at two sites: Jean Lafitte National Historical Park and Preserve and Vermilionville, a village depicting Cajun and Creole life during the 18th and 19th centuries. Tauck guests pick up some local lore while exploring the otherworldly environs -- marshes, swamps and bayous -- of the Atchafalaya Basin by boat.
Details:
This
Louisiana escape
is offered March through October, with prices per person starting at $2,750, without airfare.
America's Heartland
For many, the Midwest embodies the best of America: old-fashioned values, friendly towns and a melting pot of hardworking families. For those looking for a getaway in a region that feels like it's preserved the best of a simpler time,
Collette Vacations
packaged a nine-day tour stopping in Chicago, Green Bay in Wisconsin and Mackinac Island, Frankenmuth and Southfield in Michigan.
Guests of the "
Mackinac Island Featuring the Grand Hotel
" itinerary start off in the Windy City with a tour of sights. Marvel at the collection of structures designed by famed architects like Daniel Burnham, Frank Lloyd Wright and Frank Gehry. Chicago was host to the 1893 World's Fair: Columbian Exposition, where the first Ferris wheel premiered at 264 feet tall. A visit to the Field Museum and lakefront round out the day's group activities.
Built-in leisure time allows travelers to follow their interests around the metropolis before moving on to greener pastures in Wisconsin. Cheese making has a history of more than 160 years here, where family-run operations dominate the craft and many aspiring cheese makers take on an apprenticeship to hone their skills. Nibble some of the state's 600 varieties at a local shop.
A ferry ride across Lake Huron brings Collette vacationers to Mackinac Island, a haven where bicycles and horse-drawn carriages are the norm. The Victorian atmosphere continues at the Grand Hotel, which opened in 1887. Starlet Esther Williams filmed parts of the 1947 movie "This Time for Keeps" here; Mark Twain gave a lecture in the resort's early days. It also was the setting for the 1980 fan favorite "Somewhere in Time" starring Jane Seymour and Christopher Reeve. Elegance is prized at this historic Michigan summer retreat: Evening wear is required after 6:30 p.m., an orchestra accompanies nighttime dancing and male guests are referred to as gentlemen. For two nights, the Grand Hotel serves as a base from which to explore the peaceful wooded isle, almost entirely a preserve.
Relaxed and rested, return to the mainland to the Bavarian enclave of Frankenmuth. Half-timbered structures and covered bridges add charm to this town, founded in the mid-1800s as a spiritual sanctuary for German pioneers. Travelers get a lesson in pretzel twisting and feast on Bavarian specialties accompanied by German wines.
This classic tour ends in Southfield, home of the Henry Ford Museum, an institution celebrating the objects and inventions of American life. View presidential limousines, a Wright Flyer replica and intricate clocks on a tour through U.S. history. Dine at the Edsel and Eleanor Ford House and take an evening stroll on the estate's lakefront grounds, savoring the moment before returning to modern life.
Details:
Collette offers this
Midwestern trip
a dozen times from May 6 through Oct. 7. Land-only packages start at $2,099 per person.
The information in this story was accurate at the time it was published in March/April 2011. Please visit
Vacations To Go
or call (800) 680-2858 for current rates and details.
Send This Article to a Friend
Bookmark this Content
Digg it!
Reddit
Furl
del.icio.us
Spurl
Yahoo!