Meet the Locals
Share a home-cooked meal, stay in a family's house
or join a volunteer endeavor
By Jennifer Davoren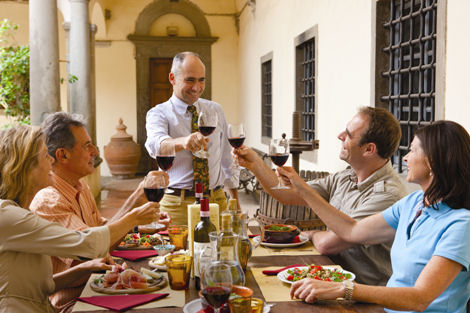 Trafalgar
H
igh in the hills of Sorrento, Italy, with awe-inspiring views of vineyards, lemon groves and the sparkling Bay of Naples, sits Casa Esposito. It's an
unassuming spot -- no gift shop, no restaurant, no tourist hordes. Here, the Esposito family has lived for many years in "very much the old way," says Paul Wiseman, president of guided vacation operator
Trafalgar
.
"They grew lemons and made limoncello, the people down the road grew grapes and made wine, and they would swap and barter," he says. "It's such a genuine, rural family experience."
Trafalgar discovered Casa Esposito through an Italian travel director and friend of the family. He had long dreamed of bringing a Trafalgar tour to this part of Sorrento, but there were quite a few obstacles, from figuring out transportation on narrow country lanes to negotiating language barriers.
After much planning -- and the travel director's understanding that "he'd have to do a lot of translating," Wiseman laughs -- Trafalgar added the sprawling farm to their list of
Italian attractions
in 2010. The first visitors made themselves at home on an outdoor patio while sharing plate after plate of home-cooked dishes honed by generations of Espositos.
"It was a runaway success," Wiseman recalls. "The family met people from all over the world. Our clients had an authentic meal. We got such rave reviews that we knew we were onto something."
This was the beginning of Trafalgar's Be My Guest program, a cultural immersion experience with a focus on traditional cuisine. It's grown to encompass 64 unique locations across 111 Trafalgar itineraries, thanks to its popularity among guests and tour hosts alike.
Featured destinations stretch from Italy -- where Casa Esposito is visited by the 14-day "
Best of Italy
" among other trips -- to France, Ireland, Argentina, Australia, China and Mexico. In North America, Trafalgar guests can
swap campfire stories with cowboys
outside Billings, MT, or sample the latest selections of the
Nicholson Ranch winery
in Sonoma, CA.
Discovering a new destination is easy with an escorted tour. Choose an itinerary that meets and mingles with the locals -- perhaps a native group, like pre-Columbian descendants in South America, or the Maori, the indigenous people of New Zealand -- and you'll find a more engaging and memorable experience than you would on your average vacation.
Some guided trips, like those under Trafalgar's Be My Guest banner, use home visits and fine dining to connect their guests to new cultures. Others, like
G Adventures
' line of "voluntours," include philanthropic ventures that lend a hand in their host countries.
Though this type of trip is planned well in advance with the help of local guides and charity groups, they do call to a more adventurous type of traveler.
"You have to have a bit of that 'What comes next?' spirit. It's about diving into the community and trying to give something back," says Benjamin Stasiuk, innovation manager for G Adventures. "Our travelers are more interested in seeing what the culture is actually like -- meeting a few local people and understanding and learning, as opposed to just taking a holiday."
G Adventures' volunteer program was launched in
Peru
in 2005. It's still one of the company's most popular destinations, where guests can pitch in at an Amazonian conservation society or work with children at a
Cuzco drop-in center
. Other efforts include seeding and sowing at an
Ecuadorian organic farm
, caring for sea turtle hatchlings in Costa Rica and assisting in a
rural medical clinic and orphanage
outside Nairobi, Kenya.
Planning for this type of travel involves a lot of legwork. "We don't think it's right to parachute in and say, 'Hey, we have some people who want to give back, so let's sell a tour and send clients here,'" says Stasiuk. "We feel as though you have to have a relationship with the community, and relationships with organizations in the destination, for it to actually work -- for them to respect you and for your clients to actually feel like they're a part of things."
Guided vacations take the pressure off harried travelers, wrapping accommodations, expert-led sightseeing and ground transportation into a single price that's paid up front. Those looking for an in-depth lesson in local culture can find that, too, given the right tour.
"We want to wow people with this type of experience," Wiseman says. "It's a very difficult thing to create, and we're proud that we've overcome the obstacles to do this for our clients, because the reward that we get, and they get, is exceptional."
The following tours offer a variety of unique interactions with their host countries. For more information on these and other guided adventures, call Houston-based travel discounter Vacations To Go at (800) 680-2858 or follow the links below.
* On "
Classic China
" an 11-day getaway with
Trafalgar
, a Be My Guest excursion leads participants to Beijing's oldest neighborhoods for an authentic lunch with a local family. Enjoy additional cultural explorations on visits to the Great Wall and the Sacred Way, with tombs dating to the Ming Dynasty; Xian, home of the terra-cotta warriors; Lingyin Temple, the largest Buddhist monastery in China; and a Hangzhou tea plantation, where experts will explain the importance of the beverage throughout history. Prices start at $2,583 per person before airfare, and departures are offered through mid-October.
* While "
Lake Titicaca Homestay
" isn't an official voluntour, this four-day
G Adventures
selection does offer an uncommon look at South America's largest lake, perched between Peru and Bolivia. Guests first meet the Uros and explore their unusual lands: floating islands made from layer upon layer of sturdy totora reeds. Then it's on to Taquile Island, where men do much of the weaving, creating skirts for their wives as well their own traditional chullos, colorful hats that mark marital and social status. Book your spot on this trip for just $349 per person before airfare; daily departures are available throughout the year.
* Mingle with the Maori on "
Exploring New Zealand
" a 20-day expedition across the North and South islands with
Collette Vacations
. Highlights include a weaving tutorial at Te Puia, the New Zealand Maori Arts and Crafts Institute, and an evening of traditional tribal entertainment during a hangi dinner, featuring dishes like mutton, fish and veggies cooked underground by hot stones (much like the Hawaiian practice of kalua, a popular technique for pulled pork and other luau staples). Sheep-shearing demonstrations, wine tastings and a family meal and homestay in Rotorua further explore local life. This tour is priced from $3,849 per person, without airfare, and departures are scheduled through April 2013.
* "
Turkey, Land of Contrasts
" a 12-day trek with
Tauck
, includes two standout home visits. In Istanbul, a local artist and businessman opens his private residence for a tour and offers his perspective on modern life in the city. In Cappadocia, known for a rugged, lunar landscape formed by millennia of volcanic activity, a family welcomes travelers to their distinctive abode: a multichambered cave carved into a rocky hillside. Tauck guests also take part in a cooking demonstration and English lessons at an elementary school. Prices begin at $4,990 per person, without airfare, and departures are available through early October.
* An eight-day campout with
Intrepid Travel
, "
Tanzania Adventure
" explores agricultural settlements and craft markets in eastern Africa. The trip begins with a homestay among the Meru, a close-knit tribe known for its coffee cultivation, and a stop in the farming village of Karatu, where residents tend crops and livestock near the Great Rift Valley. Guests can shop for handmade souvenirs like tribal masks and colorful woven fabrics in Mto Wa Mbu. Prices for this tour, which includes game drives in the Ngorongoro Crater and Serengeti National Park, start at $2,865 per person, without airfare. Departures are offered through May 2013.
The information in this story was accurate at the time it was published in March/April 2012. Please visit
Vacations To Go
or call (800) 680-2858 for current rates and details.
Send This Article to a Friend
Bookmark this Content
Digg it!
Reddit
Furl
del.icio.us
Spurl
Yahoo!