Italy A to Z
See what makes this country one of the world's
most alluring vacation destinations
By Alexis Loyd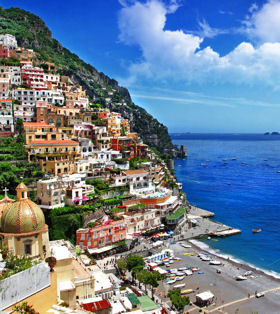 Freesurf/Fotolia
(Scroll down to see a slide show.)
A
ccording to the U.N. World Tourism Organization, Italy consistently ranks among the globe's most-visited countries, raking in more than $40 billion dollars annually from eager travelers. Renowned for its delectable cuisine, stunning countryside retreats, historic ruins and first-rate museums, it's likely on your must-see list, too.
Use this alphabetical guide as a starting point for planning your own Italian escapade, then visit
Vacations To Go's Italy site
to browse hundreds of escorted tours that include lodging, transportation between cities, some meals and guided sightseeing. You'll also find an array of independent tours -- air-and-hotel packages that provide maximum flexibility and value. To speak to a Vacations To Go travel specialist, call (800) 680-2858.
Amalfi Coast
Southern Italy's Sorrento peninsula draws jet-setters to a stretch of shore characterized by dramatic cliffs, sandy coves and historic villages. Choose "
Amalfi Coast Fly & Drive
" a do-it-yourself tour from Gate 1 Travel that provides a rental car and a flexible itinerary, to navigate the region's snaking roads. The route leads to the ruins of Pompeii, panoramic views from Ravello, pastel-hued Positano, and Caserta's Italian Baroque-style palace.
Blue Grotto
Escape to a sanctuary in the Tyrrhenian Sea called the Island of Dreams, or Capri, where you'll find a brilliant blue hideaway created by natural interactions of seawater, sunlight and prehistoric limestone. Small boats carry travelers into this seemingly magical sea cave to glimpse the glowing azure phenomenon. The "
Rome & Amalfi
" trip with Perillo Tours and Insight Vacations' "
Italian Vogue Gold
" are among escorted tours that include this unique excursion.
Cannoli
One legend claims this pastry originated inside a Muslim harem in what is now Caltanissetta, while another credits nuns in Palermo for the treat. No matter the specific locale, Sicily -- the largest island in the Mediterranean Sea -- is home of the cannoli, a fried pastry tube filled with sweetened ricotta or mascarpone cheese. Chocolate chips, orange zest and cherries are common garnishes.
Dolomites
In northern Italy, this cluster of Alpine mountains boasts 18 peaks that stand more than 10,000 feet high. G Adventures takes guests to the scenic range on "
Trekking in the Dolomites
" which includes six days of hiking from Cortina d'Ampezzo to Val Gardena. Travel through meadows, past evidence of World War I trenches and around the Sassolungo rock massif. Free time can be spent ice-skating or relaxing in a spa in the Canazei commune.
Eternal City
In Virgil's "The Aeneid," Rome is referred to as an "empire without end," and though time would see the realm fall, the Italian metropolis has earned its Eternal City nickname. Visitors find remnants of momentous human achievements mixed in with modern-day city life. A stroll here can take you past the Roman Forum dating to 500 B.C., the Palatine Hill that was home to the ancient elite, the columned Pantheon and the Colosseum, which could seat up to 50,000 spectators.
Fountains
It's said that if you toss a coin into the Trevi Fountain, you're sure to return to Rome. Of the city's hundreds of fountains, the Trevi is the most famous, but historic cascades can be found in cobblestoned squares and estates across Italy. The 16th-century Fountain of Neptune showcases the bronze sea god towering above his namesake piazza in northern Italy's Bologna. Tour Villa d'Este in Tivoli, about 20 miles from Rome, to see gardens with elaborate water features, like the Organ Fountain.
Gelato
Classic flavors of this creamy, cool dessert include
pistacchio
(pistachio),
nocciola
(hazelnut),
cioccolato all'arancia
(chocolate orange),
caffe
(coffee) and
crema
(custard), but some shops like Rome's Il Gelato di Claudio Torce sell more adventurous creations like gorgonzola with vinegar or black sesame. Other famous gelaterias include San Crispino and Giolitti in Rome, Neri in Florence and Grom, which can be found in several major cities.
Hollywood in Italy
American moviemakers have journeyed to Italy's inspiring locales for decades. Play the part of Audrey Hepburn or Gregory Peck from "Roman Holiday" when touring the capital city; find yourself "Under the Tuscan Sun" on a stop in the town of Cortona, where Diane Lane and cast filmed; or recite your favorite "Godfather" lines while wandering Sicily's Palermo, where Teatro Massimo served as a scene backdrop. Several tours make excursions to these and other film locations.
Italian Riviera
Shiny yachts anchor along the northwest's Ligurian coast, from the French border to La Spezia, delivering glamorous guests to Old World fishing villages set on the rocky shore. In Portofino, spend a relaxing afternoon people-watching from a cafe or visit Castello Brown, built to ward off harbor invaders, for its gardens and views. Call at Cinque Terre, or "five lands," made up of five small villages with protected natural beauty.
Jewish heritage in Venice
In 1516, 700 Jews were forced to relocate to the abandoned site of a 14th-century foundry in Cannaregio, Venice's northernmost district. This ghetto -- from the word geto, meaning "foundry" -- now is a quiet neighborhood encompassing two kosher restaurants and the Museo Ebraico, dedicated to Jewish culture and displaying treasured objects from handwritten manuscripts to goblets. The museum hosts several guided tours daily of the area's Renaissance synagogues.
Keats in Rome
Sketch artists, vendors and camera-wielding tourists mingle on Piazza di Spagna's Spanish Steps, the widest staircase in Europe. But writers will find themselves drawn to the blush-colored facade at the foot of the staircase, for it was in this house that poet John Keats died in 1821, at age 25. Now a museum dedicated to the Romantic poets, the Keats-Shelley House welcomes visitors wishing to view the wordsmith's room or peruse the library.
Lake Como
Wealthy globe-trotters and international celebrities have long chosen Lake Como as a vacation retreat, its glittering water ringed by gardens, forests and elegant villas. Lombardy's Milan, roughly 30 miles south, serves as a launching point for explorations of this peaceful region at the foot of the Alps, also home to lakes Garda and Maggiore. "
Italy by Rail With Lake Como
" from General Tours spends two nights at the Hotel Metropole Suisse on Como's waterfront.
Mount Vesuvius
Rising more than 4,000 feet above the Bay of Naples, this active volcano is famed for the 19-hour eruption in A.D. 79 that buried Pompeii beneath thick layers of ash. That Roman city remained undisturbed until it was discovered in the 18th century. Roughly 15 miles outside Naples, the UNESCO World Heritage Site contains preserved remains, and active types also can hike to the crater of Mount Vesuvius. Pompeii excursions are included in many trips, like Perillo Tours' "
Vesuvius
" vacation.
Neapolitan pizza
Italy is known for its pizza, and one city on the country's west coast is famous for its own take on the popular dish: pizza Napoletana. Pizza-makers in Naples, one of the oldest continuously inhabited cities in the world, even have an organization founded to protect "true Neapolitan pizza," called Associazione Verace Pizza Napoletana. Seek out slices of this authentic pie during tours that stay in Naples, like "
Rome to Amalfi
" from Intrepid Travel.
Olive oil
For thousands of years, olive oil has been a prized commodity. Ancient Greek athletes used the "liquid gold" to anoint their bodies, and centuries of chefs have sworn by it. Italian farmers produce some of the world's most coveted extra-virgin varieties, and some allow curious travelers a taste and a peek at their operations. Tauck's "
Culturious: Tuscany & Cinque Terre
" provides a pasta-making lesson followed by olive oil tastings.
Perugina Chocolate Factory
Central Italia's Umbria region boasts culinary delicacies such as truffles, chestnuts and cheese made from sheep's milk, as well as the world-famous confections crafted at the chocolate factory in Perugia. Participants of Brendan Vacations' "
Culinary Delights of Umbria
" delve into the history and techniques of Perugina, best known for its chocolate-and-hazelnut Baci, or "kisses," each wrapped in a short love note.
Quadrilatero d'Oro
Fashionistas flock to Milan for its haute couture finds. Located between the cathedral and the public gardens, four streets (Via Montenapoleone, Via Borgospesso, Via della Spiga and Via Sant'Andrea) form a district brimming with luxe boutiques. Dolce & Gabbana, Giorgio Armani, Louis Vuitton, Gucci, Valentino, Versace and Prada are on the long list of brands represented here.
Renaissance
From the 1300s to the 1600s, an influx of cultural and artistic innovations transformed Europe. Florence, the capital of Tuscany, often is called the birthplace of the Renaissance. As a commercial center ruled by the Medici family, generous supporters of the arts, the metropolis was a hub for idea exchange. Top Renaissance sights include the Cathedral of Santa Maria del Fiore, Ponte Vecchio and the Galleria dell' Accademia, home of Michelangelo's "David."
Sistine Chapel
During the late 15th century, Renaissance painters Pietro Perugino, Sandro Botticelli, Domenico Ghirlandaio and others labored on colorful panels for the walls of this Vatican City chapel: the stories of Moses and Christ, trompe l'oeil drapes and popes' portraits. But it was an order in 1508 by Pope Julius II to repaint the ceiling that sealed the building's place in history. The result of four years of reluctant work by Michelangelo -- he considered himself a sculptor -- the frescoed canopy now is the chapel's most famous attraction.
Taormina
Founded by the Greeks in the fourth century B.C., this picturesque hilltop city in Sicily still is anchored by the Teatro Greco, a centuries-old amphitheater that boasts views of Mount Etna (Europe's tallest active volcano at nearly 11,000 feet) and the sparkling Ionian Sea below. Charming Taormina is a favorite of ceramics lovers, as painted terra-cotta pottery is produced in this region.
Uffizi Gallery
Housed in a 16th-century structure originally commissioned for government administrative offices, this collection comprises world-renowned artworks, including Botticelli's "Birth of Venus" and "Primavera," completed in the 1480s, and Giotto di Bondone's "Ognissanti Madonna," an altarpiece circa 1310. The museum is currently undergoing expansion and recently has added several rooms of paintings previously kept in storage.
Venetian artisans
The Queen of the Adriatic has a reputation for high-end crafts created by skilled artisans. Seek out souvenirs in workshops and quaint boutiques, with an eye toward Venice's signature goods: marbled paper, Murano glass, Burano lace and decorated masks for the annual Carnival festival. Mask-making classes and glassblowing demonstrations are available on select tours; see Adventures by Disney's "
Viva Italia
" and Monograms' weeklong "
Rome & Venice
" to start.
Wine tastings
Sipping vino is par for the course in Italy's 20 wine regions, from Apulia in the heel of the boot to Lombardy in the north. Many itineraries feature vineyard visits and tastings, such as Intrepid Travel's "
Chianti Walking & Wine
" which lodges guests in the Tuscan village of San Donato, and Brendan Vacations' "
Piedmont's Gastronomic Pleasures
" with forays to Barbaresco to sample wine made from nebbiolo grapes, to Asti for an education in sparkling spumante and to other wine estates, farms and food producers.
XXVII
The year 27 B.C. marks the start of the Roman Empire, a society that at its height stretched into three continents and encompassed a territory more than 3,000 miles wide. The legacy of this Mediterranean power beckons travelers today, from historic ruins in the contemporary capital city -- roamed by ghosts of leaders like Julius Caesar and the empire's founder, Augustus -- to the glimpse into daily Roman life at the well-preserved remains of Pompeii.
Young travelers
Family-oriented itineraries can engage kids in Italian culture and history. Join a pizza-making session, create a Venetian mask and learn to sword fight like an ancient Roman on Trafalgar's "
Gladiators, Gondolas & Gold
." Contiki markets to the 18-to-35 set, with a sampling of sights and wine tastings, a nightclub outing and outlet shopping on nine-day "
Italian Espresso
."
Zabaglione
An exploration of la dolce vita would be remiss without a quest to ferret out the best desserts. Also called
zabaione
, this custardy concoction of eggs, sugar and Marsala wine usually is served by itself in a glass or as a sauce over cake or berries. Traditionally it is a warm dish, though a frozen alternative is available.
The information in this story was accurate at the time it was published in March/April 2013. Please visit
Vacations To Go
or call (800) 680-2858 for current rates and details.
Send This Article to a Friend
Bookmark this Content
Digg it!
Reddit
Furl
del.icio.us
Spurl
Yahoo!