Island Havens of New England
Savor life by the sea in these
classic summer retreats
By Kimberly Garza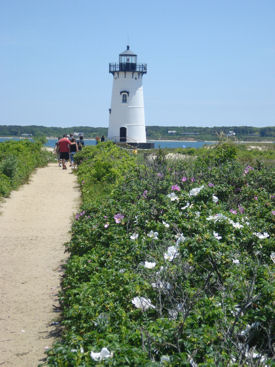 www.Marthas-Vineyard-Vacation-Tips.com
F
or generations, vacationers in need of a simple, serene retreat have escaped to
three islands in the northeastern U.S.
: Martha's Vineyard and Nantucket in Massachusetts and Block Island in Rhode Island. They find respite in the whitecapped water and sand dunes threaded with sea grass, and in the windswept bluffs and picturesque villages of gray-shingled shops and cobblestoned lanes.
These spots take pride in a rich history as hubs for whaling fleets and trade ships during the 18th and 19th centuries. Visitors can expect preserved original buildings and artifacts as well as museums devoted to this past.
On Martha's Vineyard, five lighthouses built in the early 19th century -- and still working today -- beckon to approaching ships, remnants of the days when whalers and merchants depended on such beacons to guide them in safely. Just off Cape Cod's southern coast, Martha's Vineyard is the largest of New England's islands and is comprised of six distinct towns, including tiny Aquinnah, home to the Wampanoag Tribe, and genteel Edgartown, the first Colonial settlement on the island, thick with white clapboard homes that hark back to its history as a prosperous whaling port.
Named in 1602 by Capt. Bartholomew Gosnold for his infant daughter and the abundance of wild grapes he found in the area, Martha's Vineyard presents an appealing combination of sheep farms, salt marshes and freshwater ponds, and galleries, bookstores and cafes. Those with an outdoorsy bent can wander the Gay Head Cliffs, formed by ancient glaciers and famous for the rust-colored dirt that once tinted the paint for the island's buildings.
Just east of Martha's Vineyard and 30 miles from the mainland, Nantucket draws crowds with more than 80 miles of pristine beaches. History is not lost here, either: The entire island is designated a National Historic Landmark, with more than 800 houses built before the Civil War still standing, the largest collection of its kind in the U.S.
Nantucket reigned in the late 1700s as the whaling capital of the world, with as many as 150 ships calling its harbor home during its peak. Today, browse the restored Whaling Museum, which features sights like a 46-foot sperm whale skeleton. Visitors can wander stone-paved Main Street in search of crafts, antiques, jewelry and clothing. Many merchants stock baskets, which are part of the retreat's legacy: The 19th-century crew members of a lightship moored on the Nantucket shoals took up weaving to pass the time, becoming quite skilled at the art. Nantucket celebrates its artists colony spirit, and it's also a prime birding locale, noted by ornithologists as having one of the highest species counts in New England. Bird-watchers delight in spotting the familiar (finches, robins, chickadees) and the exotic (gold and bald eagles, western reef herons).
Another stunning landscape of gentle hills and sandy beaches awaits on tiny Block Island off the Rhode Island coast. The quaint refuge soothes big-city escapees with picturesque shores, cobalt-blue waters and a bucolic ambience. The population swells from roughly 800 residents to nearly 12,000 in the summertime.
Home to two historic lighthouses and two harbors, Block Island is edged by dramatic 250-foot bluffs and 17 miles of beaches, many of which are isolated. For a stretch of sand popular with tourists, head to the Frederick J. Benson Pavilion, known as Town Beach, with a fully stocked concession stand, lifeguards, shower facilities and chairs, umbrellas and cabanas available for rent. Block Island also offers winding nature trails and a plethora of galleries, shops and restaurants.
You can plan your own summer idyll among these islands and alluring havens on the New England mainland with the help of an escorted tour operator or small-ship cruise line that conveniently packages several destinations in one itinerary. Below are a few of our favorites. Rates do not include airfare.
"
New England Islands
" is a seven-day sailing by American Cruise Lines on a ship that holds no more than 100 guests. You'll travel round trip from Providence, RI, and spend a full day each at Martha's Vineyard and Nantucket, browsing the historic town centers or relaxing seaside. Stop by Fall River, MA, home to Battleship Cove, the world's largest collection of 20th-century U.S. naval fighting vessels. Then it's a day at Newport, RI, a yachting capital, and Block Island. The company has a roster of maritime historians, scientists and ecologists lined up for onboard lectures. Departures take place May 20 through July 1 (2013 trips are scheduled as well). Rates start at $3,060 per person.
The 96-passenger Grand Caribe travels the
six-day "Islands of New England"
itinerary for Blount Small Ship Adventures, beginning with a cruise to classic ports along Narragansett Bay and the Sakonnet River. Spend time at Cuttyhunk, MA, one of the Elizabeth Islands, as well as a day each on Nantucket and Martha's Vineyard. After a visit to coastal New Bedford, MA, make for Block Island for a half day of exploration, followed by an afternoon in Newport, where an optional tour visits The Breakers, one of the Gilded Age summer homes owned by the Vanderbilt family. Sunset views of Fort Adams and Newport Bridge cap off the trip before the ship returns to Warren, RI. Prices begin at $1,699 per person for four departures in July.
The two cruises above include onboard accommodations, meals and snacks, along with low-key entertainment and personal service that befits the casual, intimate setting of the small vessels.
Below are two escorted tours, with transportation by motor coach and ferry. Hotel stays, guided sightseeing excursions and some meals are included in the rate, and groups of travelers are accompanied by a tour director.
Three nights in Providence and four nights in Hyannis on Cape Cod form the foundation for Collette Vacations' eight-day "
Islands of New England
." Guests enjoy a traditional lobster feast and hop ferries to Martha's Vineyard, where a local guide introduces them to the gingerbread-style cottages and old whaling port, and to Nantucket for visits to sandy stretches and lighthouses. A day trip to Boston takes in key sites like Faneuil Hall Marketplace, the Old North Church and the U.S.S. Constitution. Guests also have a sojourn in Provincetown, an artists enclave at the tip of Cape Cod. Prices start at $1,699 for departures that take place from June 1 to Oct. 12.
Guests of the nine-day "
Cape Cod and the Islands
" offered by Globus, overnight in Nantucket and Martha's Vineyard. With the full-service, 100-room Nantucket Inn as home base, you'll have time to check out the marinas, galleries and boutiques. The next day, settle into your room at Kelley House on the Vineyard; the stately, white clapboard structure in the heart of Edgartown dates to 1742. Classic New England experiences like a clambake, a visit to a cranberry bog and a whale-watching cruise fill this itinerary, which also spends time in Hyannis, Boston and Newport. In Plymouth, MA, board a full-scale replica of the Mayflower and drop in on 17th-century life at Plimoth Plantation, where costumed interpreters portray residents of the original colony. Trips run from May 25 to Oct. 5, with rates beginning at $2,419 per person.
Information:
Peruse detailed itineraries and complete lists of departure dates and prices with
Vacations To Go
, or call (800) 680-2858 to talk to a travel counselor.
The information in this story was accurate at the time it was published in May/June 2012.
Send This Article to a Friend
Bookmark this Content
Digg it!
Reddit
Furl
del.icio.us
Spurl
Yahoo!