International Flair
Explore global cultures in these North American cities
By Jennifer Davoren and Alexis Loyd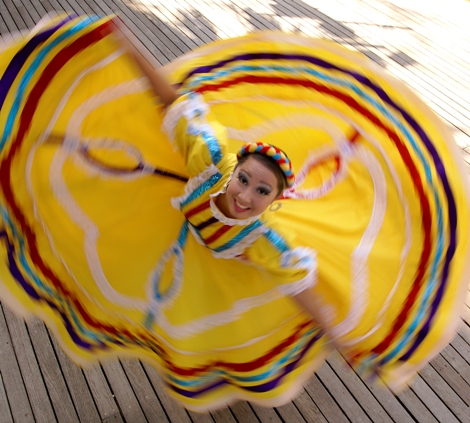 San Antonio CVB
I
f you're like us, chances are you have a list of far-off destinations that you're hoping to discover. Maybe you dream of strolling the streets of steamy Havana, Cuba, the island city of classic American cars, Spanish colonial architecture and Caribbean seaside. Or perhaps it's romantic dinners in stone-paved Italian piazzas that beckon you.
But sometimes it isn't always practical (or economical) to pick up and head off on that dream trip abroad just yet. So for the meantime, we've come up with eight ethnic enclaves in the U.S. and Canada that allow you to feel like you're exploring globally without leaving the continent.
Te amo Miami
Just 90 miles of ocean separates Florida and the island nation of Cuba, and culture in the southern portion of the peninsula reflects this connection, from music and the arts to cuisine. Hundreds of years ago, Spanish colonists traveled between Havana and the New World. Today, more than two-thirds of the Cuban-American population lives in the Sunshine State, and Miami boasts one of the most popular -- and liveliest -- communities.
A slew of sights awaits visitors in this hot spot. Landmarks such as the Liberty Column and Freedom Tower stand as tributes to the immigrant experience, and Cuban Memorial Plaza commemorates the Bay of Pigs invasion and 19th-century Cuban wars for independence.
Little Havana's main street, Calle Ocho, hosts art galleries, boutiques and the Latin equivalent to the Hollywood Walk of Fame -- the Walkway of the Stars, with plaques for favorites from Gloria Estefan to Sammy Sosa. Grab a tamale and a Cuban coffee or a tropical smoothie at Los Pinarenos Fruteria, an open-air fruit market and snack stand, and head down the road to watch the locals play dominoes at Maximo Gomez Park. For an evening of song and dance, Casa Panza is the place with flamenco performances (audience participation encouraged). Every March the avenue comes alive for the Calle Ocho Festival, an extension of Carnaval Miami celebrations.
Travel discounter Vacations To Go offers reduced rates on
stays in the Miami area
as well as
discounted cruises
departing the city.
Ciao, New York
Between 1880 and 1930, Ellis Island saw 4.6 million Italian immigrants arrive in New York City looking for a fresh start. Mulberry Street became a hub for the Italian-American community here and, while the neighborhood (and the resident Italian-American population) is smaller than it used to be, this Lower Manhattan thoroughfare still serves as the center of Little Italy attractions. Red, white and green street decorations make it easy to find the area when you've got a hankering for authentic spaghetti Bolognese or linguine vongole. Stroll to Grand Street to sample cannoli or gelato from Ferrara Bakery and Cafe, the enclave's well-loved sweets server since 1892.
Film buffs might recognize two area landmarks: St. Patrick's Old Cathedral, the setting of the baptism in "The Godfather," and the domed former New York City Police headquarters, which featured in "Gangs of New York."
To experience la dolce vita at its fullest, take your trip in September, when music floats through the air and more than 300 street vendors join local restaurants to welcome passers-by to the Feast of San Gennaro. This year's festival runs Sept. 13-23.
Consider a
four- or six-day package
from
Monograms
to make the most of your Big Apple vacation. Departures start at $719 per person for four days or $1,249 for six days, without airfare. Rates include hotel accommodations, tickets for hop-on/hop-off sightseeing by double-decker bus, the services of a local host and tickets to a Broadway show.
Ni Hao, San Francisco
San Francisco's Chinatown, the largest neighborhood of its kind outside Asia, also is one of the most resilient. Its earliest residents were immigrant laborers imported by the railroads; a second population boom followed the California gold rush, when the 1849 discovery at Sutter's Mill drew thousands of fortune seekers. Citizens weathered the devastation of the 1906 earthquake and the fires that followed, along with xenophobic laws that endured well into the 1940s, when the Chinese were finally granted naturalization rights. Today, tourists amble down lively streets lined with gilded landmarks, filling up on dim sum and browsing souvenir shops for rare imports and herbal remedies.
Chinatown once was home to San Francisco's newly arrived Japanese population, too, but after the earthquake they built a neighborhood of their own. Nihonmachi, or Japantown, is anchored by a sprawling shopping and dining complex and the five-tiered Peace Pagoda, a Buddhist symbol gifted by San Francisco's sister city, Osaka, Japan. The Cherry Blossom Festival is a favorite springtime event, with two weekends of traditional music and dance as well as bonsai trimming, calligraphy, ikebana (a very precise form of flower arrangement) and other demonstrations of Japanese artistry.
Check rates at several San Francisco hotels
here
.
Es una fiesta en San Antonio
Known for its enchanting riverside esplanade, this fun Texas city also is a hub of Hispanic culture, from its history as a Spanish settlement to its present-day population of nearly 840,000 Latino Americans. Jewelry, fine art, handicrafts and other eclectic souvenirs can be found at La Villita, or "the little village," a charming collection of shops and restaurants accented by shady plazas and brick-and-tile walkways. Tasty Tex-Mex is a must-try here: Choose a spot with outside seating along the River Walk for a combo of munching and people-watching. Or if you're looking for more traditional Mexican fare, La Gloria Ice House is a highly recommended (and budget-friendly) pick in the Pearl Brewery complex.
Collette Vacations
' "
San Antonio Getaway
" is a five-day introduction to the city's culture, with visits to 18th-century missions, the famous Alamo battle site and El Mercado, or Market Square. Guests also travel to Fredericksburg, a Hill Country town founded in 1846 by a Prussian immigrant; restaurants along the attractive main street honor its German heritage with dishes like jagerschnitzel and konigsberger klopse. Per-person pricing begins at $899, air travel not included. Or, consider a resort vacation to check out Fiesta San Antonio, a citywide celebration of parades, games, art exhibits, music and a carnival (April 19-29).
Vive le Quebec
The first permanent settlement in New France, an area that once stretched from Newfoundland to Louisiana, Quebec City remains true to its roots. More than 400 years after its founding, visitors can stroll a UNESCO World Heritage Site -- Old Quebec, a collection of colonial structures linked by cobblestoned streets -- and hear the musical lilt of French-speaking patrons in art galleries, shops and cafes. The towering stone fortifications that once protected the city against attack frame this thriving tourist district. A citadel formerly known as the Gibraltar of the Americas also keeps watch.
Quebec City is a quaint, relaxed alternative to its cosmopolitan neighbor in French Canada, Montreal. A local point of pride is the Quebec City Gourmet Route, an agritourism partnership highlighting the region's farmers, vintners and other producers. Follow it to Ile d'Orleans, a small island on the St. Lawrence River, to tour a black currant farm, sample artisan chocolates and meet a family of fishermen that have trawled the St. Lawrence for 13 generations.
Find discounts on
Quebec City accommodations by clicking here
. A local favorite is the fortresslike
Fairmont Le Chateau Frontenac
, a formidable presence on the city skyline since 1892.
Namaste Toronto
In the last few decades, the demographics of Canada's largest city have shifted -- an influx of South Asian immigrants have settled in Toronto and its suburbs, bringing with them shops filled with vibrant gold-trimmed saris, restaurants infused by the scents of spicy curries, galleries with contemporary arts exhibitions and Bollywood film screenings.
Toronto hosts Gerrard India Bazaar, a stretch of city blocks encompassing the largest South Asian market in North America. What started with a local theater screening Indian films in the 1970s has grown into a district packed with roughly 100 eateries, fashion boutiques, music sellers and more. Though the Naaz Theatre no longer exists, this urban enclave is still the place to go for a sampling of South Asian goods.
Gerrard India Bazaar presents an annual celebration showcasing the arts and eats of Indian, Afghani, Pakistani, Bengali and Sri Lankan cultures, held this July 6-8.
Some escorted tours also spend time in this Ontario metropolis. Try
Trafalgar
's 10-day "
Best of Eastern Canada
" for a visit that includes two nights in Toronto with sightseeing and free time to explore on your own, plus a trip to Niagara Falls and stays in Quebec City and Ottawa. This itinerary starts at $2,125 per person without airfare.
Velkommen til Solvang
The Saturday Evening Post once called it a "spotless Danish village that blooms like a rose in California's charming Santa Ynez Valley." Tiny Solvang, or "sunny field," is Danish by design -- founded in 1911 as a haven for new immigrants, it offered farm plots, Danish-speaking schools and a small slice of the old country for those making their way in the New World. Gingerbread-trimmed shops and towering windmills were added over the years, along with a host of hotels serving a growing interest among wine country tourists.
Solvang is especially busy around festival season. Spring's Taste of Solvang offers cooking demonstrations, vineyard visits and the "walking smorgasbord," where more than 40 tasting stations scattered around the city are piled high with Danish treats. At Christmas, Julefest rings Solvang with dressed fir trees and carolers.
A nine-day tour from
Collette Vacations
, "
California Coast
" hits Golden State highlights stretching from San Francisco to San Diego, including Solvang. Guests will spend two nights at Hadsten House Inn and Spa, an easy walk from Hans Christian Andersen Park; hikers, bikers and sightseeing drivers enter this grassy expanse named for the Danish storyteller through a castle's archway. Prices for this trip start at $1,999 per person before airfare.
Opa, Chicago!
Like many ethnic enclaves, Chicago's Greektown was founded on food. This four-block stretch of Halsted Street, on the Near West Side of the Windy City, was once a hot spot for portable food carts, each offering the mouthwatering family recipes of their emigre proprietors. The most popular carts graduated to brick-and-mortar restaurants and served both longtime locals and newly minted Greek-Americans -- upward of 30,000 fresh citizens in the neighborhood's heyday. Spanokopita (spinach and feta pie), moussaka (eggplant casserole) and tender lamb kabobs became new staples of the Chicago diet. This neighborhood even claims to have introduced America to the gyro in 1968.
Today, Greektown celebrates its roots with the continued success of its restaurants; the National Hellenic Museum, a 40,000-square-foot collection of homeland treasures; and the annual Taste of Greece festival, with traditional music, dance, costumes and, of course, cuisine on display for two days each summer.
A four-day
independent Chicago tour
with
Monograms
offers discounted pricing on accommodations and the expertise of a local host who is available for advice on dining and other attractions. Take advantage of the included trolley passes and roll around the city, from the eclectic stores of the Magnificent Mile to Greektown's flavorful foodie district. Prices start at $289 per person, without airfare.
The information in this story was accurate at the time it was published in March/April 2012. Please visit
Vacations To Go
or call (800) 680-2858 for current rates and details.
Send This Article to a Friend
Bookmark this Content
Digg it!
Reddit
Furl
del.icio.us
Spurl
Yahoo!