Grand Tours of Europe
Explore a multitude of sights on these epic vacations
By Elizabeth Armstrong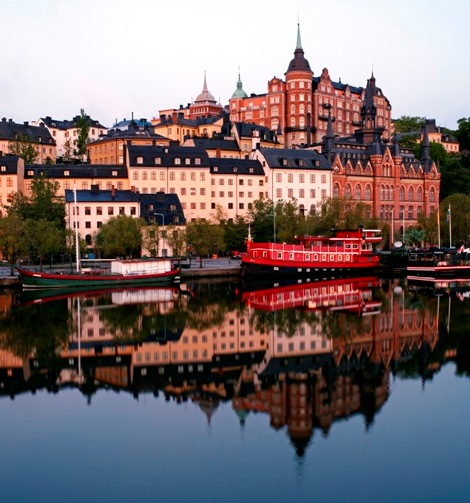 Ola Ericson/Mediabank.VisitStockholm.com
(Scroll down to see a slide show.)
"I
haven't been everywhere, but it's on my list," goes the quote attributed to writer Susan Sontag. While the seven European itineraries profiled in the following pages don't go everywhere, they certainly provide a solid start.
These are panoramic vacations, journeys that introduce travelers to an abundance of cultures, landscapes, languages and cuisines. Whether you choose the three-week Scandinavian route that takes you from the sun-dappled canals of Copenhagen to the Arctic tundra of Norway's far north or the 32-day sweep through 11 countries, you'll wake up to a new adventure every day, gathering treasured memory upon memory along the way.
Five of our offerings are escorted tours; they include hotels, many meals, expert guides and transportation among destinations via motor coach. For those of you who don't relish the thought of living out of a suitcase for three weeks or more on the road, we've also included two trips where your accommodations go with you: a river cruise along three waterways and an oceangoing voyage that skims the Mediterranean coast from Spain to Greece. For more information, visit the additional
Vacations To Go
links below.
THE GRAND EUROPEAN
23 days with Cosmos, from $3,329 per personHotel stays in 14 cities
Picture-perfect scenes range from the Swiss Alps to France's sparkling Cote d'Azur on this vacation from budget tour operator
Cosmos
. You can
customize the trip
with optional excursions, such as a cruise on London's River Thames or a nighttime visit to Monte Carlo. Traveling from London, guests can:
*Take in the narrow, gabled structures of
Amsterdam
on a canal cruise.
*See the mournful Lion Monument of
Lucerne
, completed in 1821 to honor members of the Swiss Guard lost in the French Revolution.
*Play the roles of Shakespeare's star-crossed lovers at Juliet's House in
Verona, Italy
.
*While in Rome, explore the nearly 2,00-year-old Colosseum, which could hold up to 70,000 spectators.
*Try a walking tour in the historic center of Florence, where motor vehicles are limited.
*Follow the Mediterranean coat to the
French Riviera town of Eze
, where a perfumery visit is on the schedule.
*Kick off the
Spain
segment of the trip with two nights in Barcelona.
*In southwestern France, spend time in Bourdeaux; wine lovers might pick up a bottle of St. Emilion or Haut-Medoc.
EUROPEAN SUPREME
32 days with Trafalgar, from $7,052 per personHotel stays in 16 cities
Starting with two nights in London and ending with two nights in Paris,
this itinerary stops in 11 countries
. Guests travel as far east as Sofia, Bulgaria, and south to the Greek capital of Athens, then hop through Italy before concluding in the City of Light. Book it and you will:
*Ride a ferry across the English Channel from the white cliffs of
Dover, England
, to Calais, France.
*Learn about a traditional Dutch craft, the making of wooden shoes, in Volendam, Netherlands.
*Take a day cruise on the lovely Rhine River in
Germany
.
*Enjoy free time in
Vienna
. Our suggestion: Sample dense, chocolatey Sacher torte at one of the city's coffeehouses.
*Marvel at the alabaster, Italian marble and Brazilian onyx interior of Alexander Nevsky Cathedral, a highlight in Sofia, Bulgaria.
*Explore
Athens
at your own pace with three days in the city.
*Board an overnight ferry bound for Italy.
*In Rome, look up: Michelangelo spent four years painting the Sistine Chapel ceiling frescoes.
*Elsewhere in Italy, roam the Pompeii ruins and spend an afternoon in Sorrento, famous for its limoncello liqueur.
GRAND TOUR OF SCANDINAVIA
21 days with Insight Vacations, from $5,432 per personHotel stays in 13 cities
Circle through Scandinavia on
an itinerary that showcases the old and the avant-garde
, from ancient castles to trendsetting architecture. You'll even cross the Arctic Circle and see why this part of the world is called the Land of the Midnight Sun. And be on your best behavior -- on this trip, guests meet old St. Nick on his home turf.
*First, tour the seat of the
Danish
parliament, Christiansborg Palace, where 17 modern tapestries in the Grat Hall depict the country's history.
*The
Swedish
capital, Stockholm, is built on 14 islands; you'll tour its medieval center, called Gamla Stan.
*Then, board a ship for an overnight sailing across the Baltic Sea to
Helsinki, Finland
.
*See the Temppeliaukio Church; chiseled out of the bedrock, it is an intriguing example of Helsinki's contemporary architecture.
*Meet the jolly old elf himself at Santa Claus Village in Finland's Lapland region.
*Enjoy the northernmost stay of your itinerary when you check into your hotel on Mager Island, on
Norway's North Cape
.
*Meet the surefooted huskies of a Norwegian dogsled racing team.
*Explore Nidaros Cathedral in Trondheim, Norway's national sanctuary, built upon the burial site of St. Olav.
*Cruise Norway's gorgeous Geirangerfjord, past waterfalls, glaciers and green cliffs.
THE BIG CHILL
47 days with Contiki, from $4,865 per personCampground and hotel stays in 26 cities
At nearly seven weeks
, this is the longest panoramic at
www.EuropeTravel.com
. Tour operator
Contiki
caters to travelers age 18 to 35, a group likely to have the stamina to spend 40 our of 46 nights in two-person tents. Departing London, guests will:
*Tour Paris at night to see its landmarks aglow.
*In Barcelona, have the chance to start the evening at a tapas bar.
*Explore Monaco, which packs loads of glamour into its 485 acres.
*Discover the alleys, waterways and piazzas of Venice.
*Ride a boat to the enchanting Italian island of Capri.
*A day in
Istanbul
affords time to bargain for goods in the Grand Bazaar.
*Camp on the shores of Lake Ohrid in Macedonia.
*Recall scenes from "Game of Thrones" filmed in Dubrovnik, on Croatia's Adriatic coast.
*Take in the views of
Budapest, Hungary
, from the Fisherman's Bastion.
*People-watch from a cafe table in
Prague's Old Town Square
.
*Visit Munich's Marienplatz to watch the dancing figurines of the 106-year-old glockenspiel.
NORTH SEA-BLACK SEA CRUISE
24 days with Avalon Waterways, from $8,4679 per personMost nights on the Avalon Luminary
Board
a 138-passenger riverboat
and settle into your cabin for
a voyage on the Rhine, Main and Danube rivers
. We've profiled the route that starts in the Netherlands and ends in Romania, but
Avalon
has itineraries going in the reverse direction as well. From Amsterdam:
*See the Gothic cathedral of Cologne, Germany, which took more than 600 years to construct.
*Spot hilltop castles from the ship's decks as you cruise the Upper Middle Rhine.
*Pass through Bamberg, Germany, where 14th-century residents were denied land for a town hall -- so they built it in the middle of the Regnitz River.
*Bakers in the German city of Nuremberg produce lebkuchen, a soft gingerbread treat. Be sure to snag a sample.
*See Grein's castle, one of Austria's oldest royal residences, dating to 1488.
*After two nights in Vienna, cruise up the Danube to Bratislava, Slovakia.
*Sip Hungarian vintages in the Villany wine region.
*Spend a morning in Bulgaria's hilly former capital, Veliko Tarnovo.
*Before it reaches the Black Sea, the Danube River spreads into the Danube Delta, nesting grounds for Egyptian white pelicans. Watch these graceful birds take flight.
*During a night in Bucharest, see the illuminated landmarks of this Romanian city.
MEDITERRANEAN & GREEK ISLES MEDLEY
14 days with Princess Cruises, from $2,349 per personAll nights on the Emerald Princess
Travelers aboard
the 3,082-guest Emerald Princess
wake up in a new port city every day on this ocean voyage along the southern shores of Europe. Explore Mediterranean locales at your own pace, or sign up for shore excursions from
Princess Cruises
. Trips depart
June 6
and
Aug. 8, 2015
, to take in:
*
Genoa
, where pesto originated. A top eatery for sampling the Italian specialty is Zeffirino on Via XX Settembre.
*The Italian seaport of
Livorno
, a gateway to two Tuscan gems: Florence and Pisa.
*
Tunisia
, where guests can tour the blue-and-white village of Sidi Bou Said.
*The largest of the Italian islands,
Sicily
boasts striking Greek and Roman ruins.
*Many guests of this cruise will head to
Rome
on Day Eight. Been there already? Consider Princess' outing to Lake Bracciano instead.
*The Minotaur of Greek mythology was said to live in a labyrinth at Knossos, whose ruins remain on
Crete
.
*
Santorini
sparkles in the Aegean Sea. Visit a Greek winery or lounge on a black-sand beach.
GRAND TOUR OF BRITAIN & IRELAND
24 days with CIE Tours, from $5,469 per personHotel stays in 15 cities
Founded in 1932,
CIE Tours
specializes in trips to Ireland and Great Britain.
This itinerary loops through all the countries of the British Isles
, stopping at castles and cathedrals and making time for a Scotch whisky tasting, sheep-herding demonstration and more.
*Excavations beneath England's York Minster reveal a section of ancient Roman road.
*Get a peek at Scotland's crown jewels in
Edinburgh Castle
.
*Cruise amid heather-cloaked hills during a Loch Ness excursion.
*Some 40,000 hexagonal columns form the Giant's Causeway, a natural wonder to savor on Northern Ireland's north shore.
*Drive through the wild beauty of
Ireland's Connemara region
, part lakes, mountains, coast and bogs.
*A top Irish attraction, the Cliffs of Moher soar more than 700 feet above the Atlantic Ocean.
*Sporting eight towers, Conwy Castle has been an imposing presence on
the Welsh coast
since the 13th century.
*You'll pass through Brecon Beacons National Park en route to Cardiff, the capital of Wales.
*Ponder the meaning of Stonehenge on England's Salisbury Plain.
*A home for Queen Elizabeth II, Windsor Castle is the world's oldest and largest inhabited castle.
The information in this story was accurate at the time it was published in November/December 2014. Please visit
Vacations To Go
or call (800) 680-2858 for current rates and details.
Send This Article to a Friend
Bookmark this Content
Digg it!
Reddit
Furl
del.icio.us
Spurl
Yahoo!