Festivals of Summer
Check out our favorite celebrations
around the world
By Elizabeth Armstrong and Alexis Loyd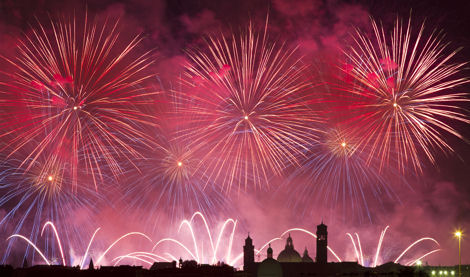 Cheyenne/Fotolia
(Scroll down to see a slide show.)
F
rom Shakespeare by the sea to camel racing in the outback, an array of diverse events are scheduled for this summer's calendar. You can meet folk artists from across the globe in Santa Fe, cheer on bronco-riding cowboys in Canada or be swept away by the regal pageantry of bagpipers and drummers in Scotland.
Our nine festival profiles include suggestions for taking in these spectacles; all are available from travel discounter Vacations To Go. To learn more, call the numbers or follow the links below.
Bard on the Beach
May 31-Sept. 22
Sky, sea and mountain peaks serve as the backdrop for Shakespearean comedy and drama at Bard on the Beach, celebrating its 23rd season in Vanier Park in Vancouver, British Columbia. In the 742-seat Mainstage tent, which is open-ended so that actors are seen performing against the stunning scenery, Kate and Petruchio face off in a battle of the sexes in "The Taming of the Shrew" and the dark side of ambition is examined in "Macbeth." Meanwhile, a more intimate 240-guest venue will present "King John," a medieval tale of intrigue, as well as a 20th-century take on "The Merry Wives of Windsor," setting the story in Windsor, Ontario, in 1968. Performances run Tuesdays through Sundays.
A highlight of the summerlong program is Bard-B-Q and Fireworks, where participants enjoy a grilled salmon dinner during an extended intermission and a private viewing area for the pyrotechnics after the play; it will be held July 28 and Aug. 1 and 4.
Call (800) 680-2858 to compare rates for Vancouver hotels, including options along the waterfront, or visit the
resort portal
of Vacations To Go. The
Westin Bayshore
is a few minutes' walk from Stanley Park, a 1,000-acre expanse of cedar, hemlock and fir trees bound by a seawall promenade.
Hong Kong Dragon Boat Carnival
July 2, 4-8
Long, sleek crafts adorned with colorfully painted serpent heads race across Victoria Harbour during this regatta off the Tsim Sha Tsui waterfront in Hong Kong. The boats, which are made of teak and measure about 38 feet long, are propelled by teams of men and women who paddle to the steady, encouraging beat of a drummer seated at each prow. This year, the international gathering incorporates two competitions, the Hong Kong International Dragon Boat Races on July 2 and the Club Crew World Championships during July 4-8. Shoreside fun includes traditional entertainment and a beer fest organized by the local San Miguel brewery.
Wendy Wu Tours offers the four-day "
Hong Kong Short Stay
" with daily departures throughout the year. The package includes accommodations, daily breakfasts, transfers between the airport and hotel and a half-day sightseeing excursion that visits island attractions like Stanley Market and the floating village of Aberdeen. Call (800) 680-2858 for more information and pricing.
Calgary Stampede
July 6-15
Get a taste of Canada's cowboy culture with 10 days of rodeo events, musical performances and festival food in Calgary, Alberta. It's one of the largest Wild West contests in North America, where daredevils in chaps show off their skills in barrel racing, steer wrestling and bull riding. The nightly chuck wagon races are highly anticipated contests, as teams thunder around the arena in a quest for more than $1.15 million in prize money.
Spectators also can visit the Indian Village, which represents five First Nations tribes, and catch some of the entertainment offered on several stages. This year marks the Stampede's centennial, and celebrations include a nightly citywide fireworks extravaganza during July 6-8 and July 13-15. It's billed as the largest and most sophisticated fireworks show to be produced in Canada and starts between 11 and 11:30 p.m.
Get a prime seat for all the rip-roaring, bucking-bronco action, plus lodging and transportation by motor coach -- by booking an escorted tour that stops at the Calgary Stampede. Options range from a four-day getaway to a 22-day odyssey that combines a Canadian sojourn with an Alaskan cruise. View all itineraries, departure dates and pricing
here
or call (800) 680-2858.
Santa Fe International Folk Art Market
July 13-15
More than 150 artists from around the globe will travel to Santa Fe, NM, to participate in this showcase of traditional art, held at Milner Plaza on Museum Hill. The majority of the vendors are from developing countries; last year, 90 percent of the market's $2.3 million in sales went directly to the artists, money that has been used to build schools, houses and wells and fund other improvement projects in their home communities.
For visitors, the International Folk Art Market provides an opportunity to purchase unique handmade pieces with rich cultural legacies, like silk scarves from Kyrgyzstan, beaded jewelry from Kenya, ceramics from France, embroidery from Ukraine, puppets from India and silver work from Oman. Take time from your shopping to feast on a world of cuisines, such as Ethiopian lamb stew or Greek dolmas (stuffed grape leaves).
The
Inn and Spa at Loretto
draws upon Native American and Spanish influences in its decor, with beamed ceilings, kiva fireplaces, handwoven fabrics and whitewashed adobe walls. It's in the heart of Santa Fe, near the main plaza and the Palace of the Governors. Check rates online or call (800) 680-2858.
Lasseter's Camel Cup
July 14
They're temperamental, unpredictable and not especially graceful, but camels make for great entertainment when they take to the track for races held in Alice Springs in central Australia. It's not unusual to see one of the beasts sit down in the middle of a lap or simply walk away from the course -- frustrating for their handlers but highly amusing to the 5,000-plus spectators.
The first race was held in 1970 on the dry bed of the Todd River, as a bet between two friends. It was so popular that soon the local Lions Club took up the reins and turned it into an annual event. Today, the festivities take place at the 440-yard track at Blatherskite Park. Nine races are scheduled throughout the day, and belly dancers, bands and food and drink stalls add to the carnival atmosphere.
Trafalgar offers the three-day "Alice Springs and Ayers Rock" package, which can be combined with any of the tour operator's other escorted vacations in Australia. It includes hotel accommodations, daily breakfasts, airport transfers, local sightseeing, a visit to a camel farm and sunset and sunrise viewings at Uluru, also known as Ayers Rock. Learn more about Trafalgar's trips Down Under on Vacations To Go's
tour site
or call (800) 680-2858.
Feste del Redentore
July 14-15
A dazzling fireworks show lights up the spires, domes and bell towers of Venice during the Festival of the Redeemer, held annually on the third weekend in July. At dusk, hundreds of boats festooned in lanterns, flower garlands and balloons file into St. Mark's basin, their passengers dining and drinking as they wait for the show. At 11:30, colorful explosions fill the sky over La Serenissima and reflect in the water below, lasting well past midnight.
The revelry dates to the 16th century, when city officials organized a feast to give thanks for the end of a devastating plague that had killed thousands of citizens. A series of gondola races takes place the next day, and pilgrims traverse a 1,080-foot pontoon bridge to Giudecca Island for mass at the church known as Il Redentore, a symbol of gratitude commissioned after the plague.
The four-day "
Venice Getaway
" from Monograms provides lodging in the Hotel Ca Alvise, about a five- to 10-minute walk from St. Mark's Square, as well as a morning sightseeing tour and daily breakfasts. Guests also have access to a local host who can answer questions and make recommendations on what to see and do in this enchanting city on the Adriatic Sea.
Hemingway Days
July 17-22
Key West was Ernest Hemingway's home in the 1930s, and his legacy lives on in the places he loved: He drank at Sloppy Joe's Bar, refereed boxing matches in the Bahama Village neighborhood and made his bed in a Spanish colonial villa where a group of six-toed felines roam, supposedly descendants of the author's cat. Residents also preserve his legend during the annual Hemingway Days festival.
Ringers for the writer compete in Sloppy Joe's "Papa" Hemingway look-alike contest; participants make appearances at other festival events including Saturday's Running of the Bulls, complete with bull replicas. In honor of Hemingway's passion for angling, the Key West Marlin Tournament will be handing out cash prizes for prime catches from the 18th to the 21st, and other sporting competitions include an arm wrestling championship and a 5-kilometer run at sunset. The writer's grandson, Edward Hemingway, will debut his young reader title "Bad Apple: A Tale of Friendship," and actor and playwright Brian Gordon Sinclair presents "In Deadly Ernest," the final act of his one-man play.
For more information on lodging in Key West,
click here
.
Salzburg Festival
July 20-Sept. 2
What better setting for a world-famous festival of the arts than the birthplace of 18th-century composer Wolfgang Amadeus Mozart? Baroque domes and spires punctuate the skyline of the Alpine city of Salzburg, along the banks of Austria's Salzach River, which draws roughly 250,000 visitors to attend operas, plays and concerts each summer.
The Salzburg Festival began in August 1920, with the premiere of Hugo von Hofmannsthal's morality play "Jedermann," or "Everyman," performed in Cathedral Square. The 17th-century church has provided a stunning backdrop for the drama every year since then. In modern times, the festival has grown into a six-week-long affair encompassing more than 200 operas, plays and concerts in roughly 20 venues including an old salt refinery, the former grounds of a riding school, a university hall and the courtyard of Residenz palace, home to prince bishops for hundreds of years.
Consider a stay at
Radisson Blu Hotel Altstadt
, a renovated 14th-century inn nestled in the center of the city's Old Town, a short walk from Mozart's birthplace.
Edinburgh Military Tattoo
Aug. 3-25
On most evenings for three weeks in August, the heavy oak gates of Edinburgh Castle swing open and the sounds of bagpipes and drums fill the air as hundreds of band members cross the drawbridge to an esplanade. This is the start of the Edinburgh Military Tattoo, which not only showcases the talents of Scottish regimental bands but also draws performers from around the world. During this year's festival, Switzerland, Norway, Australia and South Africa will be among the nations represented.
Nearly 1,000 performers will participate in the 90-minute show, which this year honors the 60th anniversary of Queen Elizabeth's reign as part of the monarch's Diamond Jubilee celebrations. The Tattoo itself commemorates its 62nd year this summer. State-of-the-art lighting and special effects have ramped up production values, but the pageantry still ends with the simple, haunting notes of a lone bagpiper, playing high on the castle ramparts.
Many tour operators have secured tickets to the Tattoo, including it in their Scotland itineraries.
Browse August departures
that call at Edinburgh or contact an agent at (800) 680-2858.
The information in this story was accurate at the time it was published in May/June 2012.
Send This Article to a Friend
Bookmark this Content
Digg it!
Reddit
Furl
del.icio.us
Spurl
Yahoo!