Favorite Features of Our National Parks
Here are the top pursuits in 12 awe-inspiring U.S. preserves
By Alexis Loyd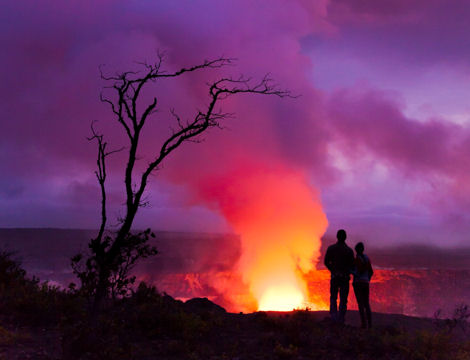 Tor Johnson/Hawaii Tourism Authority
A
merica's National Park Service manages 84 million acres of land and roughly 4.5 million acres of water. There are more than 400 national park areas sprinkled among 49 states, each with its own unrivaled bounty. Wonders of this magnitude can be daunting. To help you choose where to start, we've stepped in with our list of favorite activities in a dozen national parks, from watching the sunrise in Hawaii's Haleakala to cruising the waters of Alaska's Glacier Bay.
For further ease of travel, we've selected a sample tour featuring each park. Leave the planning to an escorted tour operator and you'll get accommodations, travel between attractions, guided hikes and sightseeing and some meals packaged into one upfront price. Meanwhile, free spirits who want a flexible itinerary and the value of discounted group rates can opt for independent tour packages.
Many national parks are open year-round, though there often are peak seasons for top attractions; these itineraries were chosen accordingly. For more information on these or other journeys highlighting the country's sanctuaries, call the specialists at Vacations To Go, (800) 680-2858, or
check out trips online
.
Gazing at grizzlies in Katmai National Park and Preserve:
Southern Alaska's Katmai is home to more than 2,000 brown bears, one of the highest concentrations in the world. During peak times, as many as 50 of these large predators can be seen along the 1.5-mile Brooks River, including mamas with cubs in tow. Bear-watching season is June through mid-September. Brooks Camp is a favored spot, especially in July, when salmon spawn at Brooks Falls. Three platforms provide safe perches to observe and snap pictures, and a visitors center (open June 1 to Sept. 17) introduces vacationers to bear etiquette. Fishing also is popular here, though anglers should be prepared to relinquish a coveted spot to furry rivals. Other viewing posts include Hallo Bay and Geographic Harbor on the coast. Join
Natural Habitat Adventures
' bear search party, "
Ultimate Grizzlies: Kodiak to Katmai
" in July and August of this year or in 2014.
Cruising Glacier Bay National Park and Preserve:
This Inside Passage sanctuary extends over nearly 3.3 million acres of southeastern Alaska's mountains, glaciers, forests and fjords. With roughly 608,000 acres of marine area, much can be explored by boat. Wildlife watchers stand poised on deck to catch the flip of a humpback tail, lounging harbor seals or a floating sea otter. Dall's porpoises and killer whales are common, as are seabirds, from puffins and gulls to the endangered marbled murrelet. There are more than 50 named glaciers here, most originating between elevations of 8,000 and 15,000 feet. Seven are active and periodically calve, shedding large chunks of ice that crash into the sea to the delight of onlookers.
Lindblad Expeditions
' "
Exploring Alaska's Coastal Wilderness
" cruises Glacier Bay and other scenic waterways with an intimate National Geographic vessel. Naturalists and an undersea specialist are on board.
Bird-watching in Acadia National Park:
Acadia National Park in Maine encompasses sandy stretches, rocky shoreline, woodlands, wetlands, lakes and 1,530-foot Cadillac Mountain. Sightings of 338 bird species have been recorded here, putting Acadia on the American Bird Conservancy's list of Globally Important Bird Areas. Look for ruby-throated hummingbirds, belted kingfishers, snowy owls, yellow-bellied sapsuckers, little blue herons and peregrine falcons. From late August through mid-October, you can spy birds of prey from Cadillac Mountain's Hawk Watch site, where volunteers and rangers monitor the skies for red-tailed hawks, American kestrels, bald eagles and other raptors. Combine bird-watching with leaf peeping or hiking along the park's 125-mile trail system.
Globus
' "
Maritimes Adventure
" stops here as it travels round trip from Boston to the Canadian provinces of Nova Scotia and Prince Edward Island.
Snapping shots in Yosemite National Park:
The cascading waterfalls, granite domes, verdant meadows and giant sequoia trees of California's Yosemite have inspired artists since its establishment in 1890. John Muir, writer and founder of the Sierra Club, dedicated pages to the preserve's beauty. Some of famous photographer Ansel Adams' first published photos were of Yosemite; his namesake gallery is on-site. Photography seminars and workshops often are available, but a hike or ride in an open-air vehicle provides amateurs ample subject matter. Practice landscape shots around Glacier Point, or bring a zoom lens for a possible rendezvous with some of the 400 species inhabiting the region. West Coast sojourns commonly include a call at Yosemite. A good choice for shutterbugs is
Tauck
's "
Yosemite and Sequoia: John Muir's California
" which spends two nights at the elegant Ahwahnee Hotel within the park.
Stargazing in Death Valley National Park:
The towering structures and light pollution of America's big cities and sprawling suburbs can impede visions of celestial bodies. Wayfarers looking to map constellations and wish on shooting stars should head west. This year, the International Dark-Sky Association awarded gold-tier status, its highest ranking for nighttime visibility, to Death Valley National Park. Protecting 3.4 million acres in California and Nevada, the preserve boasts North America's lowest elevations, hottest temperatures and driest terrain, along with some of its darkest skies. Ranger-led star parties and full moon festivals take place in winter and spring. "
Coast, Canyon & Desert Oasis Crossing
" from
Brendan Vacations
overnights in Death Valley and also ventures to Los Angeles, Las Vegas and Joshua Tree and Grand Canyon national parks.
Gushing about geysers in Yellowstone National Park:
Roughly half of the world's hydrothermal features can be found in America's first national park, Yellowstone. Spanning Idaho, Montana and Wyoming, this 2-million-acre designated biosphere includes more than 10,000 hot springs, mud pots and fumaroles, as well as some 300 hot springs that periodically spout steam and scorching water. Yellowstone's most famous geyser, Old Faithful, was named by members of the 1870 Washburn Expedition for its regularity. On average, it erupts about every 90 minutes, spewing up to an estimated 8,400 gallons of water. Find Old Faithful and four other geysers with routine gushes predicted by park naturalists -- Castle, Grand, Daisy and Riverside -- in the Upper Geyser Basin. Escorted itineraries from several tour operators overnight in Yellowstone National Park, but
Monograms
' independent package, "
Yellowstone National Park & Big Sky Country
" includes three nights at an area inn.
Soaking up the view in Grand Canyon National Park:
There is no disputing the dramatic panoramas of the Grand Canyon. To stare into the multilayered and mile-deep abyss is to recognize Mother Nature's mastery. Almost 5 million people make a trip to this Arizona chasm each year, most heading to the South Rim, which averages 7,000 feet above sea level. Visitors can traverse the Rim Trail, a relatively flat route with sections of shade (an easy walk in warm weather) and find several stops for surveying the vista, such as the glass-enclosed observation area at Yavapai Point or Hopi Point, known for its spectacles at daybreak and dusk. An array of vacations visit the Grand Canyon. Try
Intrepid Travel
's "
Canyons & Indian Lands
" which spends two nights in the park and supplies plenty of time to hike or opt for an aerial view on a helicopter ride.
Chasing butterflies in Rocky Mountain National Park:
Most travelers to Colorado's Rocky Mountain National Park seek encounters with the expanse's 66 mammal species, including bighorn sheep, moose, marmots and black bears. Amateur lepidopterists find sanctuary here, too, as the domain's diversity of habitat entices a brightly colored collection of butterflies, from the painted lady to the silvery blue. More than 140 species of butterfly have been found in this refuge -- swallowtails, skippers, gossamer wings and brush-footed among the represented. Keep an eye out while hiking or horseback riding, both popular ways to get around. Schedule your trip for July to experience another kaleidoscopic phenomenon: wildflowers blooming across the park.
G Adventures
offers "
Rockies Family Adventure
" allowing clans to tick off their butterfly checklists (find a species roster at www.NPS.gov/ RoMo) throughout three days in the park.
Exploring cultural heritage in Mesa Verde National Park:
National parks don't just protect natural landscapes and wild creatures; they preserve the country's cultural legacies. Mesa Verde National Park in the southwest corner of Colorado safeguards more than 4,000 archaeological sites -- 600 cliff dwellings among them. From around A.D. 550 to 1300, the Ancestral Puebloans flourished in communities carved into the canyonside. The 150-room Cliff Palace and 40-room Balcony House are on view, as are the mesa-top Sun Temple and Cedar Tree Tower. Examine artifacts exhibited in the Chapin Mesa Archaeological Museum for a glimpse into Puebloan life before the Europeans arrived in North America. "
Trains of the Colorado Rockies
" from
Collette Vacations
includes Mesa Verde as well as a ride along the Durango & Silverton Narrow Gauge Railroad, used to transport silver and gold in the late 19th century.
Get geological in Bryce Canyon National Park:
Ice and rainwater eroded limestone in Utah's Bryce Canyon to form a forest of spires called hoodoos. Layers of rock in shades of pink, cream, yellow and orange can tower more than 10 stories tall. According to Paiute Indian folklore, the hoodoos are the Legend People who once occupied the region, turned to stone by the god Coyote. Budding scientists can study these hoodoos, as well as windows, slot canyons, arches, bridges and other topographical features. Hike the Rim Trail to view the main amphitheater from above, or choose the less-strenuous Queens Garden route, beginning at Sunrise Point.
Discovery Adventures
' "
Historic Parks of the American Southwest
" grants vacationers a day in Bryce Canyon and also takes in the stunning formations in Arches, Zion, Canyonlands and Grand Canyon national parks.
Scoping out lava in Hawaii Volcanoes National Park:
Fiery flows of blazing, molten rock enthrall witnesses in Hawaii Volcanoes National Park on the Big Island. A landscape formed over roughly 70 million years continues to evolve via a forceful pair: the world's largest volcano and the world's most active. Massive Mauna Loa, peaking at about 56,000 feet above the sea floor, has erupted nearly three dozen times in the last 170 years. Kilauea, said to be home to goddess Pele, has been erupting since 1983. Volcanic activity varies, but the Thomas A. Jaggar Museum provides prime viewing and educational exhibits. A Crater Rim Drive tour stops here and at Kilauea Overlook and Thurston Lava Tube. Consider
Gate 1 Travel
's "
Hawaiian Islander: Oahu, Kauai, Big Island & Maui
" for two days of free time on the Big Island and two days to check out Haleakala National Park in Maui (see below).
Seeking sun in Haleakala National Park:
Haleakala means "house of the sun" in Hawaiian and, fittingly, Maui's Haleakala National Park is known as a top locale for taking in sunrise or sunset. Early birds making the pilgrimage to the visitors center at 9,740 feet will be rewarded with daybreak's dazzling display. Linger 10 or 20 minutes after the sun rises to capture the sky's full array of changing colors. Those less apt to wake before the sun might prefer to make the early evening drive to the summit for a 360-degree view of Maui and its surrounding isles as the orb dips down to the horizon. Sunrise and sunset times for the first and 15th of each month are posted on the park's website. Dawn and dusk at these high elevations make for frigid temperatures, so dress accordingly.
The information in this story was accurate at the time it was published in May/June 2013. Please visit
Vacations To Go
or call (800) 680-2858 for current rates and details.
Send This Article to a Friend
Bookmark this Content
Digg it!
Reddit
Furl
del.icio.us
Spurl
Yahoo!