Far-Flung & Fantastic
Venture to exotic locales on an escorted escape
By Kimberly Garza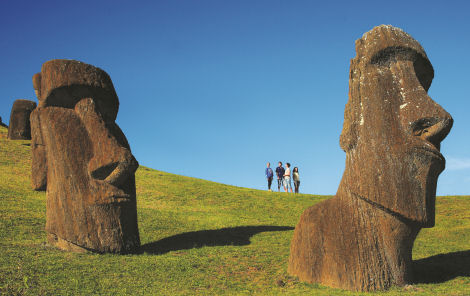 Turismo Chile
T
he cloud-capped peak of Mount Kilimanjaro, an underwater river in the South Pacific, a penguin colony in the southernmost continent -- stunning sights like these can be found across the globe, and it takes an adventurous traveler to seek them out. We've rounded up eight of our favorite off-the-beaten-path destinations, complete with an escorted tour to eliminate the guesswork and help you make the most of your journey -- and travel dollar. Tour operators bring experienced guides to bust through language barriers and impart local knowledge, while wrapping accommodations, meals and sightseeing highlights into an upfront price. For more information on these and other trips, talk to the travel specialists at
Vacations To Go
by calling (800) 680-2858 or follow the links below.
Get lost in the Galapagos
The lush beauty and diverse wildlife of the Galapagos Islands have lured visitors for centuries, including one in particular: Charles Darwin, who used his observations there in 1835 to form his theory of evolution by natural selection. Channel your inner scientist/explorer on a nine-day trip from
Gate 1 Travel
. "
Galapagos Islander
" takes you from Guayaquil, Ecuador, around the Santa Cruz and Isabela islands. Visit volcanic tunnels, arches and chambers carved by flowing lava, then meet some colorful locals during snorkeling and swimming excursions -- mingle with sea turtles, rays and perhaps even some Galapagos penguins. Head to Isabela Island's tortoise center, where many of the island's famous shelled residents live, and stroll a mangrove-lined beach to soak up the scenery at your own pace. Wrap up the journey with a day seeing the sights of historic Quito, Ecuador. Departures through December 2014; per-person prices start at $2,649.
Trek Tanzania
Edging the eastern coast of Africa along the Indian Ocean, Tanzania boasts everything from balmy beaches to stunning Serengeti plains to ever-watchful Mount Kilimanjaro. Safaris are a big part of the country's appeal, thanks to wildlife havens like Ngorongoro Conservation Area and Serengeti, Lake Manyara and Tarangire national parks, where the "big five" (elephants, lions, rhinos, leopards and buffaloes) can be spotted. The eight-day "
Tanzania Highlights
" trip from
Alluring Africa
includes stops at many of these hubs, such as a morning game drive through Lake Manyara, a creature-spotting lunch at Tarangire and a day traversing the Serengeti. Spend two days at the spectacular Ngorongoro Crater -- the best photo ops are at sunrise or sunset -- and keep your eyes peeled for species including black rhinos and elephants, as well as wildebeest, lions and hyenas. Departures through 2014; per-person prices start at $2,885.
Score face time on Easter Island
Some 2,200 miles off the Chilean shoreline, Easter Island -- and its famous moai statues, head-and-torso figures averaging 13 feet tall and 14 tons -- mystifies the modern world. Scholars believe the Rapa Nui people created the statues between the 10th and 16th centuries, but there is little historical record on the isle. Spend 11 days absorbing the allure on "
Highlights of Peru With Easter Island
" from
Brendan Vacations
, which departs from bustling Lima, Peru's capital, rife with colonial architecture and charm. Fly to Cuzco, (where you'll mingle with llamas and alpacas), haggle for souvenirs at the Pisac Market, then spend the night in a former 18th-century monastery in the heart of the Sacred Valley. Lessons on Peruvian spinning, dyeing and weaving connect you to the culture, as do two days at legendary Machu Picchu exploring the magnificent ruins. Across the water in Easter Island, you'll survey not only the ceremonial platforms and moai but also Ahu Tongariki, a restoration project, and Orongo, a village and cultural center with altars, a quarry and cave paintings. Departures through April 2015; per-person prices start at $3,678.
Sail south to Antarctica
For those adventurous enough to head to the White Continent, the bracing air, hardy wildlife and miles of blinding landscape offer plenty of reward.
Quark Expeditions
leads various versions of its wintertime itinerary in the region, "
Antarctic Explorer: Discovering the 7th Continent
." From Ushuaia, Argentina -- the southernmost city in the world -- climb aboard the Sea Spirit, Sea Adventurer or Ocean Diamond, vessels specially designed to tackle the region's icy waters. As you cruise down the Beagle Channel, get to know your fellow shipmates as well as the ship, equipped with ocean-view suites and round-the-clock hot beverages. Onboard specialists offer safety briefings and educational discussions to introduce the landscape as you cross the Drake Passage. Arrive at the Antarctic Peninsula where Zodiac boats provide exploration of the many inlets and bays. Witness the daily routines of penguins, humpback and minke whales and leopard seals at colonies, rookeries and popular feeding locations. If you're feeling particularly brave, try the "polar plunge" -- a swim in the frigid waters of an Antarctic bay. The 11- to 13-day itineraries run through 2014; per-person prices start at $7,295.
Splash around the Philippines
More than 7,000 islands make up the Philippines, the bustling, varied country southeast of China, but guests of
G Adventures
get to know one: Palawan, the jewel of the southern Philippines and home to miles of pristine beaches and dramatic caves. Start your nine-day journey on "
Southern Philippines Palawan Adventure
" in the capital city of Manila, one of the world's largest and most fascinating cities, with a day to see the sights, from cathedrals to street carts. You'll head to Palawan the next day, where more than 1,700 islands form the country's largest province, a habitat for monkeys, bear cats, zebras and numerous species of plants and coral. Tour Puerto Princesa, stopping at a wildlife rescue center or picnicking at Baker's Hill. At Puerto Princesa Subterranean River National Park, examine underwater caves and glide along on a river cruise, sighting waterways thick with mangroves. Four days should be enough time to enjoy pristine El Nido, famous for its limestone karsts and black marble caves, tabletop corals and white-sand beaches, before heading back to Manila. Monthly departures through May 2014; per-person prices start at $1,449.
Cross Croatia's coast
Nestled along the Adriatic Sea, the European gem of Croatia offers blue water bordering sandy beaches and cobblestoned cities with an Old World feel. Landscapes run the gamut from flourishing nature preserves to rocky mountainous regions, and numerous monuments, galleries and churches designated UNESCO World Heritage Sites trace thousands of years of history. "
Jewels of Slovenia & Croatia
" an eight-day jaunt with
Cosmos
, takes in neighboring countries Slovenia and Bosnia-Herzegovina. Start in Ljubljana, Slovenia's capital, where Alpine and Austrian architecture supply drama. En route to Croatia, visit the Postojna Cave via train ride and walking tour before heading to the Adriatic coast. Take in sights like the city of Dubrovnik, home to preserved medieval architecture in the Old Town district; you can sightsee with the group and relish afternoon and evening excursions at your leisure. In Bosnia-Herzegovina, the capital of Sarajevo is famous for its mosques, markets and bazaars, rich with Turkish influence. Loop back through Croatia's Plitvice Lakes National Park and make a brief stop in Zagreb, the historic capital, before ending in Ljubljana. Departures run through 2014; per-person prices start at $1,399.
Make tracks in Mongolia
Mongolia -- a vast landscape in Central Asia bordering Russia and China -- rises roughly 5,180 feet above sea level and encompasses deserts and steppes, lakes and rivers, and towering mountains and icy plateaus. The country is one of the most sparsely populated in the world, yet brims with flora and fauna like the edelweiss flower, argali sheep and gray wolves. Brave the wilds of the region aboard the Trans-Siberian Railway, Russia's most famous rail line, and its longest, on "
Trans-Mongolian Experience
" a 21-day exploration from
Intrepid
, that takes in all three countries. Start with three days in opulent St. Petersburg, Russia, admiring its famous baroque architecture, then visit medieval Suzdal en route to iconic Moscow for three days of sightseeing. From there, the train zips you through forests, villages and industrial hubs alike to the farthest reaches of Russia. Disembark in the Siberian city of Irkutsk, the gateway to scenic Lake Baikal. Surrounded by mountains and trees, Earth's oldest and deepest lake claims more than 20 percent of the world's freshwater. At Mongolian capital Ulaanbaatar, witness the combination of ancient tradition and modern-day culture as you tour the town and mingle with locals, then step back into the present in colorful Beijing, a global metropolis. Departures through 2014; per-person prices from $4,945.
Navigate New Zealand
Whether glaciers, plains, volcanic plateaus or sugar-sand beaches -- every imaginable landscape can be found in island nation New Zealand, home to roughly 4.4 million people. Made up of two main islands, the North and South, with various smaller surrounding isles, the country southeast of Australia enchants with the scope of its scenery. See what all the fuss is about on a 17-day jaunt with
Trafalgar
, "
New Zealand Splendor
" beginning in Auckland with a welcome reception at the revolving restaurant Orbit atop Sky Tower, one of the tallest structures in the Southern Hemisphere. You'll wander such spots as bustling Wellington, the seaside village of Picton and the whale-watching hot spot of Kaikoura. Partake in a Maori Hangi feast and concert, unwind during a day at the Polynesian Spa's Lake Spa Retreat and snap shots of fur seals hanging out at Ohau Point. A TranzAlpine train lets you cruise the Southern Alps en route to Christchurch, where you can witness the rebuilding of the city after the 2011 earthquake. Departures monthly through March 2015; per-person prices start at $4,650.
The information in this story was accurate at the time it was published in November/December 2013. Please visit
Vacations To Go
or call (800) 680-2858 for current rates and details.
Send This Article to a Friend
Bookmark this Content
Digg it!
Reddit
Furl
del.icio.us
Spurl
Yahoo!