Fabulous Fall Events
Consider one of these escorted tours
to spice up the autumn season
By Madison G. Welch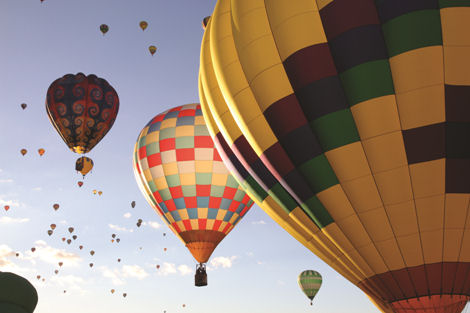 Marion Long/Albuquerque International Balloon Fiesta
T
ourists flock to California's coast in the summer months, when surfing and sunbathing are the order of the day. But veteran travelers know that autumn yields special enticements, like the ripening of hundreds of vineyards, calling for a new schedule of events centered on grape harvesting. And California isn't alone -- destinations all over the globe have exclusive fall-flavored attractions that you can't experience any other time of year.
Below, we've gathered five fun-filled vacations with a seasonal twist, from sipping wine in the Golden State to seeking the elusive northern lights in Norway. Departures in the next few months are perfect for spontaneous travelers, but the following tour providers also have a slew of available dates next fall that allow for more preparation. The prices we give are per person and exclude airfare.
Take flight at New Mexico's balloon extravaganza
Each October, a kaleidoscope of bright colors and bold patterns dominates the sky above the
Albuquerque International Balloon Fiesta
in New Mexico. Attendees in the tens of thousands rise before dawn to witness one of the "mass ascensions," an early morning event featuring 500-plus hot air balloons that launch in two waves from a 78-acre field. For those who like sleeping in, evening programs provide an exciting show, including "balloon glows" that illuminate the various designs after sunset. Throughout the day, guests also can hop in one of the aircrafts and chat with seasoned pilots.
The 43rd installment will take place Oct. 4-12. Join "
Albuquerque Balloon Fiesta
" a five-day jaunt with
Globus
, to marvel at a mass ascension and enjoy the festival's other attractions, like the opening ceremonies and museum exhibits on ballooning history. In between events, ride the Sandia Peak Tramway to dangle above beautiful desert terrain and see demonstrations at the Indian Pueblo Cultural Center. A Santa Fe, NM, excursion takes you to the Palace of the Governors, built in 1610, and the uniquely round state capitol building. The trip departs Oct. 3, with pricing from $1,199.
For an extra dose of Southwestern culture, consider a
six-day version
with
Collette Vacations
that takes you from Albuquerque to Santa Fe. This tour features the balloon fiesta, the National Museum of Nuclear Science and History, a meal at a cooking school and free time to explore. Five departures in October start at $1,749.
Raise a glass to Germany's Oktoberfest
Munich's famous beer festival began more than 200 years ago as a royal wedding celebration and horse race. Today,
Oktoberfest
honors German traditions and local lagers with two weeks of parades, music and, of course, drinking. Fourteen gigantic beer tents seat thousands, and each has a niche: For instance, the Augustiner presents drinks from the city's oldest brewery, the Armbrustschutzen hosts a crossbow championship and the Hofbrau decorates with hanging hops vines. Smaller booths serve traditional eats like pretzels and roasted duck or chicken.
This year's party officially starts on Sept. 20, when the city mayor taps the first keg, and runs through Oct. 5. Major attractions include carnival rides and a costume parade. Because Oktoberfest is centrally located, tourists easily can travel to sites like the Koniglicher Hirschgarten, a historic beer garden with nearly 8,000 seats; the 1972 Olympic Park, featuring a tower with panoramic views; and the Residence, a centuries-old palace with 10 courtyards.
Contiki
specializes in travel for 18- to 35-year-olds and has a
series of Oktoberfest vacations
in Munich, ranging from four to seven days in different levels of accommodations. Though the amenities might feel a little rustic, a four-day camping itinerary gets you close to the action for a starting price of only $289. A six-day hotel stay is priced from $935, and similar tours that begin and end in London also are available.
Celebrate California's wine country
Hundreds of vineyards flourish in the temperate climes of California. In fact, more than 450 wineries are rooted in the Sonoma and Napa valleys, just north of San Francisco, and many are family operations with distinct personalities. The coastal state is an ideal destination year-round, but wine connoisseurs find it's especially rewarding to be there in the fall. Also known as "crush" season, these months showcase many harvest-themed events, including the occasional grape stomp.
Savor the area's favorite crop and famed landmarks on
Tauck
's seven-day "
San Francisco, Sonoma & Napa Valleys
." Begin your vacation in the City by the Bay, where you can check out shops at Fisherman's Wharf and cabarets in North Beach. Snap photos of the Golden Gate Bridge from a private catamaran, participate in a gourmet cooking class and nibble delicacies at the 65,000-square-foot Ferry Building Marketplace.
In Sonoma Valley, survey the Benziger Family Winery and eat lunch in an underground cave that naturally maintains a cool 67 degrees -- perfect for storing wine barrels. Then, travel back in time on one of the Napa Valley Wine Train's restored dining cars, circa 1917, and relish views of vineyards. Compete in a friendly winemaking contest at the Franciscan Estate and delight in a backstage pass to the Culinary Institute of America with lunch, spirits and a delectable dessert. Two September itineraries and one October departure start from $3,130.
Leaf-peep in New England and Canada
As summer gives way to autumn and temperatures cool, the Northeast's postcard-perfect landscapes don
cloaks in vibrant hues
. Mountains, valleys and scattered small towns appear even more picturesque against a backdrop of crimson, gold and bronze leaves. Explore the dazzling array for eight days on "
New England's Spectacular Fall Foliage
" an escorted tour from
Insight Vacations
beginning in Boston.
Experience the poignant Freedom Trail and artsy Faneuil Hall Marketplace before heading to the Norman Rockwell Museum in Stockbridge, MA, and staying overnight in Williamstown, MA. Next, cross into Vermont for foodie fun: Visit a dairy farm in Woodstock, sip apple cider from a mill near Stowe, sample maple syrup in Montpelier and taste fresh cheddar in Cabot. You'll ride an aerial tram in New Hampshire and drive by peaks and waterfalls on the 34.5-mile Kancamagus Highway in the White Mountain National Forest. Take pictures of Maine's rocky coast before returning to Boston by way of Portsmouth, NH, one of the nation's oldest cities, and Rockport, MA, a fishing village. Seven trips in September and October start from $2,575.
Incorporate even more of the East Coast's most popular cities with Insight Vacations' 16-day "
Best of Eastern Canada & USA (Fall Foliage)
." Capture brilliant autumn scenes in major destinations like Toronto, Montreal, Quebec City, Boston, Philadelphia, New York and Washington, DC, with highlights including Niagara Falls and Times Square. Three September departures start at $4,950.
Pursue the northern lights in Scandinavia
Norway has front-row seats to one of Earth's most otherworldly shows: the aurora borealis, commonly called the
northern lights
. This eerie phenomenon -- characterized by dancing green, red, blue and purple lights -- occurs when a solar wind of highly charged particles collides with gases in the Earth's atmosphere. This interaction most frequently manifests in high latitudes near the magnetic poles. While the aurora technically can happen year-round, it's easiest to see against the blackened skies starting in late autumn.
Discover this alien display on
Hurtigruten
's "
The Classic Winter Voyage North
," a seven-day maritime exploration of Norway's snowcapped coast. Embark in Bergen, home to a busy fish market and colorful wharf on UNESCO's World Heritage List. Photograph the pristine vistas from Mount Aksla's platform and outdoor restaurant in Alesund and see Trondheim, a trade center founded in A.D. 997.
After entering the Arctic Circle, learn about the northern lights and experience an authentic Viking feast. If the weather cooperates, you'll sail to the deep and narrow Trollfjord and sample fresh fish cakes. Tromso offers a dog sledding excursion or a visit to Polaria's bearded seals. Stay on deck to scan the heavens for the aurora, and later take a snowmobile to Mehamn in search of more mystical sightings. The trip concludes in Kirkenes, an easterly city near the Russian border. Almost daily departures are available in November and December from $1,906.
The information in this story was accurate at the time it was published in September/October 2014. Please visit
Vacations To Go
or call (800) 680-2858 for current rates and details.
Send This Article to a Friend
Bookmark this Content
Digg it!
Reddit
Furl
del.icio.us
Spurl
Yahoo!