Extraordinary Escapes
Turn your dream of discovering distant lands into a reality
with the expert guidance of an escorted tour operator
By Alexis Loyd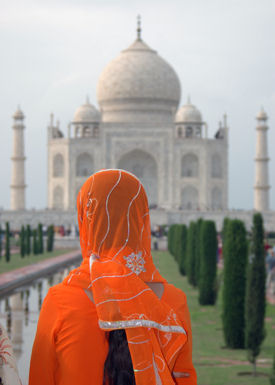 Marilo/Fotolia
(Scroll down to see a slide show.)
P
icture your fantasy vacation. It is a bold journey you've tucked in the back of your mind, an inquiry into a new corner of the world, an exotic whirlwind that just might change your life, if you ever get there. Did you conjure images of glittering treasures contained in ancient shrines, peculiar creatures peering out from the bush or the brightly colored silks of bazaars halfway across the globe?
The daydream is thrilling, but the reality of planning such an odyssey can bring you back to Earth faster than it takes to say "stranded in a foreign land." Navigating an unknown culture on your own can be rife with challenges, from language barriers to shoddy digs to transit snags. Even travelers equipped with adventurous spirits may feel a bit overwhelmed when up against unforeseen elements in an unfamiliar destination.
Forgo your fears, as there's no need to go it alone. That voyage afar can become an actuality with an escorted tour. Crafted with regional expertise and led by experienced guides, these trips feature top attractions and bridge culture gaps. Don't play the guessing game when arranging hotels abroad: Operators select comfortable accommodations from reputable brands, then tack on sightseeing, transportation and most meals in a practical package with one up-front price. Rates often cover service charges, airport transfers and admission fees as well, so calculating exchange rates is kept to a minimum.
To get you started with your big plans, we've highlighted five faraway tours below. For more information on these and other escorted journeys -- including money-saving promotions -- browse the website of Houston-based travel discounter
Vacations To Go
or call (800) 680-2858.
With more than 30,000 Buddhist temples, kaleidoscopic shopping centers and floating markets, breathtaking beaches, opulent palaces and cuisine known for its complex flavors, the
Land of Smiles
lures both chasers of the chic and modest wayfarers. The 15-day "
Mystical Thailand With Phuket
" with
Globus
, limited to no more than 20 travelers as part of the company's Small-Group Discovery series, commences and closes in capital Bangkok. Travelers traverse the city's canals between stops at spiritual sites like Wat Pho, one of the country's oldest and largest shrines, also called the Temple of the Reclining Buddha for the massive, golden "awakened one" housed within.
Uncommon experiences include a visit to Wat Pha Luang Ta Bua, a forest temple in Kanchanaburi where monks care for Indochinese tigers, and a rickshaw ride to the night market along Th Phra Ong Dam in Phitsanulok. A jungle outing atop an elephant is a Chiang Mai highlight, while your hotel stay in Ban Thaton comes with a traditional Thai massage. On a call to an Akha hill tribe village, admire the craftsmanship of elaborate headdresses adorned with silver coins, colorful stitching and beaded strands.
Leisure time on the alluring isle of Phuket allows guests to lounge on unspoiled sands, snorkel in warm waters or delve into island history at the national museum.
Rates start at $2,699 per person, plus airfare segments within Thailand from $542. Flights from the U.S. are not included. Itineraries are available from January 2013 through March 2014.
Dreams of
Down Under
merge with visions of
South Pacific sanctuaries
on the 13-day "
Ocean and Island Escape With Fiji
" with
Trafalgar
. Wild landscapes and native cultures beckon travelers to the southeastern coast of Australia, but first up is free time in European-styled Melbourne, the diverse capital of the state of Victoria, with origins in the 19th-century gold rush. This allows for recuperation from the long flight before setting out on one of the continent's most striking byways, the Great Ocean Road. Watch waves swell and crash against rocky cliffs or tumble onto golden beaches on the ultimate road trip, stopping to soak up sights such as the Twelve Apostles, limestone rock formations rising out of the sea.
Tower Hill State Game Reserve brings both cultural encounters and prime wildlife spotting. Kangaroos, emus and koalas reside in this preserve, nestled in the crater of a volcano that erupted 32,000 years ago. Glimpse the land and its indigenous history through an Aboriginal perspective with the help of a local guide. Then sample vintages in Coonawarra, a region famous for its cabernet sauvignon, en route to the nature haven of Kangaroo Island. Try to resist spending the majority of time behind a lens: Wandering wallabies, penguins, koalas, sea lions and, of course, kangaroos make great snapshots.
But the best may have been saved for last: Spend the remaining four nights at the Outrigger on the Lagoon Fiji resort on Viti Levu. Friendly people and pristine surroundings add a touch of tranquility to this grand adventure, as does a soak in the crystalline seas or expansive freshwater swimming pool at the hotel.
Departures are available through March 2014, with per-person prices starting at $3,775, plus international flights and airfare to Fiji.
Soul searchers get lost -- and found -- among the spellbinding palaces, sacred temples and vibrant streets of
India
. The 18-day "
A Portrait of India
" from
Tauck
sojourns in nine cities, launching in New Delhi, the lively hub of the world's largest democracy. Contemporary and traditional elements compete in Delhi, where remnants of the imperial British capital and the historic center of Islamic India exist side by side. Visitors view the Parliament House, Presidential Palace, Humayun's Tomb and the Red Fort, to start.
Next, a flight brings vacationers to Varanasi on the banks of the River Ganges. Pilgrims have bathed in this sacred waterway for centuries, seeking cleansing and purification. Witness nighttime and sunrise prayer ceremonies while gliding the Ganges. Later, embrace the marvel of the Taj Mahal, the white marble masterpiece on Agra's Yamuna River commissioned by a Mughal king for his late love. A stay in the luxurious Oberoi Amarvilas offers views of the monument from your room. From here, it's on to Jaipur for a tour of an 18th-century observatory, strolls amid the intricate arches and majestic courtyards of hillside Amer Fort and Palace (also called Amber Fort) and a lesson in the art of wearing the sari and turban.
Tauck's getaway is infused with elements bound to inspire: Travelers overnight in one of the world's top-ranked hotels, palatial Oberoi Udaivilas in Udaipur; cruise the Arabian Sea at sunset from Cochin; join a cooking demonstration by a Kerala chef; and discover the sixth-century cave temples of Elephanta Island.
Trips depart through Dec. 20, 2013, with rates starting at $7,940 per individual, plus air travel within India (from $1,050) and international flights.
It would be hard to find a more ideal place than
Morocco
for engaging the senses. Historic home to nomads, ancient Romans, Berber tribes, French and Spanish conquerors and African kings, this northwestern corner of Africa is an amalgam of influences. Choose "
Best of Morocco
" from
Insight Vacations
for a 10-day circle that starts and ends in Casablanca, sampling the fragrances and flavors of Meknes, Fes, Erfoud, Ouarzazate and Marrakesh along the way.
Lovers of architecture will embrace meticulously designed mosques, an immense imperial gate, red-sand structures and fortressed casbahs. Morocco's natural landscapes are equally diverse. Encounter the High Atlas Mountains, dense forests, the Atlantic waterfront and Todra Gorge, the Grand Canyon of the Sahara. In Fes, see the oldest university in the world, peruse spices and Oriental rugs at a bazaar and taste Moroccan dishes accompanied by a folkloric dance performance. Be dazzled by the acrobats and snake charmers of Marrakesh's Jemaa el-Fna Square, and visit the silver workshops of Tinehir.
Insight guests can put on their best Humphrey Bogart routines over drinks in a re-creation of Rick's Cafe in Casablanca, a wistful end to a romantic journey.
Per-person rates begin at $1,825, without airfare. Multiple trips depart each month from April through October 2013.
A family trek to
China
may seem like an endeavor only fit for the most ambitious clans, but
Adventures by Disney
makes it look easy with its "
Enchanted China
" itinerary. Across a span of 12 days, vacationers experience the wonders of five locales: Beijing, Chengdu, Guilin, Shanghai and Hong Kong. Tailored to groups of all ages, Disney adds built-in bonding time and kid-friendly activities while hitting the must-sees, such as Tiananmen Square and the Forbidden City in the country's capital, the Great Wall of China at Mutianyu, the terra-cotta warriors of Xian and Stanley Market in Hong Kong.
A tea ceremony welcomes in Beijing, where master kite makers, calligraphers and mask painters help families craft souvenirs. Attend the opera, meet a noodle chef and appreciate the glass creations of local artisans. Travelers take a flight to 2,400-year-old Chengdu to meet China's endangered charmer, the giant panda. Later, board a boat for a cruise along glassy Lijiang River in Guilin. Shanghai delights include fan dancing and martial arts demonstrations in Fuxing Park, classic Yuyuan Garden in the old city and a high-powered extravaganza complete with juggling, acrobatics, a live rock band and motorcycles wheeling in an spherical metal enclosure. In Hong Kong, take in sweeping views atop Victoria Peak and watch a laser show light up the harbor.
Sumptuous accommodations, such as the five-star Peninsula Shanghai and the well-appointed Shangri-La Kowloon in Hong Kong, add an indulgent aspect to this itinerary, which starts at $6,729 per vacationer, not including airfare to China. Departures run from the end of March through mid-October 2013.
The information in this story was accurate at the time it was published in November/December 2012. Please visit
Vacations To Go
or call (800) 680-2858 for current rates and details.
Send This Article to a Friend
Bookmark this Content
Digg it!
Reddit
Furl
del.icio.us
Spurl
Yahoo!