Dreams of Down Under
Collect unique experiences
on a trip to fascinating Australia
By Jennifer Davoren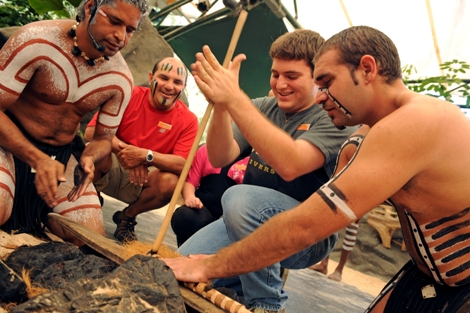 Adventures by Disney
F
rom cultural exploration with Aboriginal guides in the hardy, red-rocked terrain of the Outback to foodie tours among the shining skyscrapers of Sydney, organized vacation packages in
Australia
provide special access -- perks that can elude visitors who make their own travel arrangements. Not only do these trips bundle all the basics of an international vacation, like ground transportation, accommodations, guided sightseeing and a handful of meals, but they're provided at a group discount. You'll also add a few alluring extras to your travel package.
Below, we've highlighted six tours that make the most of their time Down Under. After all, a journey between the U.S. and Australia means losing a day as you cross the international date line. Add that to the 15-plus hours you spend on your plane, and you'll be ready to make up for the time you lost in transit. Call the travel specialists at Vacations To Go for more information, (800) 680-2858, or
peruse itineraries online
.
City Stays
An Australian icon, the silver-finned Sydney Opera House is just one reason to visit this harborside metropolis. Here, visitors also enjoy Bondi Beach, a top spot for surfing pros, and take in sights that connect the city to its roots as a penal colony. Among the latter is The Rocks, a former landing point for prison ships that has been transformed into a high-end neighborhood. On the southern coast in Melbourne, visitors can stroll the Royal Botanic or Fitzroy gardens or explore the Queen Victoria Market, in operation since 1878.
Monograms
, a company specializing in
independent tours
, offers the 12-day "
Best of Australia
" with stops in Sydney, Melbourne and Cairns, the gateway to the Great Barrier Reef. Guided sightseeing is offered in the two larger cities, while in Cairns a catamaran cruise along the reef is included. Otherwise, guests have plenty of leisure time to discover each destination on their own. In Sydney, you might opt to wander the Australian Museum, a center for natural history and indigenous studies since 1827. And in Melbourne, head to Phillip Island Nature Parks for its daily "penguin parade."
Extra appeal
: "Best of Australia" takes a break from city sights with a quick detour through the Outback. In the frontier town of Alice Springs, Monograms guests visit the Royal Flying Doctor Service, instrumental in providing medical care to far-flung settlements; the School of the Air, a broadcast center for Outback education; and the 19th-century telegraph station that connected this remote land's earliest inhabitants.
Information
: Land-only prices start at $2,809 per person; flights between the Australian cities begin at $1,945. Departures are available through March 2013.
Indigenous Exploration
Australia's Aborigines might be the world's oldest surviving culture, having foraged and farmed the continent for at least 60,000 years. They suffered in the wake of European colonization -- historians estimate that war and new diseases cut their numbers significantly, with only 75,000 remaining by 1900 -- but their customs and contributions live on, from Australian icons like the boomerang and the didgeridoo to abstract artworks known as dot paintings.
Delve into Aboriginal culture with "
Wonders of Australia
" a 14-day trip with
Trafalgar
. At Uluru-Kata Tjuta National Park, guests will hike around the Olgas (also called Kata Tjuta), 36 towering, domed boulders that host the meditation ceremonies of the Anangu tribe. Then it's on to Ayers Rock (Uluru to the locals), another sacred spot, for sunrise and sunset photo ops; this sandstone monument is known for the way it captures light and color at dawn and dusk. The tour also includes a visit to an Aboriginal cultural center and a storytelling session that explores the Dreamtime, the indigenous myth of the Earth's creation.
Extra appeal
: Railroad enthusiasts will relish the one-night ride aboard The Ghan, a passenger train named for the Afghan camel herders who first traversed the infamous Red Centre of Australia. Trafalgar guests are treated to private cabins that transform from cozy sightseeing lounges -- cushioned and climate-controlled, all the better for viewing the continent's most rugged terrain -- to twin sleeping berths. And three nights in Cairns offer ample opportunities for Great Barrier Reef dives or jungle hikes in Daintree National Park.
Information
: Per-person prices for this itinerary, with dozens of departures stretching into spring 2013, begin at $3,972 before airfare.
Down Underwater
Known as one of the seven wonders of the natural world, the Great Barrier Reef is made up of nearly 3,000 individual coral systems stretching over some 133,000 square miles. It's the most biologically diverse ecosystem on Earth, home to whales, turtles, dugongs, sea snakes, an estimated 1,500 species of tropical fish and more than a million seabirds. And then there are the islands -- 900 sugar-sand havens lapped by the Coral Sea, with many supporting luxury resorts and other spots ideal for reefside vacations.
Brendan Vacations
' 11-day "
Barrier Reef Discovery
" does a little island-hopping as it traces Australia's east coast. Guests will visit the appropriately named Daydream Island, crowned by a parrot-filled rain forest, and Fraser Island, a UNESCO World Heritage Site known for its archaeological preserves and wild dingo sightings. This itinerary also makes time for a catamaran cruise of the reef, snorkeling excursions and a visit to Rainforestation Nature Park, with koala encounters and Aboriginal education experiences.
Extra appeal
: History buffs are treated to a stop at Herberton Historic Village, which re-creates life as it was in 1880s Queensland. More than 50 original buildings join colonial clothing, buggies, antique cars and other items on display. Stop for a bite at the Bakerville Tearooms, where local miners and their families once gathered under kerosene lanterns and stately portraits of the English Queen Victoria to catch up on the news of the day.
Information
: "Barrier Reef Discovery" is priced from $4,870 per person, land only. Monthly departures are available from July through March 2013.
On Sand and Surf
Australia traces its love affair with surfing to 1914, the year Hawaiian pro Duke Kahanamoku toured the coast to drum up interest in the revolutionary sport. The country now is home to enclaves like Surfers Paradise, a Gold Coast hot spot for competitive boarding, and Bondi Beach, where surfers share their waves with some of the world's most accomplished lifeguards.
The 11-day "
Spotlight on Australia
" from
Tauck
cruises the Great Barrier Reef, mingles with Aboriginal tribes in the Outback, serves Champagne during an Uluru sunset, feeds crocodiles in Queensland and hops a gondola on the Skyrail Rainforest Cableway before heading for the seaside. On Bondi Beach, guests get a history lesson at the Bondi Surf Bathers' Life Saving Club, thought to be the oldest organization of its kind, followed by a surfing tutorial on the sand and an afternoon at leisure -- perfect for putting those wave-riding tips to use. Or simply sunbathe and people-watch.
Extra appeal
: A foodie tour introduces Tauck guests to Sydney's favorite eateries, including a chocolatier, Italian deli, a nearly 200-year-old brewery and the city fish markets. Sip and sample your way across town, where dining experiences range from seaside fish-and-chip shops to The Summit, a revolving restaurant on the 47th floor of Australia Square tower. In Melbourne, guests climb aboard the Colonial Tramcar Restaurant for a combination of city tour and fine dining; delicacies include a chicken and cognac pate and kangaroo filet marinated in honey and lemon myrtle, a spice common to the Australian wildlands.
Information
: Priced from $5,990 per person before airfare, "Spotlight on Australia" offers departures through the end of the year.
Family Fun
Escorted tours like "
Discovery Down Under
" 12 days with
Adventures by Disney
, feature kid-friendly attractions while providing the occasional parental escape (say, adults-only wine tastings, along with supervised children's activities that free up Mom and Dad in the evenings). These trips also focus on educational aspects of the destination, from ranger-led excursions in national parks to a backstage tour of the Sydney Opera House.
Highlights of this vacation include a snorkeling cruise along the Great Barrier Reef, "croc spotting" on a Queensland lagoon, a biking excursion through Sydney and a private surfing lesson at Bondi Beach. Guests immerse themselves in Aboriginal culture during a visit with the Tjapukai tribe; activities include fireside storytelling, a song and dance performance and boomerang- and spear-throwing lessons.
Extra appeal
: This tour stretches south to Tasmania, Australia's island state. Guests will meet the local "devil" -- much quieter than its cartoon namesake and now considered a threatened species -- and other small marsupials at the Bonorong Wildlife Sanctuary. "Discovery Down Under" also includes a zip-line tour of a eucalyptus forest, guided hikes and sea kayaking, tasty samples from a local cheesemaker and berry farm and, for true adventurers, a spooky farewell feast and nighttime walk around a former Port Arthur insane asylum.
Information
: Land-only prices start at $7,079 per person. Four departures are offered between Aug. 8 and Dec. 22.
Adventure, Aussie-Style
Experience an edgier side of Australia with an adventure tour. These trips emphasize some of the continent's adrenaline-pumping pastimes, from crocodile farming to bungee jumping, a particular favorite in the South Pacific.
Contiki Vacations
caters to guests between 18 and 35 with trips like the 20-day "
Reefs and Rainforests
." Adventure seekers will plunge into a swimming hole in Mossman Gorge, part of Daintree National Park; get hands-on at a working cattle station, followed by drinks around a cowboy bonfire; participate in a four-wheel drive across Fraser Island's most rugged terrain, from sand dunes to backwoods rivers; and get a surfing lesson in Coffs Harbour, where travelers will spend a night in a beachfront cabin. Optional excursions include a white-water rafting trip down the Tully River and a tandem skydive in Surfers Paradise.
Extra appeal
: Night owls will appreciate the tour's frequent pub and club stops. Contiki guests will mingle with surfers in Noosa, a trendy beach town, and other spots along the Gold Coast, known for its daytime waves and all-night party spirit. This part of Queensland is home to Dracula's Cabaret Restaurant, the state's longest-running dinner theater, and the trip makes time for a three-course meal and a combination musical, comedy and burlesque show. Meanwhile, a stop at the Currumbin Wildlife Sanctuary means photo ops with koalas, wombats and more.
Information
: The first departure of "Reefs and Rainforests" is slated for Oct. 8, with additional trips extending into early 2014. It's priced from $3,480 per person before airfare.
The information in this story was accurate at the time it was published in July/August 2012. Please visit
Vacations To Go
or call (800) 680-2858 for current rates and details.
Send This Article to a Friend
Bookmark this Content
Digg it!
Reddit
Furl
del.icio.us
Spurl
Yahoo!