Choose Your Own Adventure
Explore new cultures and continents
on these action-packed vacations
By Brent Stoller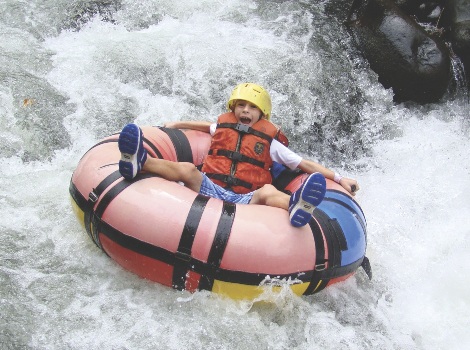 Tauck
(Scroll down to see a slide show.)
R
ising 19,336 feet above the Tanzanian countryside, Mount Kilimanjaro is the world's tallest freestanding mountain. The massif is made of three extinct volcanoes -- Kibo, Mawenzi and Shira -- and features five primary vegetation zones and several trails that reach the mountain's true summit, Uhuru Peak on Kibo.
That's the goal pursued by way of the Machame Route on the nine-day "
Kilimanjaro Climbs
," an
African Travel
journey through dense forests, alpine desert and 11,000-year-old ice walls.
Guided by experts and supported by porters and a cook, the ascent is conducted at a gradual pace, ensuring proper altitude acclimation. And thanks to Kilimanjaro's diverse ecosystems, there's plenty to observe along the way. Some 2,500 species of plants dot the ever-changing landscape, and wildlife such as white-necked ravens can be seen circling overhead at higher elevations.
Conditions permitting, your summit assault commences before dawn on Day 7 of your escorted tour. At nearly 19,000 feet, Stella Point is the last chance to turn back, but if you're up for it, push on to Uhuru for a picture atop the Roof of Africa.
Daily departures through the end of the year start at $4,495. In 2016, African Travel's Kilimanjaro treks will only be sold as pre- or post-tour extensions for safaris to places such as Kenya, Rwanda and South Africa.
Need more excitement? Below, we highlight four more escorted adventures that span the thrill-seeking spectrum, from tracking bears in Alaska to ziplining in Costa Rica. For more information,
contact the travel experts at Vacations to Go
and get the adrenaline flowing.
Track Alaskan brown bears
Typically found in the southern part of the state, Alaskan brown bears are the largest coastal grizzlies in the world. Adult males often weigh between 600 and 900 pounds and stand as tall as 10 feet on their hind legs, yet they remain adequately agile. This is evident upon witnessing them snatch salmon out of the air with their jaws -- a photo op that crystallizes nature at its most primal.
And it's photo ops like these you'll chase on
Natural Habitat Adventures
' "
Alaska's Coastal Grizzlies: Kodiak to Katmai Photo Tour
." This eight-day expedition includes a three-night cruise, allowing guests to shoot coastal action from the deck of their host ship and, under the watchful eye of an expert guide, go ashore for unprecedented access to these magnificent predators. Additional perks include a hands-on workshop with a local photographer, a floatplane trip to Kukak Bay and a boat ride around Kodiak Island, where sea otters, puffins and the occasional whale come into focus.
Bears are out in full force in summer and early fall, loading up on nourishment for hibernation, and you'll track them wherever they roam. Large groups
commonly congregate on one feeding ground, giving you ample opportunity
to capture images of these omnivores swiping salmon, feasting on sedge grass or digging for clams.
Moderate physical conditioning is required; travelers must be able to walk
at least 2 miles over uneven terrain and through mud in hip waders. Departures run late June to mid-September next year. Pricing begins at $8,895.
Stand on top of the world
"On top of the world" shifts from idiom to reality on "
North Pole: The Ultimate Arctic Adventure
." Over 14 days,
Quark Expeditions
ventures to the northernmost point on the planet, where the Earth's axis intersects with the planet's surface at 90 degrees north latitude.
Set sail from Murmansk, Russia, aboard the 50 Years of Victory. The world's largest nuclear-powered icebreaker, it generates some 74,000 horsepower, which comes in handy when churning through frozen barriers more than 9 feet thick. Depending on conditions, the outbound sailing takes five to eight days, but you'll be comfortable relaxing in your roomy cabin, exercising in the workout facility and socializing in the onboard bar. Sightseeing jaunts via the Victory's own helicopter afford a bird's-eye view of the ship and the Arctic scenery.
A celebration awaits your arrival at the North Pole. Bundle up for a barbecue on the ice, and clink glasses with friends during a Champagne toast. For a memorable perspective, join the optional hot-air balloon tour ($295 per person).
On the return to Russia, you'll visit Franz Josef Land, a group of nearly 200 islands in the Barents Sea. Weather permitting, helicopter and Zodiac boat excursions explore the area and its wildlife, which includes walruses and polar bears.
This once-in-a-lifetime voyage is priced from $26,995 and includes all scheduled shore landings, onboard lectures, an official Quark Expeditions parka and a photo DVD memorializing the experience. Five departures are planned over the summers of 2016 and 2017.
Discover Costa Rica with the kids
Family vacations have gotten a bad rap. Too often, the phrase evokes images of fatherly fanny packs, endless road trips and siblings fighting over an invisible dividing line in the car's back seat.
It doesn't have to be that way, and select departures of "
Costa Rica: Jungles & Rainforests
" prove it. This escorted getaway spends eight days discovering the majesty of the Central American country, with an assist from broadcasting brand BBC Earth and its collection of educational, on-tour film vignettes.
The adventure begins near Rincon de la Vieja National Park, where acres of walking trails are great for observing the park's 300 bird species. If the gang's up for it, take flight on a zipline mission along the treetops. Afterward, a dip in the region's hot springs rejuvenates the body and soul.
For more than 40 years, a steady stream of smoke, gas and lava poured from Arenal Volcano. Though it entered a resting phase in 2010, this cone-shaped structure remains just as stunning, and you'll get multiple views of it on your
Tauck
tour: first aboard a cruise along Lake Arenal, then during a sky tram ride. (If the sky tram is too passive for your tastes, another zipline awaits.)
Watch for sloths, crocodiles and iguanas on Day 4 as you float down the Penas Blancas River. More wildlife awaits at Tortuguero National Park, including endangered manatees and great green macaws. Visit in July or August to see the nesting of green sea turtles.
Prices open at $2,730 and include all gratuities for the tour director, drivers and guides. Itineraries are scheduled throughout 2016.
Live as the nomads do
While typically used to describe daring endeavors like scaling mountain summits and exploring the North Pole, a true adventure is, at its core, any experience that pushes the boundaries of your comfort zone, something that excites and challenges you and opens your eyes to new perspectives.
Eight days with
G Adventures
, "
Local Living Mongolia-Nomadic Life
" fits that definition perfectly, letting you cast aside contemporary comforts to live as the nomads do. While a CEO -- Chief Experience Officer -- is with you throughout, your real guides are the host families with whom you stay. These families call Gorkhi-Terelj National Park home and, for five nights, you will too, as you sleep beneath a star-filled sky in a traditional tent known as a ger.
Each day brings a new lesson in nomadic customs. Learn to tether livestock, steer an oxcart and properly saddle a horse, which proves useful for rides between campsites. Help prepare breakfast using the dairy you milked that morning, and perfect the art of garment-making with a community seamstress. After practicing your bow-and-arrow skills, engage the locals in an archery competition.
Participation in host family activities is voluntary, allowing you the freedom to explore the landscape on your own. Five departures are scheduled between June and September 2016, and prices start at $999, which also covers the two short hotel stays that bookend your camping trip.
The information in this story was accurate at the time it was published in September/October 2015. Please visit
Vacations To Go
or call (800) 680-2858 for current rates and details.
Send This Article to a Friend
Bookmark this Content
Digg it!
Reddit
Furl
del.icio.us
Spurl
Yahoo!