A Warm Irish Welcome
Delve into the treasured heritage
and lovely landscapes of the Emerald Isle
By Troy Bringle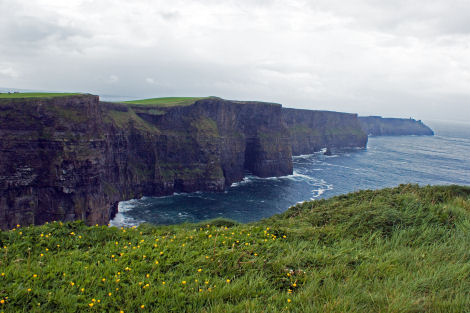 Troy Bringle
(Scroll down to see a slide show.)
"G
ive me your tired, your poor, your huddled masses yearning to breathe free..." Written in 1883 by Emma Lazarus and inspired by the immigration movement of the 19th century, these words appear in a sonnet etched in bronze within the pedestal of Lady Liberty in New York. Millions of would-be Americans first set foot on these shores during the immigration boom, and among them were the Irish.
Irish migration to the U.S. peaked from 1820 to 1860 -- including a spike in arrivals triggered by the potato famine of 1845 to 1849 -- and these years tied a connection between Ireland and the U.S. that remains knotted today.
In cities and towns across the U.S., we salute our Celtic cousins every March 17 with a day of pub-crawling merriment and gratuitous pinching. Performances from The Chieftains and Riverdance fill auditorium seats, and Dublin-spawned U2 rocks arenas. Limerick rhymes sprinkle the pages of children's books, and Lucky the Leprechaun joins breakfast tables coast to coast.
Census data tells us that more than 35 million U.S. citizens claim to be of Irish descent, and some sources cite even higher figures. Each year, many Americans cross the Atlantic to explore their heritage in Ireland, while others are lured by its piercing green landscapes, centuries-old castles, fun-loving culture and remarkable history.
Ireland
is one of the most popular destinations for escorted tours. My family recently traveled to the island with
CIE Tours International
, a company that has operated vacations here since 1932 and is a division of the country's national transport organization. We chose CIE for two reasons -- the unique features of the company's "
Irish Welcome
" itinerary and the highly inclusive nature of CIE trips. All excursions, along with nearly every breakfast and dinner, are covered in the up-front price, which made budgeting for the trip simpler for everyone.
Our journey to the epicenter of green began at Shannon Airport, a relatively quiet facility that makes for an easy start after a six-hour flight from New York. Here we met Declan, our driver and tour director for the week. Preceded by both his grandfather and father at CIE, Declan is a 26-year veteran of the company.
Transfers from the airport to our first stop, Bunratty Castle Hotel, were handled by CIE as part of the tour. That afternoon our umbrellas caught the gentle but steady drizzle that would also tap our shoulders periodically throughout the week. Though rain is common in Ireland, it's usually light and not a major inconvenience.
The festivities began at 15th-century Bunratty Castle, where we devoured a hearty meal medieval style, with our fingers, as the powerful pipes of the castle's a cappella team filled the stone hall with Irish tunes. Free-flowing mead and wine added a jolly note to the jubilee.
The next morning we set out for the sprawling Cliffs of Moher and their dramatic views, and then continued to Killarney, a town in southwest Ireland that's the launching point for day trips to the Ring of Kerry. In Killarney we stayed at a family-owned bed-and-breakfast. Visiting with the owners, learning about local life and feasting on a home-cooked Irish meal were highlights of the trip. It was here that I first heard of the Celtic Tiger, a metaphoric mascot for the booming years that preceded Ireland's economic downturn a few years ago. Several others would mention this celebrated symbol in the coming days.
From Killarney we drove the Ring of Kerry, a winding highway that ropes together a bundle of scenic landscapes. Rolling hills are draped in emerald blankets and speckled with fluffy, white sheep, and rocky overhangs look out on cool Atlantic waters.
The next few days took us to Blarney Castle, where stone kissers pursue the gift of gab; Kilkenny and its impressive citadel; and the Rock of Cashel, a medieval structure with a mythical origin.
The city of Cobh (pronounced Cove), tagged in history by two tragic events, was another featured stop on our itinerary. Here, on April 11, 1912, 123 Irish men, women and children tendered from the pier to a ship bound for New York. Three days later, Cobh officially became the last port of call for the Titanic, and remnants of the solemn pier on which these passengers walked still stand today.
Three years later, on May 7, 1915, a German torpedo struck and sank the Lusitania off the coast of Ireland, an event that led to America's entry into World War I. Cobh residents assisted in relief efforts and helped save 761 people who were aboard the Cunard passenger ship -- 1,198 others met a more sorrowful fate.
Nearly all Ireland tours spend time in Dublin, exploring famous sights like the Temple Bar district, Guinness Storehouse brewery, St. Patrick's Cathedral and Trinity College Dublin, which houses the Book of Kells, a religious manuscript created by Celtic monks around A.D. 800. Some lesser-known spots, like The Brazen Head pub, which has been pouring pints for patrons since 1198, are worth sampling, too.
We also walked the grim halls of Kilmainham prison and stood in the courtyard where leaders of the 1916 Easter Rising -- an attempt to overthrow the ruling British government -- took their final breaths before execution. Although this revolution failed, stories of it and of the prisoners' treatment in Kilmainham lured others to the cause, and five years later Ireland would break from the United Kingdom to establish the Irish Free State, paving the way to a fully independent Republic of Ireland.
Wandering west after Dublin, we stopped at Clonmacnoise, a sixth-century monastic settlement, en route to Galway, home of the black-haired, blue-eyed gal in Steve Earle's popular Irish tune, "The Galway Girl." Here we strolled the narrow streets and browsed shops.
From Galway it was back to the Shannon airport, as our time in Ireland had ended. One day down the road, with a little bit o' luck, I will call on her again.
May the Celtic Tiger be on the prowl.
Information:
Most departures for the nine-day "
Irish Welcome
" start at $1,718 per person next year (from May 10 to Oct. 25), but a few lower-priced trips are available in April and early May. Airfare to Ireland is additional. A
seven-day version
of this itinerary also is offered, without the stops at Clonmacnoise and Galway; most departures start at $1,388 per person.
CIE Tours
has more than two dozen itineraries that explore Ireland. To learn more, consult the escorted tour specialists at
Vacations To Go
or call (800) 680-2858.
The information in this story was accurate at the time it was published in November/December 2011.
Send This Article to a Friend
Bookmark this Content
Digg it!
Reddit
Furl
del.icio.us
Spurl
Yahoo!