A Scenic Centennial
Celebrate 100 years of preservation with the National Park Service
By Brent Stoller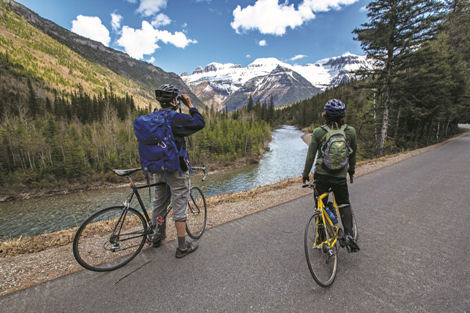 Jacob W. Frank/National Park Service
S
panning almost 1 million acres in northwestern Washington, Olympic National Park preserves nature at its most magnificent. Rugged Pacific coastline gives way to alpine meadows, where black-tailed deer snack on grasses and berries, as snowcapped peaks tower overhead. With about 300 bird species, 1,100 types of native plants and wildlife ranging from cougars to northern spotted owls, the park has earned its UNESCO designation as an International Biosphere Reserve.
Olympic presents this hospitable habitat thanks to its varied ecosystems, notably its temperate rain forests. These woodlands receive 12 to 14 feet of precipitation annually, creating a junglelike environment featuring moderate temperatures and centuries-old Sitka spruce trees. While such forests once were prevalent from southern Oregon to southeastern Alaska, few remain, and it's the protection from the park that's kept these particular preserves thriving.
That's what the
National Park Service
does, after all: It cares for and conserves America's natural and cultural resources for our enjoyment and education. From monuments, parks and battlefields to seashores and historic sites, it currently watches over 409 areas, a mission it's been carrying out since President Woodrow Wilson signed it into existence on Aug. 25, 1916 -- making 2016 its 100th anniversary.
To celebrate its centennial, the Park Service has launched the "Find Your Park" initiative, which encourages everyone to experience the beauty, serenity and adventure of their favorite protected area.
That makes this the perfect time to explore Hoh Rain Forest in the western portion of Olympic National Park. Stroll its two nature trails while watching for Roosevelt elk, and sleep beneath the stars at one of the 88 riverside campsites. Travelers can tour the park with a naturalist on Day 7 of "
The Pacific Northwest's Coastal Treasures
" a nine-day
Collette
vacation. Rates for this escorted tour start at $3,249, with nearly a dozen departures from May to September.
The following are five more nature preserves that will capture your imagination. For vacation packages that visit these parks, contact the travel experts at Vacations To Go.
Grand Teton National Park
Wyoming
The Teton Range extends 40 miles through northwestern Wyoming. At its eastern base sits a river valley, which is surrounded by peaks that rise more than 12,000 feet. Due to its sheltered topography, this lowland was referred to by fur trappers as a "hole" -- putting the "hole" in what's now known as Jackson Hole.
When Grand Teton National Park was established in 1929, only the mountain range and area lakes were protected. In 1950, borders were increased to cover the valley as well. These days, its 485 square miles attract tourists with breathtaking beauty and Old West appeal. That the average summer high hovers around a balmy 80 degrees doesn't hurt, either.
The park's animal kingdom includes both one of the heaviest and one of the lightest birds in North America. The trumpeter swan can weigh more than 25 pounds and typically is found in pairs that mate for life. The calliope hummingbird, on the other hand, may tip the scales at less than one-tenth of an ounce.
Fed by runoff from the Tetons, the Snake River winds through the preserve and affords first-class wildlife sightings. Bald eagles and great blue herons nest in nearby trees, while bison and elk feed on native grasses along the banks.
More adventure beckons in the Jenny Lake District, where you can cruise in a canoe, fish for cutthroat trout or snap photos at the Inspiration Point overlook and 80-foot Hidden Falls cataract.
Tauck
guests spend two nights in the park on the eight-day "
Yellowstone & Grand Teton National Parks
" tour, which includes a rafting adventure on the Snake River. Starting at $3,590, trips are scheduled from late May to mid-September and also highlight the country's first national park, Yellowstone, just to the north.
Glacier National Park
Montana
If you've thought of visiting Glacier National Park, it'd be wise to go sooner than later. Known as the Crown of the Continent and the Backbone of the World, this Montana jewel boasts 1,583 square miles of coniferous forest, tumbling meadows and lofty Rocky Mountain peaks. But its hallmark is its glaciers, which totaled 150 in 1850. Due to climate shifts since the last ice age, that number has dwindled to 25, and current regression models are predicting all area glaciers will be gone by 2030.
In the meantime, the park remains a nature enthusiast's dream. Hikers enjoy
daylong treks and extended backpacking excursions on 700-plus miles of trails, while photographers immortalize the yellow, pink and purple wildflowers at Logan Pass. During winter, snowshoeing and cross-country skiing offer an endurance workout amid jaw-dropping scenery.
With 762 lakes and 563 streams, there's plenty to discover via the park's waterways. Local vendor Glacier Park Boat Co., established in 1938, offers four tours daily out of five separate docks. Explore the Many Glacier area on Swiftcurrent Lake and Lake Josephine, or discover the secluded treasure of Two Medicine valley, where you can disembark for an optional hike to Twin Falls. Cruises cost $13 to $26, with children charged half price, and are available between late May and late September.
No visit to Glacier would be complete without a drive across the Continental Divide on the spectacular Going-to-the-Sun Road, and
Globus
' "
Discover Glacier National Park, Hells Canyon & Washington Wine Country
" delivers exactly that -- in a 1930s Jammer bus. The 10-day tour is offered from mid-June to early September, and pricing opens at $2,999.
Hawaii Volcanoes National Park
Hawaii
More than 70 million years ago, magma from the Earth's lithosphere erupted through the sea floor of the Pacific Plate, forging what's called a volcanic hot spot. While the hot spot never moved, the tectonic plate did, shifting over the hot spot and ultimately generating an archipelago that now covers more than 1,500 miles in the North Pacific Ocean.
Welcome to the
Hawaiian Islands
.
Two of the world's most active volcanoes, Kilauea and Mauna Loa, reside on the Big Island, and Hawaii Volcanoes National Park was formed to preserve them. Measured from the sea bottom, Mauna Loa's peak rises about 56,000 feet, or nearly twice as tall as Mount Everest. Kilauea, meanwhile, has been continuously erupting since 1983, expelling between 250,000 and 650,000 cubic yards of molten lava daily, which rushes to the ocean and creates additional landmass.
Park guests explore these geological phenomena while also observing Hawaii's state bird, the nene, and other native species during hikes, bicycle rides and a pair of driving tours. The 11-mile Crater Rim Drive meanders around Kilauea's caldera and features nine stops that provide access to trails and overlooks. Descending some 3,700 feet over its 18.8 miles, Chain of Craters Road reveals the steady advance of lava across the island, as the road ends where the lava crosses the pavement.
NPS anniversary events include hikes among the endangered hawksbill sea turtles, as well as numerous "After Dark" lectures on topics such as park history and archaeological research efforts.
Enjoy the views of the Kilauea caldera on "
Best of Hawaii
" a 10-day vacation from
Trafalgar
. Departures run from $2,853 and are scheduled into spring 2017.
Grand Canyon National Park
Arizona
What celebration of American treasures would be complete without the
Grand Canyon
? Stretching 277 miles long, up to 18 miles wide and roughly a mile deep, it's a mesmerizing tableau of painted desert, plateaus and river valleys. Stare out at its expanse and you're quickly reminded of our infinitesimal notch on nature's hierarchy.
Beyond its dominant topography, the Grand Canyon doubles as a geological marvel. Formed in part through erosion by wind and water, it provides a record of the Earth's evolution from the last 2 billion years. Fossil collections in canyon walls reveal remnants of the Precambrian and Paleozoic geologic eras, and animal remains discovered in caves present evidence of the Pleistocene epoch.
Five of the seven life zones are represented throughout the canyon's varying elevations. Coyote willow and catclaw acacia trees dot the banks of the Colorado River while, farther up, mammals such as mountain lions roam forests in search of prey, as California condors circle above.
Nearly 5 million travelers flock here each year, with as many as 90 percent of them stopping at the easily accessible South Rim. Ranger-guided activities are free and deliver educational fun, and mule rides mix stunning perspectives of the canyon with a dash of cowboy charm. For the adventurous, whitewater rafting trips on the Colorado are available through local operators.
Honoring the Park Service's centennial, the Arizona Republic, a Phoenix-based newspaper, brings its Storytellers project here on Saturday evening, Sept. 24, when NPS staff, park rangers, scientists and journalists will tell tales of what life is like at one of the country's most popular destinations.
Amtrak Vacations
' "
Grand Canyon Explorer
" spends two nights here and includes a motor coach tour of the South Rim. Prices for this nine-day excursion begin at $1,499, and daily departures are available.
Acadia National Park
Maine
At 1,530 feet, Cadillac Mountain in Maine's Acadia National Park marks the highest point on the U.S east coast. Parts of the year, its summit receives the first rays of sunlight in the country. Many travelers reach the top by driving the access road, while serious trekkers navigate the 7.4-mile South Ridge Trail. No matter how you get there, though, the views of Bar Harbor, Frenchman Bay and the Porcupine Islands always are breathtaking.
Known as Sieur de Monts National Monument at its 1916 inception (and subsequently as Lafayette National Park until 1929), Acadia was a labor of love for George B. Dorr, a private citizen in the area who worked with local and federal officials to acquire national park status for the preserve. Today, more than 2 million visitors annually come to Mount Desert Island for boating, bird-watching, hiking and horseback riding.
The first endowed trail system, the park's 130 miles of paths are overseen by the organization Friends of Acadia and wind past placid lakes and through spruce fir forests. Guests travel back in time on the 57 miles of broken-stone carriage roads, which were constructed by John D. Rockefeller Jr. to ensure Acadia maintained its timeless charm. Horse-drawn carriage tours offer the chance to spot white-tailed deer drinking at streams or peregrine falcons soaring against a blue sky.
With Acadia honoring its own centennial this year, a multitude of festivities dots the calendar. Saturday, Aug. 27, brings a one-day anniversary celebration, while the Acadia Centennial Quest, an "experiential scavenger hunt," runs from mid-April to mid-November.
American Cruise Lines
calls at Bar Harbor, a gateway to Acadia National Park, on "
Maine Coast & Harbors
." This seven-day journey also stops in Bath and Boothbay Harbor, among other ports. Two 2016 sailings in May and
September and four in 2017 start at $3,495.
The information in this story was accurate at the time it was published in March/April 2016. Please visit
Vacations To Go
or call (800) 680-2858 for current rates and details.
Send This Article to a Friend
Bookmark this Content
Digg it!
Reddit
Furl
del.icio.us
Spurl
Yahoo!