8 Intriguing Guided Tours of Europe
Top travel companies are introducing
these brand-new itineraries in 2016
By Elizabeth Armstrong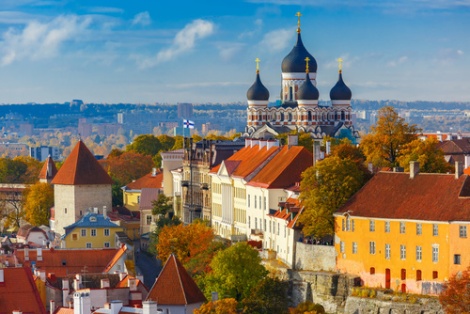 Kavalenkava Volha/Fotolia
E
scorted tour operators released scores of brand-new itineraries this year, tempting travelers with fresh ways to explore the cultures, cuisines and attractions that make Europe the top destination for packaged travel. We scoured their offerings and found eight standouts, from a retreat amid the lakes and mountains of northern Italy to a pilgrimage to film locales in Scotland and Ireland.
These vacations bundle all the essentials -- hotels, transportation between destinations, some meals and guided sightseeing -- into one easy-to-book trip. And here's another enticement: The strength of the U.S. dollar against the euro has prompted some tour operators to lower their rates for 2016. To learn more about these getaways, call the tour experts at Vacations To Go, (800) 680-2858, or
peruse itineraries online
.
A Week in the Baltics
Tauck
Old World splendor is on display during "
A Week in the Baltics
" Tauck's look at Lithuania, Latvia, Estonia and Finland. Start in the Lithuanian capital of Vilnius, where you'll lodge in the historic district. Its collection of Gothic, Renaissance and Baroque architecture landed it on the list of UNESCO World Heritage Sites. Visit the medieval island castle in Trakai, and later cross into Latvia for a stay in its hub, Riga. Travelers check into the Grand Palace Hotel, which was converted from an 1877 bank into a luxury urban retreat. Riga highlights include its art nouveau buildings, opera house and cobblestoned old quarter.
Continue the journey north to Estonia, with lunch in the pretty seaside resort of Parnu; it's been a favorite Baltic vacation retreat since the 1830s. The medieval old town of the capital, Tallinn, is a stunner with its red-roofed towers, stone walls and narrow, meandering alleys. Make a stop at Toompea Castle, seat of the Estonian parliament, before leaving the Baltic states. Guests board a ferry for Helsinki, where they are treated to a private concert of music by Jean Sibelius, composer of "Finlandia."
Tauck
has limited this trip to just a handful of departures from June through September, pricing them from $3,990.
Celtic Filmscapes
Brendan Vacations
See Scotland, Northern Ireland and Ireland through a creative lens on "
Celtic Filmscapes
"
Brendan Vacations
' 11-day tribute to cinema and television. You'll start in the Scottish capital, Edinburgh, with visits to its stately castle and the old avenue known as the Royal Mile. But it's the city's seamier side that was depicted in "Trainspotting," a story of urban drug addiction in the 1980s. Your tour guide will take you to Princes Street, used in the opening scene.
The slow-motion footage of Olympic hopefuls running on the beach, accompanied by the uplifting score of composer Vangelis, was shot for "Chariots of Fire" at West Sands in St. Andrews, Scotland. Visitors still act out this scene from the 1981 Oscar winner for best picture. The 13th-century Eilean Donan Castle in the Scottish Highlands was a player in the James Bond flick "The World Is Not Enough."
Day 9 is spent in County Down, Northern Ireland, at Castle Ward, the stand-in for Winterfell in the hit HBO series "Game of Thrones." Fans can don costumes and channel their favorite characters as they explore the set and test their skills at the meticulously re-created archery range. The trip winds down in Dublin, where a local expert will tie a day of sightseeing into movies like "Michael Collins" and "The Commitments."
Brendan has scheduled departures from May to October, with rates starting at $3,150.
Romantic Northern Italy
Insight Vacations
Have you already been to Italy and done the holy travel trinity of Rome, Venice and Florence? Consider focusing on a smaller swath of the country with an itinerary like "
Romantic Northern Italy
." The 11-day getaway spends time in hot spots like the fashion capital of Milan and The Queen of the Adriatic, Venice, but it also ventures to the lovely Italian Lake District and a few gems less commonly seen on tour schedules.
The ski resort of Cortina d'Ampezzo nests amid the peaks of the Dolomites, and guests check into its oldest hostelry, Hotel Ancora. This charmer built in 1826 features antiques, carved furniture and painted flourishes on the walls and ceilings. Cortina cuisine melds northern Italian and Tyrolean influences; a dish of half-moon ravioli called casunziei (filled with either beets or spinach and bathed in melted butter and parmesan) might be followed by apple strudel.
To the south lies Conegliano in the heart of prosecco country, where travelers stop for sips of the sparkling wine. En route to the Lake District, pause to take in the sights of Sirmione. Its 13th-century Scaliger Castle is straight out of a storybook, complete with crenulated towers, a moat and drawbridge. Then arrive at your hotel on the shore of Lake Maggiore, where you'll have a full day to savor the setting: a mountain-ringed expanse of cool, cobalt blue water.
Priced from $2,606, this
Insight
trip embarks from April through October.
Magical Christmas Markets of Austria & Germany
Collette
Revel in a long-standing winter tradition and shop your way through holiday bazaars on "
Magical Christmas Markets of Austria & Germany
." They take place in town squares and in front of cathedrals, usually starting in November and ending on Christmas Eve or a few days later. Lights and evergreens adorn the vendors' stalls, choirs sing carols and special activities sometimes are organized for children. The scents of sizzling sausages, roasted nuts and sugary baked goods fill the air as locals and visitors saunter along the aisles, hands wrapped around mugs of hot spiced wine.
Travelers are based in Innsbruck, Austria, for the duration of this weeklong itinerary from
Collette
and make daytrips to the other destinations on the itinerary. The Tyrolean town hosts four markets, including a traditional one near the gilt-topped edifice known as the Golden Roof in the historic district and a family-friendly option with a petting zoo at the Marktplatz.
In Salzburg, Austria -- the birthplace of Wolfgang Amadeus Mozart and the priest who wrote the words to "Silent Night," Joseph Mohr -- the market that's arranged in front of the Baroque cathedral is said to date to the 15th century. Look for delicate wood ornaments and fragrant posies of dried spices.
Dominated by a Christmas tree twinkling with some 2,500 lights, Munich's main event is held on the Marienplatz; it's a nearly 375-year-old tradition here, first noted in the town records in 1642. Nearby is the Kripperlmarkt, which specializes in figurines for Nativity scenes.
Take part in the festivities on three trips priced from $1,399: Nov. 26 and Dec. 3 and 10.
Highlights of Andalusia
Cosmos
Stretching from the Sierra Morena peaks to the Costa del Sol, or Coast of the Sun, Spain's southern Andalusia region embraces elegant cities, sparkling beaches, olive groves and vineyards. The eight-day "
Highlights of Andalusia
" from
Cosmos
loops through the area from Malaga, which was settled by Phoenicians and later conquered by Romans, Visigoths and Moors. Local flavors to try in this port city include the white gazpacho known as ajoblanco -- pureed with bread, garlic and almonds -- and perfectly crispy, fried small fish like anchovies and baby squid.
Two nights in Granada afford time to investigate the Moorish gardens, courtyards and halls of Alhambra, a 13th-century royal complex. Flamenco music and dance are rooted in Andalusia, and Cosmos guests have an opportunity to see a performance in Seville. The next day, you're free to explore Seville as you wish; marvel at the enormous Plaza de Espana, built for a 1929 international expo, or wander the stone-paved lanes and squares of the picturesque Santa Cruz quarter.
Before returning to Malaga, you'll detour to the mountain enclave of Ronda, the site of a fascinating 18th-century engineering feat. The city is split in half by the deep El Tajo gorge, and three stone bridges were erected in the canyon to connect the two sides.
Cosmos offers this tour from February to June and in September and October. Rates start at $999.
Ultimate Iceland
Trafalgar
A plethora of natural wonders are contained within the isolated Nordic island of Iceland. Hot springs and boiling mud pots, glaciers and fjords, and waterfalls and lakes are among the camera-ready subjects that await travelers on Trafalgar's 10-day "
Ultimate Iceland
."
But the tour kicks off with a look at a striking example of expressionist architecture: the rocketlike Hallgrimskirkja Church in the capital, Reykjavik. Unwind after a day of sightseeing in the city with a soak in the expansive Blue Lagoon, where the mineral-rich waters are maintained at 98 to 104 degrees.
You'll spend part of Day 3 in Thingvellir National Park, where one of the earliest existing parliaments was founded in A.D. 930. Created by shifting tectonic plates, Almannagja canyon in the preserve provides evidence of continental drift. Then head to Iceland's version of Old Faithful, the Strokkur, which dependably spouts every few minutes.
After a stay at the Hotel Hallormsstadur, tucked between Lake Lagarfljot and the country's largest forest (perhaps indulge in the sauna while there), guests travel to the Dettifoss cascade, touted as the most powerful waterfall in Europe. Day 8 brings one of Trafalgar's signature Be My Guest events: lunch at an Icelandic horse farm, where you can meet the small and compact steeds known for their surefootedness and spirited nature.
Trafalgar
has scheduled departures for May through September, pricing them from $3,506.
Highlights of Scandinavia
Trafalgar CostSaver
This 12-day vacation from
Trafalgar CostSaver
, the more budget-friendly arm of tour operator Trafalgar, sweeps through Denmark, Norway and Sweden. "
Highlights of Scandinavia
" provides all the requisite photo ops. Among them are the 102-year-old Little Mermaid statue, a tribute to the famous story by Danish writer Hans Christian Andersen at the Copenhagen waterfront; Oslo's Vigeland Park, which encompasses more than 200 sculptures by a beloved Norwegian artist; and the Royal Palace in Stockholm, official residence for Sweden's monarchs.
You'll also go beyond these capital sights to scenic spots like Funen, known as Denmark's "garden island." Native son Andersen, born in the isle's main city of Odense, likely found inspiration for his tales among its orchards, pastures and half-timbered homes. In Norway, spend a night in the Telemark region, where the skiing style originated; the next day, drive through the mountains and around the Hardangerfjord. Measuring about 111 miles, it's the world's third-longest fjord.
Travelers get a taste of local culture at the fish market in Bergen, Norway, and wander through the college town of Orebro, Sweden (don't miss the castle that occupies its own island in the Svartan River).
Join this trip, which starts at $2,075, from April through October.
London & Country
Globus
Settle into the Park Plaza Westminster Bridge London for the leisurely weeklong "
London & Country
" designed by
Globus
. The hotel is centrally located, right across the River Thames from Big Ben. The itinerary packs some of London's top sights into a guided sightseeing session, like Westminster Abbey, St. Paul's Cathedral and Piccadilly Circus. Time your departure between July 31 and Sept. 18 if you want a peek at the state rooms of Buckingham Palace, scheduled for Day 3.
Globus allots a generous amount of free time. You can view the crown jewels housed in the Tower of London, ride the London Eye observation wheel (less than a 10-minute walk from the hotel) or take in the sights and smells of the East End's Borough Market, nearly 5 acres of purveyors selling fruits, vegetables, seafood, meats, cheeses, wines and prepared foods.
Guests venture from their cosmopolitan surroundings on organized excursions in southern England. Quote your favorite couplet from "Romeo and Juliet" at William Shakespeare's birthplace in Stratford-upon-Avon, debate the purpose of the bluestone circle at Stonehenge, see the ancient Roman spa in Bath and walk in the footsteps of academics Lewis Carroll and J.R.R. Tolkien at the University of Oxford.
This itinerary is offered from April through October and opens at $1,799.
The information in this story was accurate at the time it was published in January/February 2016. Please visit
Vacations To Go
or call (800) 680-2858 for current rates and details.
Send This Article to a Friend
Bookmark this Content
Digg it!
Reddit
Furl
del.icio.us
Spurl
Yahoo!