8 Cities, 9 Uncommon Museums
Schedule your summer getaway around these unusual exhibits
By Jennifer Davoren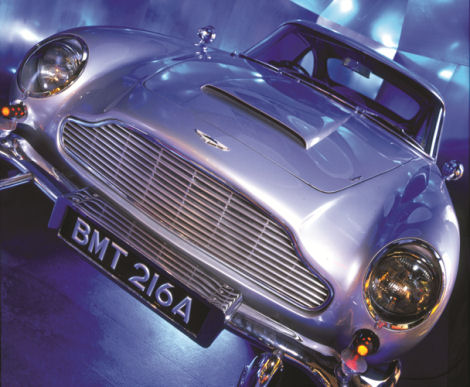 International Spy Museum
Y
ou've seen the Smithsonian. You've walked the halls of the Hermitage, the Louvre, New York's MoMA and Madrid's Prado. In the mood for something a little different? Try these nine museums found in eight of our favorite cities. From the history of handbags to Las Vegas' connections to organized crime, each explores a unique subject often overlooked by larger venues.
See Washington, DC, like 007
Shed light on big secrets with the International Spy Museum, a
capitol city
tribute to global espionage. You'll see some fascinating tools of the trade, including buttonhole cameras, a pistol made to look like a tube of lipstick and eyeglasses with hidden pockets for cyanide pills (should an assignment go wrong). Attend "spy school" to see how you'd fare as an undercover agent; afterward, visit the "Covers and Legends" exhibit to adopt a new identity and be briefed on a possible mission. You even can celebrate your favorite fictional spy with "Exquisitely Evil: 50 Years of Bond Villains," which explores countless plots foiled by Ian Fleming's hero over a dozen novels and 23 films.
Bribes and bulbs in Las Vegas
Sample the shady side of
Sin City
at The Mob Museum. Also known as the National Museum of Organized Crime and Law Enforcement, this attraction traces the rise of mafioso culture in Nevada's casino scene and the rest of the U.S. as well as counterattacks by the justice system. Both mob bosses and mob busters are honored here.
Once you've explored Las Vegas' shady past, step into the light with The Neon Museum. The collection includes 2 acres known as the Neon Boneyard, with classic signage culled from the Stardust, Golden Nugget and other historic casinos, as well as restored works like the Hacienda Horse and Rider stationed along Fremont Street.
Seattle for superfans
The EMP Museum has shortened its name (it once was known as the Experience Music Project and Science Fiction Museum and Hall of Fame), but it doesn't skimp on exhibits. Tributes to sci-fi icons like Ray Bradbury and "Doctor Who" are joined by an exploration of
Seattle
's rock heritage, with nods to hometown heroes like Jimi Hendrix and Kurt Cobain. See Capt. James T. Kirk's command chair or strum a guitar in the Sound Lab (complete with recording equipment, if you want a keepsake of your jam session). The venue itself is worth a look, too, with the curve of its steel-and-aluminum exterior capturing sunlight in a quintessential Frank Gehry design.
It all adds up in New York
School's out for the summer, but parents still can sneak a quick lesson or two into their
Big Apple
getaways. The National Museum of Mathematics engages young visitors with eye-catching, interactive exhibits -- from toy racetracks to laser light displays -- to tackle math's basic principles. Kiddos can ride a square-wheeled tricycle over a bumpy track and marvel at the smooth ride (courtesy of catenary curves) or use marbles to explore multiplication. The whole family can put their newfound knowledge to the test with puzzles scattered throughout the venue -- a popular station uses a World War II-era encryption device to decode secret messages.
Accessorize in Amsterdam
The Museum of Bags and Purses traces the history of this fashion staple and its shifts in form and function in the
capital of the Netherlands
. You'll find plenty of big names among the designer collection -- Dior, Fendi, Gucci, Hermes, Prada, Louis Vuitton -- but the label-free exhibits are just as arresting, with antiques dating as far back as 1420. Compare 19th-century needlepoint and beadwork with Art Deco evening bags and Stella McCartney's modern, vegan-friendly style. Stop by this fall for a retrospective of handheld Parisian fans crafted between 1900 and 1940 and an exhibition by luxury accessories designer Luu Anh Tuan.
Sweet on Barcelona
Conquistador Hernan Cortes discovered the commercial potential of the cacao bean during his 16th-century explorations of the Aztec Empire.
Barcelona
's Museu de la Xocolata celebrates the history of chocolate, from a drink made for New World royals to its modern-day domination of global holidays. Your admission ticket? A chocolate bar you'll nibble as you browse. And a variety of special activities await -- children can create their own lollipops, adding spices, fruit and nuts to suit their tastes, while parents enhance the flavors of wine and brandy during a chocolate-pairing lesson.
Under Sarasota's big top
An extension of the John and Mable Ringling Museum of Art, the Circus Museum was founded by America's foremost three-ring family to celebrate "the greatest show on Earth." On
Florida's Gulf coast
, where the Ringling Bros. and Barnum & Bailey players spent their winters, the museum houses vintage posters, gilded parade wagons, classic clowning props and even the Wisconsin, the train car used by the Ringling family as they crisscrossed the country with their traveling spectacular. To appreciate the full scope of these productions, peruse the scale model built by artist Howard Tibbals over a 50-year period; you'll see more than 800 tiny animals and 1,300 crew members, standard numbers for the Ringling show at its early 20th-century height.
Tap through Toronto
In Canada's
largest city
, The Bata Shoe Museum boasts a collection of 12,500-plus artifacts that reflect 4,500 years of functional and fashionable footwear. Exhibits delve into Native American and First Nations traditions and materials, the rise of contemporary sneaker culture and more. Notable pairs on display include John Lennon's black ankle boots, Marilyn Monroe's spicy red stilettos and silk socks worn by Napoleon Bonaparte during his exile on St. Helena. And with "Downton Abbey" and the big-screen adaptation of "The Great Gatsby" drawing attention to the Jazz Age, "The Roaring Twenties: Heels, Hemlines and High Spirits," a traveling exhibit open through October, shows how shoes took center stage as skirts shortened.
Visiting the Cities
Choose your favorite museum city, then select an affordable travel package from getaway specialist
Vacations To Go
.
Options include
independent tours
with extended time for investigating your chosen destination;
Monograms
highlights New York, Seattle, Amsterdam and beyond with trips that wrap together hotel accommodations, some sightseeing and the expertise of a local host. For example, look into "
Washington DC
," a four-day city stay with prices from $389 per person. Or try a rail-based excursion like "
Niagara Falls & Toronto Family Adventure
," a five-day jaunt with
Amtrak Vacations
that combines organized activities and free time for museums with a classic form of transportation (from $719).
If Sarasota's big-top culture or Barcelona's cobblestoned promenades call, turn to Vacations To Go's
resort division
. Beachfront properties on Florida's Gulf coast include
The Resort at Longboat Key Club
, with a host of supervised children's programs. See Spain's historic side with lodgings like
Hotel Condes de Barcelona
, housed in two 19th-century palaces at the heart of the city.
The information in this story was accurate at the time it was published in July/August 2013. Please visit
Vacations To Go
or call (800) 680-2858 for current rates and details.
Send This Article to a Friend
Bookmark this Content
Digg it!
Reddit
Furl
del.icio.us
Spurl
Yahoo!