8 All-American Escapes
Pick one of these fun ways to summer stateside
By Alexis Loyd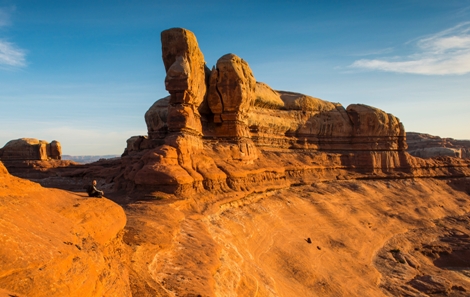 Neal Herbert/National Park Service
A
s the days stretch longer and temperatures rise, memories of childhood summers start to mingle in my mind -- chasing lightning bugs, slurping ice cream cones, pale feet sinking in wet sand -- and a glimmer of that same adolescent excitement surfaces: Summer is coming!
Relive summer's glory days (and create new fond memories) on one of these eight classic American trips, which range from a national park adventure to a New England sailing. Click the links provided below for more information from travel discounter Vacations To Go.
View the country's natural wonders
Since 1872, when Congress established Yellowstone National Park, Americans have found refuge in the country's public preserved lands. Today, the National Park Service protects more than 84 million acres, to which roughly 280 million visitors flock annually. Build your vacation around some of the most popular reserves with "
Wonders of the American West
" from
Insight Vacations
. Guests travel from Denver to Las Vegas, covering seven national parks -- Arches, Canyonlands, Capitol Reef, Zion, Bryce Canyon, Grand Canyon and Mesa Verde -- and other scenic stops over 10 days.
Heritage highlight:
Delve into Ancestral Puebloan culture at the 13th-century Spruce Tree House cliff dwelling in Mesa Verde National Park.
For the album:
There are vistas galore on this journey, so make sure you bring extra batteries. Don't miss a shot from Canyonlands' Island in the Sky mesa, atop sandstone cliffs more than 1,000 feet above the surroundings.
Details:
Per-person rates start at $3,075 for most departures from late May through September.
Head to an amusement park
The great theme park pilgrimage is a time-honored summer tradition, and Florida's Orlando area is the amusement mecca. It's the home of the famous Walt Disney World Resort, with its Magic Kingdom, Epcot and slew of beloved characters, from Mickey and Minnie to Anna and Elsa from the recent hit, "Frozen." Plan a stay long enough to include Universal Studios, where Diagon Alley opens this summer at the park's Wizarding World of Harry Potter. Muggles will be able to board a train at Platform 9 3/4 and pick up essentials at Quality Quidditch Supplies.
A bit of Americana:
Don't forget to grab some mouse ears to take home. Enough of these hats are sold each year to stretch 175 miles if laid end to end.
For the album:
Strike a pose in front of the 189-foot iconic Cinderella Castle. Consider a nighttime photo shoot, when more than 16 million lights brighten the facade.
Details:
Click here to explore reduced rates on many Orlando area stays
, including
digs inside Disney
.
Escape the mainland
Set your sights offshore this summer.
Norwegian Cruise Line
makes it easy to take in Hawaiian highlights on seven- and 10-night trips centered on the 2,186-passenger
Pride of America
, sailing round trip from Honolulu and stopping at
Kahului, Maui
;
Hilo
and
Kona
on the Big Island; and
Nawiliwili, Kauai
. Geological treks in Hawaii Volcanoes National Park, Kona coffee tastings, snorkeling amid kaleidoscopic marine life in underwater sanctuaries and attending a luau with hula and fire-knife dancers all are options in the Paradise of the Pacific.
Heritage highlight:
Patriotic cruisers can choose an excursion to World War II sites: the USS Arizona Memorial at Pearl Harbor and the USS Missouri battleship.
For the album:
Traverse the twisted Road to Hana for photo ops of black-sand beaches, tumbling waterfalls, lush hillsides and the "seven sacred pools" of Oheo.
Details:
Prices vary, but
a weeklong jaunt on Aug. 9
starts at $1,579 per passenger; the Pride of America sails the Aloha State year-round.
Ride the rails
What is summer without barbecue?
Amtrak Vacations
combines a classic mode of travel with good eats on the eight-day "
Barbecue in America
." Foodies are treated to tender meat and tangy sauce in Kansas City, MO; St. Louis; and Memphis, TN, while taking time to delve into heartland history at sites such as the Arabia Steamboat Museum, dedicated to the collection of cargo recovered from the vessel's Missouri River sinking in 1856. A special bonus for songsters and music lovers: A local Memphis artist takes guests on a tour of the city's musical landmarks, including historic Beale Street and Sun Studio.
A bit of Americana:
Pick up a memento at the King's sprawling home, Graceland, in the Birthplace of Rock 'n' Roll. Complete your Elvis-themed T-shirt collection at long last.
For the album:
Snap a shot of the great Mississippi River from atop the 630-foot, steel-and-concrete Gateway Arch in St. Louis.
Details:
Pricing per guest starts at $1,149, with trips through March 2015.
Sail New England coasts
Thawed out after the long winter, New England is reborn each summer, bursting with locals grateful for sunny days and visitors lured by the region's historic waterfronts, beaches, boating and bountiful seafood. Join a long list of famous elites and past presidents who have retreated to these coastal towns by booking your spot on "
New England Islands
." An eight-day itinerary aboard an intimate
American Cruise Lines
vessel -- the 49-passenger
American Glory
or 100-passenger
American Star
-- brings vacationers to Providence, Bristol, Newport and Block Island in Rhode Island and Nantucket, New Bedford, Fall River and Martha's Vineyard in Massachusetts.
Heritage highlight:
Delve into the world of whaling, climb aboard a ship model and marvel at a 66-foot blue whale skeleton at the New Bedford Whaling Museum, in the town that inspired Herman Melville's "Moby-Dick."
For the album:
Make believe you're a Vanderbilt and pose outside the family's 70-room, Italian Renaissance-style summer "cottage" in Newport.
Details:
Per-person rates start at $3,700 for cruises departing late June through September.
Pay tribute to the Founding Fathers
Multigenerational broods mix vacation fun and U.S. history on the weeklong "
National Treasures: Philly to DC
." In the City of Brotherly Love,
Tauck
travelers explore Independence Hall, where the Declaration of Independence and the Constitution were signed, and view the Liberty Bell before heading to Gettysburg National Military Park, site of the famed Civil War victory for the Union. Three nights in Washington, DC, allow time for touring the Smithsonian National Air and Space Museum, the Martin Luther King Jr. Memorial and the International Spy Museum, featuring exhibits dedicated to espionage around the world.
Heritage highlight:
Families learn about the founding documents and go on a scavenger hunt in the public vaults at the National Archives Museum in the country's capital.
For the album:
Snap the 18th-century mansion and meticulously landscaped gardens at George Washington's Mount Vernon estate in Virginia.
Details:
Rates per traveler start at $2,990 for three available departure dates this year: June 21, July 12 and Aug. 2.
Explore Lewis and Clark territory
Embark on the newly renovated
American Empress
for an
American Queen Steamboat Company
journey that follows the path of early 19th-century pioneers Capt. Meriwether Lewis and Lt. William Clark. The 223-passenger paddle wheeler sails between Portland, OR, and Clarkston, WA, on the eight-day "
Columbia & Snake Rivers
." Lectures from the cultural expert "riverlorian" and big band, country, folk, bluegrass and swing performances entertain travelers on board.
Heritage highlight:
A visit to Sacajawea State Park and Interpretive Center in Pasco, WA, illuminates the story of the Lewis and Clark expedition. Check out centuries-old native stone and bone tools on display here, too.
For the album:
Climb the spiral staircase to the top of Oregon's Astoria Column, towering 600 feet above sea level on its hillside perch to provide panoramic views of the Pacific Ocean, Columbia River and Cascade Range.
Details:
Prices start at $3,795 per person; eastbound and westbound departures are available through early November.
Travel the Mother Road
One of the first highways to cross the United States, Route 66 cemented its place in American culture during the golden age of the automobile, garnering a nickname from John Steinbeck, its own song and even a namesake TV series. Though the thoroughfare, which connected towns from Chicago to Los Angeles, was decommissioned in 1985, modern-day wayfarers can relive its glory with the 14-day "
Route 66
" from
Trafalgar
. Road trippers call at attractions in eight states including the Anheuser-Busch Brewery in St. Louis, the Will Rogers Memorial Museum in Claremore, OK, and Old Town in Albuquerque, NM.
A bit of Americana:
Annie Oakley cowgirl hats and perfume, John Wayne shot glasses, hand-carved Native American art objects and turquoise jewelry are just some of the souvenirs available at the National Cowboy and Western Heritage Museum in Oklahoma City.
For the album:
Capture the graffiti-coated cars sticking out of the ground at Cadillac Ranch in Amarillo, TX.
Details:
Per-person rates start at $3,250; departures are available through late September.
The information in this story was accurate at the time it was published in May/June 2014. Please visit
Vacations To Go
or call (800) 680-2858 for current rates and details.
Send This Article to a Friend
Bookmark this Content
Digg it!
Reddit
Furl
del.icio.us
Spurl
Yahoo!