6 Ways to Savor the Neapolitan Riviera
This stunning Italian waterfront is complemented
by its intriguing history, hearty cuisine and indulgent attractions
By Jennifer Davoren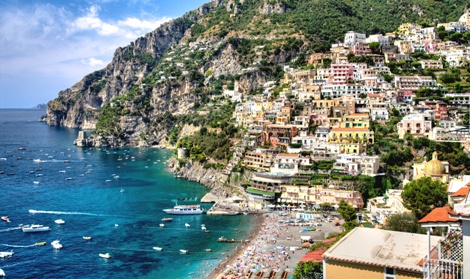 Jeremy Reds/Fotolia
O
n the Neapolitan Riviera, it's all about the view.
Up and down this sunny shore, resort towns like Sorrento, Furore and Positano cling to rocky cliffs like moss, their homes and businesses stair-stepped from the peaceful Tyrrhenian Sea to the hilltops above. This region -- the southwest side of Italy's "boot," including the breezy Amalfi Coast and the cultural capital for which it's named, Naples -- is one of the country's most popular destinations. It's tailor-made for vacation photos, whether you're capturing the coastline from an offshore skiff or kicking back on a waterfront patio, sipping a tart limoncello and shooting the sunset.
Here, we suggest six escorted tours with ideal vantage points around Naples, the Amalfi Coast and points beyond. And, though it's hard to tear yourself away from those awe-inspiring views, we offer several ways to delve into the history, artistic legacy and -- this is Italy, after all -- the delectable cuisine of this region.
For more information on escorted tours in Italy, which bundle travel necessities like accommodations, ground transportation and sightseeing excursions at low group rates, visit
Vacations To Go
or call (800) 680-2858.
Explore an Explosive Past
"Many raised their hands to the gods, and even more believed that there were no gods any longer, and that this was one unending night for the world." Pliny the Younger, a prominent Roman politician and writer, was witness to one of the most devastating volcanic eruptions in history. The bustling port city of Pompeii was completely destroyed in A.D. 79, buried by the swift-moving lava and choking ash of Mount Vesuvius. More than 3,000 residents were killed, their bodies and belongings preserved by layer upon layer of rock and sediment.
Modern visitors to Pompeii find it a haunting sight. Archaeologists have unearthed just two-thirds of the city, but its frozen streets provide an unprecedented look at life in the first century. Even Pompeii's ancient graffiti, scrawled on the sides of bathhouses and taverns, still is legible in some spots. Take a trip through time with "
10 Day Vesuvius
" from
Perillo Tours
, which includes an afternoon of guided sightseeing in Pompeii. Additional perks of this vacation include stops in Rome, Venice and Florence, where another of history's wonders awaits: Michelangelo's 17-foot marble masterpiece and hallmark of the Renaissance, "David." Prices start at $2,990 per person, without airfare; choose from more than 20 departures between May and October.
Indulge Like An Emperor
Roman titans Augustus and Tiberius were among the first fashionable Italians to make the Island of Dreams -- or Capri, as it's known to present-day travelers -- their exclusive offshore paradise. It still calls to pleasure seekers with vistas fit for royalty, from the summit of Monte Solaro, accessible by chairlift, to the depths of the Blue Grotto, where seawater, sunlight and prehistoric limestone create a brilliant azure hideaway. Tony stores stuffed with high-end goods line the streets of Capri Town, for those looking to spend like a member of the aristocracy. The remains of Tiberius' stronghold, Villa Jovis, can be toured, too, for the ultimate imperial experience.
Capri is a common daytime stop on tours along this stretch of coast, but "
Southern Italy Family Discovery
" eight days with
Intrepid Travel
, overnights on the island, offering plenty of free time for exploration between scheduled group activities. Guests of this vacation also climb the long-dormant slopes of Mount Vesuvius and spend three nights at a farm on the Sorrentine Peninsula. Per-person prices start at $1,405 before airfare, and departures stretch from May 31 of this year to October 26, 2013.
Revel in Ravello
Summer visitors of this hilltop arts haven will discover the Ravello Festival, with nearly two months of open-air orchestra concerts offering the dual pleasures of classical music and fresh sea breezes. This city, on the eastern end of the Amalfi Coast, also is known for its specialty wines -- mostly light, refreshing whites, though a few local reds are gaining popularity -- so try a cellar tour or tasting, perhaps at the Hotel Palumbo, with its own private winery.
And then there are the twin mansions, Villa Rufolo and Villa Cimbrone, on their rocky perches overlooking the Gulf of Salerno. The former, with sections dating to the 13th century, hosts the Ravello Festival on its sunny, flowered terraces. The latter, once home to an English lord, is a stately Gothic throwback, its dramatic stone exterior meant to resemble Europe's greatest castles.
Collette Vacations
' 10-day "
Rome and the Amalfi Coast
" stops in Ravello for a tour of Villa Rufolo. Guests also are treated to an Italian language lesson, a tour of a buffalo mozzarella factory, tastings at a limoncello producer and five nights in Vietri sul Mare, known for its spa resorts and ceramics shops. Trips are scheduled through next spring, with rates starting at $1,849 per person, without airfare, for a departure this April.
Feast in Furore
Italian vacations often are built on the country's culinary delights. Try touring this gourmand's paradise from a farm-fresh perspective with a stay on the central coast, where the town of Furore welcomes agritourism. Here, a 17th-century monastery has been reborn as the St. Alfonso Farm House, a nine-room, family-owned boutique hotel ringed by patches of fragrant herbs and fruit trees. Guests are treated to sparkling sea views from a cliff-top patio -- an ideal spot for enjoying the property's main attraction, its home-cooked comfort food and impressive wine pairings. Menus are crafted with the help of seasonal produce grown on-site and a small team of experienced chefs.
"
Amalfi Coast Local Living
" a
G Adventures
offering, includes a six-night stay at the St. Alfonso Farm House. Guests will take part in daily cooking lessons, scouring gardens and groves as they pick their own ingredients. They'll work off those extra calories with several group hikes, including a trek down the Path of the Gods, so named for its stunning scenery and cloud-skimming course (nearly 2,000 feet above sea level in some spots). Prices for this eight-day tour start at $1,349 per person before airfare, and more than a dozen departures are available through June 2013.
Commute Along The Coast
Many escorted vacations pride themselves on the comfort and convenience of the luxury motor coach. No mere bus, these roomy, temperature-controlled vehicles tackle stubborn back roads and other obstacles as they whisk groups of guests between destinations.
In this part of Italy, however, the journey is half the fun. "
Amalfi Coast Fly and Drive
" an eight-day tour with
Gate 1 Travel
, puts vacationers behind the wheel of their own vehicle -- often an economy or compact car with a manual transmission, such as a Fiat Panda or Volkswagen Golf -- so they can cover nearly 500 miles of wave-lapped coastline in style. While this trip follows an approximate schedule, scheduling a two- or three-hour drive between destinations each day, drivers and passengers otherwise will find themselves at leisure. On Day 3 of the journey, for instance, there's time for a pit stop in Pompeii, though less ambitious guests may choose to spend an entire afternoon exploring hidden cafes in enchanting towns or hiking along the cliffs.
Prices start at $569 per person before airfare, with an additional $57 fee per rental vehicle. Unlimited mileage and some insurance costs are covered. Departures currently are offered through October 2012.
Stretch to the Edge
Most tours in this corner of Italy spend time in Naples, the northern anchor for the region. The city has long been a capital of culture bursting with museums, music halls and more. Neapolitan cuisine is a source of great pride for Italy, with pasta served al dente and soft mounds of mozzarella di bufala accompanying many entrees.
But some itineraries stretch south to Sicily, a haven for Greek ruins like the Valley of the Temples; centuries-old city squares, including the Piazza Bellini; and the occasional volcanic showcase, courtesy of Mount Etna. While the island may not be able to shake off the shadow of its infamous mob culture, travelers are more likely to be struck by the "melting pot" atmosphere, having been home to a wide range of cultures over the millennia.
"
Highlights of Sicily and Southern Italy
" a 13-day jaunt with
Globus
, features the Neapolitan Riviera with overnights in Sorrento, an afternoon tour of Pompeii, sightseeing in Naples and an excursion to Reggia di Caserta, a palace complex of some 1,200 rooms and two miles of gardens. Guests then cross the Strait of Messina by ferry to spend four days in Sicily, split between Taormina and Palermo. Choose from departures through early October, with per-person ticket prices from $2,989 before airfare.
The information in this story was accurate at the time it was published in March/April 2012. Please visit
Vacations To Go
or call (800) 680-2858 for current rates and details.
Send This Article to a Friend
Bookmark this Content
Digg it!
Reddit
Furl
del.icio.us
Spurl
Yahoo!