6 Tours in Europe for Under $1,000
Sample your dream destinations affordably
with these escorted vacations
By Jennifer Davoren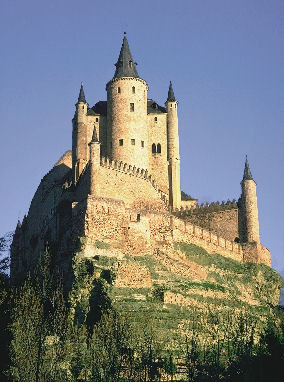 Junta de Castilla y Leon
W
hen it comes to international travel, the extras really add up -- and fast. From morning coffee and afternoon snacks to tips for housekeeping staff, bellboys and tour guides, it's easy to lose control of your spending when wandering abroad.
Escorted vacations are ideal for tourists on a tight budget. This type of journey wraps lodging, guided sightseeing and ground travel between destinations into a single price that's paid up front. Many also include baggage handling, travel taxes, admission fees to major attractions and a few meals, cutting costs even further.
And, as they're booked at a lower group rate, escorted tours mean big savings for those used to independent travel. They also free up some cash for souvenirs and other extras picked up abroad.
Below, we break down six of our favorite European tours. They highlight a variety of destinations, from heritage hot spots like Scotland and Ireland to more exotic locales, including Prague, Budapest and Istanbul. Best of all, package prices are less than $1,000 -- that's per person, before airfare and based on double-occupancy accommodations -- pretty much year-round, in the comfortable, sparsely traveled shoulder seasons as well as during the busy summer months.
For more information on these and other escorted journeys, visit Houston-based travel discounter
Vacations To Go
or contact an agent at (800) 680-2858.
Route:
From Istanbul, Turkey's largest city as well as the starting and ending point of this nine-day
Trafalgar CostSaver
tour, guests head south along the Aegean coastline to visit the battlefields of Gallipoli, the archaeological dig at Troy and the former Roman stronghold of Ephesus. Turning back to the north on their return journey, guests explore the chalk-white limestone formations and hot springs of Pamukkale and the old silk market of Bursa.
Highlights:
Istanbul is an awe-inspiring metropolis, its skyline dominated by the six minarets of the Blue Mosque and the central tower of its sprawling neighbor, Topkapi Palace. Both are toured through this vacation, best suited for first-time visitors looking to connect with historic and religious sites around Turkey. In Gallipoli, guests relive one of the fiercest fights of World War I; an exploration of Troy, meanwhile, separates fact from the legend captured by the epic poet Homer. Ephesus, built by Greeks in the 10th century B.C., was later swallowed by the Roman Republic and flourished as a seaside haven for the arts. Today, it invites walking tours of its ruins and visits to the nearby House of the Virgin Mary, a temple for "the blessed mother." Shopping is another highlight of this tour, and visits to Istanbul's Grand Bazaar and other markets reward Trafalgar guests with unique souvenirs.
Inclusions:
Seven buffet breakfasts, five dinners and a host of admission fees are covered by Trafalgar. Sightseeing tours are led by locals -- a must in Turkey, where language barriers and cultural differences can trip up a visitor.
Departures:
Prices for "
Turkish Highlights
" begin at $975 per person, without airfare, and itineraries are available through October. Travel in the spring and fall for lower temperatures and smaller crowds. Islamic holidays can pack Turkey's larger cities, so keep an eye on the calendar when booking travel.
Route:
This six-day sampler -- also available as longer itineraries, though the prices increase accordingly -- is a cross-country journey from Ireland specialists
CIE Tours
, with overnight stops in Dublin, Killarney and Bunratty, a city best known for its central castle.
Highlights:
Dublin destinations include an exploration of its namesake citadel, and a drive past several hot spots, including Trinity College, provides a scenic overview of the city. The famed Stone of Eloquence is the star of Blarney Castle, visited on the next day of this journey. Guests also revel in the peace of the Irish countryside with a journey to a working farm in the evergreen Ring of Kerry. Here, you'll see sheepdogs round up their herds and show off a bit for onlookers. There's also a stop at the Skellig Experience, a bird sanctuary that also provides an Irish history primer through its visitors center. Dramatic views of the Cliffs of Moher, the rocky edge of County Clare fronting the Atlantic Ocean, await near the end of the tour.
Inclusions:
Planned, prepaid activities begin with a welcome drink and introduction to the CIE tour director and fellow guests. Five breakfasts and four dinners also are included, from a medieval meal with traditional music at Bunratty Castle to a cabaret night of cuisine and culture hosted by your Dublin hotel. Guided sightseeing by motor coach and via a River Shannon ferry cruise illustrate each stop on the Emerald Isle.
Departures:
"
Taste of Ireland, Tour A
" is one of CIE's most popular tours, and nearly a dozen departures are offered per month through the fall. Prices begin at $658 per person, without airfare, for the last trip of the year, which leaves for Dublin on Dec. 11. However, May is a more welcoming month, when the weather is a bit warmer and drier (for Ireland, at least), daylight lasts longer and summer's tourist hordes have yet to descend on the top attractions.
Route:
This eight-day
Cosmos
tour, which begins and ends in the City of Light, seeks the dazzling treasures of northern France. Its circular course includes the beaches of Normandy, the unique isle of Mont St. Michel and Giverny, the former home and final resting place of painter Claude Monet.
Highlights:
Activities kick off with a guided tour of Notre Dame Cathedral. In Giverny, guests wander gardens once tended and captured on canvas by Monet, where fans of the impressionist's "Water Lilies" series might recognize certain landmarks. A stop on the Normandy coast, the site of Allied forces' D-Day invasion in 1944, offers a moment of quiet reflection. Guests also spend a night in Mont St. Michel, a small tidal island topped by an 11th-century abbey, where cobblestoned streets are lined with UNESCO-protected sites and cafes serving the city's prize dish, the omelette.
Inclusions:
In addition to seven buffet breakfasts and two dinners, Cosmos covers an extensive guided tour of Paris on your first full day of this tour. It's a whirlwind viewing of icons, from the Eiffel Tower and Arc de Triomphe to the tree-lined Champs Elysees. This itinerary gives participants plenty of free time to sightsee on their own, but guests can customize their itinerary with a number of add-on excursions available at extra cost. Some showcase sprawling chateaus, like the Palace of Versailles and Chenonceau in the Loire Valley. Another option is a guided tour of the Louvre -- one that not only highlights a number of timeless classics, including "Mona Lisa," but allows participants to skip the long lines that plague the museum and crowd its entrance hall.
Departures:
About
30 itineraries
remain this year, with prices from $929 per person -- but when to visit? Cole Porter loved Paris in the springtime, but "in the winter when it drizzles" seemed pretty appealing for him, too. Edith Piaf preferred "a world where roses bloom" and, indeed, spring and fall fill Giverny with the bright botanicals that inspired Monet's greatest works. Consider an October tour of France, when summer's crowds have waned, and both flowers and autumn fruit (especially wine country grapes) are ripe.
Classic Spain and Portugal
Route:
This weeklong jaunt between Madrid and Lisbon makes time for three additional Spanish cities, each with its own treasure: Segovia, crowned by a turreted castle; historic Avila, protected by medieval walls; and Salamanca, which dates to the third century B.C.
Gate 1 Travel
's comfy motor coaches also navigate some rugged terrain between destinations, so guests should have their cameras prepared for mountain views.
Highlights:
A guided tour of Madrid hits the capital's hot spots, with views of the royal palace at the center of the city and a drive along the Grand Via, lined with great examples of early 20th-century design. It concludes with an afternoon at the Prado museum, which houses one of the largest collections of European artworks in the world, including those by Francisco Goya, Diego Velazquez and other Spanish masters. Lisbon, meanwhile, is home to some stunning architecture. Gate 1 guests view the city's namesake cathedral, which dates to the 12th century; Belem Tower, a 16th-century fortress; and sprawling Alfama, the city's oldest neighborhood and a favorite haunt for seafood lovers. This tour also draws the faithful; Avila honors its connections to St. Teresa, who founded a Carmelite convent in the city, and another tour stop -- Fatima, Portugal, just north of Lisbon -- is said to have a special connection to the Virgin Mary. Three children claimed to have seen a spiritual apparition here in 1917, and the town has drawn pilgrims ever since.
Inclusions:
Gate 1 provides entrance fees for the Prado and the Cathedral of Lisbon, among other sites. Five breakfasts and a group dinner with wine also are included. Optional half-day tours of select cities are available for about $60 per person, though guests are free to explore destinations on their own.
Departures:
Itineraries
are available through November, with prices from $929 per person. Select the June 8 departure of "Classic Spain and Portugal" and you'll be in Lisbon in time for the St. Anthony Festival. This celebration of the city's patron saint includes parties, parades and mass consumption of grilled sardines, which symbolize a miracle attributed to him.
Prague, Vienna and Budapest
Route:
Beginning and ending in Munich, this nine-day trip from
Cosmos
loops through four countries in central Europe to highlight Old World music and majesty. In addition to visiting the headlining cities, guests spend a night in Salzburg, the Austrian birthplace of Wolfgang Amadeus Mozart, and see Nuremberg, a German city that has shaken off the hardships of World War II and embraced its royal history. Guests even take a spin down the infamous autobahn, albeit aboard a safe and chauffeured motor coach.
Highlights:
In Cosmos' words, travelers encounter "the rediscovered jewels of Imperial Europe" on this tour. A stroll through Nuremberg's Old Town, the walled medieval quarter, offers a glimpse of a Bavarian castle dating to the 11th century. In Prague, capital of the Czech Republic, historic sites of interest include the 600-year-old Astronomical Clock, a gilded masterpiece that announces the positions of the sun and moon as well as the hour. Free time in Vienna could be spent exploring the city's musical side, especially sites related to a beloved native son, composer Johann Strauss. And in Budapest, bisected by the blue Danube River, Cosmos provides a scenic drive along the waterfront and visits to several sites, including hilltop Fisherman's Bastion, where terraces and towers offer sweeping views.
Inclusions:
Daily buffet breakfasts and plenty of guided sightseeing opportunities are covered by this vacation, with prices starting at $899 per person. Add-on excursions range from a "Sound of Music" tour of Salzburg for 22 euros (roughly $31 U.S.) to a night of Czech music, cuisine and wine in Prague for 40 euros ($57) and a Danube dinner cruise from Budapest for 55 euros ($78).
Departures:
Prospective guests can choose from dozens of departures of "
Prague, Vienna and Budapest
" through March 2012. Choose one of three December dates for a dose of holiday cheer, as central Europe's famed Christmas markets -- monthlong street fairs filled with handicrafts, food and traditional carols -- spring to life. The tour departing Dec. 20 even includes a special Christmas lunch in Budapest.
Route:
Setting off from Glasgow, this six-day escorted vacation with
CIE Tours
cuts a horseshoe-shaped path across the Scottish Highlands to reach a number of sites, from mysterious Loch Ness to the high-spirited distilleries of whisky country. Guests also spend an evening in Nairn, hailed for its two championship golf courses -- a major compliment in Scotland, where the sport was born. This getaway concludes in Edinburgh, a capital of culture as well as government.
Highlights:
Guided tours of Glasgow and Edinburgh introduce visitors to Scotland's largest cities. The former is home to the Kelvingrove Art Gallery and Museum, which guests tour to view Salvador Dali's work as well as an impressive natural history collection. The latter offers the Royal Mile, a stretch of regal structures that includes Queen Elizabeth II's official Scottish residence. A loch cruise will have passengers scanning the horizon for Nessie, a notoriously shy creature, and the neighboring majesty of Urquhart Castle. The next day, a stop at Culloden, the site of a devastating battle in 1746, explores Scotland's tumultuous history with England and a centuries-long battle for independence. And, as no visit to Scotland would be complete without a sampling of its proudest export, a Grampian Mountains distillery tour will have guests sipping whisky and learning about traditional brewing practices.
Inclusions:
Admission to Urquhart and Edinburgh castles, Kelvingrove, the Culloden visitors center and other attractions are covered by CIE. A handful of meals also are provided, including daily breakfasts and a Scottish Highlands cabaret featuring traditional music, dance and cuisine -- and yes, haggis will be available for adventurous diners.
Departures:
Trips
are available through November, and prices start at $798. The Aug. 6, 8, 13, 20 and 22 departures include tickets to the Royal Edinburgh Military Tattoo, a brassy showcase for marching bands, bagpipers, drill teams and equestrian cavalries of the world's armed forces. More than 1,000 performers from 40-plus countries participate, and with about 200,000 attendees per year, seats are in high demand. Prices for the Tattoo-inclusive tours start at $1,048, just a tad over our per-person threshhold.
The information in this story was accurate at the time it was published in May/June 2011. Please visit
Vacations To Go
or call (800) 680-2858 for current rates and details.
Send This Article to a Friend
Bookmark this Content
Digg it!
Reddit
Furl
del.icio.us
Spurl
Yahoo!