6 Guided Getaways for Families
These tours stretching from the California coast to the savannas
of eastern Africa are designed with family fun in mind
By Lucy Spicer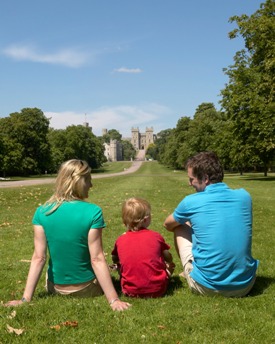 VisitBritain
W
rangling the kids while on vacation is difficult enough, so why not let a guided tour take care of other details? This type of trip wraps accommodations, activities and more into one convenient, and often budget-friendly, travel package, so all the adults have to worry about is keeping up with the little ones.
The following six itineraries -- five escorted tours, with detailed day-to-day plans further simplifying your vacation, and one less-structured adventure, for maximized leisure time and off-the-beaten path exploration -- suit families of all ages and sizes. Possible activities include archery practice in England, feeding giraffes in Kenya and making pizzas in Italy.
For more information about tours that will please the whole troupe, call the travel experts at Vacations To Go, (800) 680-2858, or peruse options online.
SIGHTSEE IN SAN DIEGO
Let
Amtrak Vacations
extend your weekend with a trip to sunny San Diego. A four-day independent jaunt, "
San Diego Family Adventure
" allows breathing room for a flexible schedule. Want to explore the city at your leisure or spend extra time at a landmark? No problem. This trip, which includes a "hop-on, hop-off" sightseeing tour on Day 2, allows you to vacation at your own speed.
After arriving via Amtrak train and settling in at your hotel -- located downtown a little more than half a mile from the waterfront -- you're free to take everyone for a ride on a hand-carved horse, courtesy of the historic carousel at Seaport Village, or sink your toes into the sparkling sand at Coronado Beach, roughly 5 miles from the city center and frequently ranked as one of the best beaches in the U.S.
Must-see site:
The USS Midway Museum is aboard one of the longest-serving aircraft carriers in America's naval history. Flight simulators, a gallery of restored aircraft and more than 60 exhibits, complete with knowledgeable docents, make this one of the most popular tourist spots in San Diego.
Kid-friendly fun:
This trip includes admission to the world-famous San Diego Zoo as well as unlimited access to its exhibits, shows and the Skyfari aerial tram. With thousands of animals and more than 650 species represented, the zoo has hours' worth of entertainment.
Information:
Daily departures are available through March 2017, with rates starting at $729.
EXPLORE LONDON AND PARIS
Castles, cafes and culture abound on the eight-day "
England & France
" from
Adventures by Disney
. The first half of the tour is devoted to London, where pub food and luscious views will keep your stomachs and cameras full. Ride a double-decker bus and savor iconic experiences like the changing of the guard at Buckingham Palace and high tea in the illustrious, 15th-century Guildhall.
On Day 5, a speedy train ride through the Chunnel leads to the City of Light, where you'll visit quintessential sites like the Eiffel Tower and the Louvre. Delight your palate with macarons and French wines, and discover the perfect photo op on a daytrip to the opulent Versailles palace and gardens.
Themed scavenger hunts throughout your trip keep the kiddies engaged at various historic and cultural landmarks, such as a "knights and dragons" adventure at Windsor Castle outside London.
A little family competition:
Channel the legendary Robin Hood and have the whole brood test their archery skills on a private property in the lush English countryside.
Kid-friendly fun:
Day 7 features a tour of Notre Dame Cathedral in Paris, where kids will recall the stained-glass windows and gargoyles from Disney's spin on the classic tale "The Hunchback of Notre Dame." Climb a tower to study the ornate architecture up close and hear more about Quasimodo, the elusive bell ringer.
Information:
Departures are available through September, and prices start at $5,579. The minimum age for travelers is 4, though Disney suggests kids age 6 and up would be more suited to the tour. (Disney also has reserved three departures -- May 16 and Sept. 16 and 26 -- for adults only.)
CHOOSE ADVENTURE IN COSTA RICA
An active volcano, miles of misty cloud forest and a buzzing capital city all are featured in the seven-day "
Classic Costa Rica Family Vacation
." And, if those attractions aren't enough to wear out your little ones, tour provider
Gate 1 Travel
also offers add-on activities ranging from tree canopy tours via zipline to hot springs wading, helping you take full advantage of your wild surroundings.
After an orientation and a round of welcome drinks with your tour director in the Costa Rican hub of San Jose, guests head for Arenal Volcano, wrapped by its namesake national park boasting exotic flora and fauna. A southward trip to Monteverde adds an educational element with a visit to a coffee farm. Learn the importance of bean cultivation to the Costa Rican culture and economy, then savor a chocolate tour followed by a hot cocoa-making lesson. Your journey ends with free time back in San Jose, where you might visit the Jade Museum for a tour of pre-Columbian artifacts or simply use the time to unwind after your adventure.
Relaxation station:
An optional visit to the Eco Termales hot springs will ease any tension that travel brings. These family-owned natural pools are embraced by rain forest vegetation and range in temperature from 99 to 106 degrees Fahrenheit. An evening dip accompanied by a home-cooked Costa Rican dinner costs an extra $52.
Kid-friendly fun:
A hike on the Las Coladas Trail through Arenal Volcano National Park rewards adventurers with stunning views of the crater and lava flows from past eruptions.
Information:
Rates begin at $799 for four departures on June 21, July 7 and 19 and Aug. 4. The minimum age for kids is 6 on Gate 1's family vacations.
GET MOVING IN THE GALAPAGOS ISLANDS
Aquatic recreation reigns on
G Adventures
' eight-day "
Family Land Galapagos
." After flying to the isle of San Cristobal from Quito, the capital of Ecuador, guests will dive into the history of the Galapagos at a museum and interpretation center. The islands were formed by a moving tectonic plate and subsequent volcanic activity, and your gang will explore the unique geology and abundance of wildlife that the area has to offer.
A thrilling speedboat ride brings you to Santa Cruz Island, home to underground tunnels formed when the outer layers of lava flows hardened while liquid magma still moved inside. The following days continue to make the most of the great outdoors, with kayaking, optional surfing lessons and free time for swimming, bike riding or relaxing. Finish up your experience with a trip to the Charles Darwin Research Station to examine the naturalist's legacy before heading back to Quito.
Under the sea:
Day 3 includes a snorkeling excursion to Isla de Lobos, or Wolf Island, and a chance to observe colorful underwater marine life. Make sure you have a camera handy, as playful sea lions can be found basking in the sunshine or darting through the surf.
Kid-friendly fun:
A visit to the Giant Tortoise Breeding Center provides a unique opportunity to see the reptiles in all stages of life, from egg to adulthood.
Information:
Prices start at $1,949, and 10 departures stretch from this summer to December 2017. The minimum required age for this tour is 6 years old.
INDULGE IN ITALY
Relish la dolce vita on the seven-day "
The Sweet Life: Rome & Sorrento (For Families)
" a tour from the
Tauck
line of multigenerational Bridges journeys. An authentic Italian experience awaits, complete with must-see landmarks and, of course, plenty of iconic food. Kick it off with three days in Rome, during which you'll visit famous sites like the Colosseum, St. Peter's Basilica and the Trevi Fountain (toss in a coin to ensure your return to the Eternal City).
History comes alive on a sojourn to Pompeii, the city famously buried by the eruption of Mount Vesuvius in A.D. 79. Your last few days are filled with adventure: a high-speed boat ride through sapphire waters to the gorgeous island of Capri, a thrilling drive along the winding cliff roads of the Amalfi Coast and, maybe the most exciting of all, the chance to sample gelato after seeing how it's made.
Exclusive opportunity:
Avoid the crowds with a special after-hours tour of the Vatican Museums. Leave the hustle and bustle behind as you study the ceiling of the Sistine Chapel in serene splendor.
Kid-friendly fun:
A hands-on session at "gladiator school" offers a lesson in Roman combat. Two days later, you'll enjoy a delicious interactive experience: learning how to make an authentic Italian pizza in Sorrento after a visit to a farm.
Information:
Two departures are available this summer and rates start at $3,590. The recommended minimum age for this tour is 8 years old.
GO WILD IN AFRICA
Explore the natural glory of eastern Africa in comfort on "
Family Friendly Journey -- Kenya Safari
" an eight-day itinerary with
SITA World Tours
. Begin in Nairobi, where you will be welcomed with sweeping views of the verdant Ngong Hills and your first animal encounter. Continue to the Samburu National Reserve for another, as roughly 65 square miles of savanna are home to lions, zebras and more, some visible from your luxury tented camp.
Before ending your experience at the Maasai Mara National Reserve, a stop for the annual Great Migration of wildebeests and other herbivores, guests will overnight at the Great Rift Valley Lodge and Golf Resort near Lake Naivasha. At an elevation of approximately 7,000 feet, the resort enjoys magnificent views of glassy waters where hippos, flamingos, pelicans and more congregate.
Straight off the screen:
Karen Blixen fans will be hooked from the tour's first day during a visit to a colonial farmhouse and a chance to peruse items owned by the "Out of Africa" author.
Kid-friendly fun:
Multiple game drives and tented lodges in the heart of top wildlife preserves provide plenty of opportunities to spot leopards, ostriches, antelope and more. Additionally, your time in Nairobi includes a visit to the Giraffe Centre, where guests can feed members of the endangered Rothschild's subspecies from an elevated platform.
Information:
Prices start at $3,600, with more than 30 departures available through December.
The information in this story was accurate at the time it was published in May/June 2016. Please visit
Vacations To Go
or call (800) 680-2858 for current rates and details.
Send This Article to a Friend
Bookmark this Content
Digg it!
Reddit
Furl
del.icio.us
Spurl
Yahoo!