5 Reasons to Savor Switzerland
Start with the chocolate and cheese,
then venture to the vineyards and alpine peaks
By Jennifer Davoren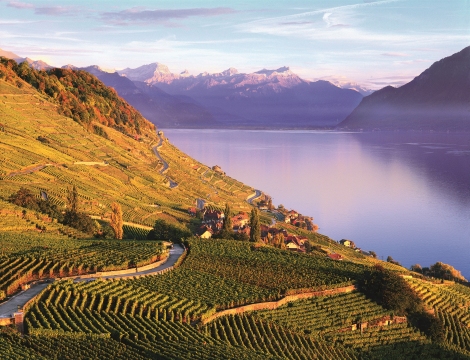 Regis Colombo/www.Diapo.ch
(Scroll down to see a slide show.)
E
ven by Swiss standards, I have just eaten a pretty impressive amount of cheese.
Our fondue pots drained to the dregs, my tour group now is (slowly) shrugging on our backpacks and (sleepily) preparing for what our guide describes as "a little walk." It sounds easy-breezy enough, especially when proposed in Eugenio's cheery accent. The late-summer sky that greets us outside our restaurant doesn't hurt, either, its inviting stretch of blue beckoning us south toward Lake Geneva.
But oh, those Swiss standards can be tricky. Eugenio's "little walk," at least for those of us on the edge of dairy overdose, is a wobbly two-hour affair through steep hills and wooded glens, past fields of bell-collared cows and down the stair-stepped grape terraces of Lavaux, a UNESCO-crowned wine region. When we finally reach our destination, a tasting room in the lakeside village of Cully, the group is more concerned with its next bottles of water than the offered glasses of chasselas.
Switzerland's most beloved exports may be chocolate and Emmentaler, the holey ancestor of Americanized Swiss cheese, but you wouldn't know it from the state of its residents. Seasoned hikers, bikers, climbers and skiers, they set an athletic pace that your average tourist might struggle to follow. One of the world's most efficient mass transit systems is at your disposal, too, ready to whisk you between the 26 cantons, or states, that make up this alpine escape. Travel between Geneva and Zurich, two-thirds the length of the country, can take less than three hours by train.
Don't fret, slowpokes. There's something to be said for taking your time while
touring Switzerland
.
From those indulgent fondue stops to the sheer grandeur of the Swiss Alps, what follows are five good reasons for checking your pace while exploring a quaint corner of Western Europe.
A diversified identity
This destination packs a lot of personality in its 16,000 square miles. Sharing a border with France, Germany, Austria and Italy, Switzerland has absorbed its neighbors' languages, customs and culinary traditions while adding the occasional homespun twist. (Francois-Louis Cailler, the father of Swiss chocolate, studied an Italian confectioner's technique for four years before returning home, tweaking the recipe and setting a new standard for sweets.)
Each canton offers its own unique vibe. Vaud, home to Lavaux wine country, is French through and through, from its grape-growing expertise to conversations in every corner shop. Sporty Ticino, a stone's throw from Milan, produces energetic, Italian-accented hiking guides such as Eugenio. Zurich -- like New York, the name of the city as well as the surrounding state -- has emerged as a cosmopolitan capital that mixes the best of Swiss influences and serves as a multilingual welcoming committee for arriving tourists.
I'd like to think that I'm reasonably well-traveled and, now a 12-year resident of the international energy capital of Houston, I've had my fair share of globe-trotting neighbors. But on my third night in Switzerland, I realize that I've never met a Swiss citizen before this visit.
My group's dinner host laughs at my surprise. "Oh, no. We don't really leave," he says, waving a hand at the mountains filling the nearest window. My tablemates nod in understanding -- with a view like that, why would you?
Should you find yourself in
Switzerland
, be sure to make a few friends among the locals. It might be your only opportunity to delve into this multifaceted culture.
Picture-perfect Thunersee
It's a sunny Saturday afternoon in August, and I share the clipped lawn and rose gardens wrapping Schloss Schadau with at least three wedding parties. Brides and attendants occasionally fuss with hair, dresses and distracted grooms, but otherwise wait their turn for photos with some understandably in-demand backdrops.
Before me, a postcard: Lake Thun, 18 square miles of water mirroring a sky full of wispy, low-hanging clouds and the snowy peaks of the Alps. It's a perfect day for pleasure cruising, and I count a few dozen skiffs making their lazy way across Thunersee, as the locals know it.
Behind me, Schloss Schadau is a fairy-tale palace in miniature, a 160-year-old, pink-bricked manor home turned gourmet restaurant. And it's just one schloss (German for "castle" or "chateau") among many -- Thunersee is dotted with former mansions turned museums. A personal favorite is Schloss Oberhofen, its foundations set nearly eight centuries ago; interiors mix the necessity of a medieval keep and weapons room with frilly 19th-century additions, including a jewel-red Turkish smoking parlor.
Wealthy homebuilders have taken advantage of these lakeside views since the 1100s. While you probably won't have that kind of time to spend along Thunersee, take your cue from local brides: Be patient in your travel planning, because these are some views worth waiting for.
The view from the top
The souvenir T-shirt slogan is catchy, but no, the Jungfrau isn't exactly "the top of Europe." It is, however, one of the highest points on the continent accessible by train, making it a sky-scraping adventure tailored for the whole family. While you're sure to pass hikers, climbers and campers taking the hard way uphill, a climate-controlled, 2.5-hour rail ride whisks more relaxed travelers to a height of 11,388 feet above sea level.
Expect bird's-eye views of the largest glacier in the Alps. Summer visitors, prepare for winter -- temperatures dip below 40 degrees even in August, and the snowpack around the peak's observation platform makes for chilly photo ops. And, speaking of slushy fun, bring a little cash for inner tubing and other kid-friendly fare available from the mountaintop visitor center.
From Interlaken, a paragliding mecca on the eastern side of Thunersee, the trip up and down the Jungfrau can take just half a day. First-time visitors might not expect the high-altitude wallop that comes from a 9,500-foot gain in elevation, so try not to rush the trip back down to lake level. Instead, for the sake of a savored experience, acclimate yourself with an extended visit to the top of the world -- try to include the Jungfrau chocolate shop, which Swiss brand Lindt claims is the highest in the world.
Iconic Zermatt
If ever there was a reason to be a quick draw during your
Swiss escape
, you will find it in the ski haven of Zermatt. Waiting for its most famous resident, the Matterhorn, to emerge from its cloudy halo requires patience -- so much so that you might find your camera arm straining from an extended wait -- but stay vigilant. When the 14,692-foot-high summit clears and the light of a new sunrise strikes the mountain's craggy face, you'll want to be as speedy as your shutter. You never know when the next cloud bank will swoop in and obscure your view again.
But there are other treasures here. Though best known as a winter getaway, Zermatt in summer is a spot for hikes and marmot-spotting in alpine foothills. The resort has banned traditional, combustible-engine cars to keep the skyline clear from air pollution, so local "traffic" is nothing more than the electric carts that ferry tourists between hotels. Instead, cobblestoned lanes are reserved for window-shopping among watch stores and sports outfitters.
And the Matterhorn isn't the only photogenic icon available. Saint Bernards, first bred in the Alps for cattle herding and snowy rescues, now serve as destination mascots and drooly, good-natured selfie partners. You'll probably hear the distant, throaty bugle of an alphorn during your visit, though nothing compares to seeing the often 12-foot-long instrument played in person.
And cheese, glorious cheese -- every order of fondue or raclette, another savory dairy dish best served with cured meats and mini gherkins, seems to be captured by diners' cameras.
Spotlight on the Montreux Riviera
Both Princess Diana and Camilla, Duchess of Cornwall, attended finishing school in the stately hills above Lake Geneva. A statue inspired by "The Tramp" keeps a waterfront watch in the city of Vevey, where Charlie Chaplin lived for more than 20 years. Coco Chanel hosted the occasional fashion show in Lausanne, where writers from Charles Dickens to Victor Hugo also drew inspiration.
The stadium rockers of Queen recorded seven albums in Montreux, a tony resort town on the eastern edge of Lake Geneva. Fans tour their studio-turned-music archive and pay respects to the late Freddie Mercury, the subject of a bronze monument overlooking a main tourist promenade. "If you want peace of mind, come to Montreux," Mercury once said, and Queen's lead singer certainly was a frequent presence between hectic world tours.
But the real stars of the Montreux Riviera -- essentially, the southern swath of the canton of Vaud, encompassing cities along Lake Geneva from Lausanne to Montreux -- are its grapevines. I'm told that
Switzerland
exports just 2 percent of its wine, so devotees flock to the source and buy directly from locals like Melanie Weber, the vintner behind my first-ever glass of chasselas, a refreshing white varietal thought to have originated in Switzerland.
UNESCO registered the Montreux Riviera's indulgent wine region, Lavaux, as a "cultural landscape" in the summer of 2007. Nearly 20 miles of terraces climb the hills above Lake Geneva, their produce fueling some 200 winemakers. They owe their livelihood to monks from Lausanne, who first tilled this fertile soil in the 11th century.
Nearly 1,000 years of viticultural expertise back each bottle of wine produced along this stretch of Lake Geneva. I'd call that another argument in favor of patience: In Switzerland, good things come to those who wait.
Escorted tours of Switzerland
In addition to specifically negotiated rates on airfare and accommodations, escorted vacations provide knowledgeable guides -- handy in a country with four official languages, not one of them English -- and expert perspectives on the best in local dining, shopping and more. You'll even find some free time to explore top attractions at your own speed. Tour discounter Vacations To Go slashes rates on Swiss trips ranging from four-day stays in Geneva to monthlong romps through Western Europe.
Stay as active as the locals with "
Walking in the French & Swiss Alps
" an eight-day adventure with
Intrepid Travel
. Guests explore a glacier and more in France's Chamonix Valley, then hop the border into Switzerland to trek Zermatt's mountain-shadowed trails. Summer departures are priced from $2,790.
"
Scenic Switzerland by Train
" is a more relaxed option. Featured railways include the GoldenPass Panoramic, with oversize windows overlooking the vineyard-shrouded route to Montreux; Europe's highest cogwheel train, the Gornergrat Bahn, operating since 1898 to reach an alpine observation area more than 10,000 feet above sea level; and the Glacier Express, its tracks into Zermatt offering your first peek at the Matterhorn rising above the ski resort. It's nine days with
Cosmos
, and prices start at $2,359 for September and October departures.
Gourmands might prefer "
Secrets of Switzerland
" nine days with
Trafalgar
, for its stops in Emmental cheese country and Lake Geneva's wine region. An itinerary introduced just this year, with prices from $3,074, the trip includes a visit to the Lavaux Vinorama, a combination of tasting room and classroom with some 260 local specialties on display.
Also new for 2015,
SITA World Tours
' nine-day "
Natural Wonders of Switzerland
" makes time for peaceful lake cruises, a Jungfrau ascension and photo ops of Europe's largest cascade, Rhine Falls, just outside Zurich. Prices start at $4,710, with departures through September.
The information in this story was accurate at the time it was published in March/April 2015. Please visit
Vacations To Go
or call (800) 680-2858 for current rates and details.
Send This Article to a Friend
Bookmark this Content
Digg it!
Reddit
Furl
del.icio.us
Spurl
Yahoo!