25 Trips on 7 Continents
Choose your favorites
from a world of enticing vacation ideas
By Elizabeth Armstrong, Jennifer Davoren & Alexis Loyd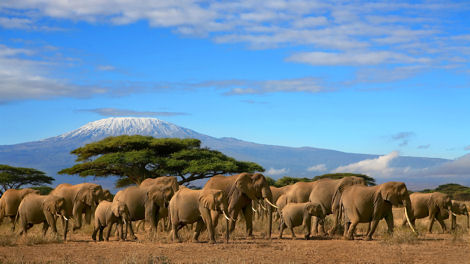 Paul Hampton/Fotolia
F
or our milestone issue of Vacations, we present 25 terrific travel ideas to fuel your wanderlust, one for each year that we've published this magazine. The collection contains off-the-beaten-path gems, like the tiny Channel Islands at France's northwest tip, and well-loved vacation grounds such as the canyon country of the American Southwest and the enchanting cities of Italy.
There are cruises on ships big and small, wildlife quests, trips designed for family bonding and exotic journeys for those who want to explore the far-flung corners of the Earth -- perhaps the palaces of India or the jungle habitats of the Amazon.
Whether you're looking for a once-in-a-lifetime adventure or an affordable and easy escape, we hope you'll be inspired to visit a new destination -- or perhaps rediscover an old favorite -- as you peruse the following pages.
ANTARCTICA
Journey to the South Pole
Antarctica is made for adventure, and would-be explorers are the hardy type, willing to undertake wind-whipped dinghy rides along icy canals for snapshots of elephant seals and snow-topped glaciers. Embrace your inner Roald Amundsen, whose team was the first to reach the South Pole, with a Hurtigruten cruise. You'll pair chilly outdoor excursions with educational lectures, hearty dining and dips in a shipboard Jacuzzi. The 10-day "
Classic Expedition
" is hosted by the MS Fram, named in honor of Amundsen's record-breaking vessel and a frequent cruiser of Drake's Passage, the challenging waterway separating South America and the Great White Continent. Landings in Antarctica via sturdy Polarcirkel boats are determined by weather and other environmental factors, with possibilities ranging from Neko Harbour, a nesting site for gentoo penguins, to Wilhelmina Bay, a busy feeding ground for whales. Prices start at $6,263 per person, with departures from November through February 2013.
SOUTH AMERICA
Waterfalls and Wine
The length of its name -- "
The Wonders of South America Featuring the Lake Crossing of the Andes and Chilean Wine Country
" -- flaunts the panoramic nature of this 16-day Collette Vacations tour. It cuts a path through Brazil, Argentina and Chile to hit the highlights of each: Sugarloaf Mountain and the Christ the Redeemer statue in Rio de Janeiro, a tango performance and meet-and-greet with locals in Buenos Aires, and traditional dining and a folkloric show in Santiago. Breathtaking views are found at Iguazu Falls, where 275 cascades fuel a national park, and on lake cruises that whisk guests through the mountains and across the Argentine-Chilean border. Sample malbec and more with three winery visits in Argentina's Mendoza province and tastings in Chile's rich Maipo Valley. "Wonders" is priced from $3,999 per person, and departures are available through early April 2013.
Rio Chic
The
Copacabana Palace
, on its eponymous stretch of beach in southeast Rio de Janeiro, has pampered celebrities and other luxury seekers since 1923. Flip through the "golden book" of guests and marvel at the autographs: royalty ranging from Edward VIII and George VI of England to the current king of Norway; actors such as Errol Flynn, John Wayne and Will Smith; and musicians from a host of genres, including Bing Crosby, the Supremes, Ozzy Osbourne and Yo-Yo Ma. Art Deco trappings join modern touches -- acai fruit facials, in-room Wi-Fi and iPod docks, the exclusive chef's table in an on-site gourmet restaurant -- among five-star amenities. Sample the VIP treatment during a five-day, mid-October stay (about $2,300 for two) with pool- and beachfront cocktail service, or book a massage to work out the kinks after a day of sightseeing around the city.
Path to the Incas
Immerse yourself in ancient cultures with "
Peru Explorer
" a 10-day trip with G Adventures. You'll visit Machu Picchu, the Lost City of the Incas, for a guided tour of mountaintop ruins; afterward, guests are free to seek out tombs and temples or hike to the top of Huayna Picchu, the peak that housed the city's high priest and other dignitaries. Guided sightseeing in Cuzco and the Sacred Valley, a major thoroughfare for the Incas, highlights preserved ceremonial structures and a sprawling craft market. On Lake Titicaca, guests are introduced to the man-made reed islands of the Uros, which historians date to a 16th-century attempt to flee Spanish conquistadors, and Taquile Island, known for its residents' colorful woven goods. Meanwhile, a stop in Lima offers a slice of life in modern-day Peru. Monthly departures are scheduled through December 2013, with per-person prices from $2,049.
To the Heart of the Jungle
More than 1 billion acres of tropical forest meet 4,100 miles of waterways in the Amazon River basin. Take a cruise on an oceangoing ship or smaller expedition vessel to explore this vast region with expert guides. "
A Portrait of the Amazon
" a 12-day sailing from Voyages of Discovery, features lectures by noted historians and naturalists aboard the recently refurbished 556-passenger MV Voyager. The Brazilian itinerary visits seaports and riverfront cities as it makes its way from coastal Recife to interior Manaus, the self-styled "gateway to the Amazon." Shore excursions will be finalized closer to next year's March 12 departure, but past cruises have highlighted local wildlife -- watch the tree line for big-beaked toucans and prowling jaguars -- and introduced guests to some of the 350 indigenous and ethnic groups that live here. Prices for this vacation start at $2,199 per person.
NORTH AMERICA
Winter Wonderlands
Montreal and Quebec City are made even more storybook-ready when winter frosts their cobbled lanes and mansard roofs in shimmering snow. Discover the hibernal magic of these French-flavored spots in eastern Canada with a seven-day independent tour from Monograms. It starts with three nights in Montreal, where you can glide across the ice-skating rink at the Old Port and later warm up in the resplendent sanctuary of Notre-Dame Basilica. Then hop a train to Quebec City, host of one of the world's largest winter carnivals. The package includes three nights here plus access to the fun, like night parades, snow rafting and a sugar shack serving up maple taffy on snow. Pack your mittens, because this is a strictly outdoor event, but grab your swimsuit, too, for the hot tubs of the Arctic Spas Village. Monograms offers "
Montreal and Quebec With Quebec Winter Carnival
" from $709 per person, during the Feb. 1-17 run of the festival.
Canadian Rocky High
Mountain air and outdoor adventure are in store for families who join Trafalgar's "
Rockies Thrills and Glacier Chills
" an eight-day getaway in western Canada. Revel in the lofty heights of the Peak 2 Peak Gondola -- said to be the world's highest at 1,430 feet -- at Whistler Blackcomb Ski Resort. In Jasper National Park, join a heart-pumping river rafting excursion or a gentler float on calm waters. Travel the Icefields Parkway past alpine forests and blue-green lakes to Athabasca Glacier; here you'll board a specially designed vehicle for a ride on the massive tongue of ice. Wrap up in Banff National Park, where there's time to take in roaring Bow Falls, look for elk and caribou and, if you wish, ride horses along the Bow River before a farewell pizza-and-bowling party. Prices start at $2,450 per person, with departures from mid-June through September 2013.
Southwest's Canyon Country
The eight-day "
Highlights of the Canyonlands
" from budget tour operator Cosmos kicks off with a night in Las Vegas, but you'll soon swap the neon glitz and casino bells of Nevada's Sin City for the deep blue skies and breathtaking vistas of beloved national parks in Arizona and Utah. Guests overnight at the Grand Canyon -- try to catch the mile-deep chasm at sunset and sunrise for the most interesting photos -- then journey through the Painted Desert to Monument Valley, peppered with sandstone buttes and pinnacles. A stay at Goulding's Lodge provides front-row views of this Wild West landscape. Next up are two standouts in southern Utah: Bryce Canyon, crowded with towering, knobby spires called hoodoos, and Zion, where the Virgin River feeds verdant groves of cottonwood and birch trees. Per-person prices start at $1,089, with trips through early November 2013.
Snorkeling Havens
With a draft of less than 7 feet, the Grande Caribe can navigate shallow waters and remote locales. On "
Best of Belize, the Barrier Reef and Guatemala
" a 12-day sailing from Blount Small Ship Adventures, the 96-guest vessel showcases the natural attractions of Central America's Caribbean coast, like secluded cays, pristine lagoons and dazzling underwater visions of tropical fish and coral. The Grande Caribe uses a bow ramp in landings, allowing you to easily walk ashore at spots like Glover's Reef, one of two visited sites in the Belize Barrier Reef Reserve System, declared a UNESCO World Heritage Site in 1996. An onboard naturalist provides insight into locales such as Guatemala's Rio Dulce, where howler monkeys and parrots dwell amid teak and palm trees. There also is an opportunity to spend time with the children of the Casa Guatemala orphanage. Fares start at $3,529 per person, with three departures in January and February 2013.
In Celebration of Lobster
Fans of the crimson crustacean can indulge their appetites on a special departure of "
Maine Coast and Harbors
" billed as a lobster celebration by American Cruise Lines. During the small-ship sailing, guests enjoy a lobster bake in Rockland, tuck into dishes like lobster bisque and lobster rolls, and learn about this delicacy and its influence during talks by lobstermen and local historians. There's also an opportunity to step aboard a lobster boat for a demonstration of the catching process. It all takes place against the picturesque backdrop of Maine's rugged shores and towns like Bar Harbor, gateway to Acadia National Park, and Camden, where sailboats bob in the forest-edged harbor. This cruise leaves Portland on July 20, 2013, but departures without lobster activities take place June through mid-September. Rates for eight-day trips start at $3,545 per person; three seven-day sailings start at $3,060.
AFRICA
Southern Sojourn
Travelers are introduced to the captivating sights of the continent's southern region on AmaWaterways' 16-day "
Stars of Africa
." Four nights belong to the peaceful glide of the 28-passenger Zambezi Queen, designed to traverse the Chobe River. Suites are equipped with balconies for moments of reflection and discreet creature spotting; excursions include wildlife drives in Botswana's Chobe National Park, known for its large pachyderm population, and up-close explorations in a dugout canoe. Elsewhere, sip vintages amid verdant peaks in Stellenbosch, an idyllic haven 30 miles east of Cape Town in South Africa's wine region. Spend days dedicated to open-air rides in pursuit of animals and nights stargazing from your timbered retreat in a private game reserve near Kruger National Park. The trip comes to a close at thundering Victoria Falls on the Zambezi River. Per-person prices start at $8,945 for departures through early December 2013.
Take the Family on Safari
Adventures by Disney has created the 10-day "
Safari in South Africa
" for multigenerational explorers. It encompasses the harbor city of Cape Town, the Garden Route refuges of Knysna and George and the Kapama Private Game Reserve. Cape Town beckons with a cable car ride to Table Mountain's peak (where children can greet gopherlike residents), dinner at a 17th-century castle and an encounter with the penguins of Boulders Beach. At nearby Stellenbosch, learn to make a traditional pastry; afterward, adults taste wines while younger ones learn falconry. A primate preserve, bird sanctuary and elephant park await along the country's southeastern coast. In Kapama, a three-day safari makes for bona fide bonding as everyone searches for the "big five": lions, leopards, elephants, rhinos and buffalo. Departures are available through February 2014, with rates from $6,929 per person.
West Africa by Ship
Luxury line Silversea Cruises treats passengers to
an uncommon 12-day sailing
from Accra, Ghana, around Africa's western coast to Dakar, Senegal. Port excursions include a lesson in voodoo rituals outside Lome, Togo; a visit to a village built on stilts near Cotonou, Benin; a tour of Cape Coast Castle, where dungeons once held slaves awaiting deportation in Takoradi, Ghana; and snorkeling from Zodiacs in the Banana Islands of Sierra Leone. The rarely visited Bijagos Archipelago off Guinea-Bissau provides would-be botanists and bird lovers a chance to see a UNESCO biosphere reserve. Accommodations, meals and alcoholic beverages are wrapped into one price for this all-inclusive experience aboard the 132-passenger Silver Explorer, which departs on this itinerary April 11, 2013. Prices per passenger begin at $6,599.
Best of Kenya and Tanzania
Tour operator Tauck has created a 13-day pilgrimage for aspiring anthropologists and animal kingdom worshippers, "
Kenya and Tanzania: A Classic Safari
." These two countries earn top ranking for diversity and concentration of wildlife, and this trip heads to prime spots including the Ngorongoro Crater, Serengeti National Park and Maasai Mara National Reserve. Zebras, elephants, giraffes, hippos, buffalo, lions and cheetahs all are possible sightings. Travelers glimpse village life and meet with Maasai warriors in Kenya and stop at Tanzania's Olduvai Gorge, where archaeologists Louis and Mary Leakey unearthed the remains of some of the earliest humans. Other features are a hot-air balloon ride over the savanna and time at a chimpanzee sanctuary. The starting per-person price is $6,365 for itineraries departing through December 2013.
EUROPE
Calling all Irish
Whether you're Irish born, have Irish heritage or just possess a keen interest in the Emerald Isle, 2013 is your year to cross the Atlantic. Ireland's tourism leaders have launched The Gathering, a 12-month celebration of the Irish spirit. Events include clan gatherings, community fetes, genealogical projects and large-scale festivals like St. Patrick's Day in Dublin. No travel company knows this land better than CIE Tours, which has specialized in Ireland since 1932. Its eight-day "Irish Pub and Folk Tour" seeks out top sights like Blarney Castle, the scenic Ring of Kerry route and the dramatic Cliffs of Moher. You'll connect with locals, too, as you visit a family farm, raise a pint at the Guinness Storehouse and enjoy live music and genial company in Dublin's oldest pub. Per-person rates start at $1,026 for vacations scheduled through early December 2013.
Sunshine in the Med
Carnival Cruise Lines has big plans for the Carnival Destiny. The 16-year-old ship is slated for a $155 million retrofit next year and will emerge on April 12 as the 3,006-guest Carnival Sunshine, with 182 additional cabins and sparkling new features. Be among the earliest to check out the fresh look and a few firsts for the line -- like a three-level Serenity retreat for adults only, the sizzling Havana Bar for Latin music and dancing and a full-service, Mongolian-style restaurant -- during an inaugural season in the Mediterranean. The nine- and 12-day trips depart from Venice and Barcelona and stop at gems like Marseille, a gateway to France's Provence region; Civitavecchia, the port for Rome; and the walled city of Dubrovnik in Croatia. Bargain fares start at $629 per guest for sailings from mid-April through October 2013.
Italy in the Off-Season
Winter can be a satisfying time to visit Europe. Popular attractions aren't overrun with tourists, and neighborhoods and residents settle into quieter routines. And, tour operators roll out off-season itineraries that are particularly good values. The seven-day "Florence and Rome by Rail," an independent vacation from Gate 1 Travel, provides hotel accommodations, daily breakfasts and train transportation between the two Italian cities for just $319 per traveler. You're free to wander as you wish, but consider customizing your sightseeing with optional activities offered by Gate 1 for an extra fee. For example, get oriented in Florence with a guided walk that includes a visit to the Uffizi Gallery, or take a nighttime tour of illuminated fountains, piazzas and monuments in Rome. Gate 1 has similar trips that combine Venice and Florence or Venice and Rome. Departures take place from November through March 2013.
Scandanavian Sailing
Royal Caribbean International positions its 2,416-passenger Vision of the Seas in Baltic waters next summer. Seven-day trips leave from Stockholm and Copenhagen on round-trip routes; longer departures are offered as well. Travelers take in the striking modern structures and bustling market plaza of Helsinki and amble stone-paved alleys in the medieval quarter of Tallinn, the Estonian capital first mapped in 1154. All itineraries visit St. Petersburg, but departures from June 30 through July 21 overnight in the glittering Russian city, giving you more time to explore the palaces and squares that reflect the European aesthetics of Italian and French architects. After sightseeing, unwind Swedish-style in the ship's sauna, or take advantage of Northern Europe's long summer days and stretch out by the pool in the glass-covered Solarium. Discounted rates start at $749 per cruiser for voyages from May through August 2013.
Island-Hopping in the English Channel
Scattered off France's northwest corner, the Channel Islands are the last relics of the Duchy of Normandy and comprise a self-governing territory of the English crown (here, Queen Elizabeth II is known as the Duke of Normandy). Jersey, the largest at 46 square miles, sports inviting country lanes and golden beaches; a museum details the five dark years residents spent under German occupation during World War II. Guernsey is anchored by the picturesque quays of busy St. Peter Port and boasts nearly 29 miles of cliff-top paths. Tiny, car-free Sark is best explored by foot, bicycle or horse and cart; the gardens of the 17th-century La Seigneurie estate draw those with a passion for horticulture. Insight Vacations calls at all three isles on its eight-day "Easy Pace Channel Islands," providing ample time to savor their unique character. Trips depart mid-May through mid-October 2013 and start at $2,235 per person.
ASIA
Japanese Cuisine and Culture
See six cities, from Tokyo to Kyoto, on a two-week jaunt from Intrepid Travel, "Taste of Japan." Foodies immerse themselves in the local flavors of each stopover, learning to make soba noodles in Tokyo, sipping sake in Takayama and tasting shojin ryori (vegetarian meals) in Koyasan. In Osaka's Dotonbori, adventuresome wayfarers can try fugu, or puffer fish. Hiroshima presents delights like okonomiyaki, a type of savory pancake, and momiji manju, maple leaf-shaped morsels filled with sweet bean paste. Considered a center for classic Japanese fare, Kyoto is where Intrepid guests get instruction in the preparation of traditional and seasonal dishes. Travelers take a break from eating with excursions to the tranquil rock garden of the Shingon complex in Koyasan and Hida Folk Village's open-air museum in Takayama. Departures are offered through mid-May 2013, with per-person prices from $5,095.
Palaces and Wildlife in India
This year, Insight Vacations unveiled brand-new itineraries in India, including sumptuous "Splendors of the Taj and Tiger," a sojourn traveling round trip from Delhi. Begin with a rickshaw ride through an Old Delhi bazaar, followed by sightings of the Parliament House and the tomb of Mughal emperor Humayun. Awe-inspiring architecture captures the gaze, such as the 17th-century sandstone Red Fort in Delhi, the white marble Taj Mahal in Agra and the elaborate hilltop Amer Fort and Palace (also called Amber Fort) in Jaipur. Inspired elements include treks on the trail of the Bengal tiger in Ranthambhore, as well as a private tour of a royal palace normally not open to the public and a safari by elephant in Jaipur. One of Insight's Gold trips, this 11-day itinerary lodges guests in luxury hotels. Rates start at $5,850 per traveler, with departures available through mid-April 2013.
Cruise Southeast Asia's Exotic Isles
Voyages to Antiquity entices explorers to discover rich traditions and stunning surroundings on a sailing from Hong Kong to Bali, Indonesia. Making its way on Jan. 15, 2013, this escape highlights regional customs like the carved cliff burial sites of the Toraja people, indigenous to Indonesia's South Sulawesi region. Absorb tales of the spice trade and its 16th-century power struggle on a tour of Fort Rotterdam, the old Dutch fortress in Ujung Pandang, Indonesia. Cruisers will have vibrant photos to show for their trip, from the orange facade of 16th-century San Agustin Church in Manila, Philippines, to the wild wonders of Sandakan in Borneo, Malaysia -- like the rust-colored residents of Sepilok Orangutan Rehabilitation Centre. Prices per passenger run from $2,345 for 11-day "Bali, Borneo and the Islands of Indonesia."
Tantalizing Thailand
Explore Thailand from Bangkok's sparkling metropolis -- often called the Venice of the East -- to the forested mountain peaks of northern Chiang Mai province. Guests of Globus' "
Mystical Thailand
" view the 230-foot-tall spire of sacred Wat Arun from a boat traversing Bangkok's klongs, or canals; ride the Thailand-Burma Railway in Kanchanaburi, built by prisoners of World War II; participate in the alms-giving ceremony of Buddhist monks in Chiang Mai; and visit a Karen village, where Padaung women wear brass rings to stretch their necks. Sukhothai Historical Park, a UNESCO World Heritage Site, stands out for its Siamese architecture and towering Buddha statues. An orchid farm, an elephant excursion, a tour of the Hall of Opium and a dance performance depicting classic Thai stories add further insight. The 12-day itineraries depart through mid-March 2013, with per-person pricing from $2,019.
AUSTRALIA
Australian Primer
"
Discover Australia
" an 11-day escorted tour with Brendan Vacations, will help you do just that -- it explores cities, sea and the rocky terrain in between. Guests spend two full days in Sydney for a mix of guided and independent sightseeing, which includes a private lunch with a lifeguard on Bondi Beach, a surfer's paradise. Photo ops with koalas and crocs are offered in Cairns, home to a rooftop wildlife exhibit. A catamaran ride, snorkeling adventure and visit to an underwater observatory, complete with conservation education with local experts, await along the Great Barrier Reef. Then there's the spiritual experience in store at Uluru, or Ayers Rock, where sunset lends its fiery hues to desert monuments long worshipped by Australia's Aborigines. Departures are available through March 2014, with prices from $3,075 per person. Brendan also offers extensions of this itinerary that tack on time in neighboring Fiji.
Cruising Down Under
For those seeking a more panoramic view of the South Pacific, Celebrity Cruises offers a series of
12-night sailings
between Australia and New Zealand aboard the 2,850-passenger Solstice. In addition to the Aussie coastal cities of Sydney and Melbourne, cruisers will visit the Kiwi capital of Wellington, North Island spots like beachy Tauranga and the fjord country and quiet sounds of South Island. Routes vary slightly by departure date, with some stretching to include Hobart, Tasmania, a harborside artists haven. The Solstice sailings take place during the Northern Hemisphere's coldest months, making the most of the South Pacific's reversed summer. It's perfect for enjoying the ship's al fresco amenities, like the top-deck Lawn Club. Trips are scheduled December through March 2013, and again from November 2013 through March 2014. Fares start at $1,249 per person.
The information in this story was accurate at the time it was published in September/October 2012. Please visit
Vacations To Go
or call (800) 680-2858 for current rates and details.
Send This Article to a Friend
Bookmark this Content
Digg it!
Reddit
Furl
del.icio.us
Spurl
Yahoo!