1 Incredible Trip to Ireland
Circle the Emerald Isle with Insight Vacations
for an indulgent twist on escorted touring
By Jennifer Davoren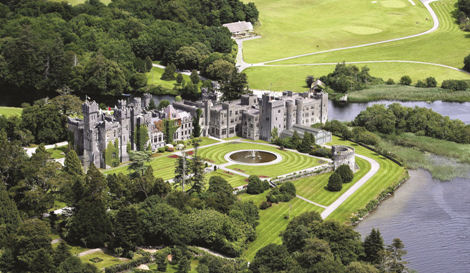 The Red Carnation Hotel Collection
(Scroll down to see a slide show.)
O
ur tour director calls it "the softness," that muted, misting sort of rain typical of autumn in the British Isles, more ambience than actual weather event. Paired with the gloom and chill of an October evening, it makes for a dramatic entrance for Benny the Piper.
This one-man welcoming committee steps out from a guardhouse and beckons us forward in a swirl of red tartan. We cross a cobblestoned bridge and the stream below it -- wait, does this count as a moat? Considering the setting, sure, let's call it a moat -- as we follow the squall of bagpipes to the front doors of an Irish icon.
Ashford Castle, its foundations laid nearly eight centuries ago, will be our home away from home for the next two nights.
It's a perk provided by our host, escorted tour operator
Insight Vacations
, and a luxurious end to a weeklong jaunt through
Ireland
. Traveling round trip from Dublin, we've seen our fair share of strongholds, but it's hard to compete with the Waterford crystal chandeliers, blazing hearths and expertly mixed check-in cocktails that await us at Ashford.
It seems that Insight is spoiling us rotten -- and has possibly spoiled me for future travel.
The Insight "flourish"
Ireland
loves its storytellers. Traditional Celtic
seanchai
shared clan lore and ancient legend in an age largely unacquainted with the written word, moving from town to town as traveling bards. The harp, a national emblem stamped on anything from Guinness bottles to the Irish euro, celebrates not only the island's music but the instrument's role in oral history, its lilting notes a frequent backing track for poets and historians.
My
Insight Vacations
tour director, Irish native Michael Doughty, might double as a locator of misplaced luggage and wrangler of wayward tourists, but he is, first and foremost, a storyteller. Our motor coach is his stage: He spins yarns about friends and family as well as Ireland in its antiquity, the passing scenery of the Ring of Kerry serving as his stunning backdrop. I stretch in my seat -- a luxury afforded by my Insight coach, equipped with just 40 seats to offer more legroom than some of its touring competitors -- as Doughty's engaging narration previews
our next destination
.
Insight has a knack for adding a pampering twist to escorted tour standards. A trip to the 26,000-acre Killarney National Park is common among Irish vacation providers, but Insight treats guests to a horse-drawn carriage ride through quiet woods, all the better for sneaking photographs of its red deer herds. In Kilkenny, an introduction to the centuries-old sport of hurling -- a high-flying, fast-paced cousin of field hockey -- has my travel group juggling a cork-cored ball called a sliotar as well as the local team's latest championship trophy.
Long drives between attractions are broken up by what Doughty calls "a little Insight flourish," from freshly made scones and tea at a roadside inn to whiskey- and Irish cream-laced coffees from a pub along Dingle Bay.
And then there's our visit to the Guinness Storehouse of Dublin, the mother ship among malt lovers. Here, my companions and I delve into the history of beer-making, explore flavors infused throughout the brewing process and enroll in Guinness Academy to master the six-step, 119.5-second system for pouring the perfect pint of stout. (I can say, with no small amount of pride, that my academy certificate now shares mantel space with my university diploma.)
But there are two factors I value most when planning any getaway: food and chances to snooze. Insight takes both into consideration.
Innovative restaurant programming includes "dine around" evenings that allow guests to choose from a short list of eateries tested and recommended by experienced tour guides. And be on the lookout for Insight itineraries that feature special welcome, farewell or "highlight celebration" dinners, as these are surefire crowd pleasers. A personal favorite was our visit to O'Connells Restaurant in Dublin's Donnybrook district, a locavore's dream complete with Ireland-raised lamb and beef, wild Atlantic hake and a sherry trifle dished up by the eatery's friendly owner.
A common complaint among escorted tour fans is the horror of early morning departures: 6 a.m. wake-up calls, 7 a.m. baggage pickups and hurried breakfasts as guests huddle up for their first activity of the day. Enter Insight's "relaxed starts," days kicked off with an extra hour or two of free time and a more leisurely approach to guided sightseeing. On my Ireland trip, one such start meant sleeping in, soothed by the downy comfort of my tester canopy bed at Ashford Castle.
The royal treatment
Falconry is an ancient art. Greek coins dating to the fourth century B.C. depict Alexander the Great clutching a hunting bird, while nobles ranging from Mary, Queen of Scots, to Empress Catherine of Russia were avid sportswomen who prized the merlin, an agile species capable of tracking quail, doves and other game.
With that kind of pedigree, my borrowed Harris hawk, Samhradh -- the Irish word for "summer" -- is right to critique my very undignified performance thus far. His wings flap in disapproval as his talons scrabble for purchase on my protective leather glove. I'm trying to provide the best possible perch for him -- arm out, elbow braced to support his slight weight -- as my instructors stress the importance of confidence and care in handling.
"People have had relationships with hawks and falcons for over 4,000 years, but they're not pets. They work
with
you, not for you," says Tommy, a raptor expert on loan from Ireland's School of Falconry. "If you offend your hawk, the relationship ends very, very quickly."
So I do my best to stay on Samhradh's good side, offering bits of raw chicken as a reward (OK,
bribe
) for each flight that ends in a swift return to my glove. (But take note, future hawk wranglers: He's not big on compliments. My assurances that he's
such a good boy
are ignored with haughty grace, and I resolve to save that kind of mush for the family dog. Petting is another no-no, as the gesture can seem confining.) Samhradh is a hunter at heart, his species being the only bird of prey that stalks in packs, but our day is spent in a more leisurely fashion. We take a simple "hawk walk," an introductory flying lesson that covers the basics of falconry while exploring the sprawling grounds of Ashford Castle.
About 25 miles north of
Galway
, the estate's 350 acres not only are home to Ireland's School of Falconry, but to other aristocratic touches: centers for archery, clay shooting and horseback riding; a private golf course; on-site pros for tennis and mountain biking lessons; leather-accented spaces for billiards and cigars; a spa and fitness center housed in a sun-catching solarium; and wining and dining opportunities ranging from white-linen accents over breakfast to nightcaps in the basement-level Dungeon restaurant.
I'm astonished by the service. My morning order of porridge comes with the waiter's suggested drizzle of aged whiskey, adding a smooth-but-smoky dimension to an otherwise standard dish. When weather threatens my afternoon walk, a liveried doorman lends me a pair of fire-engine red Hunter boots kept on hand for guest use. And passing maids not only know me by name, they pronounce it with ease -- "Davoren" can be tricky for new acquaintances, but Ashford staff greet me each day without hesitation.
Throw in the castle's setting on the shores of Lough Corrib, its gentle currents on display from rooms with a southern exposure (including my own, a sumptuous haven with walls covered in raw silk), and the property becomes something of a lodging game changer. Or possible life ruiner? My apartment is suffering from a distinct lack of antique battle armor, like the suit standing guard in Ashford's Oak Hall, and now I'm going to have to redecorate as soon as I get home.
The castle, parts of which were built by Anglo-Norman invaders in 1228, was refreshed in 2015 by a $75 million renovation. I wonder how much I would have to invest in my own home to make Samhradh comfortable?
Insight has done what it can to pamper me, so I might pass the favor along as I pick up a regal hobby.
Insight on Ireland
Insight Vacations
explores the Emerald Isle on escorted trips ranging from eight to 26 days. The company's "Country Roads" collection includes off-the-beaten-path perks for adventurous travelers: a visit to a working sheep farm, for instance, or "dine around" events that sample up-and-coming restaurants hidden from the usual tourist hordes.
The nine-day "
Irish Elegance - A Country Roads Itinerary
" includes a stay at Ashford Castle complete with a boat tour of Lough Corrib, a fine dining experience arranged specifically for your travel group and, of course, a bagpiper's serenade and ample leisure time for falconry and other on-site amenities. Additional stops include the Ring of Kerry, the Rock of Cashel, the Cliffs of Moher and city sights in Galway and Dublin. Prices start at $2,048 and 25 departures are available between April and October.
For more information on Insight's Ireland getaways,
contact the tour specialists at Vacations To Go online
or by calling (800) 680-2858.
The information in this story was accurate at the time it was published in January/February 2016. Please visit
Vacations To Go
or call (800) 680-2858 for current rates and details.
Send This Article to a Friend
Bookmark this Content
Digg it!
Reddit
Furl
del.icio.us
Spurl
Yahoo!